It's no surprise to my family and friends that I am OBSESSED with American history. Yes, I am one of those weirdos who cries about how much they love America after they have had a few drinks in their system. With that being said, when I found out there was a musical about one of the Founding Fathers, I was intrigued. I've never been a musical theater enthusiast because singing and dancing away life's problems just doesn't make sense to me. The only reason I originally wanted to see "Hamilton: An American Musical" was to make sure it was factually accurate. "How good could a musical be if it was about a forgotten Founding Father?" was the original thought I had. None the less, I had to see it.
I am about three years late to the Hamilton hype, but I finally made it to Chicago to see it in person at the CIBC Theater (shoutout to my grandma for taking me and making my history geek dreams come true!) To let you know how big of a history geek I am, I went to Chicago during Lollapalooza and did not buy any tickets for Lolla but did buy tickets to see Hamilton. Before I left for Chicago, my friends took bets that I would cry during the song "One Last Time" and they were right. I felt like I was actually there when George Washington decided to end his term as president. This was not the only time during the performance that I was moved to tears. Every song was delivered with such passion that it made history cool again with the way the actors presented it. Not everyone loves history as much as I do, but I am telling you, this musical lives up to the hype. Lin Manuel-Miranda created an American classic that makes theater and history enjoyable for all ages. If you have not seen it, I recommend buying tickets as soon as Hamilton comes to a city near you. Until then, here are a few lyrics from this amazing musical that will awaken the history geek inside you. RISE UP! RISE UP!
1. "If you stand for nothing Burr what'll you fall for?" —Hamilton, "Aaron Burr, Sir"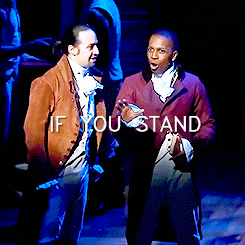 2. "I may not live to see our glory, but I will gladly join the fight. And when our children tell our story, they'll tell the story of tonight." —Hamilton, "The Story of Tonight"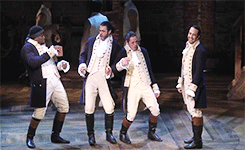 3. "There's a million things I haven't done. Just you wait, just you wait." —Hamilton, "Satisfied"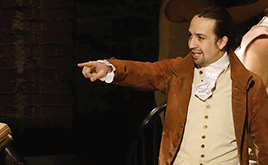 4. "When you got skin in the game, you stay in the game. But you don't get a win unless you play in the game. Oh, you get love for it. You get hate for it. You get nothing if you…Wait for it, wait for it, wait!" —Hamilton, "The Room Where It Happens"
5. "I wrote my way out of hell. I wrote my way to revolution. I was louder than the crack in the bell...And when my prayers to God were met with indifference, I picked up a pen, I wrote my own deliverance." —Hamilton, "Hurricane"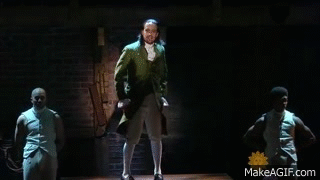 6. "There are moments that the words don't reach. There is a grace too powerful to name. We push away what we can never understand. We push away the unimaginable." —Angelica, "It's Quiet Uptown"
7. "Jefferson has beliefs. Burr has none." —Hamilton, "The Election of 1800"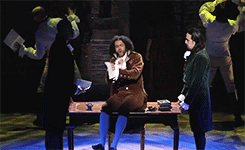 8. "I don't wanna fight, but I won't apologize for doin' what's right." —Hamilton, "Your Obedient Servant"
9. "America, you great unfinished symphony, you sent for me. You let me make a difference." —Hamilton, "The World Was Wide Enough"
10. "When you're gone who remembers your name? Who keeps your flame? Who tells your story?" —Burr, "Who Lives, Who Dies, Who Tells Your Story"
11. "What is a legacy? It's planting seeds in a garden you never get to see." —Hamilton, "The World Was Wide Enough"
12. "I am the one thing in life I can control. I am inimitable, I am an original." —Burr, "Wait for It"
13. "I'm past patiently waitin' I'm passionately smashin' every expectation. Every action's an act of creation!" —Hamilton, "My Shot"
14. "I'm just like my country—I'm young, scrappy, and hungry, and I'm not throwing away my shot." —Hamilton, "My Shot"
15. "If I say goodbye, the nation learns to move on-It outlives me when I'm gone. Like the scripture says Everyone shall sit under their own vine and fig tree And no one shall make them afraid They'll be safe in the nation we've made." —Washington, "One Last Time"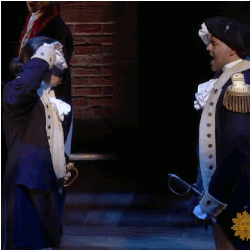 16. You will come of age with our young nation, We'll bleed and fight for you, we'll make it right for you. If we lay a strong enough foundation, We'll pass it on to you, we'll give the world to you." —Burr, "Dear Theodosia"