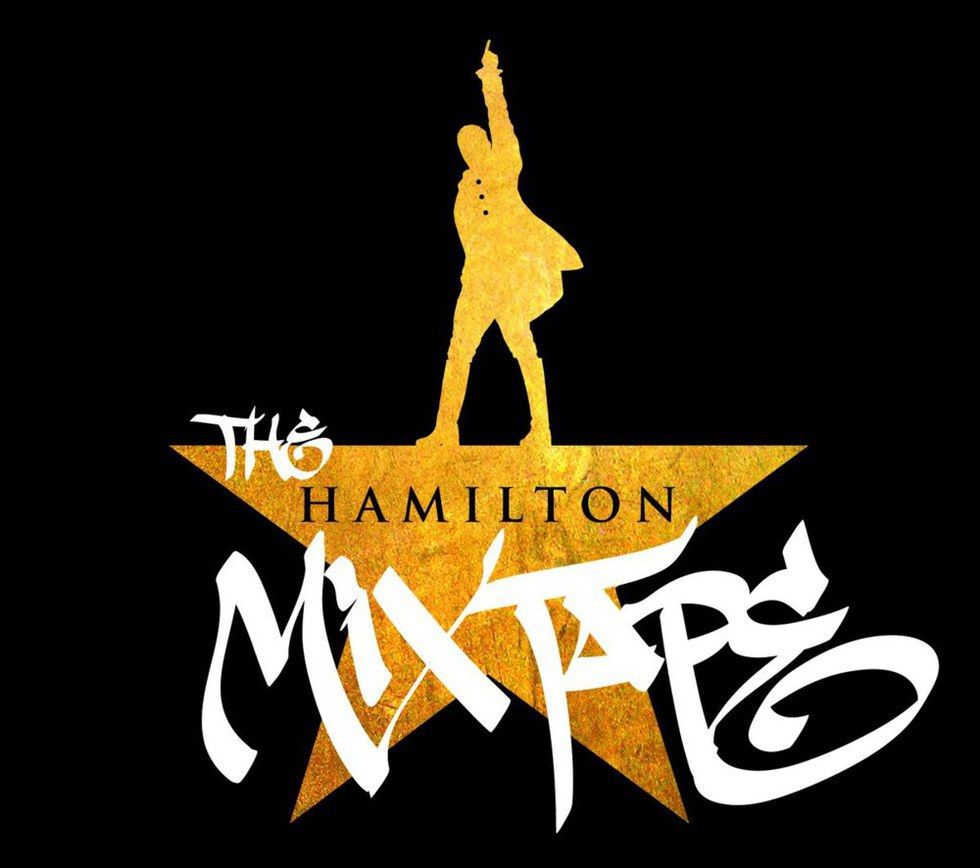 Christmas came early this year in the form of The Hamilton Mixtape. If you thought you couldn't stop listening to the Hamilton soundtrack, well here's something else to finally listen to! Famous artists upon surprising collaborations came out of the woodwork to provide their own takes on this acclaimed score. And if this weren't exciting enough, news has already been buzzing of rumored songs for the second volume of The Hamilton Mixtape!
But until then, it's important to know which tracks are worth listening to and which aren't worth getting disappointed by. A mix of great new renditions of songs from the show as well as demos and cut tracks, here is my ranking of the tracks from worst to best!
"Washingtons By Your Side"- Wiz Khalifa
I got that The Hamilton Mixtape was going to include remixes and include songs inspired by the show, but I just couldn't get on board with this play on "Washington On Your Side". The play on words to be talking about money didn't seem clever enough neither did Khalifa's vocals deliver to back it up.
"Stay Alive – Interlude"- J.PERIOD & Stro Elliot
Though meant to serve as a short transition, not much seems to go into this remix. I definitely would have preferred another variation on a Hamilton tune by !llmind. Nothing really seems to come from this track.
"You'll Be Back"- Jimmy Fallon, The Roots
Fallon is by no means known as a singer, but it seemed like he tried his best here and it still wasn't enough. While learning about his technique helped in jumping into hearing him on the track, it wasn't enough to sell me on this track. I really would have preferred they got someone else, even a Broadway veteran I would have taken. To hear even Josh Groban or Christian Borle with their take on it would have been a real treat and definitely possible with Miranda's connections.
"An Open Letter (feat. Shockwave) - Interlude"- Watsky, Shockwave
While I liked getting to hear a cut track from the show, this version felt a little too polished for me. There's also nothing like hearing Miranda talk about this cut John Adams rap for the first time and then just him going into doing it mic drop and all. It's so precious and if you haven't seen it it's a must.
"Valley Forge (Demo)"- Lin-Manuel Miranda
While I loved hearing demos especially from Miranda himself, this one was my least favorite. The lyrics were beautiful, but didn't ring as clever or composed as well then what ended up making the cut in "Stay Alive". I still liked getting to hear Miranda's voice make its way on the soundtrack as he is so much the voice of the show. Also him taking on the many different voices of the characters was cool but could also get confusing in that we're so used to hearing him just as Hamilton.
"Take a Break - Interlude"- !llmind
Though small, this was a cool riff on "Take a Break" and a perfect transition piece on the mixtape. I am biased because I will always prefer "The Schuyler Sisters" remix (not on the mixtape) that !llmind also did that is so catchy that nothing else will compare. This is a nice tease of what !llmind is capable of and I wanted a little longer version of this take.
"No John Trumball - Intro"- The Roots
Though probably the briefest track on the mixtape, I loved how this served as the introduction. It caught you offguard, got you into the theme of the album, and also served as a great entry track into the album. It was the perfect tease into what this album was going to be and served its purpose in both form and length.
"Helpless (feat. Ja Rule)"- Ashanti, Ja Rule
Being a highlight in the show and one of my personal favorites, I was disappointed by "Helpless". I thought this would be a perfect combination but as soon as Ja Rule came on I felt like this was not all it was hyped up to be. It seemed a little too edited on Ashanti's riffs and the fun of it seemed gone that is so perfectly captured by Phillpa Soo's joy and excitement. And Ja Rule didn't help in helping it go anywhere, it just made me want to listen to the Original Broadway Cast version even more.
"My Shot (feat. Busta Rhymes, Joell Ortiz, & Nate Ruess) - Rise Up Remix"- The Roots, Nate Ruess, Busta Rhymes, Joell Ortiz
I didn't mind this version of "My Shot". I didn't find it too impressive, but wouldn't dismiss it either. I think what made this track hard was that this song in the show is its anthem and here the lyrics just aren't able to be as catchy as it's not the words we're used to hearing. I understood it was a remix, but I couldn't find myself getting as sucked into this version. I still got the feeling of getting pumped up which I was happy the song didn't lose that notable quality.
"Who Lives, Who Dies, Who Tells Your Story (feat. Common & Ingrid Michaelson)"– The Roots, Common, Ingrid Michaelson
Ingrid Michaelson whom I love was not nearly featured enough on this collaboration. I would have loved if she had gotten at least a verse to make her own and not just the hook. Common stuck out and did deliver, but I could have done without the Roots on this one. They had already taken up so much of the beginning of the mixtape that I would have been more interested in seeing how Common and Michealson could have worked better together as a duo. Or honestly Michealson on her own I would have loved to see a totally different interpretation of a different song from Hamilton. All great artists, but it didn't seem to turn out to be the best song for all of them to be featured on together.
"Burn"- Andra Day
Day's version of "Burn" wasn't particularly memorable in my book and I felt myself wanting to hear more pain and emotion beneath her beautiful falsetto. Honestly, I feel like Amy Winehouse (R.I.P) could have delivered a great balance of heartbreak and beauty to this song.
"History Has Its Eyes on You"- John Legend
This was a different take on a song from the show that I could get on board with. There was something very impactful with the arrangement of Legend singing this tune in the style of a gospel-like hymnal to reflect the song's modern day resonances. I thought it was beautifully sung and offered a different take on the song giving it its own meaning outside of the moment its associated with in the show, but in an effective way and not just to showcase the vocalist.
"Say Yes to This"- Jill Scott
This is a track I both like and dislike at the same time. I like how it gives the song "Say No to This" totally from the perspective of Maria Reynolds in that Scott is singing it. I do worry however what this version then suggests of painting Reynolds as this manipulative, deceptive character. I like the ambiguity that her character suggests in the show that here doesn't seem to play Reynolds as just a seductress, but a bit villainous. I loved Scott's voice and felt her seducing nature appropriate, but wasn't sure if I liked whatever character was being portrayed of how it came off as.
"Cabinet Battle 3 – Demo"- Lin-Manuel Miranda
I love this bonus track. I think the content is outstanding in terms of how this issue still affects us today and the clever and harshly delivered quips and comebacks. I also liked how it gave us more of a peek into James Madison as a character than is seen in the show. I also adore hearing Miranda do all of the different voices which seems a little easier to follow in this track than others. I understand why this number would be cut from the show, but really feel it could have provided such a great moment with its place in the show.
"Congratulations"- Dessa
This is another cut track that I love to go to bat for! This is such a great song and moment for Angelica. I love the play on words in this being a phrase reserved for weddings that she unleashes at the news of Hamilton's affair. I love the fast rhythm, the repetition of past phrases and musical themes, and the cover by Dessa. I think she does a great job of capturing the character in this moment while providing her own flavor to it as well.
"That Would Be Enough"- Alicia Keys
I loved having some Alicia Keys back in my life and that this is the way it came to me. Keys provided some more depth and insight into this song from her own riffs and musical improvisations that I thoroughly enjoyed. It seemed like she was extending off of Miranda's language without trying to make it her own song which I appreciated.
"Dear Theodosia – Reprise"- Chance The Rapper, Francis and the Lights
A surprising, but heartfelt, take on this track was found from one Mr. Chance the Rapper. I was floored for how much I adored this very different version on this cut track. There was something about this that gave me goosebumps in feeling the emotion, but still a strong powerful voice from Chance that I feel really did blow us all away.
"Immigrants (We Get the Job Done)"- K'NAAN, Snow Tha Product, Riz MC, Residente
I was pleasantly surprised from this new track inspired by this musical to the mixtape. I think it's extremely relevant to issues with immigration right now and found it a touching, but also important contribution in taking on themes that are alluded to in the musical. I thought the collaboration was a strong one and it was nice to see its roots coming from certain lines in the show.
"Satisfied (feat. Miguel and Queen Latifah)"- Sia, Queen Latifah, Miguel
I could never not be satisfied when Sia is involved in any collaboration and I loved her voice here especially with this song. I thought she did well with making it her own, but still capturing the heavy emotion that this song is trying to bottle up. Queen Latifah's verse is such a jam, and Miguel's brief appearance is very swoon worthy.
"Wait for It"- Usher
As soon as this was announced, I knew this was a perfect combination. I would love to see Usher as Aaron Burr in any upcoming production of Hamilton really and I know others would agree. I thought it was wonderfully performed by Usher him being able to capture the parts that are smooth and velvety, and others that are intense and cold.
"It's Quiet Uptown"- Kelly Clarkson
Kelly Clarkson proves that she continues to rule my world even as I get older. Her rendition of this heartbreaking song managed to be even more emotional than I had anticipated. I felt Clarkson's heart and sadness in every word and how she could picture this scenario in her own life. You could feel the pain and how much this could touch her life and how this same situation could happen to a lot of people, and has.
"Dear Theodosia (feat. Ben Folds)"- Regina Spektor, Ben Folds
This song was the best collaboration of a famous duo on this album. It was simple, yet effective beautifully capturing the balance of showcasing the vocalists as well as the touching lyrics of the song. It didn't strive to be too much with vocal effects, instruments, or anything glitzy. It was so beautiful and felt like a musical pipe dream that I didn't even know I wanted.
"Wrote My Way Out"- Nas, Dave East, Lin-Manuel Miranda, Aloe Blacc
This song feels like it best captures the spirit of the mixtape as well as the show which is why it seems best at the #1 spot. I think it's a beautiful new addition inspired by the show and even has the power to stand as its own song. All of the artists giving their own verse feels personal and relatable in terms of the struggles of being an artist and how those struggles can differ, but also connect very strongly when they do line up. Having Miranda's own verse is the cherry on top, tying together the whole song and offering a direct connection into the world of Hamilton.