Baptism, Reconciliation, Eucharist, Confirmation, Marriage, Anointing of the Sick, and Holy Orders- the seven sacraments of the Catholic Church. Me being raised in the Catholic Church, I have already completed four of the seven. Baptism I did not have much say over, mainly because I was only months old at the time, but the three others that I have completed were all by my will, not my parents', nor my parish's. I have had a strong, devout faith since I can remember. My family very rarely missed a CCD class or Sunday Mass, we pray every day, multiple times a day, and try to turn to God when in doubt. In a Catholic Church, similar to many other religions, any time there is an issue, no matter how big or small, the answer is always "Keep your faith and continue to pray." That is exactly what I have attempted to do and have done for the past eighteen years.
One year and two months ago I was returning to the basketball court for the first time in over a year due to an ankle injury. My life was full of bliss, and I remember thanking God every day for the opportunity to be doing what I loved again. I had been back on the court practicing with my team (not quite to my full potential yet) for thirteen days, each day pushing myself a little more than the day before. I was twelve days away from being allowed to play in my first game when God decided he had a different plan for me.
When I first got sick I was hopeful. I believed that in time God would heal me because of my faith, so I continued to turn towards Him. I had people from all over the world praying for the same thing I was, answers and healing, and they still do. Anytime someone would ask what they could do for me or my family our response was always, "Continue to pray, please." Although I was optimistic, "Why me?" was a question that swarmed through my head nearly every day. It was not until over a year of being ill that the answer finally came to me.
"Why Not Me?"
I am the proverbial complete package; smart, positive, social, caring, passionate, what more could He possibly ask for? If someone has to struggle, why would God not choose someone who can fight through the never ending pain, be a voice for the people affected by these life-changing illnesses, and above all, stay faithful in times of doubt?
I once had someone suggest that my faith in God was not as strong because I rely on modern medicine practices. At first, I understood their point of view, I did not agree with it, but I listened to their side of things. After discussing this person's outlook with a close friend, she said something to me that made everything make sense. Why would God create doctors, researchers, pharmacists, scientists, medicines, treatments, technology, etcetera, etcetera if he did not want us to use them? Am I naive enough to be suffering on this Earth, surrounded by resources that God has given to me, but push them away while I wait for He, Himself to heal me instead? If God did not want me to utilize these resources, He would not have allowed them to be made available to me. If He wanted to watch me suffer, He would not have paired me with doctors and nurses who are doing all they can to help me.
Although it is not God's will for me to be cured, it is His will for me to be the voice of the chronically ill warriors around the world, so that one day Dysautonomia, Thyroid Diseases, Gastrointestinal Diseases, Neurological Diseases, Heart Diseases, and so on will not come with pain and suffering but instead will come with a cure so that there are no longer questions like "Why me?"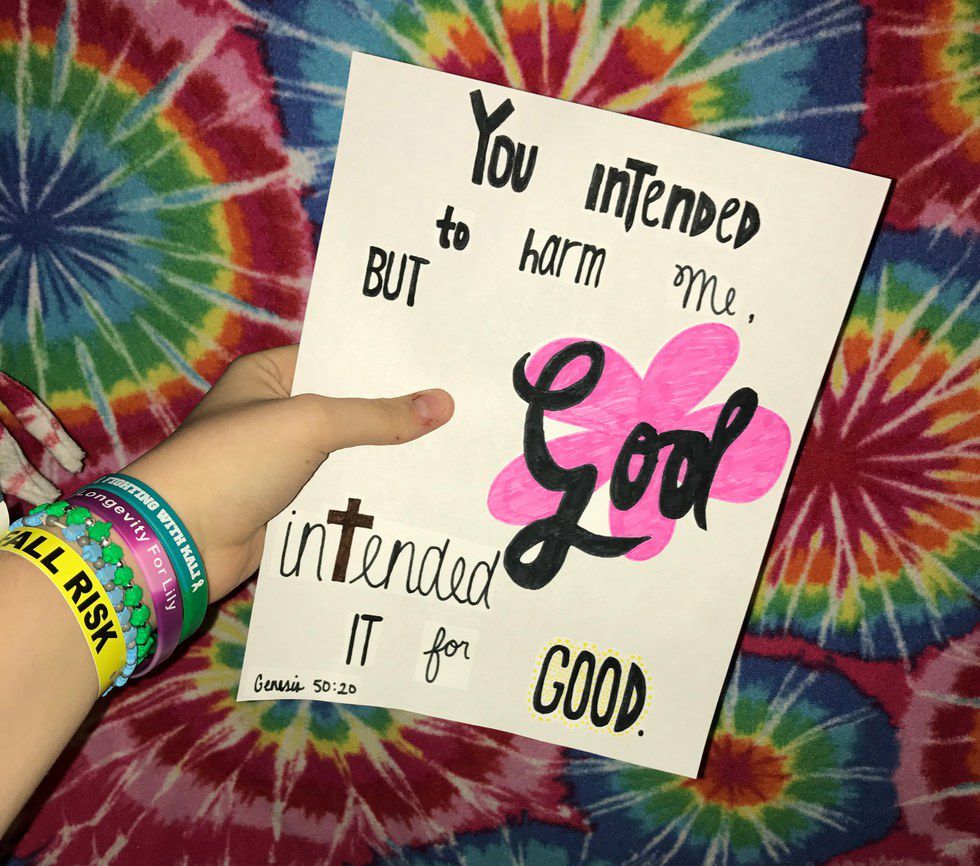 "You intended to harm me, but God intended it for good." Genesis 50:20
I came across this verse on accident, and my outlook toward my illnesses has completely changed since. These illnesses harm me physically, mentally, and even spiritually every single day, but the thing that I am able to fall back on at the end of each day, no matter how draining, is that "God intended it for good." He chose me to fight back against chronic illness for a reason, and although those reasons are as clear as mud to me at times, I keep the faith that one day I will know why; until then I will fight.