A little over sixteen years ago, the first episode of Gilmore Girls aired, and a little over sixteen years ago, the hearts of millions of fans worldwide were stolen by a witty, fast-talking mother-daughter duo whose obsession with coffee nearly matches the fan's obsession with the show. It is a phenomenon that has withstood the test of time. So impassioned are the fans, cast, and creators, that Gilmore Girls has been revived! Hallelujah!

That was thrilling enough news on its own, but apparently Gilmore Girls fans were granted two wishes this year. The show returning for four movie-length episodes in November, and the show having a fan fest. "A fan fest," you may be thinking. "What does a fan fest entail?" Well, in short, it's a fan convention where hundreds of super fans flock to see panels and take pictures with the actors from the show, in this case, from Gilmore Girls.
When I saw this event pop up in my Facebook feed, I immediately went to my mom and channeled Lorelai as I rambled on at a mile a minute about the fest and how fun it would be. She was the one who got me into the show, convincing me to watch it with her the summer before I went off to college. (Thank you, Mom!) Suffice it to say, I was buzzing with excitement at the prospect of attending, especially since my college is in Connecticut. How perfect is that? Mom agreed and it was set.
Flash forward several weeks later to a rainy, but beautiful Friday. After much anticipation, the weekend had finally arrived. I sped out of my last class and over to my car, my bag already packed and ready. (I may have been a tad over-excited.) The two hour drive was the most aesthetically pleasing drive of my life, increasing in beauty the closer I got to Washington Depot (the town Stars Hollow is based on). I was in awe of the hilly roads winding through fields and forests afire with the dazzling colors of autumn. The daffodil yellows, the scarlet reds, the pumpkin oranges. Autumn's seasonal masterpiece filled me with a warm, cozy sense of joy, one that paralleled the ambiance of the "real" Stars Hollow and the tight-knit community dwelling there. I was prepared to be charmed, and charmed I was.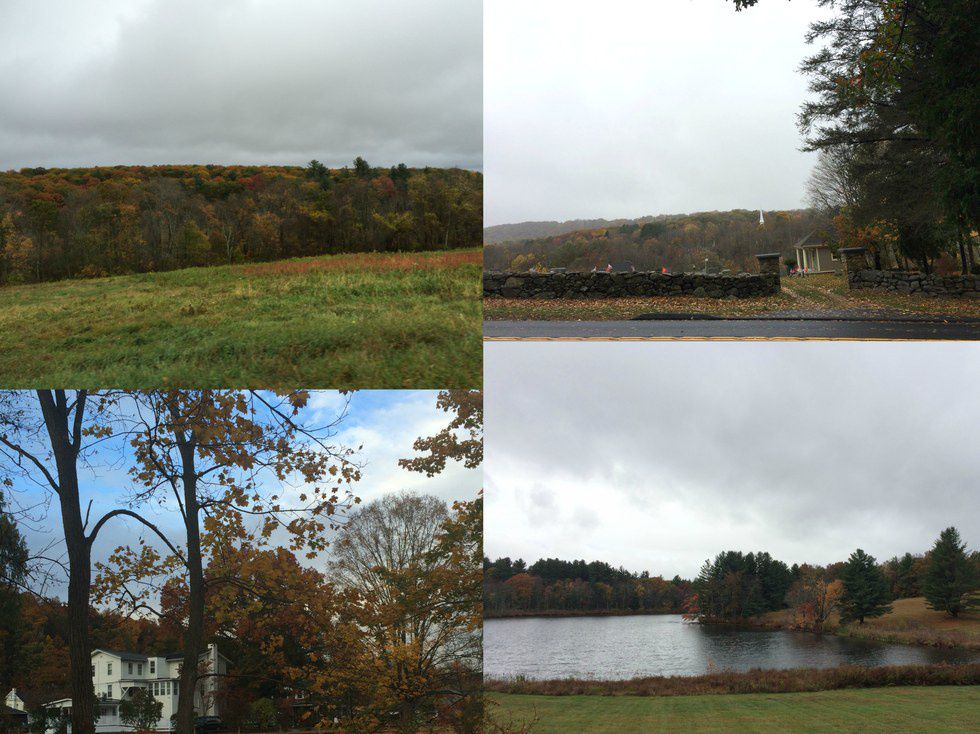 The first thing that charmed me, aside from the fall foliage, was the street signs. That sounds silly, but I'm not kidding, all around Washington Depot were street names borrowed straight from fairy tales. Paddy Hollow, Sunny Ridge, Cabbage Lane, and Bee Brook--just to name a few. I felt like I was in a magical movie as we drove past these darling signs and into the heart of the town--small, but idyllic. Quaint little shops including Hickory Bookshop and the Washington Depot Supply Company were clustered around a four way intersection, traffic being controlled by smiley crossing guards. (Speaking of smiley. On the drive in, I saw a car with two bright yellow smiley faces stuck on each side it. If that's not a harbinger of good times to come, I don't know what is.)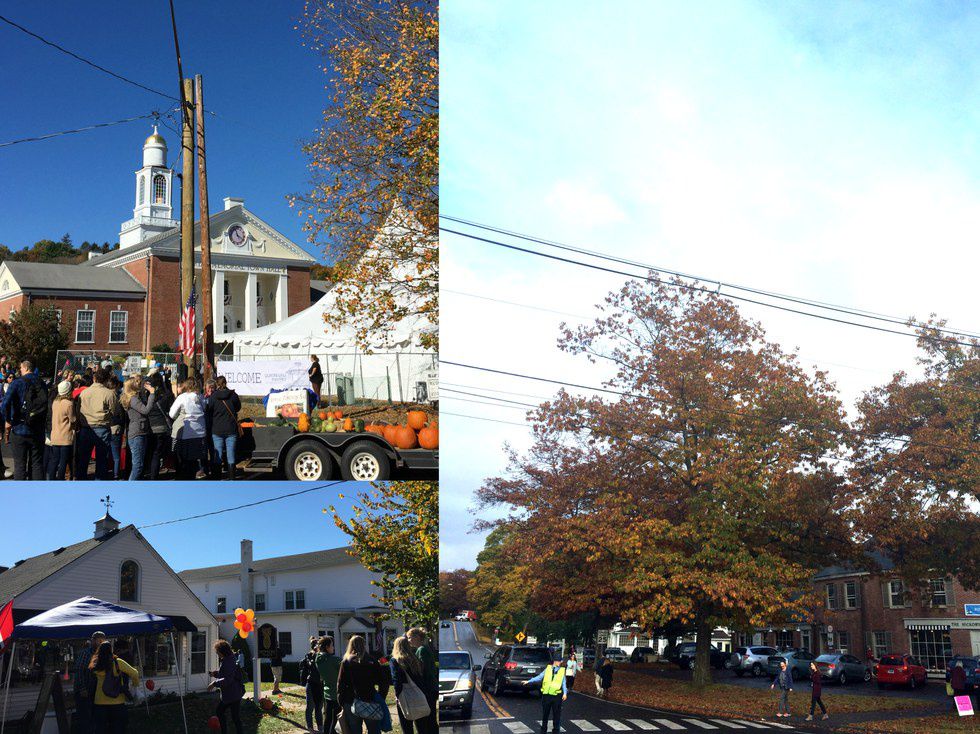 Parking was by the local school at the base of a gorgeous mountain, also transformed by the colors of fall. We signed in under a green pavilion where "smile, you're on camera" signs were tacked up on the posts, which I found amusing. We were then given wristbands and goodie bags (containing a tee shirt, chips or popcorn, soap or dragonfly stationery, "ready for all things" decal, a schedule, and a Megpie).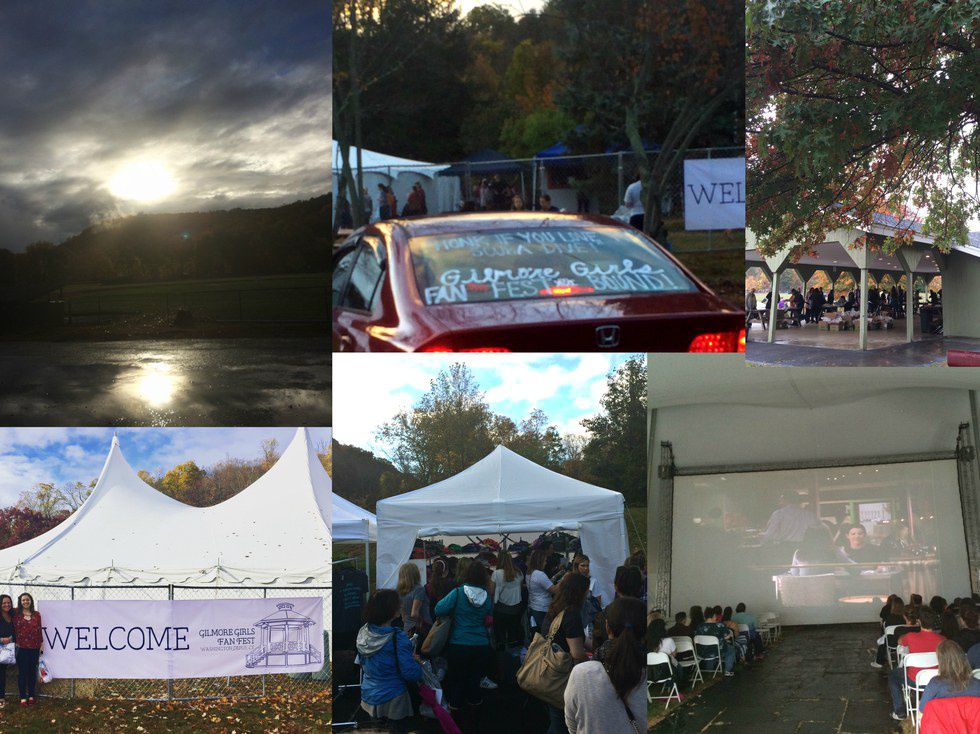 Yes, that car does say "Honk if you line scuba dive. Gilmore Girls Fan Fest Bound!"
Throughout the afternoon they had screenings of the pilot in the massive white tents in front of, and next to, Town Hall. They also had a small tent brimming with countless Kindred Handicrafts' awesome homemade shirts, so we grabbed some of those for ourselves and our friends.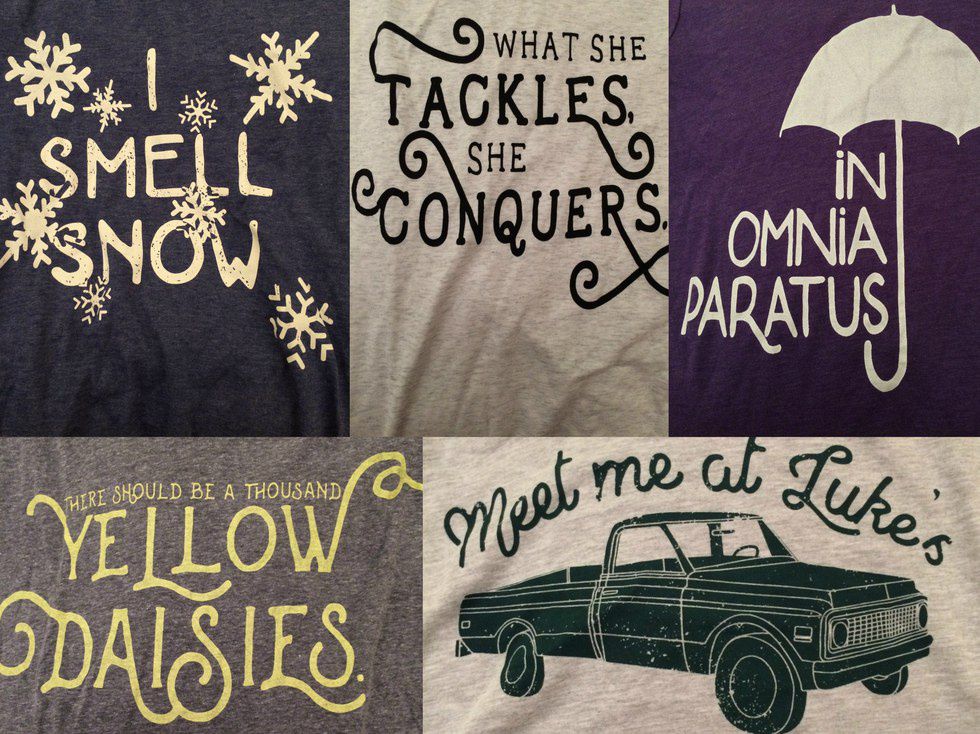 As for dining, they had food trucks outside of Town Hall, but Mom and I wanted to check out the town's charming tavern, GW. That place only made me love Washington Depot even more. The walls were delicately painted with nature scenes and a warm glow lit the whole restaurant. Fairy lights, faux animals, flowers, and branches lined a section of the ceiling. Plus, by the bathroom, there was an old scarecrow--which I thought was a real in my first encounter. GW was packed with fan fest goers, one of the lovely waitresses noting how crazy it was that so many people came for the event. (Crazy awesome.)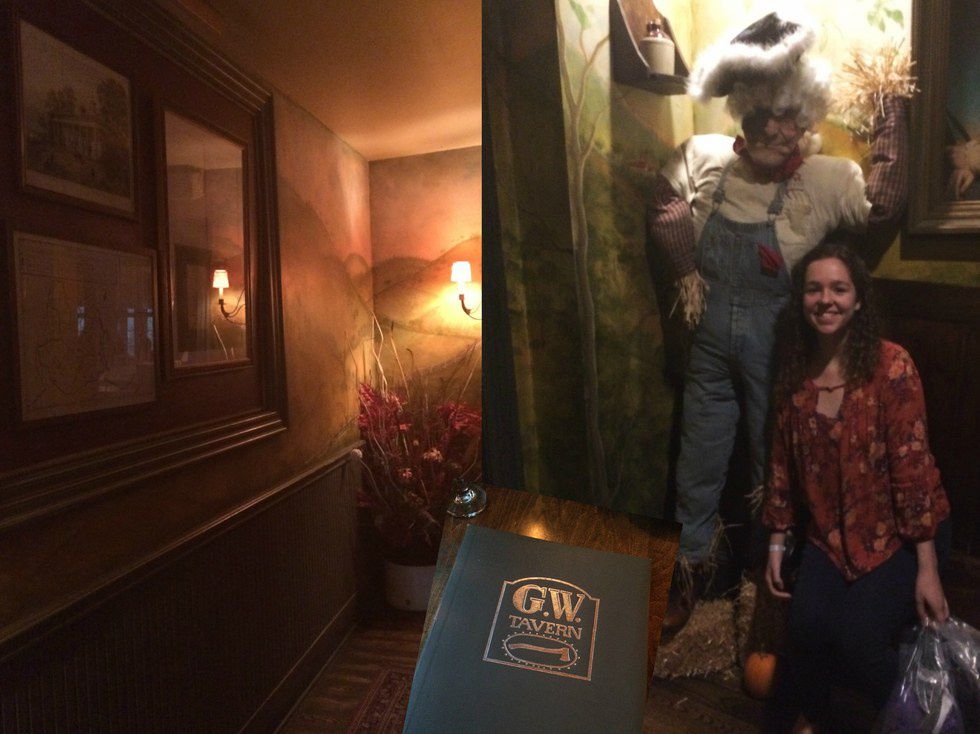 To end Friday, fans gathered under the two tents to watch a live-stream of the panel going on inside of Town Hall (for VIP attendees only). The panel lasted from 7-9pm and included: Valerie Campbell (costume supervisor), Jami Rudofsky (casting director), George Bell (dialogue coach), Stan Zimmerman (consulting producer/writer), Sheila Lawrence (writer/producer), and Mara Casey (casting director). Here are some things we learned:
About the seasons: Filming winter is not so fun for the cast and crew because the fake snow makes them sick and they have to bundle up despite the boiling hot LA weather. The consensus seemed to be that fall is the favorite season in large part because of the gorgeous sets, like the radiant leaves put up on the trees.
About the dialogue: Lauren Graham (Lorelai) hits the nail on the head with her speedy dialogue, and both she and Alexis Bledel (Rory) write down their lines to help memorize them. Guest stars not accustomed to the coffee-induced, rapid pace are told to "Gilmore-ize it" by George Bell (dialogue coach), in order to keep up, but sometimes that can take 36 takes. (Not exaggerating.)
About casting Dean: When Jared Padalecki (Dean) auditioned for the role he was a talented 17 year old about to fly back to Texas, so the casting directors, who described him as being "cute," implored Amy to quickly check him out before it was too late. Once he auditioned, Amy said, "well, that's not fair," because it's unheard of to find the guy on the first try, but they did. Jared was it.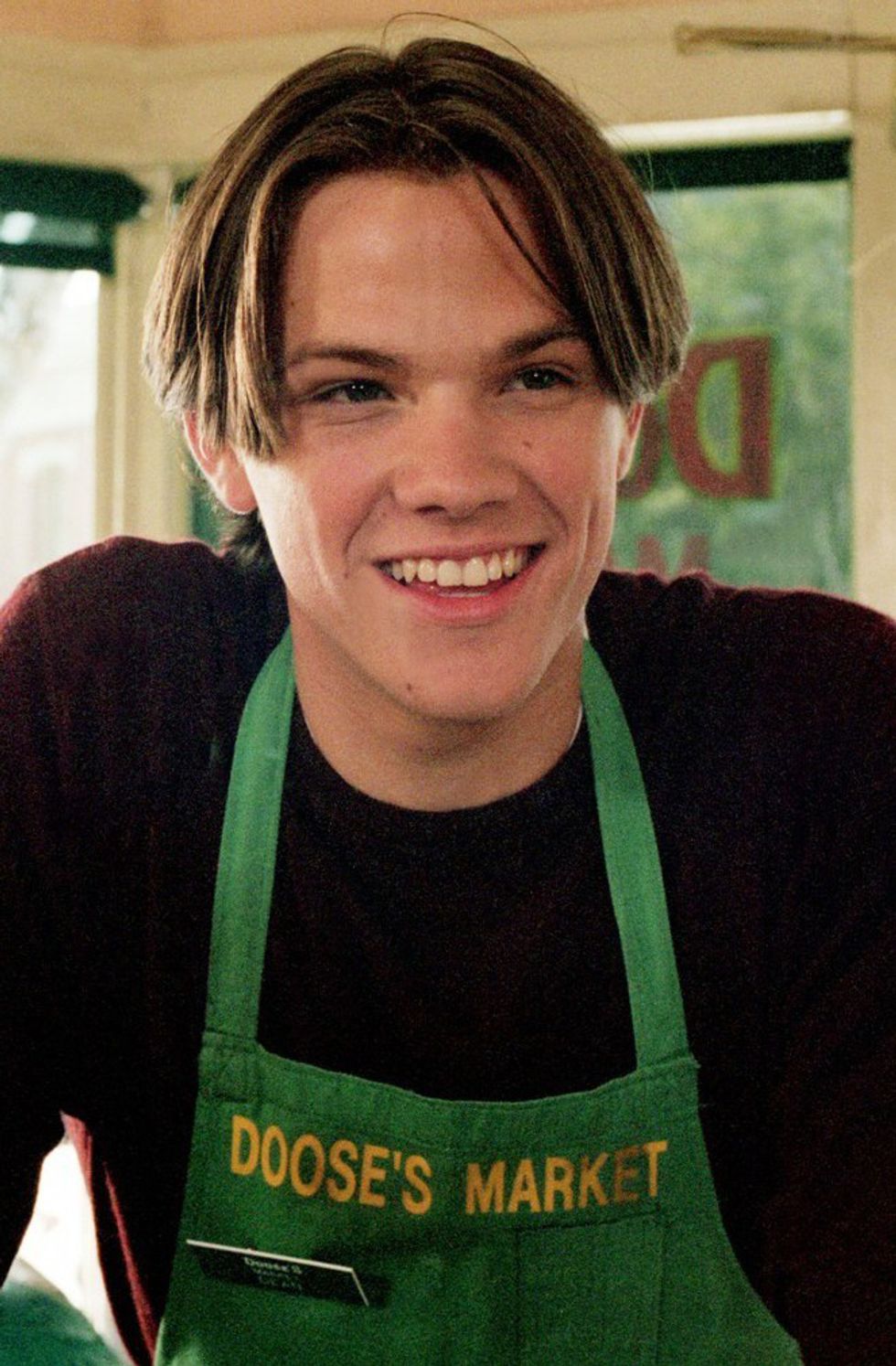 About "the one who got away": Guess which A-list celebrity auditioned for Gilmore Girls but "fell flat"? None other than Ryan Gosling! He was up for the role of a football player but got turned down.
About Costuming: The dresses from the cotillion episode were reused for "You Jump, I Jump Jack," and later for an episode with Hep Alien. Nothing goes to waste!
About Writing: Amy Sherman-Palladino (the creator) took the writers on writing retreats six weeks before filming had to start--to places like Vegas--in order to figure out the story-lines.
Star Herrmann, Ed's sunshiney wife, and their daughter joined the panel to recount memorable Ed-moments, in life and on set. Star revealed that Ed genuinely loved the Gilmore Girls and the fans, and was even endearingly asked by a young boy to be his pretend grandpa. Ed, being the kindhearted soul he was, wrote back and forth with the boy.
Valerie recalled Ed kicking up his leg whenever she'd try and get a photo of him; she now has a series of photos of Ed mid-kick. Additionally, Ed's unmatched chemistry with Kelly Bishop (Emily) was mentioned as being something admired by all of the cast. They reminisced about fabulous table reads where Kelly and Ed were Skyped in; their connection was electric even when not in the same room.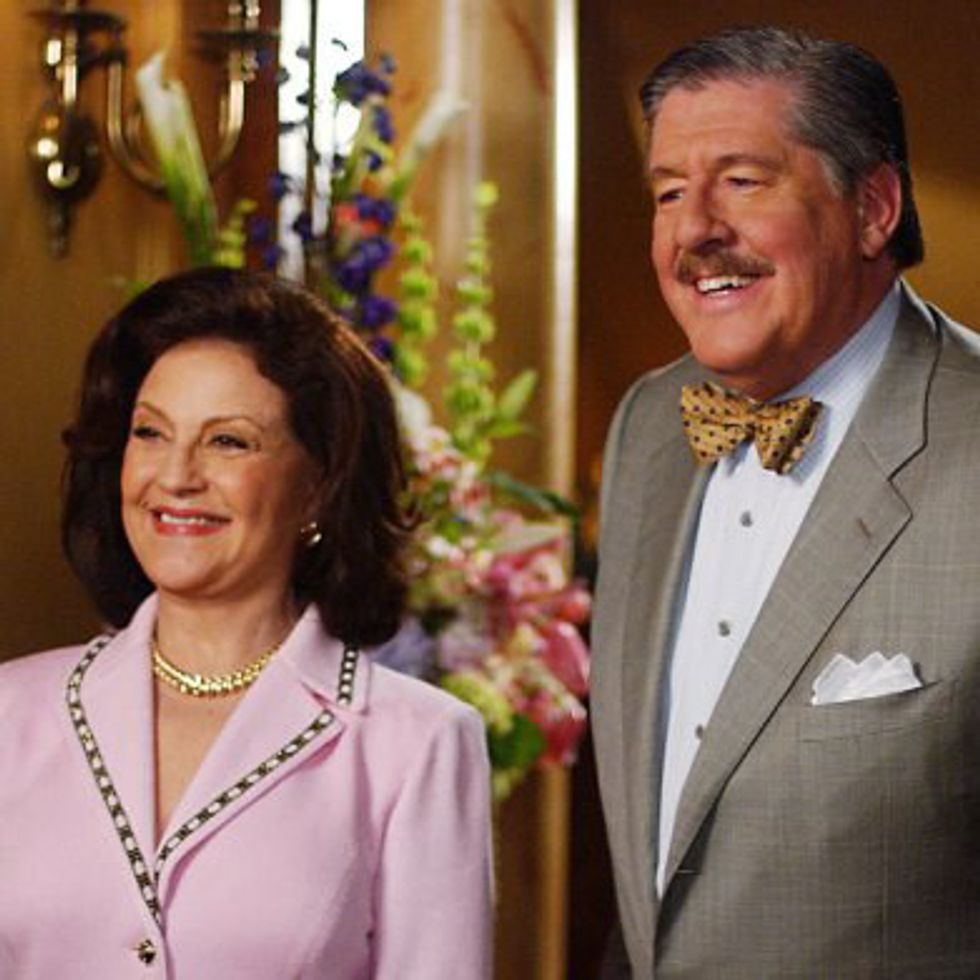 Ed's daughter thinks that it will be beautiful to see Ed's character receive the proper closure and come "full circle" in the revival, though watching for her will be bittersweet.

Day two arrived in what felt like a matter of minutes. Upon coming into town, Mom and I instantly became one with the sea of multi-colored umbrellas outside of the bookshop. The rain was soaking our shoes and chilling us to the bone, two not-so-comfortable things that you'd think would spoil our day. But the gloomy weather wasn't at all a deterrent for the fans; the town was still packed with psyched guys and gals (mostly gals) eagerly waiting to meet the cast. For me, the rain, while not optimal, added a certain thrill to the whole thing, and I find shiny water droplets on umbrellas and slick leaves resting on the pavement to be breathtaking. (Maybe I'm just weird.) The lines weren't too bad either because waiting in lines creates the perfect opportunity to make new friends. Who doesn't love making new friends?--especially when you know they adore Gilmore Girls. (In fact, one fan, when asked what the highlight of the festival had been, said it was meeting all of the other fans!)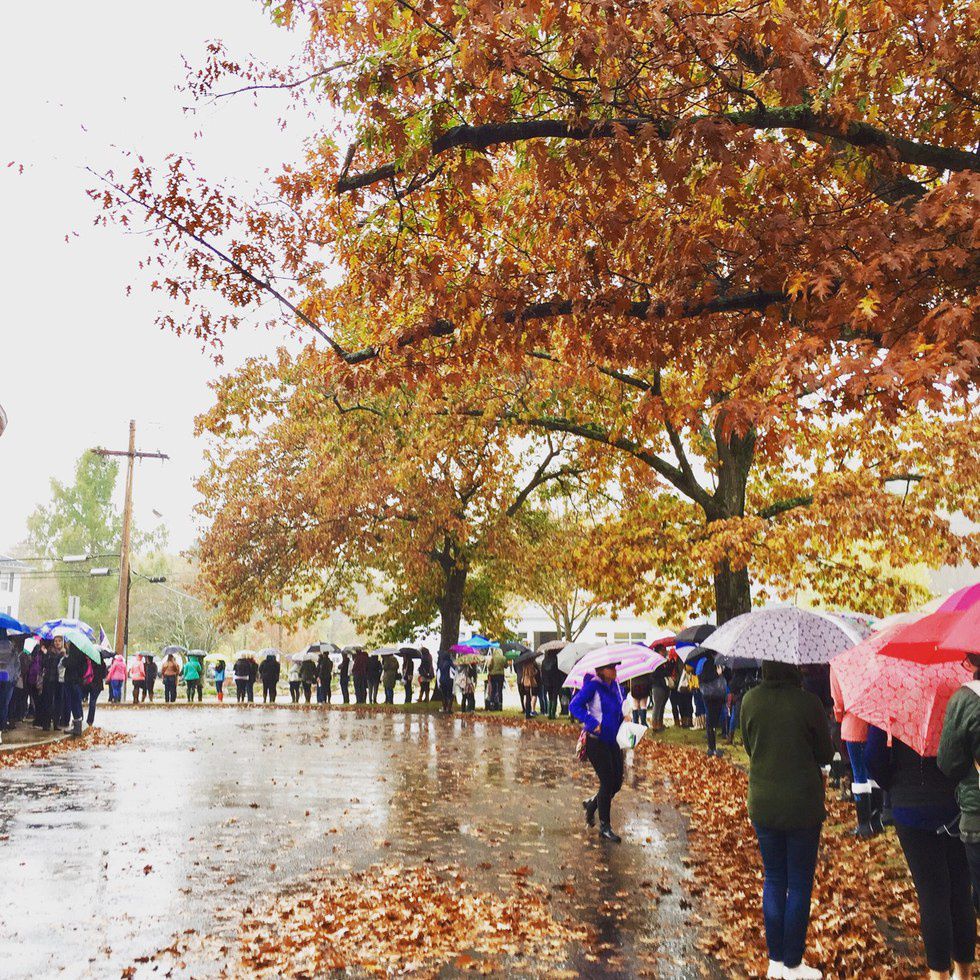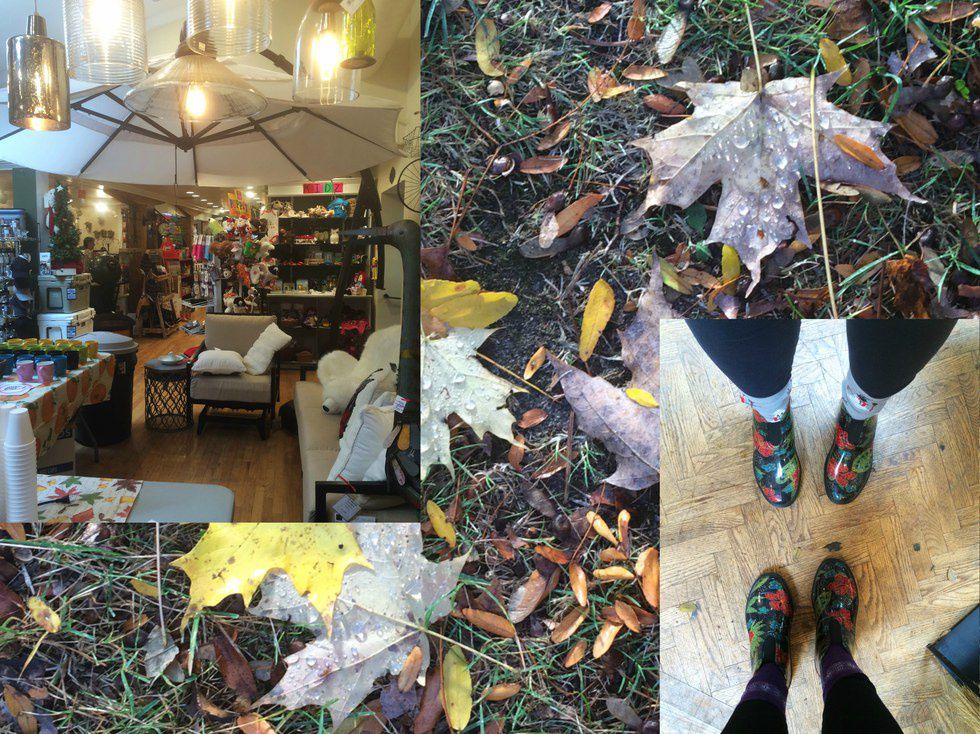 Washington Depot Supply Company was our savior, providing us--and several others--with rainboots and toasty socks to warm our feet.

I made two friends in Keiko Agena (Lane) and John Cabrera's (Brian) line, Megan Dunford (graduate of Virginia Tech) and Elle Humes (senior at Virginia Tech), and inquired about their personal highlights of the festival thus far. Megan thought it was cool to hear about all of the behind-the-scenes tidbits, like reusing the gowns from the cotillion episode.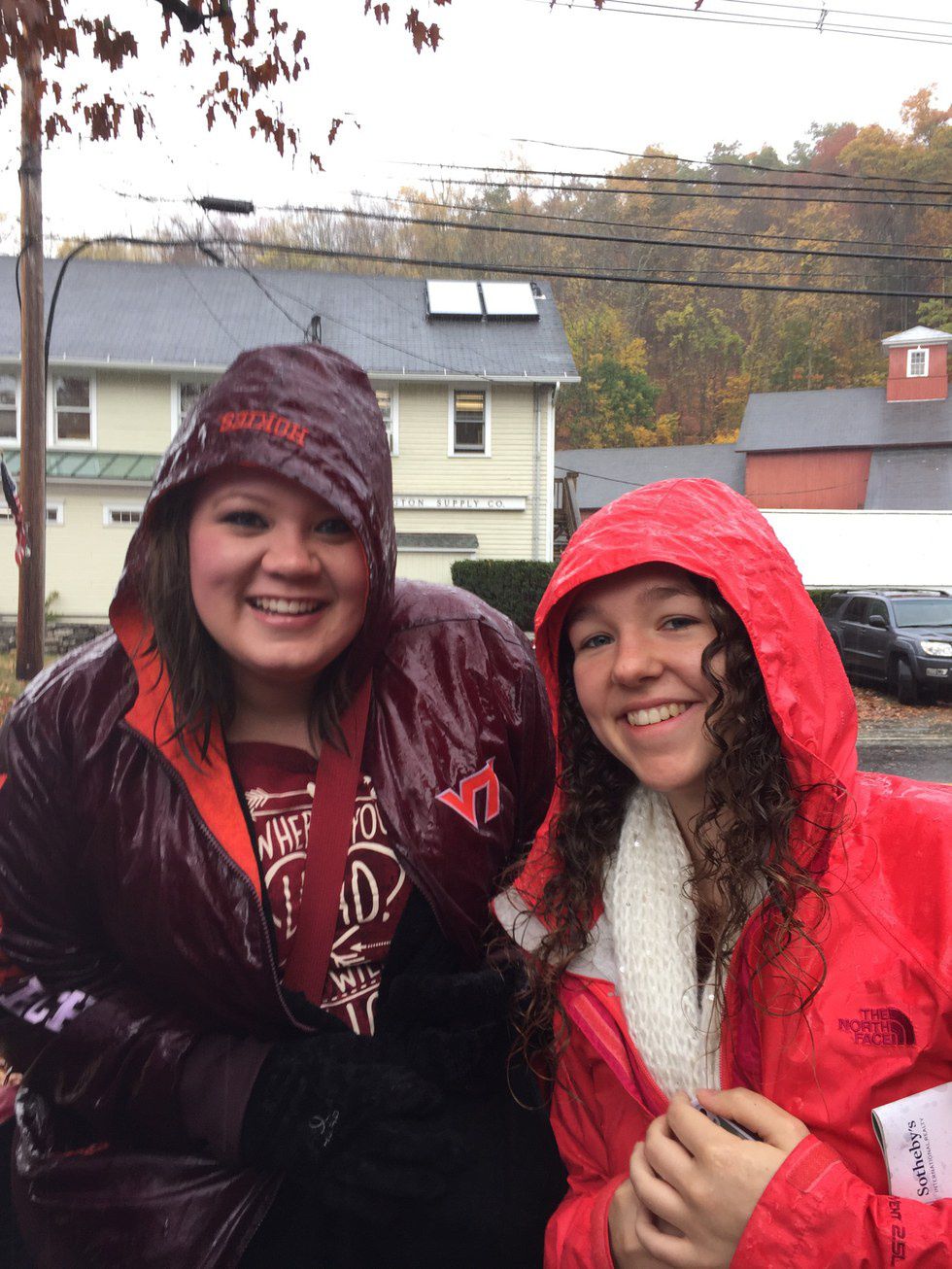 Megan and I outside of Hickory Stick Bookshop
Elle's favorite behind-the-scenes story was when Valerie and other crew members had to scramble last minute to put together Jackson's wrestling pajamas the night before filming. Jackson Douglas (Jackson) had to call his dad for old pictures which Valerie then hurriedly photo-shopped on the body of wrestlers and then ironed onto white pajamas taken from another show.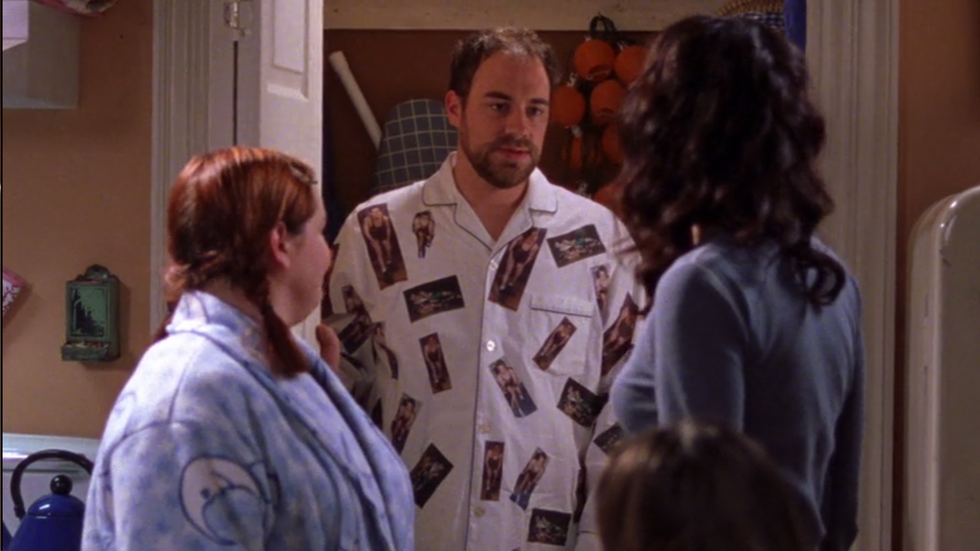 These are the pajamas, in case you forgot them and all their glory
Megan and Elle were fortunate enough to have VIP access to Town Hall, meaning they were party to the "outburst" from Liz Torres (Miss Patty) up on the balcony. (Unable to be heard out in the tents.) According to Elle, Michael Ausiello (moderating the panel) told Liz that she was allowed one more interjection, so Liz shouted down that she'd like to take him home. What a hoot!
When Megan, Elle, and I finally reached the end of the line, the volunteers informed us time was out and we wouldn't get our photo ops, but, by some miracle (otherwise known as my mom), the three of us managed to snag a quick photo with Keiko and John, who were both super sweet!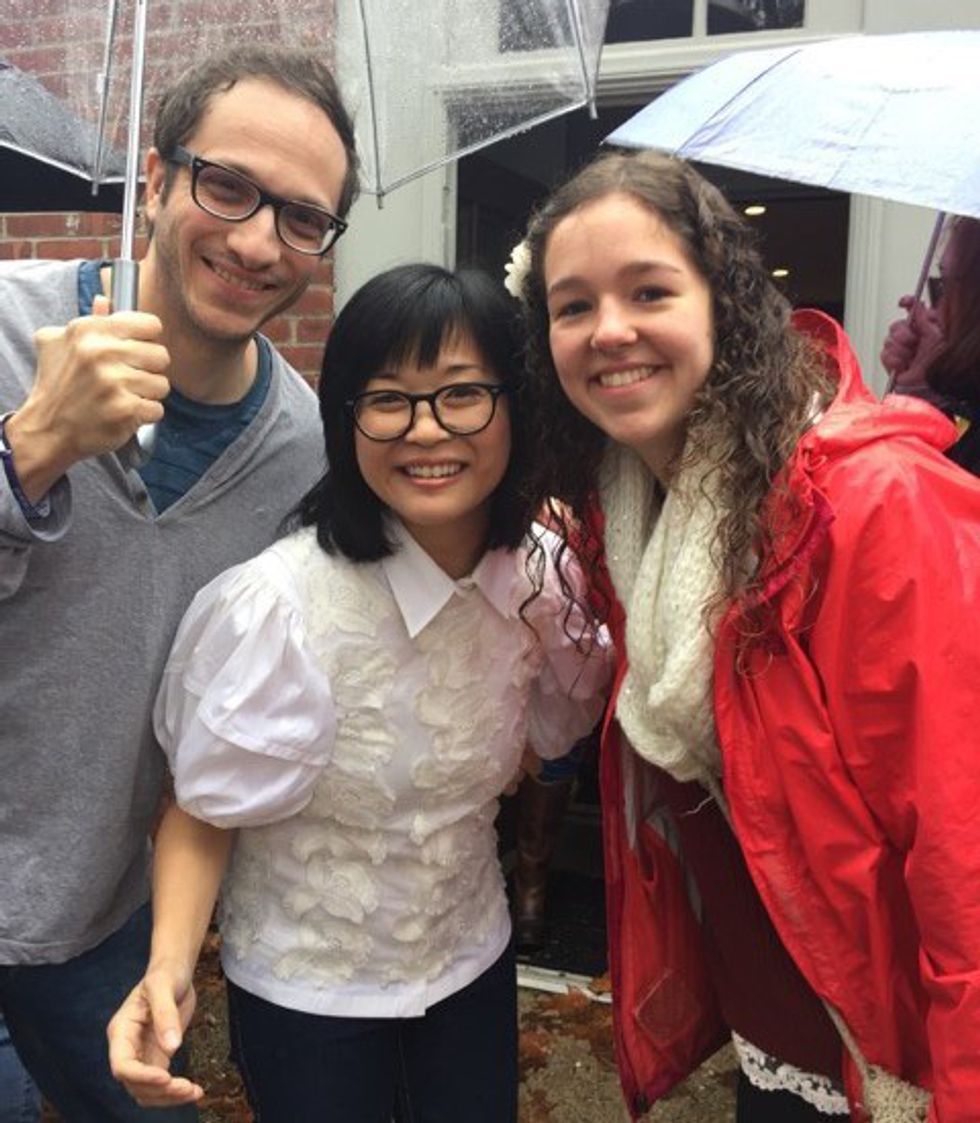 Keiko and John weren't the only people I got to meet by the bookshop. I got to talk with Stephanie Storey (author of "Oil & Marble"), her husband Mike Gandolphi (Andrew), and Liz Torres, as well. As an aspiring author, it was such a pleasure to see Stephanie's enthusiasm about publishing her debut novel, and to get advice from her. What was especially neat was that Stephanie had fans sign her book, too. Going off of that great idea, Mike said he's looking forward to signing my book someday. Crossing my fingers that that will happen.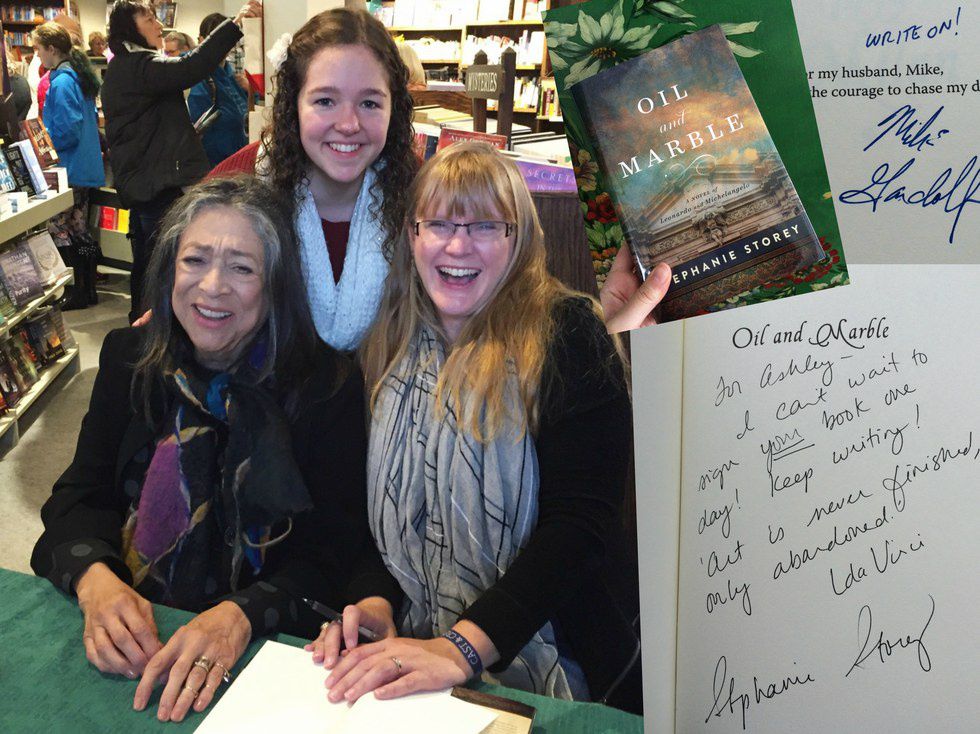 Look at how smiley! I love happy people!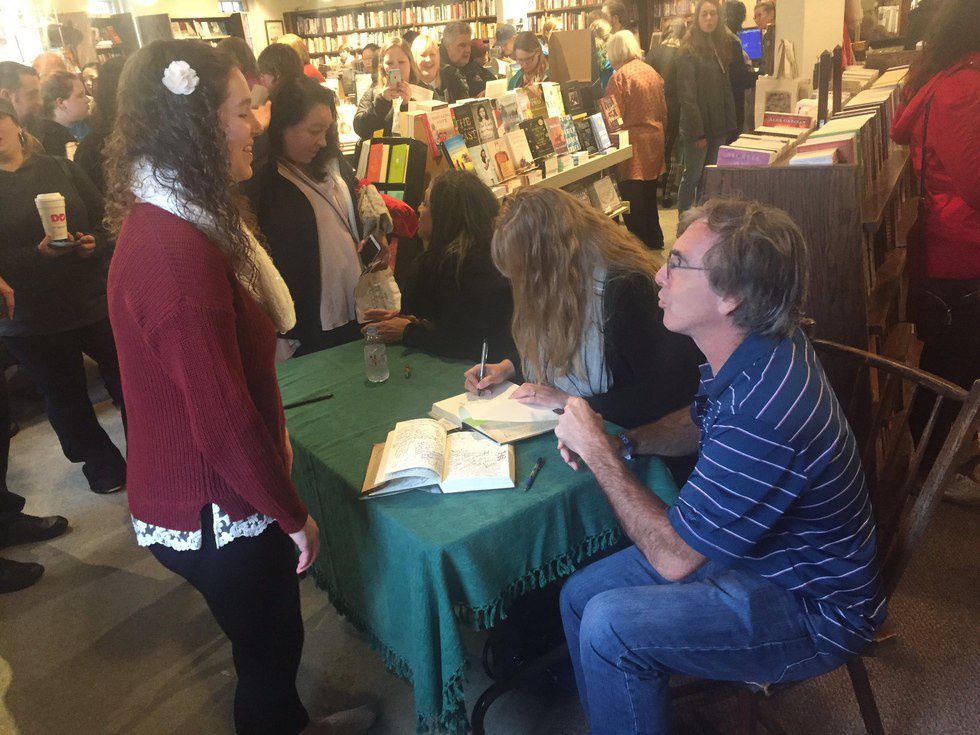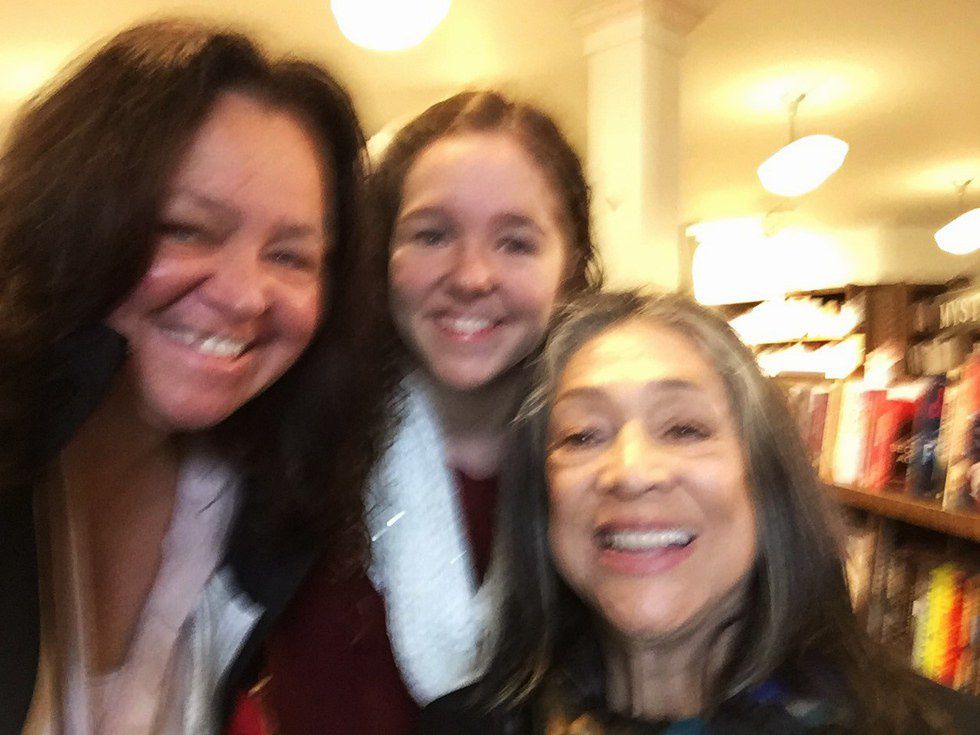 (Liz is actually Miss Patty in real life too, in case anyone needed the clarification. :))
Before driving over to the Mayflower Inn for lunch, Mom and I got to hear Vanessa Marano (April) discuss the Christopher and Dana Reeve Foundation. She was, as everyone was, incredibly friendly. (Some may hate her character, but she is lovely!)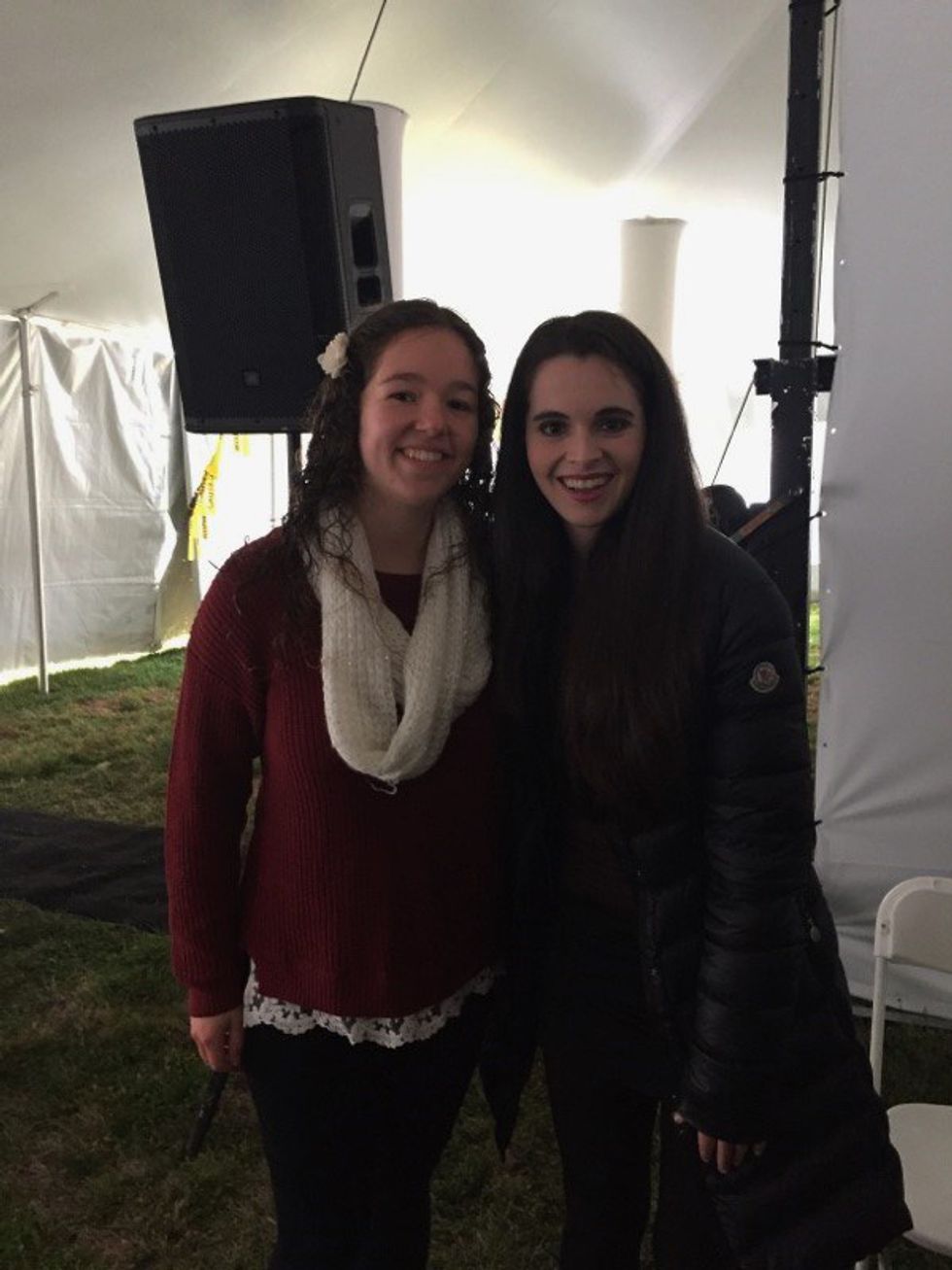 Everyone was so smiley!
The Mayflower Inn was picturesque with pumpkins lining the roof of the white veranda at its entrance and pristine gardens out back. I can completely see how it was the inspiration for the Dragonfly Inn in the show.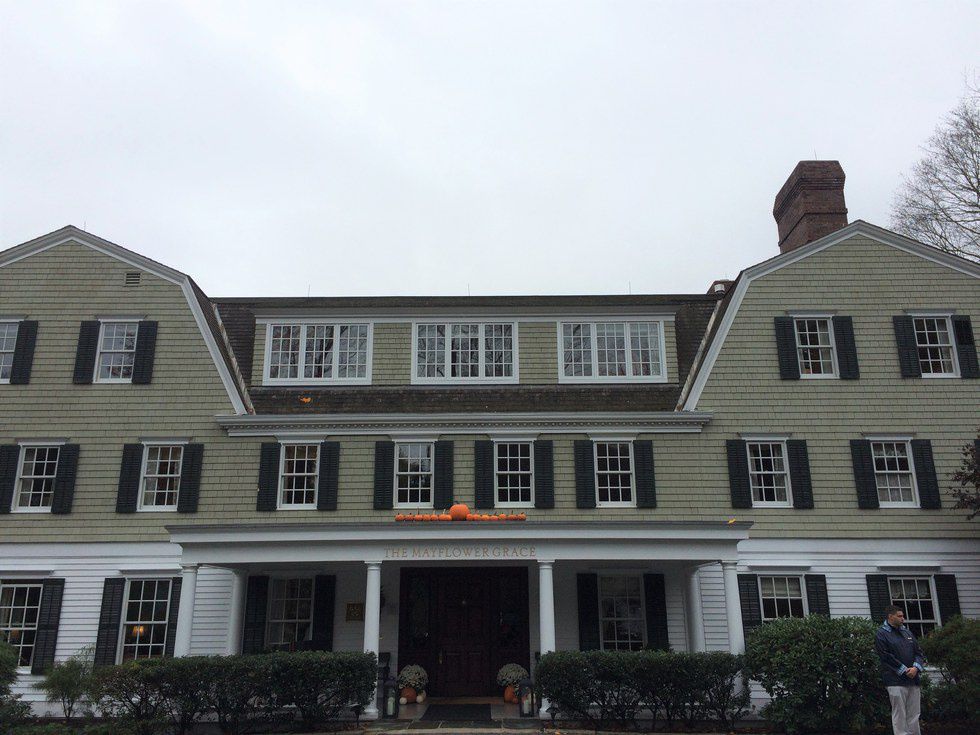 After stepping into that fairy tale setting, we were whisked away to another in New Preston. New Preston epitomizes small-town charm, particularly The Smithy, an old blacksmith shop turned into a local food store. A line of fans snaked around the rustic wooden interior, stocked with fluffy cinnamon rolls, fruity pies, fresh veggies, and flavored vinegar. In the loft area, where art is exhibited, Jackson Douglas (Jackson) was signing cookbooks and taking pictures. He was affable and chatty, and revealed he is not much of a gardener, unlike his produce-loving character. However, fun fact, he bought a lemon tree two weeks before leaving for the festival!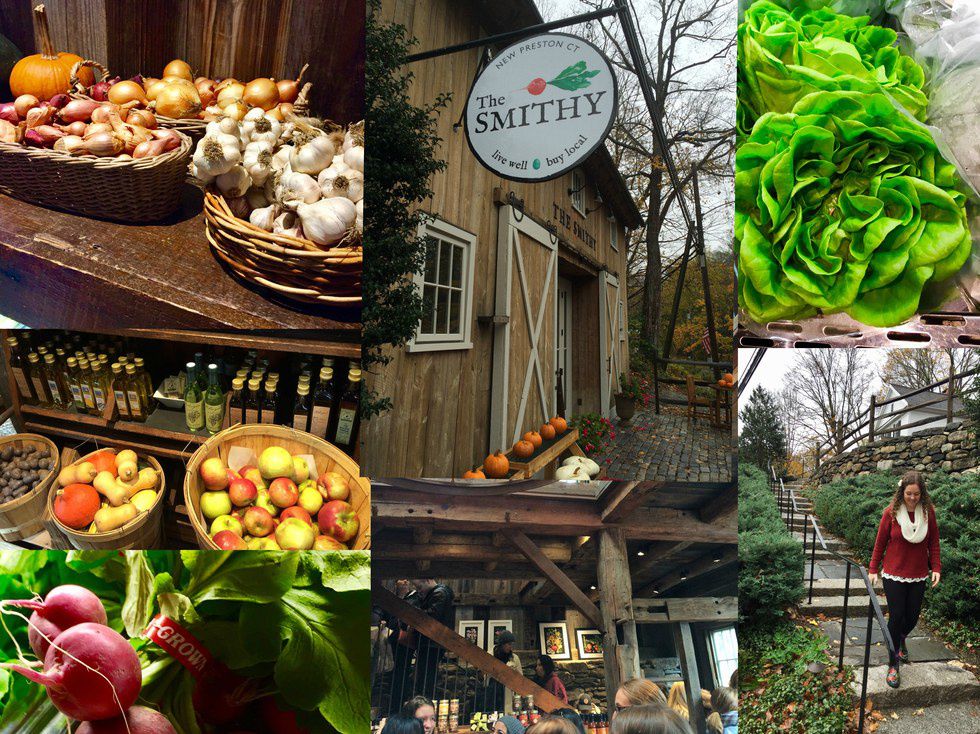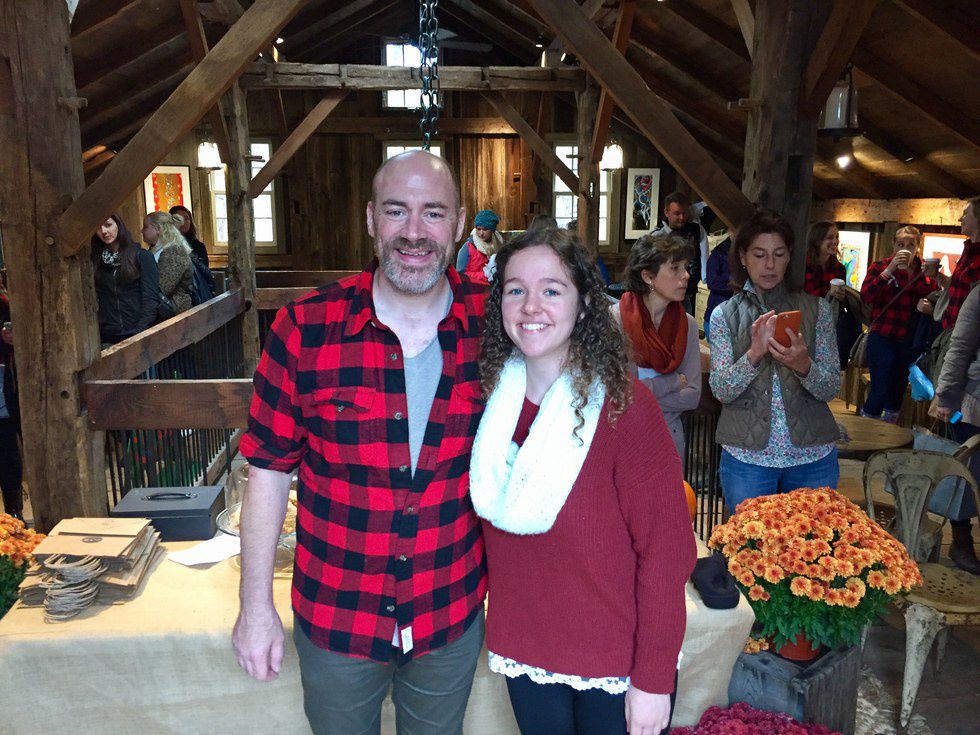 (We were matching...no big deal.)
It wouldn't be a Gilmore Girls event if copious food items weren't available, so as well as the food trucks, pizza, and coffee bar, there was a cake tasting across the street from Town Hall.

Last, but not least, of Saturday's events was the cast panel and trivia featuring: Rose Abdoo (Gypsy), Keiko Agena, Aris Alvarado (Caesar), Rini Bell (Lulu), John Cabrera, Jackson Douglas, Mike Gandolfi, Sean Gunn (Kirk), Todd Lowe (Zack), Vanessa Marano,Ted Rooney (Morey), Liz Torres, and Biff Yeager (Tom). The Gilmore Guys did a great job of moderating the panel, both charismatic and funny. Here are six quick fun facts they helped us learn:
According to Rose, Gypsy had a crush on Lorelai. (Woah! Who knew!?)
The Hep Alien members are still friends in real life! (I love when that happens.)
The town meeting scenes were the hardest to film. (They sometimes took from 7am to 10pm to finish.)
All Ted Rooney had to do to get the part of Morey was be tall and skinny. (He joked.)
Sean Gunn thoroughly enjoyed Kirk playing Jesus. (I think everyone enjoyed that.)
Hep Alien's slogan on their flyers was "we are out there" which no one at the festival knew. (We all bowed our heads in shame.)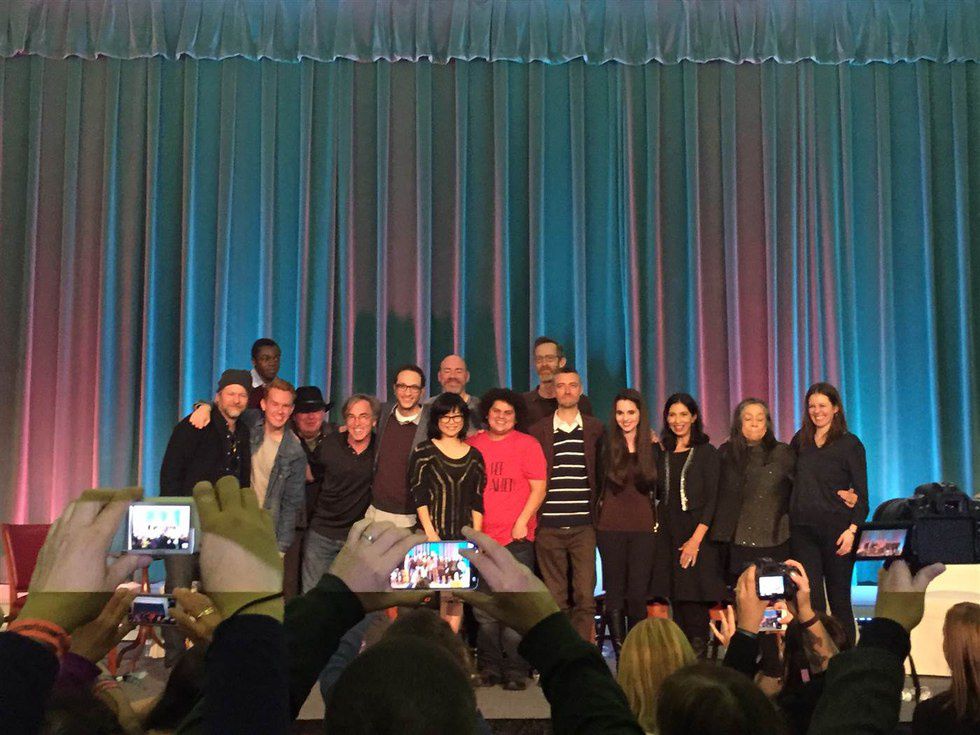 Afterwards, another new friend of mine, Sam, was told that the cast would be out back of Town Hall, so we hurried over to catch some of them before they departed. We managed to get pictures with Ted Rooney who was kindly lagging behind the others for the sake of the fans.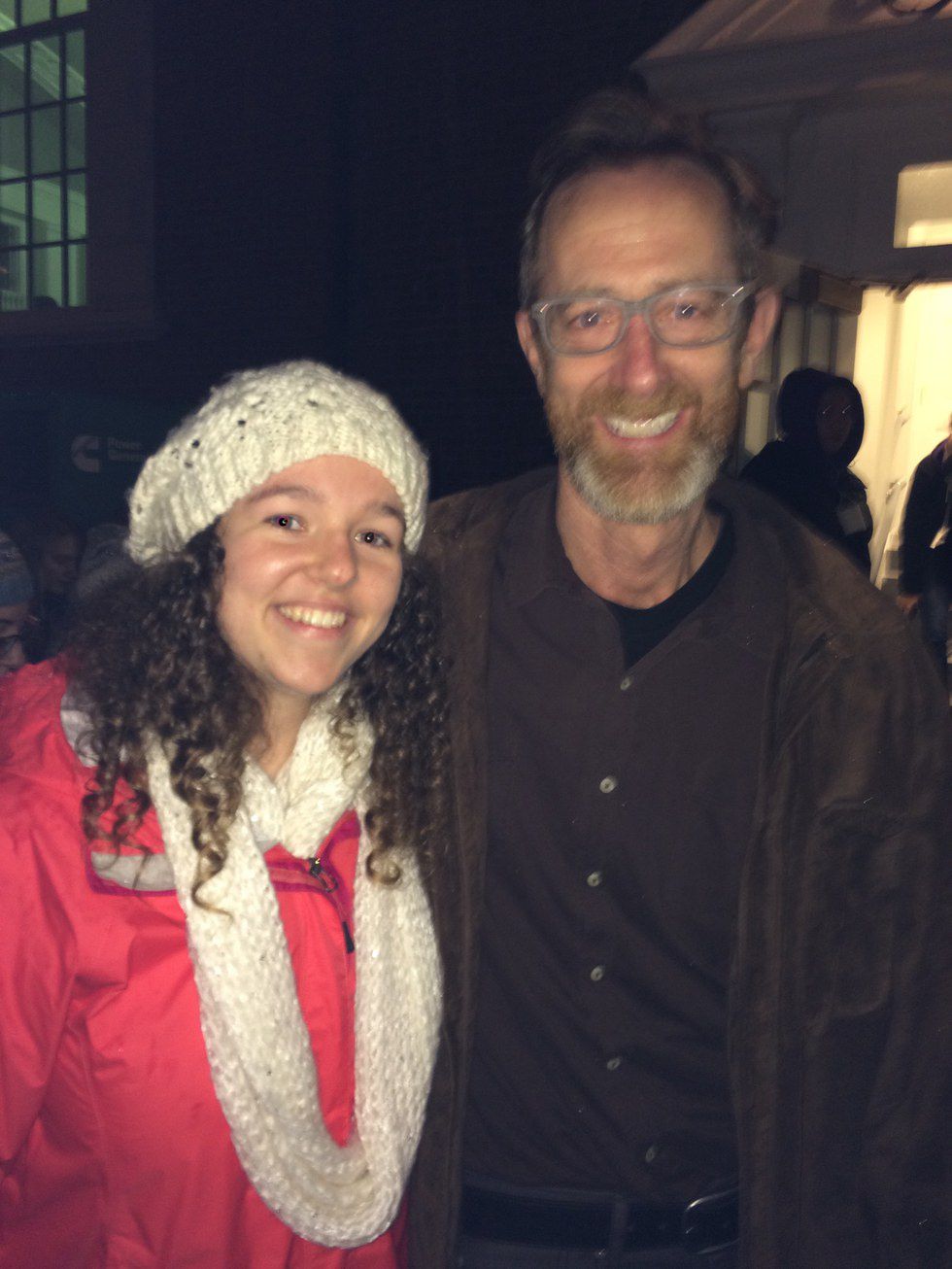 You might have noticed something missing from this relaying of events. Something boyfriend related, maybe having to do with three handsome young men: Dean, Jess, and Logan. If you are one of the countless fans who is insatiably curious over who Rory will choose, here's what I gathered from the festival. Team Jess is by far the most popular team--I'm not kidding, he is eons ahead of Dean and Logan, with members such as Mara Casey, Jami Rudofsky, and Vanessa Marano on his team. Logan came next, backed by Jennie (creator of the festival), Todd, and a couple of others. Lagging far behind was Dean, who barely had any supporters. (Though everyone loves Jared.) As for the fans, when asked to holler for their favorite boyfriend of Rory's, Jess beat out all the others with an eruption of cheers and clapping. (I'm Team Jess, too. Though I was Team Dean in the beginning.) George Bell says all three guys are great and un-Hollywood, and that he teasingly warned them not to change because he'd have something to say about it.
Mike garnered mass-approval and raucous applause when he answered his team preference with "Rory is an independent woman and doesn't need a man to define her." Mrs. Kim would approve. (Sean Gunn yelled "Kirk!" when the crowd was picking teams, so there's always that option--though I think Lulu has dibs.)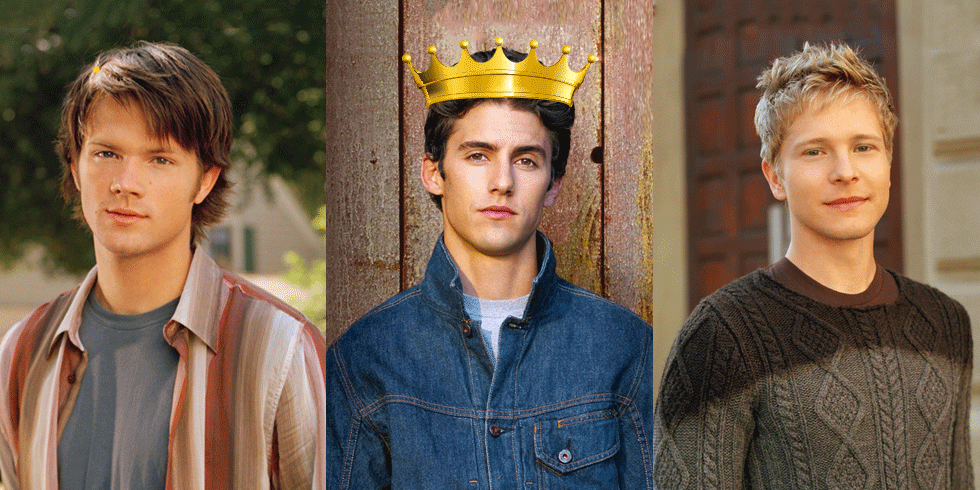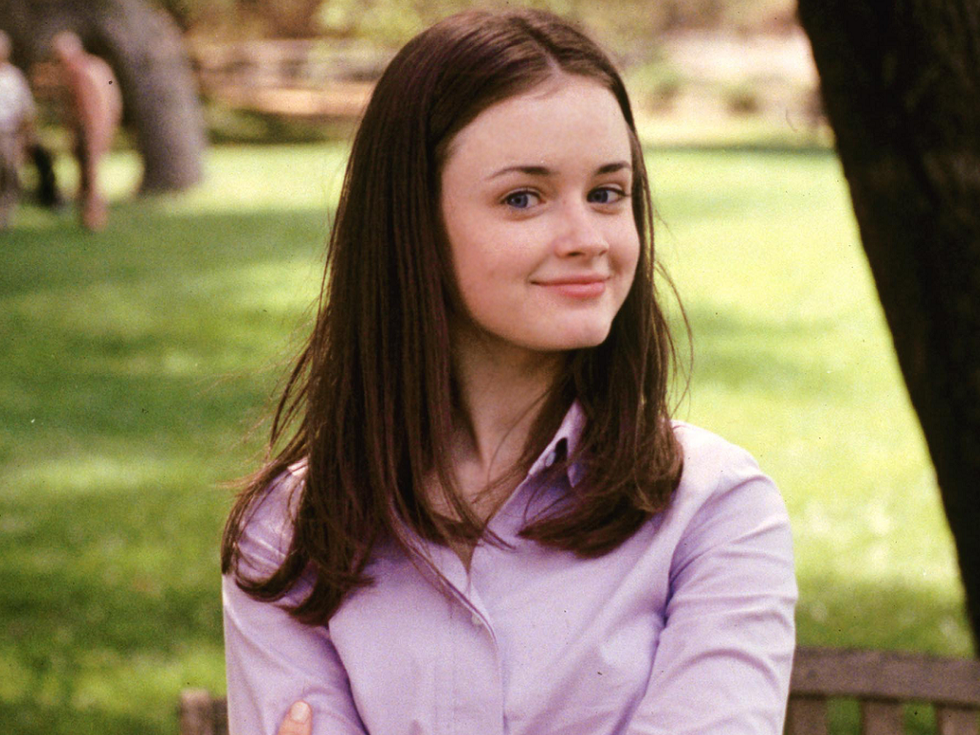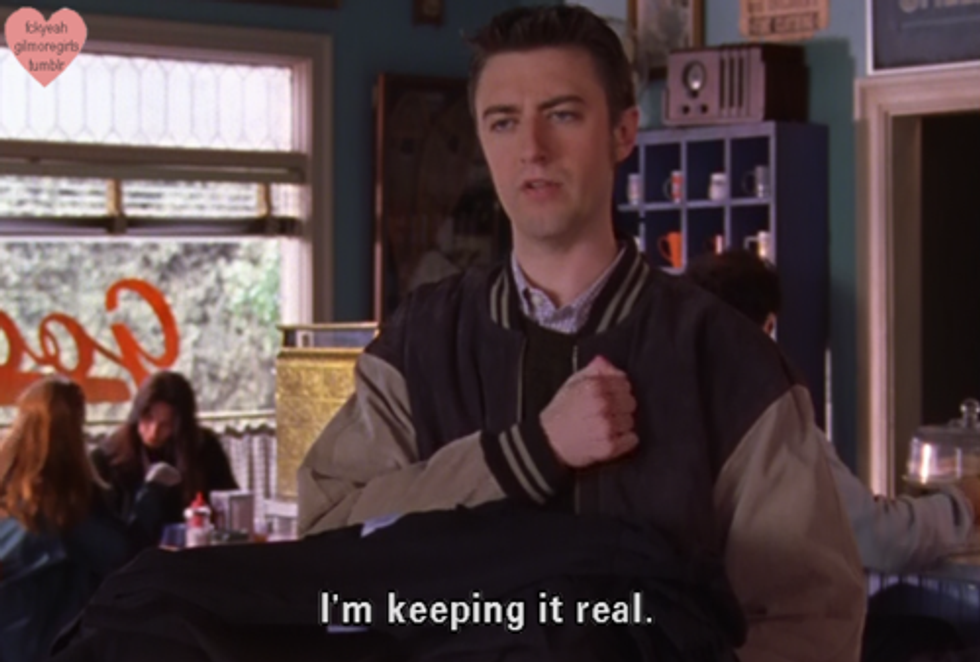 Who's your pick?
On Sunday morning, after a yummy breakfast with our fellow Gilmore Girls fans at our b&b, Mom and I headed over to Washington Depot for the closing festivities. The sun was shining and the air was crisp, the ideal weather for the final day of the fan fest. Jennie, who organized the whole thing, was awesome and kept the crowd laughing as she gave away all sorts of goodies at random: a jersey from George Bell, key chains, Gilmore Girls mugs, cookbooks, cookies, etc. But the best part of the giveaways for me was Rose Abdoo (Gypsy) making an appearance. She let us in on a little behind-the-scenes info; the sweater she wore in the knit-a-thon episode was extremely itchy and was refused by Lauren and Melissa McCarthy (Sookie), which I thought was hilarious.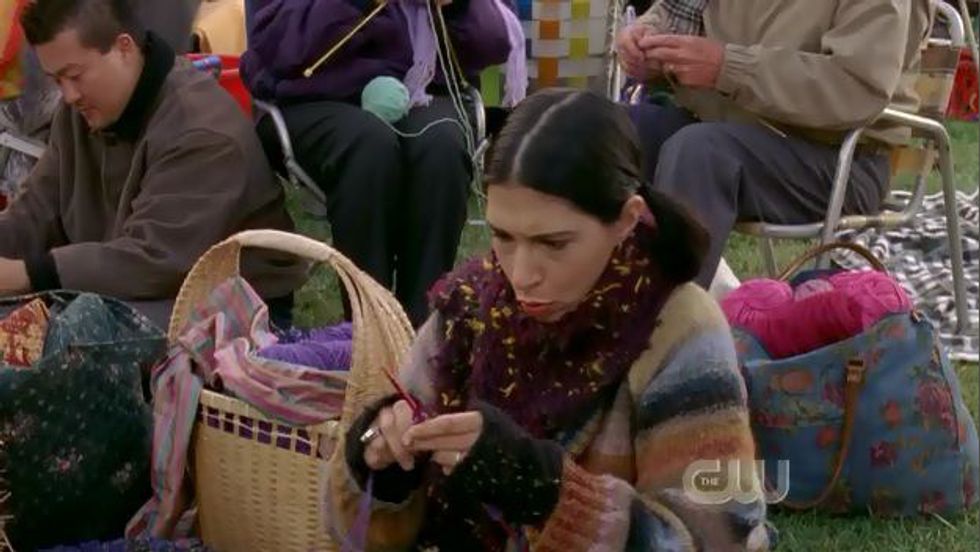 She then said thank you to the fans and gave them two of her 89 year old mother's stunning ornaments, intricately painted with Stars Hollow blanketed in sparkling snow. I was lucky enough to get one of them because I have an ultra nice mom. (Rose said so, as did Jared at a Supernatural convention, so I guess she must really be the best, even better than Lorelai. ;)) I hugged Rose and took a photo--she's the sweetest!--and she told me to think of them at Christmas when I hang up the ornament on my tree.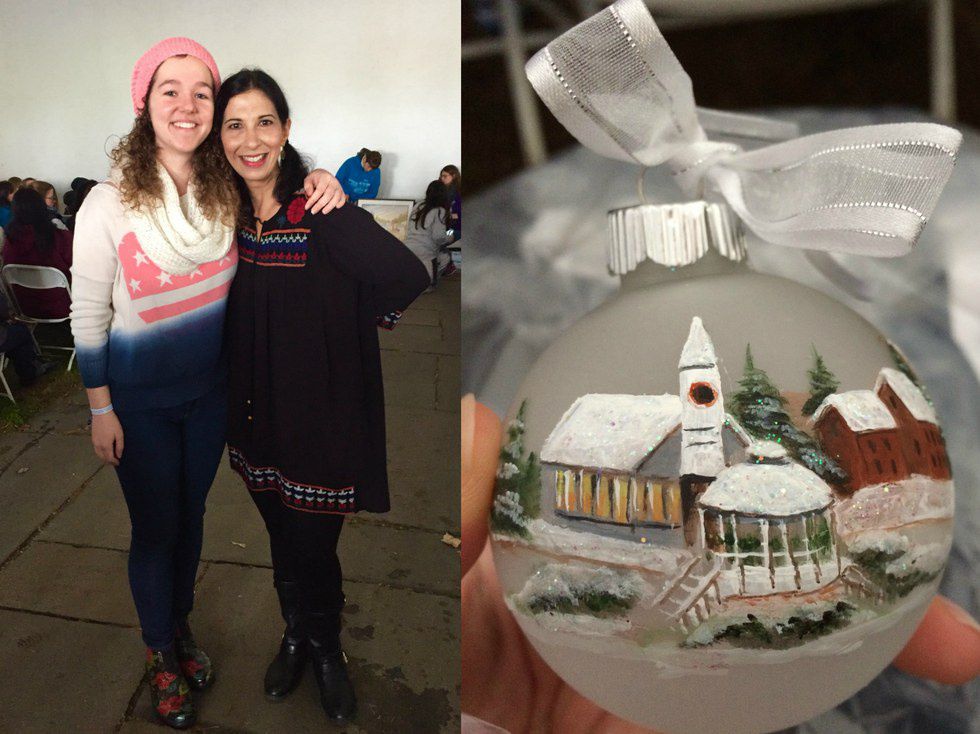 Side note: For those who didn't get the chance to come out to this festival, don't fret, Rose thinks they should have another one after the November episodes are released, and I'm sure others are of the same mindset. There is hope for you yet!
The very final thing we did was watch two heartwarming Ed Herrmann tributes--one a compilation of his impressive career, the other a slideshow of pictures, the cutest being him going all-out in the costume department for Halloween. He is dearly missed and remembered fondly.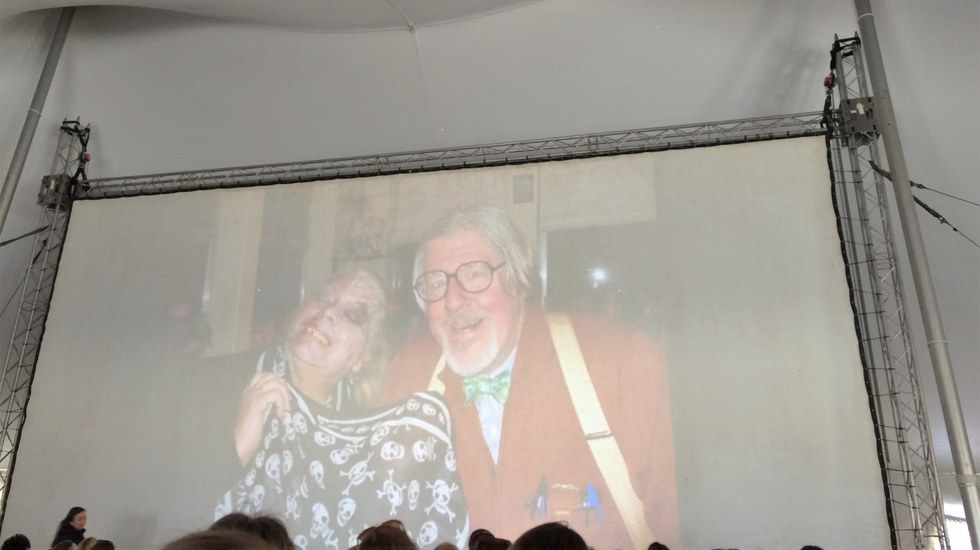 Parting was sorrowful, as it tends to be, but I had such a wonderful experience. Washington Depot was, as I heard one woman say, like a postcard, even in the rain. Elle said she could picture Rory walking from her house to the bookshop, which is a testament to Washington Depot's ability to inspire Amy so fully, prompting her to develop one of the most beloved stories ever told on television. The number of times I said, "everyone is so nice and everything is so charming!" would amount to enough dollars to fill Richard and Emily Gilmore's mansion from floor to ceiling--including the pool house.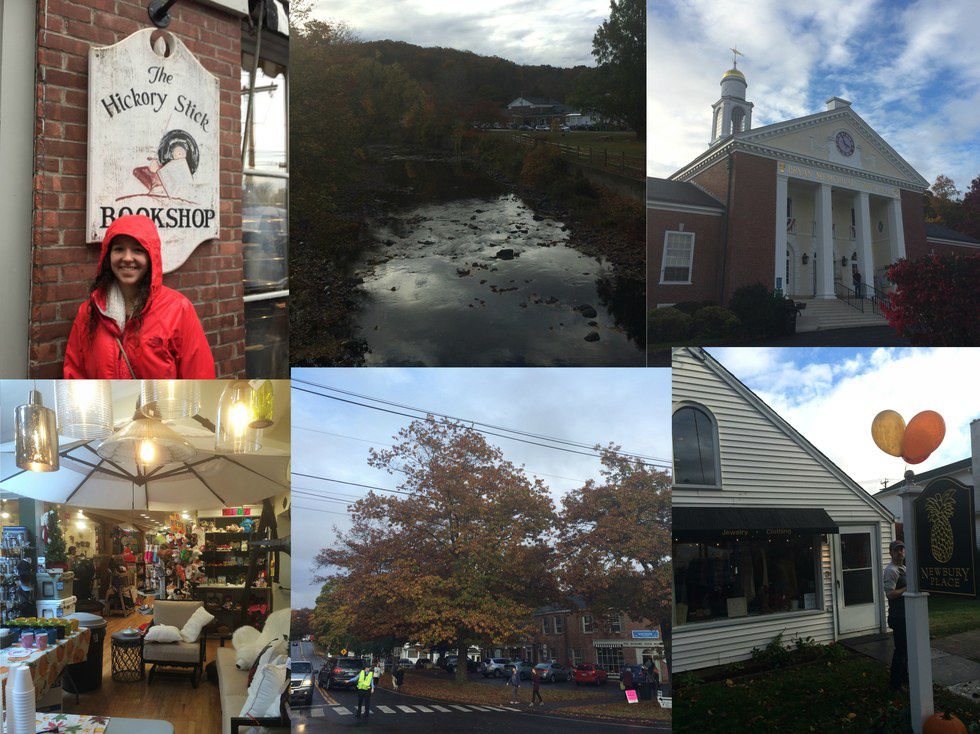 I know this article is interminable, but that's only because a ton of fun stuff went on during this amazing fan fest! So really quick, I have a story to end with. After stopping at Nine Main in New Preston for some hot cider, Mom and I parted ways and I began my return trip to my college. My GPS ended up taking me back through Washington Depot, and boy am I glad it did. As I slowed in the town center, I noticed a small clump of people in front of Hickory Bookshop. Curious, I tried to get a closer look, and what did I see? Sean Gunn? Could that be Stars Hollow's very own Kirk taking pictures with the few lingering fans? Yes, it was indeed! I pulled right near Sean and excitedly dashed from my car and into the short line next to Megan (who just so happened to be there at that moment!). But, alas, the line was cut off in front of us, Sean having limited time. So close...hang on, this is a happy tale. As I was about to desert the line, two incredibly generous girls gave up their spots so we got to be the last ones to meet Sean. (If you ever read this, thank you!) He was, as I've said about all of the cast and fans and townsfolk, a super nice guy. What are the odds of me driving back through town at exactly that time!? Life is full of happy coincidences!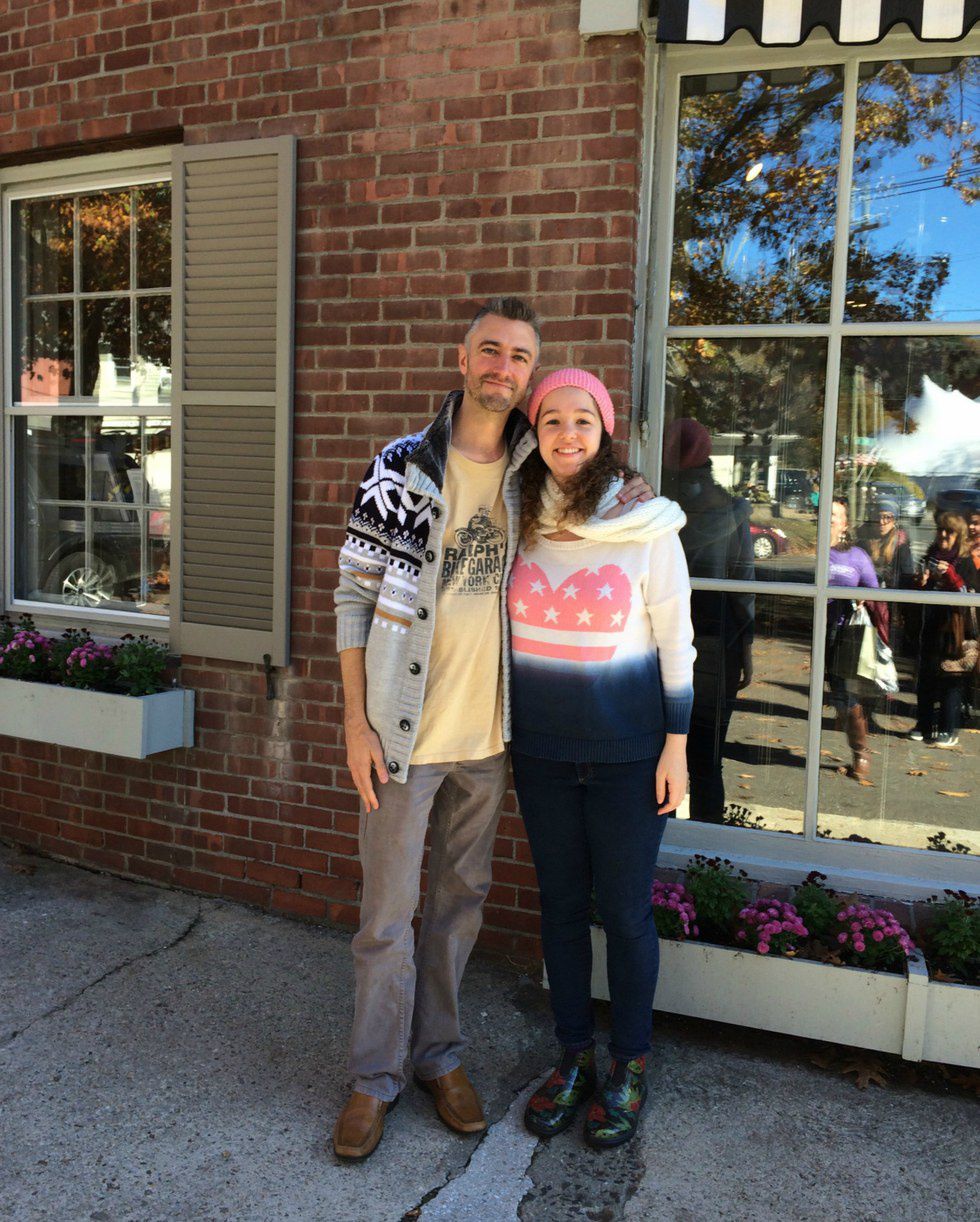 The dreamy weekend ceased as I drove off into the sunset--or at least that's what it felt like—"Where You Lead, I Will Follow" blasting, crunchy leaves fluttering in the breeze, and a smile plastered on my face.
Thank you, Mom!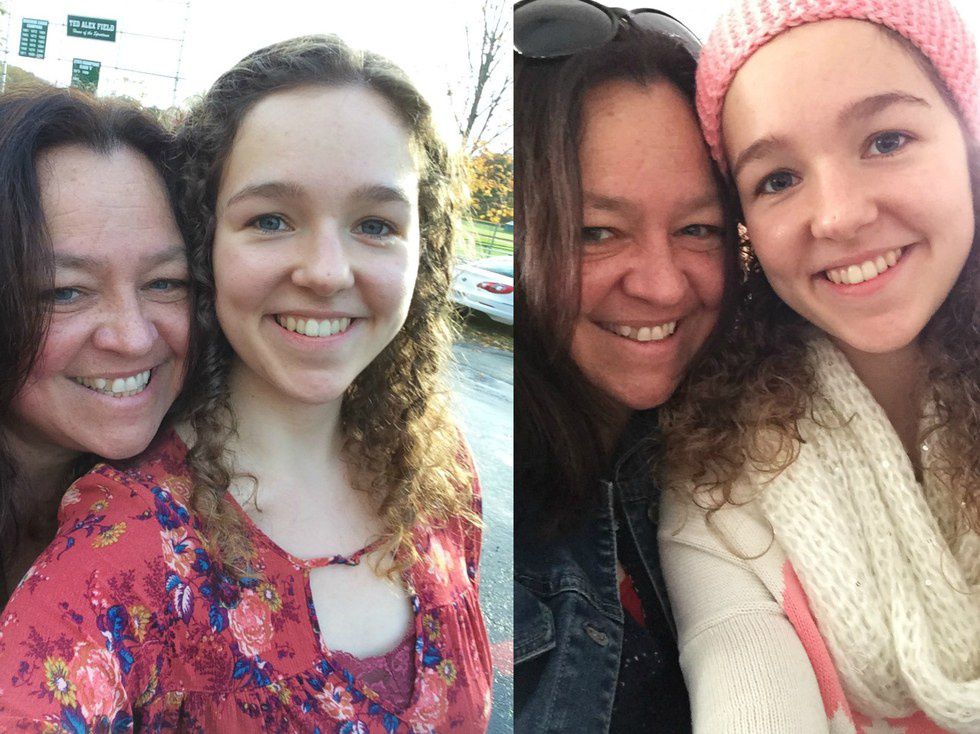 Mom and I grinning from day one to day three
And a huge thanks goes to Jennie and Marcus for making every fan's dream come to life!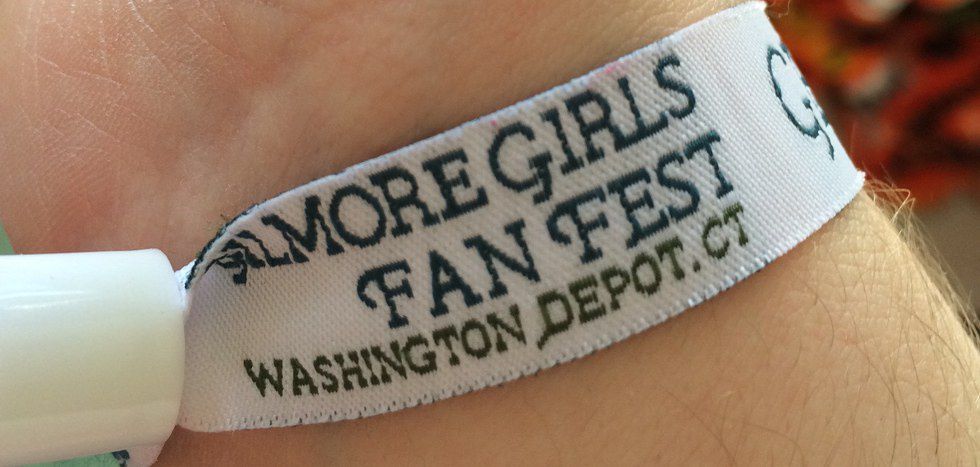 (Maybe never taking this off ;))