I know you've heard the summer bop 'Magic In The Hamptons'. I loved this song as soon as I heard it. You also might know the recently-released pop song 'Boyfriend', featuring the pint-sized powerhouse Ariana Grande. So, when I heard the infectious beat start to play during the opening act of her Sweetener World Tour, I freaked out.

I'll be honest—I really didn't know Social House beyond "you know where I go when we're dancing … handshakes in The Hamptons and gettin' drunk in the mansions with you…"
But then I started to pay attention to the two—Mikey and Scootie—doing their thing on stage. I just couldn't take my eyes off of them because they radiated such confidence onto the audience.
As they were performing, I started to realize, okay, so these two are more than just 'Magic In The Hamptons' and 'Boyfriend'. I found myself really moving to the music, swaying my arms in the air and nodding along with the rhythm. Social House was amazing.
So the morning after the concert, I groggily opened up Spotify on my too-bright phone and opened up a playlist of all their music. They only have a handful of songs so I played each one.
By the time I was finished listening, I was instantly hooked. I saved each song, re-listening to my favorites as I got dressed for the day. I played Social House on repeat for several days. The eight songs they have were not enough—I needed more.
What got to me the most is that their music is so real.
Sure, their voices are lovely and the music itself is pleasant to listen to. Yet, their lyrics hit me in ways that so few lyrics from other artists can. Take their song 'At Least We Can Say That We Tried'. Everyone's tired of hearing the classic I-hate-my-ex breakup songs. Now, this breakup song speaks from the heart: "No hard feelings, right? I guess we can say that we tried. We just didn't get it right … Maybe in another life".
Social House isn't afraid to say it like it is. They know what message they're trying to get across with their songs and they deliver it perfectly.
My favorite song of theirs has to be 'Haunt You'. It's so heartbreakingly beautiful that I get goosebumps when I sit down and really listen to the lyrics. Some of us have been there before: when you're stuck on a person you're better off without. This person and the ways they make you feel can literally haunt you.
These two aren't finished yet. Rather, they're only getting started. If you're not fortunate enough to watch Social House perform live at the Sweetener World Tour, you've got to at least listen to their music on Spotify. Let me just say it here and now: 'you're welcome'.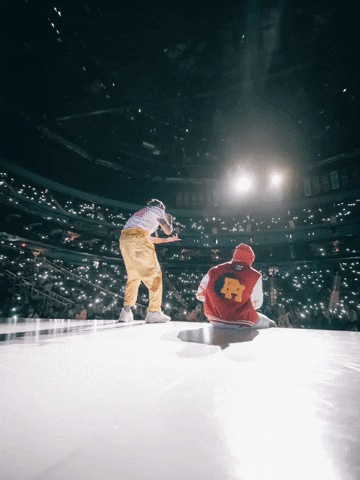 Giphy
From Your Site Articles
Related Articles Around the Web