Garth Risk Hallberg, author of the bestselling novel City on Fire, visited the University at Albany campus this past Tuesday.
City on Fire takes place during the 1970s and focuses primarily on the underground punk scene. The 927-page story follows around a plethora of characters from all walks of life and their connection to a shooting on New Year's Eve. The story primarily shows the tension between life in the real world and the world of the punk scene, while also developing a series of diverse characters. City on Fire also represents issues of class, family relations, desire, and so much more.
The informal Q&A began with Hallberg explaining the premise of his novel and how/why he chose this particular setting. Hallberg explained that while the 1970s were a sort of dark time for the city, it was also overflowing with creative energy and opportunity.
"Whether you were living in New York City or here [Albany] watching the scrambling, this time was a crisis for the country as a whole," says Hallberg. "It's a bizarre state. It's horrible, yet it's magical. They [those who lived in the city at the time] were in the midst of a physical collapse, yet there was also a sense of extraordinary possibility."
Hallberg is only 36 years old, which means he was not alive during this time period himself. As a teenager in the 90s, Hallberg was interested in poetry, contemporary visual art, creating zines, and punk rock. He had grown up in North Carolina, but had always wanted to move to New York City, but explains that a few things "got in the way" of his move. While Hallberg did not live through the 1970s punk scene in New York City, he also did not heavily research this time period for the book.
"I didn't think it was going to be published," said Hallberg when asked about his research for the book.

The novelist has always been interested in history and had read a decent amount of information about the blackout before writing the novel. Hallberg had also spent a lot of time on the streets of New York City [chasing girls, but that's beside the point] and knows a lot about the area.
What makes the book so fantastic is its overall sense of authenticity. Hallberg wasn't alive or a part of the 70s punk scene, yet he created a seemingly accurate while still maintaining a magical universe that the reader could fall into regardless of the fact. He had no anxiety regarding whether or not he was getting every single piece of information correct because he felt it would ruin the authenticity. Instead, he talked to people from the time period and indirectly questioned them about what they remembered, never bringing up his book ideas.
Hallberg is also fascinated by the idea of tension. Growing up in the south, Hallberg says that the most common way to deal with tension is through suppression. He found New York interesting because there is tension at every corner. For example, Hallberg talks about how there's a peep show and "The Lion King" on Broadway on two separate corners in the same area.

"Tension gives you the freedom to choose," says Hallberg. "It gives you possibilities."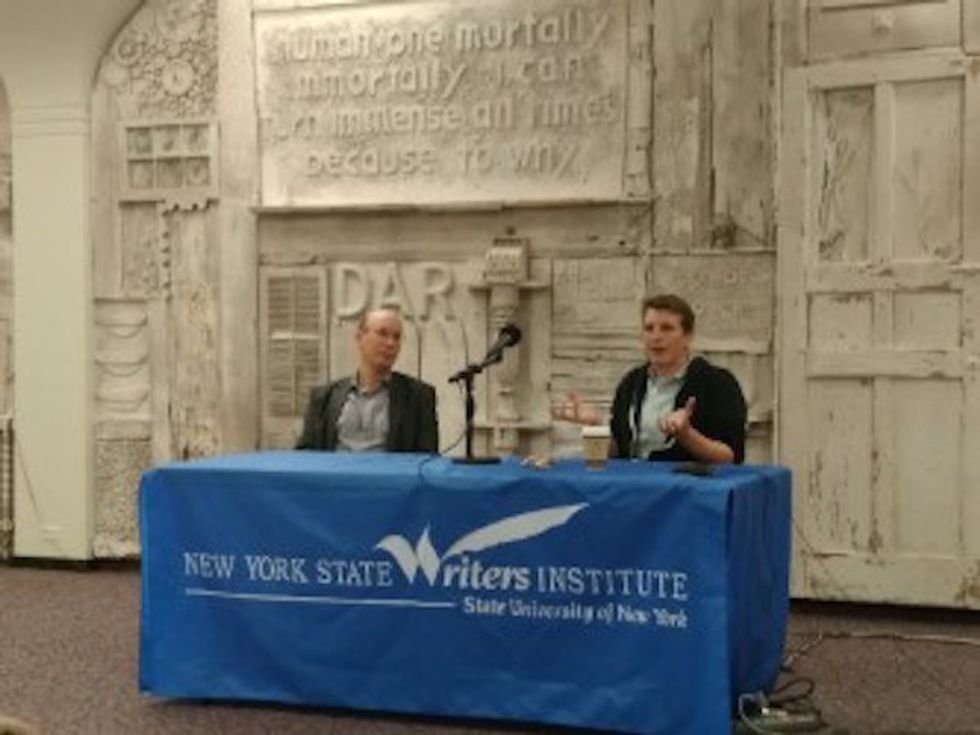 When asked about the current state of New York City, Hallberg says that he feels like these tensions are more suppressed now. They're no longer as visible on the surface. The city also has more money that it used to, according to Hallberg. He explains that artists can't really afford to live there now, thus dampening that sort of creative energy that has previously radiated from the city. While he feels that there has to be a balance, he notes that the city has certainly changed from the setting and sense of tension represented in his novel.
"A city or a life with no vulnerability would be a life without connections because connections are dangerous," says Hallberg. "A city or life with radical vulnerabilitiy is a city where you're not going to survive. We like to think about our values as if they exist in a vacuum. What living in a city shows you is that every value has a twin value. A city in perfect order would be a city where nothing happens."

When discussing how he chose the topic for his book, Hallberg began to discuss the tragic events that occurred on 9/11. He explained how New York City had made a plethora of underground advances prior to the tragedy and the reaction of the public during the aftermath. Hallberg had been living in Washington D.C. at the time and had feared for the safety of his family and friends, as well as himself.
While the event was undoubtedly heartbreaking, Hallberg explained the similarities between the aftermath of 9/11 and New York City during the 1970s. There was a weird mix of crisis and chaos, along with reevaluation and transformation, according to Hallberg. While the city was falling apart in the 70s, it was also full of possibility. While 9/11 was surely tragic, it united us as a nation and it created a need for transformation.
When asked about his inspiration for the creation of his characters, Hallberg explained that all of the chaacters are a part of him. When asked specifically about Charlie Weisbarger and Sam Cacciaro, the two youngest main characters in the novel, Hallberg explained that some of the inspiration for Charlie also came from the Patti Smith song, "Birdland." The song tells the tale of a young boy who loses his father.
"Sam has some affinity to every girl I've ever chased," says Hallberg.
Hallberg explained that while all the characters are vastly different from on another, they are all derived from a small piece of him. One member of the audience proceeded to ask Hallberg about his writing process as a whole.
"My process is basically thrashing around in the dark," says Hallberg. "I'm a masachist. Any time it starts to feel easy, I'm pretty concerned that I'm doing it wrong."
He explained that he tries to let something organic grow, rather than forcing it. For Hallberg, that often requires writing a lot of stories and throwing them out.

"People think novelists have a talent; I think we have brain damage," says Hallberg.
Hallberg was met with laughter from the audience and claims that novelists don't have the typical information filter that normal people have. He explained that he feels novelists tend to hold on to random bits of information, as he did when creating this book, where as others filter through and forget useless information.
"I am working on something now," says Hallberg. "I try to always be working on something. I think 2001 was the last time I wasn't working with something."
Hopefully, we can expect more fantastic novels from Garth Risk Hallberg in the future. Be sure to pick up your copy of City on Fire at your local bookstore.