I scream at the TV. I watch games from start to finish. I can tell you who was drafted in the first round this past year. I have a fantasy team. I know what a pass thrown into the flat is. I'm a diehard football fan and yes, I am a girl. This is football told from a girl's point of view, a girl that loves the game. For some girls, it's all about the social event, the tailgates, the parties, outfits and the photos. Not to stereotype all girls, but most have no idea what is going on, and they just see this object flying through the air and guys in "tights" hitting each other.
Don't get me wrong; I enjoy the outfits, the tailgates, and the social events that surround football. But also, football is a way of life for me. I go through withdrawals the moment that the Super Bowl ends. Then when the end of July hits and training camps start, the final countdown begins. Watching football is a type if adrenaline rush, the atmosphere at the games or even on TV, it's just inexplainable. The only ones that can relate are those who have a passion for football, like I do. I'm from the South, where football is everything. Whether it's high school on Friday nights, college on Saturday's, or the NFL on Sunday's. There are four seasons in a year, Winter, Spring, Summer, and Football!
Being a football fan is a necessity in my life. It's in my blood. I have been a football fanatic since before I can clearly remember. It makes sense since my first football game was at the age of 3 months old.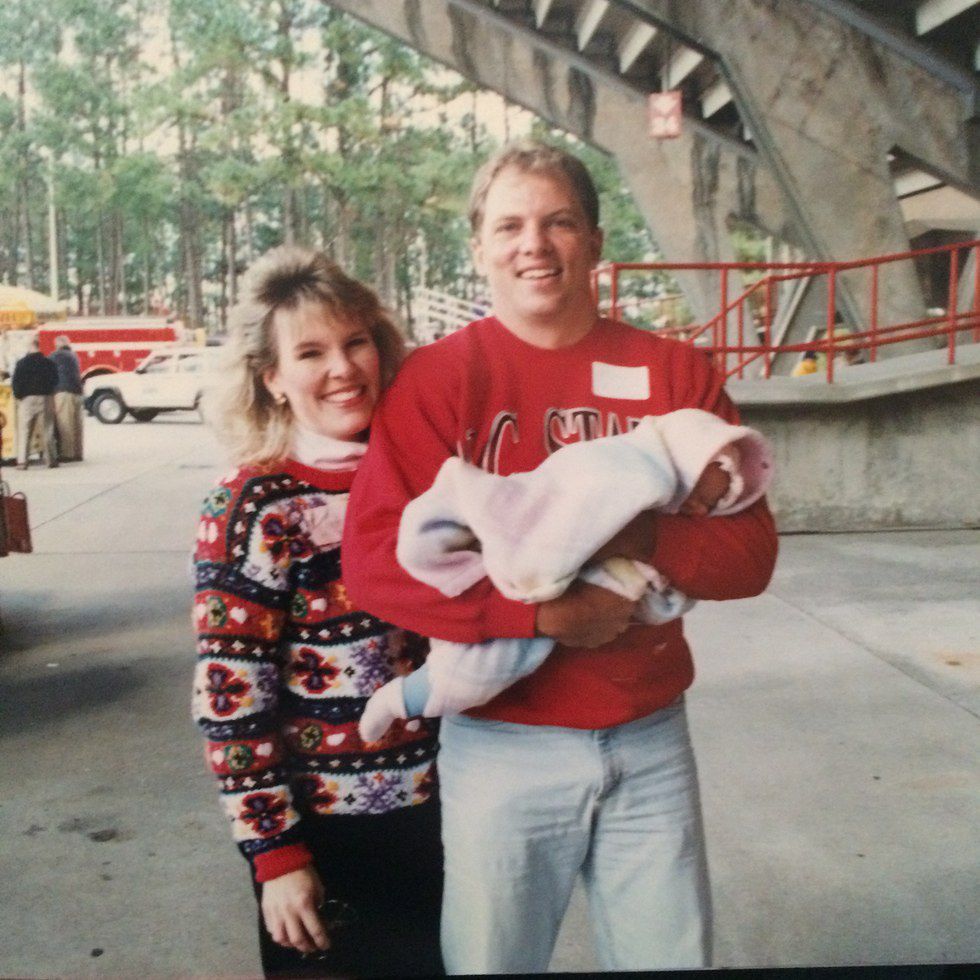 I get a sense of joy and satisfaction out of the different reactions I receive when one learns about the dedicated football fan that I am. Most of the time guys will just talk over me and act like I don't know what I am talking about until I can fit my two cents in. It's entertaining to see their faces once I speak and say something that actually pertains to what they are talking about.

It's been said more times than I can count. "Wait, you actually get football? You understand what's going on?"
To me, a girl being a football fan isn't out of the ordinary. I grew up reading the sports page instead of pop magazines. Weekends revolved around football. Seasons would go by that if it was up to me I wouldn't have missed a home college football game of my favorite team. I've had the dream and persistency to become a sideline reporter since I was twelve years old, and I am still working towards that now.
So give a girl a chance; you might be surprised! But also, if you're a girl that's not an avid football fan, that's okay too. I just apologize in advance for what I say on game days and if you don't see me on the weekends for the next 5 months, my team is playing!