On Saturday February 2, the Florida Gators men's basketball team was defeated by the Alabama Crimson Tide with a score of 68-50. However, the Gators' unfortunate second half performance was not the focus of the college basketball Twitter world after the 20 final minutes of play. Rather, it was the student section, The Rowdy Reptiles', flash mob routine during a timeout that received nation-wide attention.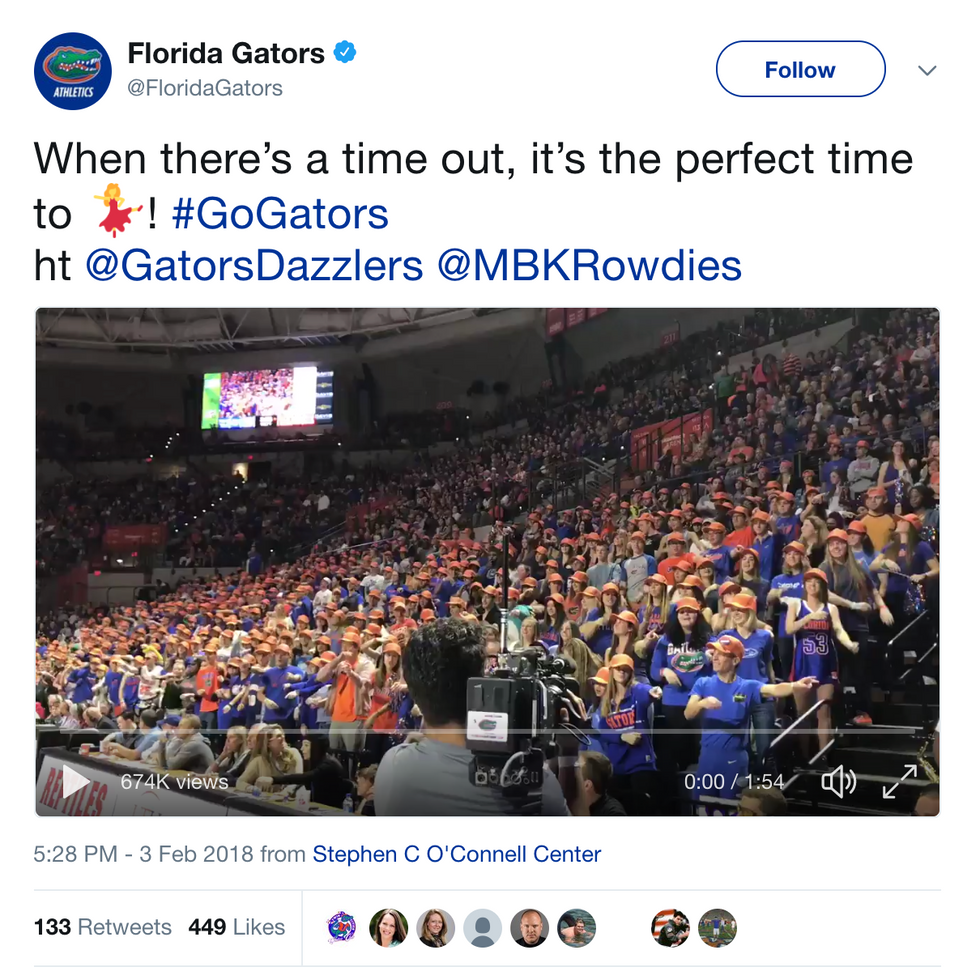 Barstool Sports, a satirical sports blog, tweeted the video with the caption "Florida really is hell on Earth." Sports writer Jake Ciely also joined in on the roast with his tweet: "The Gators should never win another game as recompense." Our in-state rivals, the Seminoles, also capitalized on this moment. The 1992-1995 Florida State quarterback Danny Kanell posted with video with "In a nutshell...why I didn't go to Gainesville." Furthermore, NoleGameDay posted "You'll want to delete your Twitter after watching this. #Noles." Unfortunately, the swarm of tweets included many other mocking comments.
Despite all the hate on social media, I am proud to go to a school with such school spirit and positive energy. With a student population of more than 52,000, diversity is widespread on campus. Everyone comes from a different background; they have their own traditions, study different majors, and maintain a variety of aspirations. However, when we gather for a sporting event, these differences dissipate, and we are all the same in our desires of a Gator victory.
School spirit acts as a centripetal force on college campuses. It can set the tone for the arena and remainder of the game. When we were all dancing to "Bodak Yellow" in our orange hats provided by the arena, we were all one student body rather than hundreds of individuals. I will admit it did feel a little silly, however, everyone in the Stephen O'Connell Center appreciated the dancing, and the vibes of the arena changed quickly afterwards.
So to the Gator Haters out there, especially you Seminoles that roasted us, they say "If you're not a Gator, you're Gator Bait" for a reason. We will continue to orchestrate flash mobs and show our Gator pride in the future. It's always great to be a Florida Gator, regardless of what you guys say.
An agitated Gator fan,
Alexis Sobel
P.S. Florida State fans, we may already be working on our dance for our next football game in your territory.