Some strong women are athletic with bold personalities to match and speak nothing less than brutal truths.
Some strong women are emotional, love wearing dresses and are aspiring teachers.
Some strong women are hard workers with full-time jobs to support their siblings who are majoring in engineering.
Some strong women love to cook and are extremely loving and maternal.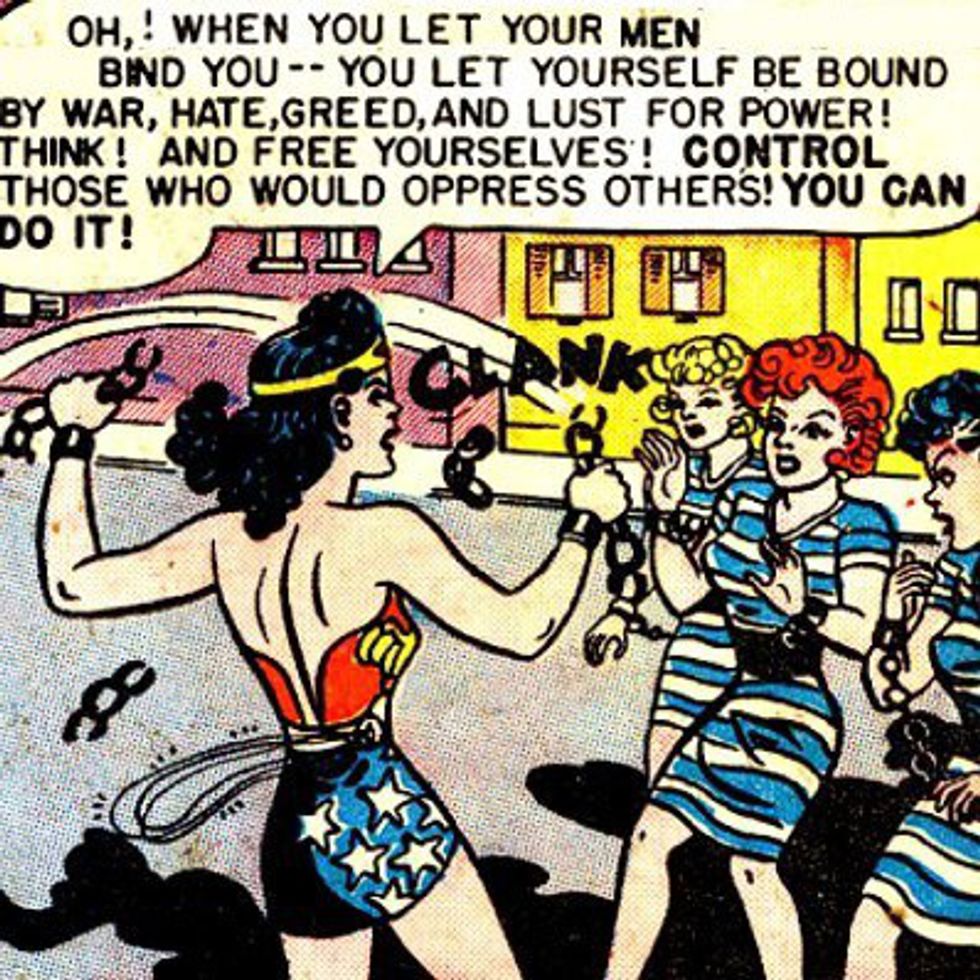 There is no perfect mold that can form an exact representation of what a strong woman is. Often times, a strong woman is seen as someone who acts like society's idea of what a man should be. They are applauded for being able to do what a man can do, which is great. But we as women should not be asked to prove our worth in terms of men. While being able to do what a man can highlight an enormous and important truth, it is still important for us to proudly enjoy activities that have been labeled as feminine. I am allowed to have "feminine" interests without apologizing for them or fearing that this will make men think of me as weak. We can do what men can do and more, but having "feminine" interests does not diminish a woman or a man in any way. Being womanly is not something to be ashamed of, and from a young age, we are taught that it is.
It happened so subtly and gradually that we barely noticed it growing up. The color pink was associated with femininity and the boys in my fourth-grade class laughed when another male in the class admitted to liking the color. The girls would proudly proclaim their favorite color was a masculine blue to gain the respect of the boys seated beside them, feeling shame if anyone found out the truth. At recess, I dangled my small legs over the tire swing as the boy beside me quizzed me on which sports I participated in. As someone who hates sports but loves doing the opposite of what others expect me to do, I simply said that I despised competitive activities. He dismissed my reply and said, "you must be really girly then." In his mind, I was less because I was a girl who acted like a girl. There is, of course, no proper way to "act like a girl." The idea that certain colors or activities are masculine or feminine is completely ridiculous. However, it is the reality of our society today and I will not feel obliged to feign a love of sports to get a man's approval.
The belief that women are of less importance and intelligence, and are less able than men, has been so ingrained in our minds that it suggests we have something to prove. Women are much less respected than men and as a result try to act like men to obtain approval. Female authors like J.K. Rowling do not use their first full names on the covers of their novels because typically books written by men sell better. The opinions of women are not considered or even heard. Jennifer Lawrence recently said in an interview that she can tell that her director has the utmost respect for her since he forgets her gender and sometimes refers to her as 'he'. The belief that a woman has to act like a man in order to attain respect is degrading and devaluing women every day. It is up to us to continue speaking up while staying true to our own voices to try to change these damaging misconceptions surrounding what being a women means.
I will fight for my rights and will fight to be considered an equally important voice to my male co-workers. But what I will not do is try to conform or transform my ideas to sound like theirs. I will not say that I agree with my opinionated and reckless boss or act as though I need to think like a man to gain respect or be a worthy human being. Instead, I will strive to make my voice, a female voice, a powerful one.
Exhibit your intelligence, your strength, your potential. Speak proudly about your beliefs like you already have something worth saying. Do this with your voice, a woman's voice.