Whether we'd like to admit it or not, most of us who are struggling with rent payments, bills or tuition expenses often turn to affordable clothing stores to satisfy our materialism. I am definitely guilty of opting for a cheap pair of Forever 21 leggings that I know for a fact will develop a hole in the butt after three or four washes. Because sadly, I just can't justify (or budget for) a seventy dollar pair of yoga leggings from Lululemon.
Is it not a better idea to save those 20 dollars for other ventures or responsibilities, instead of spending it on another pair of leggings that look nearly the same as the pricier pair? Yes, probably.
However, that cheap pair of leggings does a lot more harm than good.

Stores like Forever 21, Zara, Topshop, UNIQLO and H&M that we know and love for providing us with cheap, stylish clothing items (that often shrink or tear after only a few wears) participate in an industry known as fast fashion.
This is a term used to describe inexpensive, often low-quality designs that move quickly from runways to retail stores by way of supply chain management, or SCM. The goal of this industry is to ultimately move newly on-trend clothing items to stores as fast as possible in order to keep up with ever-changing consumer demands for fashionable items.
From a retailer's point of view, fast fashion is extremely advantageous. Not only are the clothes made at a low cost, but frequent stock changes mean customers visit these stores again and again, hungry for more cheap deals.
These items move so quickly through the stores that sold out items never have to be replenished, but rather are replaced with brand new items.
Unfortunately, this creates an outrageously wasteful throw-away attitude toward clothing.
Instead of purchasing well-made clothing that is meant to last through more than one season, consumers are tempted to buy cheap clothing and then promptly dispose of it once a new fashion cycle begins or once those cheap items become unwearable.
In fact, there are now dozens of fast fashion cycles, also known as micro-seasons, every year, when trends become obsolete to make way for the newest fads.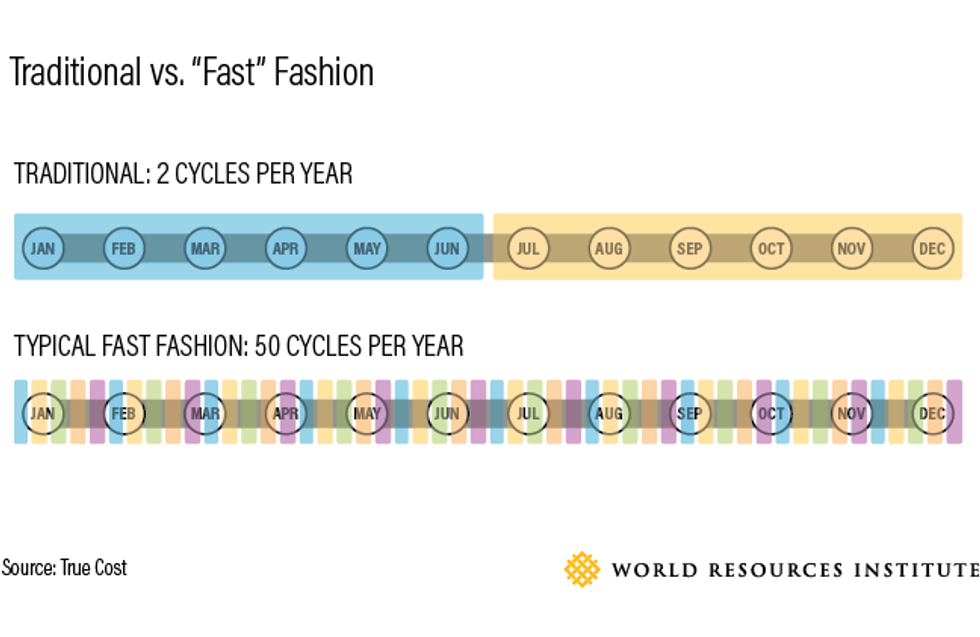 Obviously, such short and frequent fashion cycles produce a lot of waste.

This industry that is responsible for cheap, disposable clothing is extremely harmful to the environment since we are much more likely to throw out clothes that we purchased for a low price than for a high one.
Alarmingly, there are 20 pieces of clothing per person produced each year. Once these clothing items are produced, they have to end up somewhere, and that somewhere is usually a landfill. Americans are responsible for about 13 million tons of clothing waste in landfills every year, including clothing that is donated.
Furthermore, these clothing pieces do not come without a price, and I'm not just talking about a monetary one. Since cotton is the most common fiber used in clothing production, growing a lot of cotton is required to sustain the fast fashion industry.
But did you know that it takes 2,700 liters of water to produce only one cotton shirt?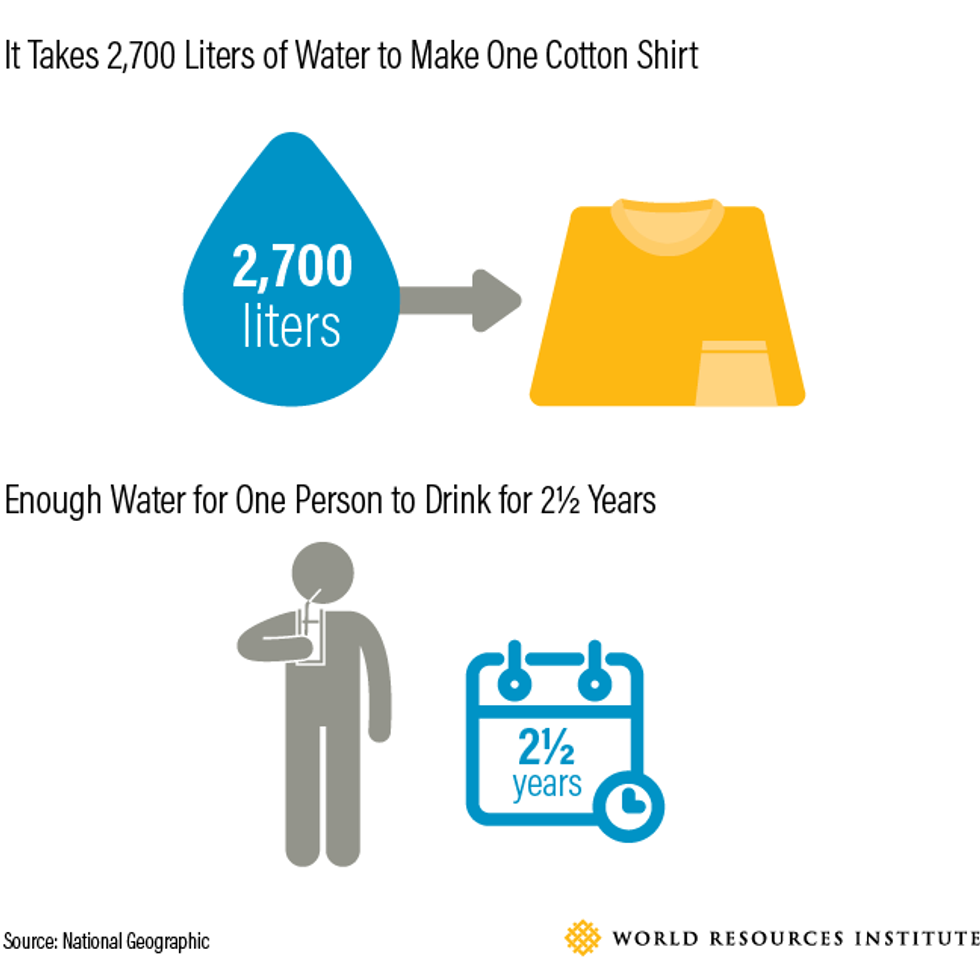 Since so much water is needed to produce only one product, cotton production creates severe environmental stress in areas that are already facing water shortage.
Clothing production also contributes to water over-usage and even water pollution. Fabric dyeing uses over one trillion gallons of water each year throughout the world, and 20% of water pollution is caused by textile manufacturers.
Finally, fast fashion is a huge contributor to climate change.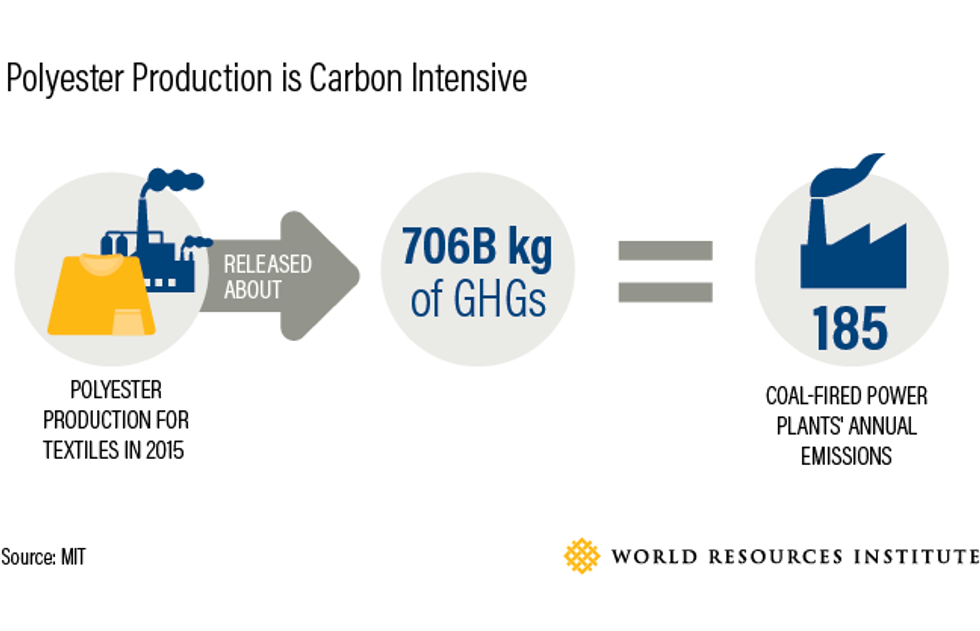 Even though man-made materials such as polyester do not require nearly as much water as cotton does, they do create a much larger carbon footprint overall. Polyester production accounted for over one trillion pounds of greenhouse gases in 2015 alone.
So, how can you lessen your contribution to fast fashion's crazily harmful environmental impact?
Stop buying cheap clothes, and opt for supporting sustainable clothing companies more often.

There are quite a few fashion labels that use sustainable materials and eco-friendly production practices that deserve our attention and support as consumers.
Some of these companies include People Tree, a UK and Tokyo-based brand that uses fair trade practices, organic cotton and natural dyes. Another is Reformation, which is committed to earning the title of the most sustainable clothing company by tracking their own environmental footprint and putting it on their website for all to see.
Although these brands and others like them are clearly more expensive than those that dwell in the fast fashion realm, we need to acknowledge that saving up to purchase more durable, sustainable clothing is sometimes worth the higher price tag.
These higher prices can encourage us to question our usual spending habits: are we only buying new clothes when we truly need them, or when we're just bored with what we already own? Do we really need so many pairs of leggings, so many black t-shirts or jeans of the same wash?
There is no doubt that investing in good quality clothing is a practice we should all participate in if we are able to. Supporting sustainable clothing brands can inspire other brands to follow suit, ultimately increasing the demand for sustainable textile manufacturing.
And that is a trend I can definitely get behind.