One week ago, as of writing this, I was on my way to Philadelphia with friends that I met on the internet to see one of our favorite bands, The Weekend Riot. This is the story of our trip.
I live in Pittsburgh and had one friend, Sara, driving in from Michigan and two other friends, Liana and Bethany, flying in from Missouri. Liana first had to drive three hours from her home in Springfield, Missouri, to Bethany's house in St. Louis, out of which they flew. Sara arrived at my house around 6 p.m. on Friday evening, and I was originally supposed to leave around 12:30 a.m. to pick up Liana and Bethany from the airport. However, their transfer out of Chicago was delayed three hours, so after waking up a few times between 2 and 3 a.m. to check for updates from them, I finally left the house with my brother (so that Sara could rest in order to drive us the six hours to Philly later) at 3:15 a.m. to greet my friends for the first time at almost 4 in the morning. I had originally met Sara at Grow Wild Tour 2015 in Cleveland, and I saw her again at GWT2016 in Columbus, but this was my first time meeting Liana and Bethany after knowing them for almost two years.
Sara was the only one who woke up on time later Saturday morning -- I got up at 9 a.m., the time we were supposed to leave, and the Missourians were still asleep, but we were on the road by 9:30 a.m., so it was no big deal. We had roughly five hours to get to Philadelphia from Pittsburgh, which gave us some cushion time anyway. During our drive, after lots of jams, beautiful weather, Liana dubbing Sara and me "Mom," a near accident with a big truck that cut us off, lunch at Chick-fil-A, and doubling back 13 miles after a wrong exit, we made it to our hotel in Springfield, Pennsylvania, about an hour east of Philadelphia, around 3:30 p.m.. We checked in, quickly got changed and ready for the concert and drove five minutes to our friend Sam's house.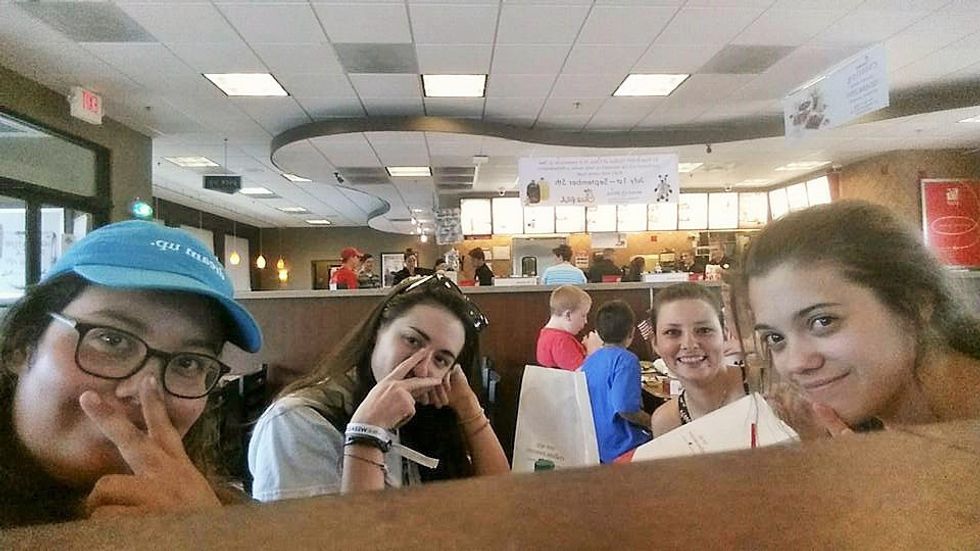 Sam, whom I had met last summer and seen several shows with, guided us to Philadelphia via the trolley and train. At the trolley stop by her house, the sky started to look foreboding, and the wind was not a good sign, either, despite the forecast being clear of rain. Of course, once we arrived at our train stop in Philadelphia, it was pouring. All of us were in Keds and Converse-type shoes and unprepared for the rain. Thankfully, there was a dollar store right under the train stop for us to buy ponchos and umbrellas. Sara bought flip flops to wear in the rain so that her shoes could stay dry, and I bought an extra pair of socks. After walking through 15 minutes of puddles in the opposite direction from the venue -- thanks to a misdirection -- the rain stopped as we passed the train station in the correct direction, sporting soggy shoes, broken umbrellas, and damp hair as we made the five minute walk to the venue, where I regretted not buying flip flops like Sara had.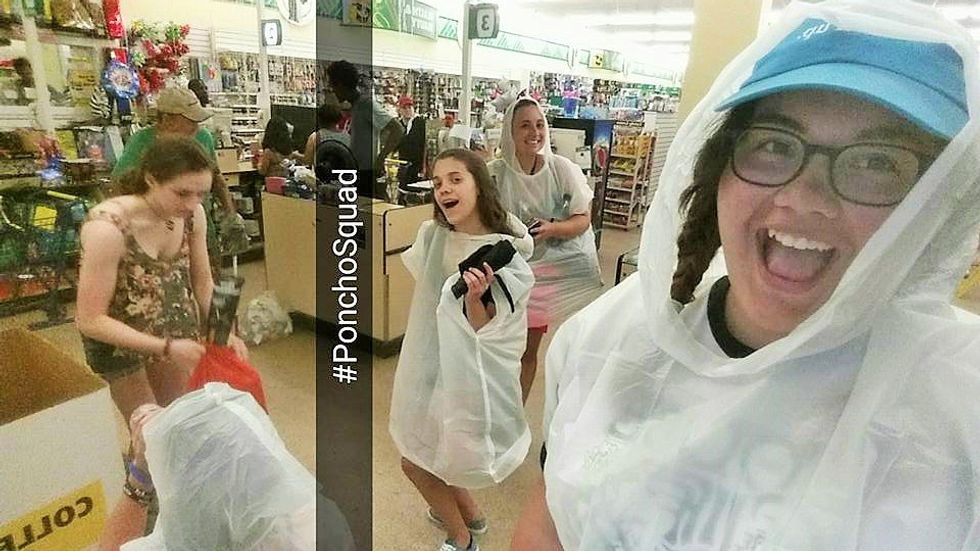 We arrived at the Fillmore at 6:30 p.m., just in time for what was supposed to be VIP early entry, so we pitched our rain gear and adjusted our rain-affected looks as we joined the line to enter the building. I wanted to wait until we entered the Foundry (the upper part of the Fillmore) to change into my dry socks, but we ended up waiting almost a half hour before they started scanning tickets, so it was not the most pleasant experience. However, once we got up to the Foundry, I went to the bathroom to dry my feet and put on my dollar store socks, just in time for TWR to come out for their two song acoustic set for VIP. Oh, how much better I felt seeing them onstage as they performed a familiar but still unreleased song and a brand new song called "Stay with Me" that gave me all the warm and fuzzy feels.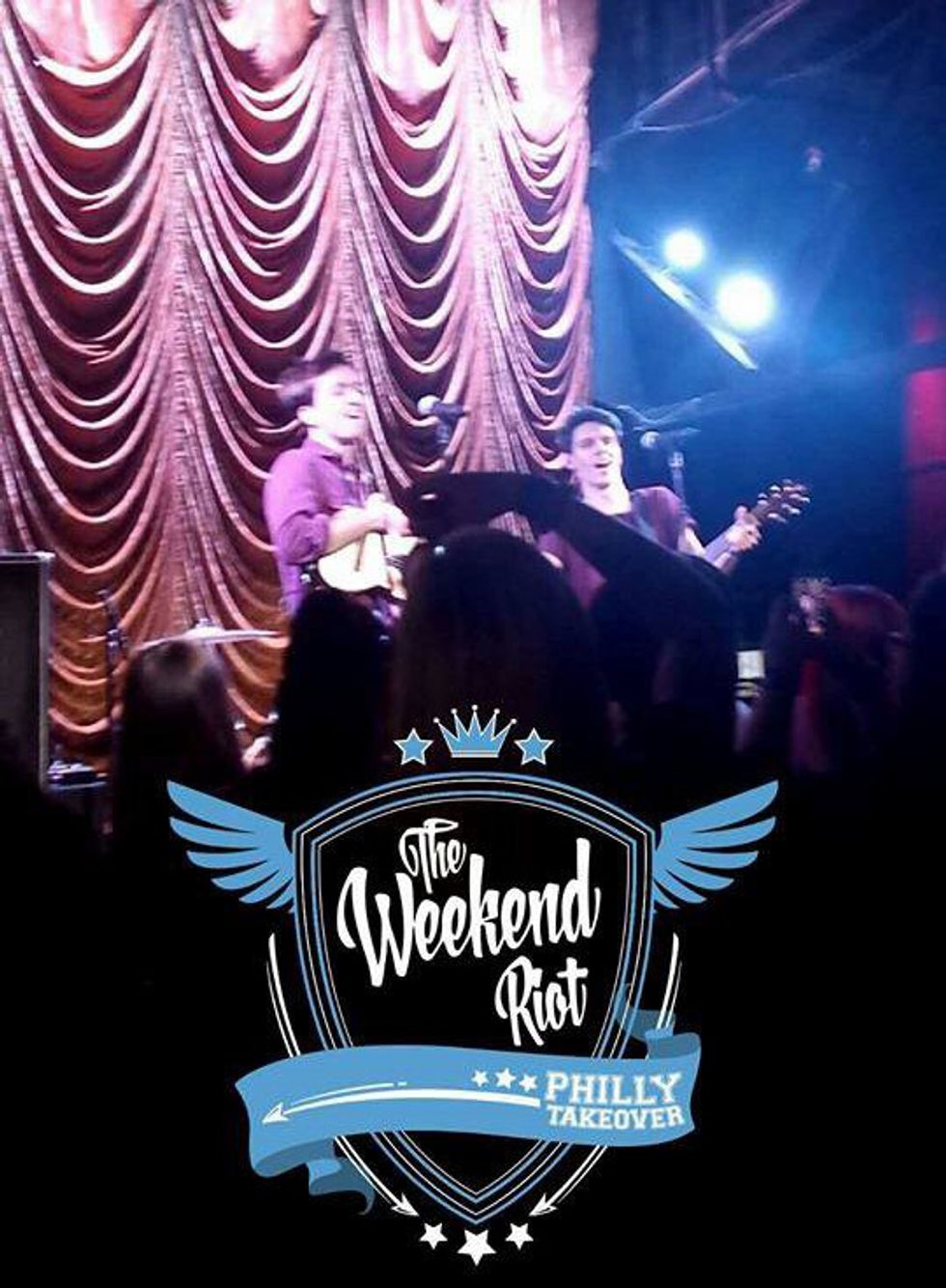 After the acoustic set, my sock-feet felt cold, and I ultimately decided to put my wet shoes back on, because I would have to do so eventually, and at least I had dry socks. It was uncomfortable, but I dealt with it through the opening acts of the lovely and talented Sarah Barrios and the loud, rockin' Walkney, and knew that I would not be thinking about my feet once TWR began their set, and I was right.
TWR, with full band, put on probably the best show I had seen them play. They had simple yet beautiful black backdrops with large, round lights strung across them, and they looked rather dapper in their blue button-downs, Bruce in suspenders and Johnny in a vest. They opened with the title song from their debut EP, "Remember This Night," and only 10 seconds in I was smiling like an idiot because they looked like they were having the best time of their lives at that moment onstage, and that joy was contagious. Everyone was scream-singing along to the songs from the EP that we knew and loved, unreleased songs and covers from past shows and #RiotMonday videos and some more brilliant new originals.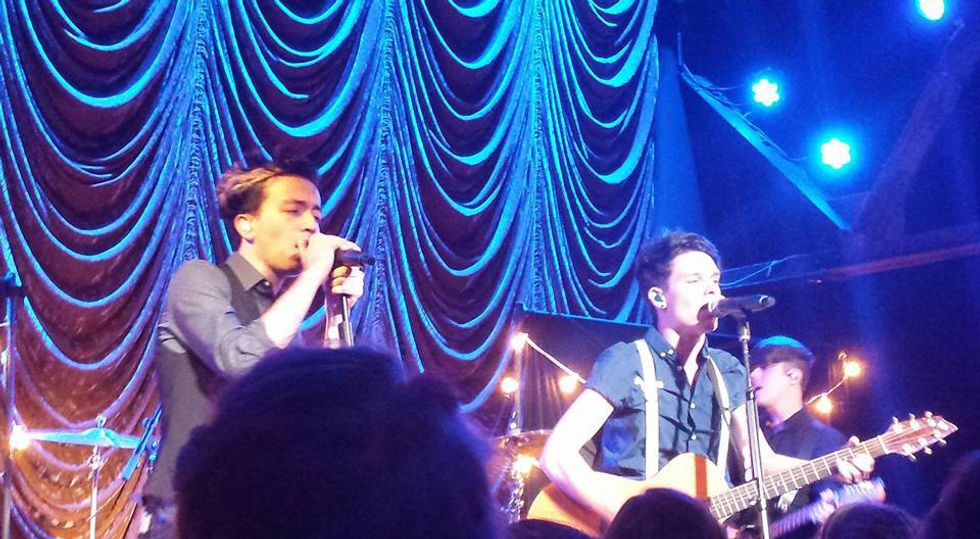 After their banger, "Malicious," TWR and their band just left the stage as some sort of audio track played and we were left in confusion and anticipation for what shenanigans these goofs were up to. Finally, the band -- Will, Joe, and Jack -- reappeared onstage sporting bandanas and sleeveless t-shirts with "TWR" painted on the front. Eventually they were followed by Bruce, sporting the same look, who surprisingly hopped into Joe's seat at the drums, only for Johnny to emerge with his saxophone as they serenaded us with an instrumental "Careless Whisper." Bruce then failed to freestyle before Johnny led them in the "Education Connection" theme, which we all jammed to, hilariously. They pulled out all the stops this time, man. Finally, they closed the show with the classic "25 Minutes" and left the stage until the meet and greet was to start.
Honestly, I never tire of the feeling I get when Bruce and Johnny greet me with open arms and, "Hey!! How are you?" and "Hug me!" It is so unbelievably clear that they appreciate and care for their fans and the support we show for their dreams. When Liana told them about the first time she tried to see them at GWT 2015, Bruce was overcome with concern and said, "Are you okay?!" even though it had been over a year. We took a squad pic and had a group hug before leaving the venue for the night.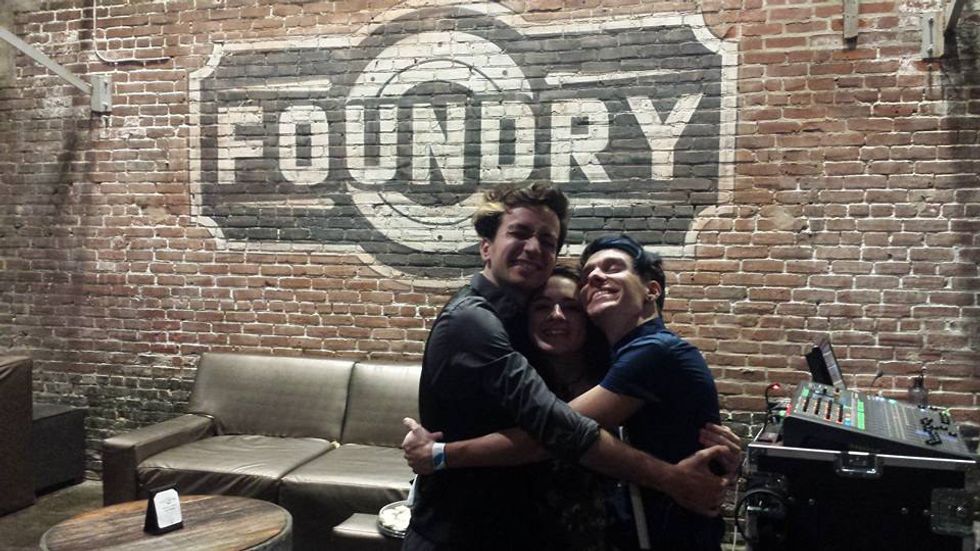 Sam took us back to Springfield the way we came. We visited Wawa for the first time (at about 2:30 a.m.) before saying goodbye to Sam at her house and driving back to our hotel, where we ate our food while tweeting, retweeting and watching old #RiotMonday videos, PCD already kicking in.
We checked out at 11 a.m., stopped at Wawa for more food and headed back to Pittsburgh. Hitting a bit of stormy rain as we arrived home around 5:30 p.m., we ordered some pizza and watched more TWR videos while wearing our brand-new merch, missing our boys already.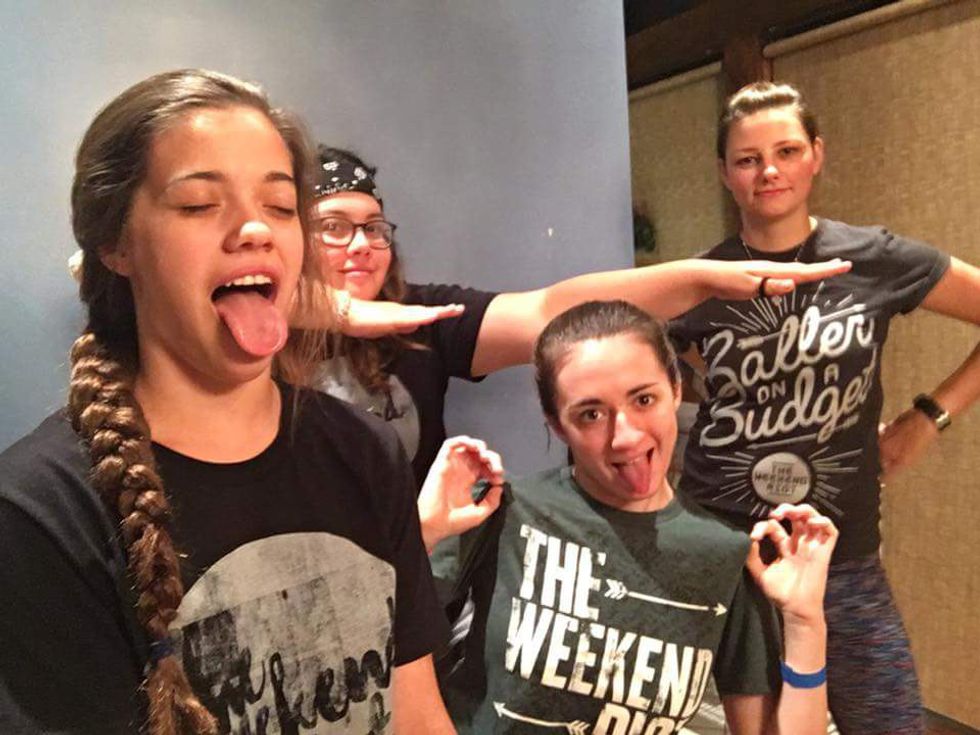 At 3:30 a.m. we drove to the airport for Liana and Bethany's 5:40 a.m. flight back to Missouri. With a surprisingly un-tearful group hug, Sara and I sent our "children" on their way home. When we got back to my house around 5:30 a.m., Sara departed on her four hour drive back to Ann Arbor, and just like that, our amazing adventure was over.
"#TWRPhillyTakeover" started out as a hypothetical idea and became a reality with girls from three different states being brought together through music -- specifically, these talented goofballs known as The Weekend Riot:
If you get a chance, give this a read. This makes me so damn happy. The way TWR can bring new people together 💗💗💗 https://t.co/CH6zib98aq
— The Weekend Riot (@TheWeekendRiot) July 27, 2016
I am so grateful that we had the opportunity to take this trip and thankful for the safe and fun times we had over those few days, not to mention the incredible memories we made. We entered the trip calling ourselves #BartokSquad but, emerged as #FamSquad and #PonchoSquad after the craziness that transpired, and all I can say now is just wow.