Over the last few years, indoor gardening has become so popular that I've met people who pamper their collection of potted plants the same way others might indulge their dog or cat as their "children." If at first this seems strange, keep in mind that the presence of plants has been psychologically proven to lower blood pressure, raise productivity levels and all around make you feel happier. Not to mention they also make pretty smart house pets. According to Richard Mabey's 2015 book on plant intelligence; plants may not be as lively as a dog or cat, but they can communicate with 20 more senses than animals, use problem solving skills and store and learn from memories.

Image courtesy of Elite Daily.
But back to gardening trends, it seems that succulents in particular keep cropping up in design, art and style. Known as fat, fleshy plants that retain a lot of water (OK, maybe they are a little like babies), succulents like cacti, Aloe vera and asparagus are commonly used in cooking and medicine but as of late have been blossoming in more creative realms. Most recently, Australian artist Roz Borg invented living, succulent nail art by gluing moist plants onto her nail beds for a modern day Mother Nature look that's been flourishing on Instagram. If that's not all, succulents have also thrived in several other surprising art outlets that would impress any naturalist gal; let's take a look.
Beauty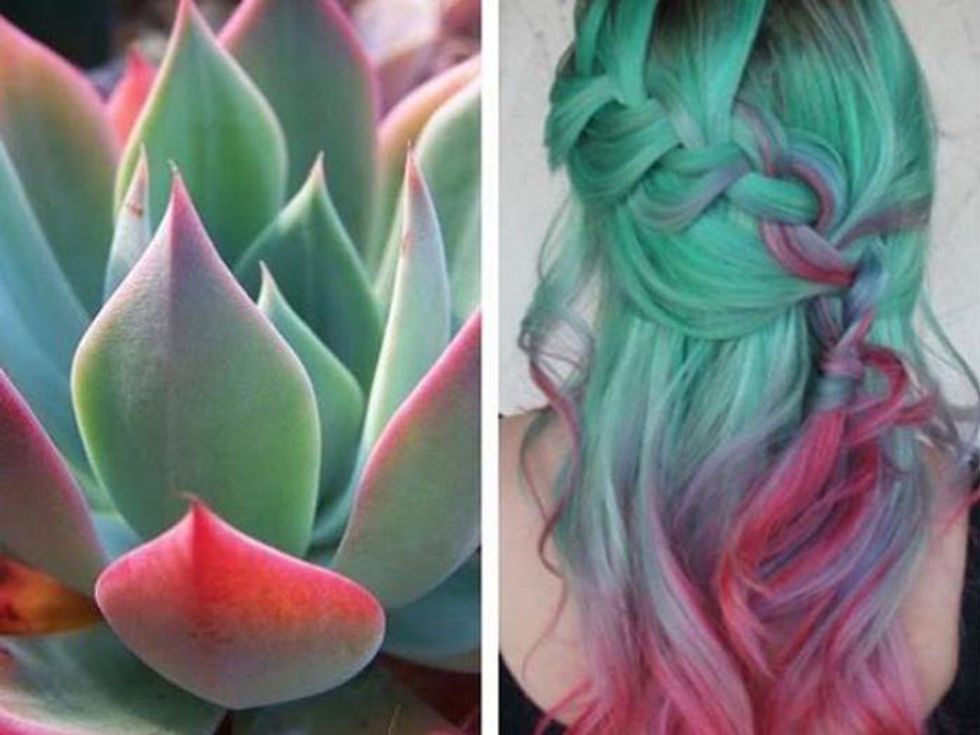 Image courtesy of Hello Giggles.
Apart from sprouting them on your fingertips for a memorable fashion statement, succulents have also inspired an array of eco-friendly jewelry. By using a special type of floral glue, succulent jewelry secures these wearable plants onto rings, cuffs, necklaces and headbands that, according to florist and jewelry designer Susan McLeary, can last up to six weeks. What's more, even though some women have taken to wearing live succulents in elaborate up-dos, there's also a mermaidish fad going around that involves dying your hair to mimic the bright shades of succulents. Dubbed 'succulent hair,' this waterfall of poison greens and sharp pinks may look stunning on your head, but it's also a huge hair investment meant to be washed rarely and only in cold water.
Design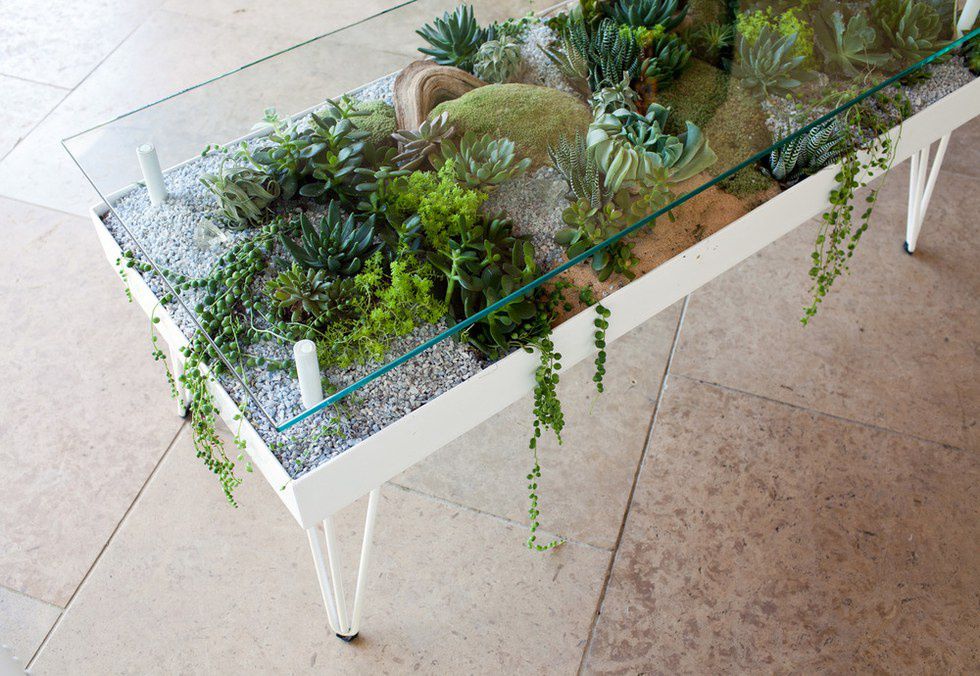 Image courtesy of Articulture.
Needless to say, succulents have made many brides happy by adding just the right flowery t to the ultimate storybook wedding. Of course, Pinterest alone has thousands of ideas for cultivating all sorts of succulent wedding accessories. From bouquets and boutonnieres to hair pieces and table decorations, succulents will turn any outdoor ceremony into a floral fantasia right out of a mythological tale. What's more unexpected is how succulents are being branded as the next home décor craze. For example, apart from designing elegant planters, Articulture in Austin, Texas is a business that's also selling succulent wall decorations and high-end furniture pieces. At this startup boutique, you can browse through coffee tables, benches, desks and cocktail tables with built-in terrariums as well as picture frames, banners, wall letters and modular wall grouping for your home, work space or posh event. Even though these environmental ornamentations are obviously on the pricier side, it's still something to ogle on Pinterest and possibly replicate for a studio class or artist residency.
Art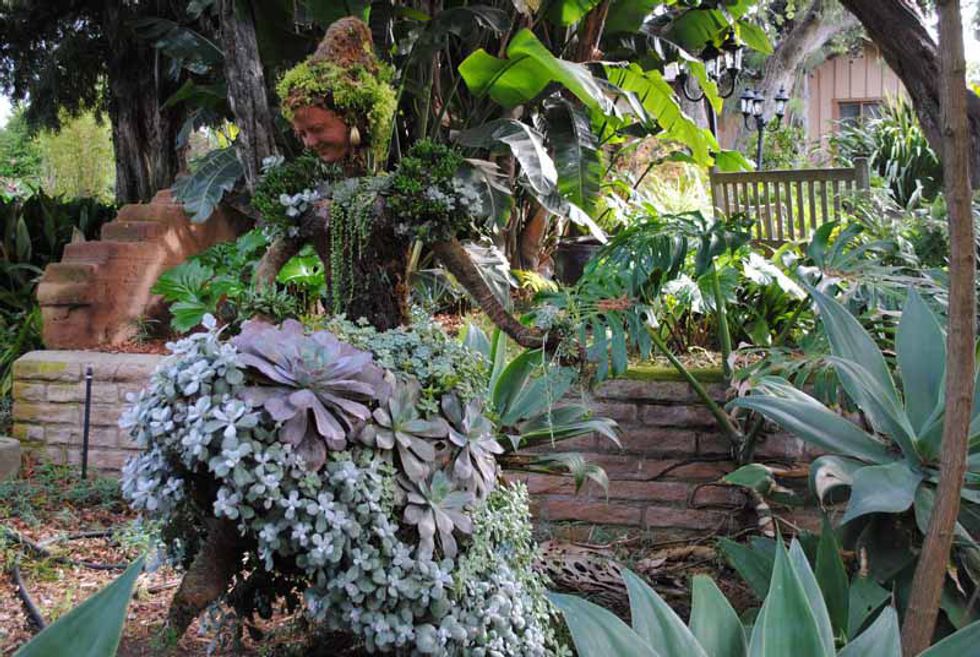 Image courtesy of Harmony in the Garden.
With their welcoming watercolor leaves and starburst shapes, it's no wonder that many indie artists are inspired by succulents. These vibrant plants have popped up across several art mediums like painting, photography, printmaking and sculpture. In particular, one artist who's succulent sculptures stand out is Pat Hammer who also works as the director of operations at the San Diego Botanical Gardens. Hammer's Succulent People topiary series (on display at her place of work) are unique in how they're fashioned not only from plant matter but also clay and metal armature to create folksy mixed media artworks. Other succulent creations play with animal molds, geometric wall art and decorative wreathes.
Even though the succulent fad in art and design won't be in season forever, trends have a way of recycling over time and sooner or later, everything comes back to nature.