I fell in love with the concept of tattoos watching "Ink Master" produced by Paramount with my brothers when I was young. Since age 17, I have been adding tattoos to my body. I have always loved my tattoos. Not only because of their beauty but because of their personal meaning. Tattoos have become a memory capsule engraved into my skin. Some people have complimented my tattoos, but I have never had the platform to give a full tattoo tour, unlike popular influencers - until now!
1. Breaking Ground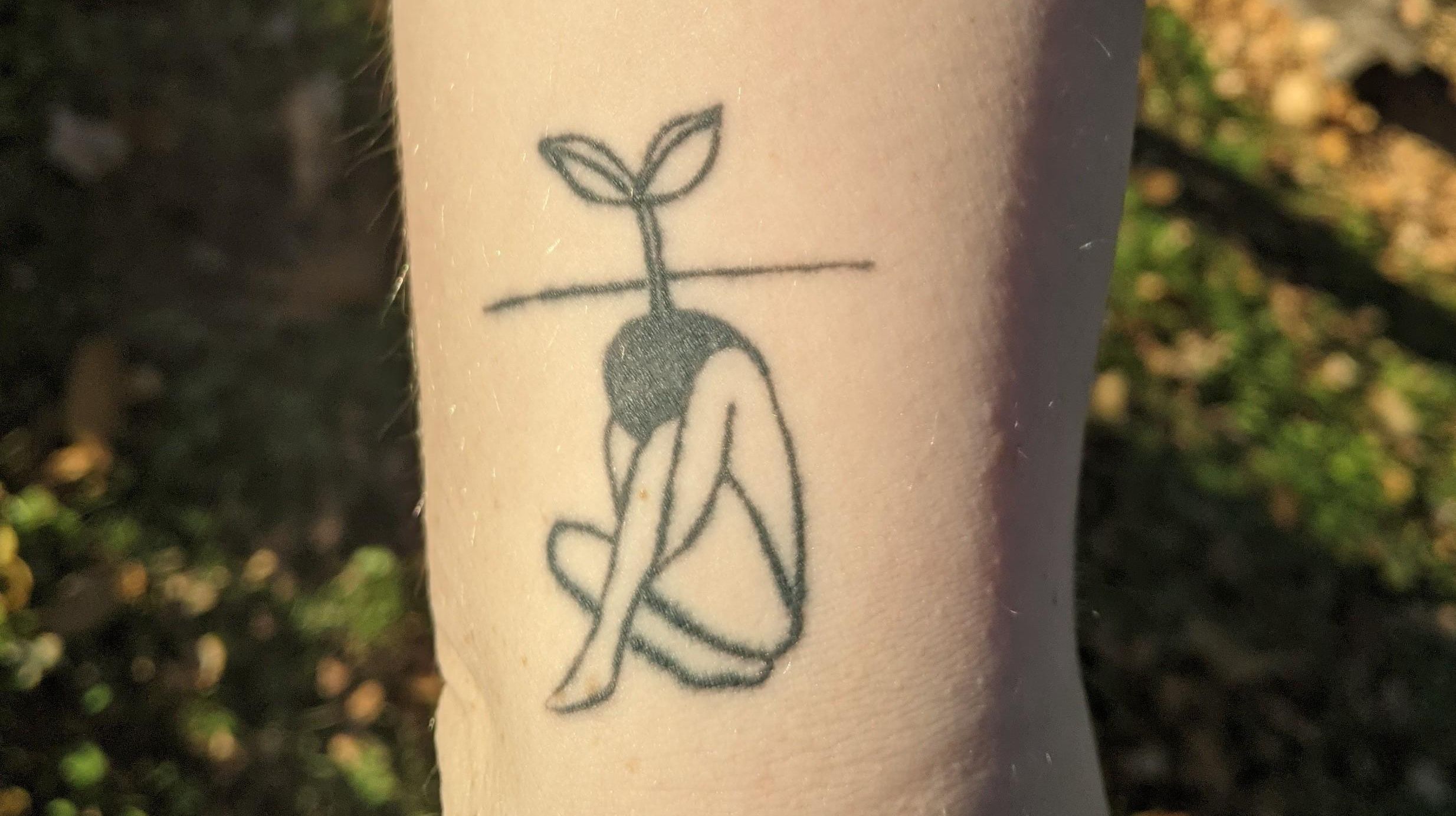 Haven Horton-Kunce
I remember being extremely nervous about this tattoo as it was the first one I ever got done. But, my artist Jason Fassett from Addicted Body Art Studio made me feel so comfortable. The design was originally created by the Korean artist Masa (@masa_tattooer). For myself, this image represents growth and finally breaking ground into a sprout. I got this tattoo to always remind me of how far I have come in life and to embrace even the slightest bit of progress.
2. Saturn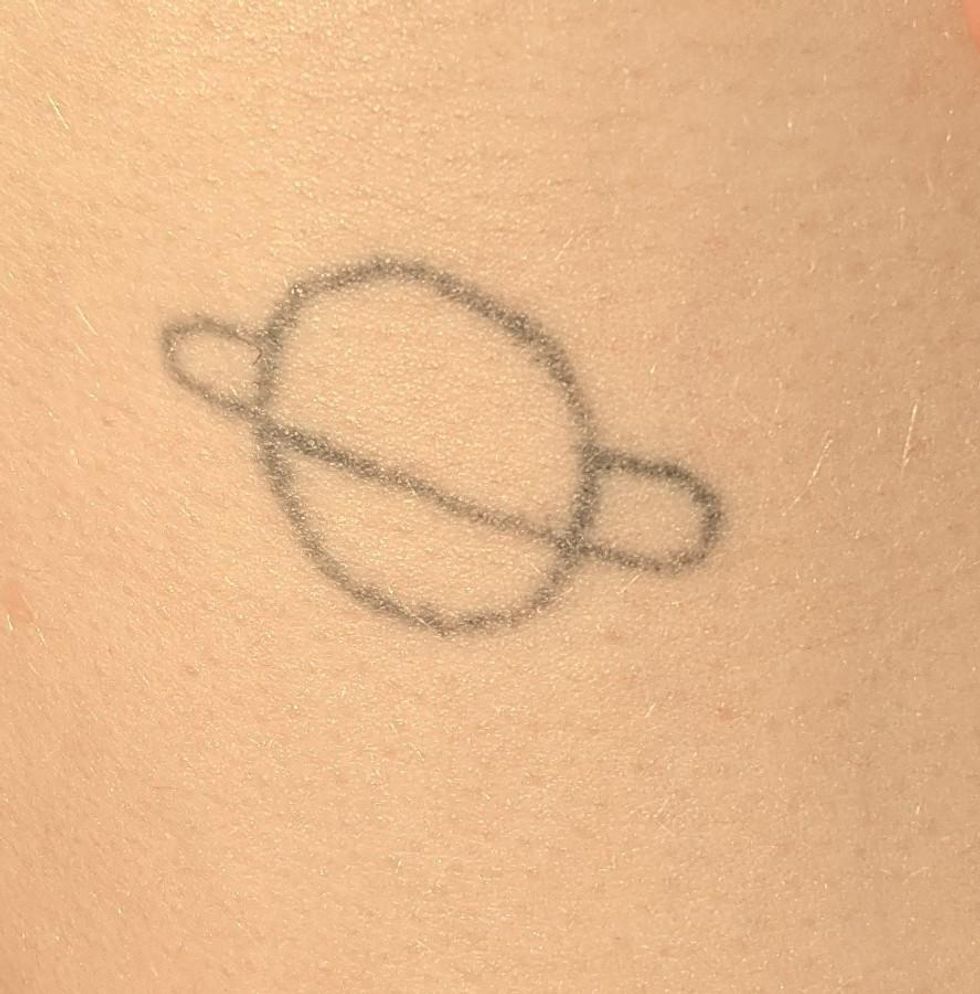 Haven Horton-Kunce
It was the summer after my Junior year of high school and I went to visit my older friend Jenna at her place by Ohio University. Over the weekend, I fell in love with every aspect of Athens, including OU, and happened to wake up with this stick 'n' poke tat on my rib cage. What my mom thought was a reckless decision at the time is now a permanent reminder of the amazing weekend I shared with one of my role models. Additionally, it marks the day I decided to go to Ohio University for my undergraduate degree.
3. Dandelion Wisps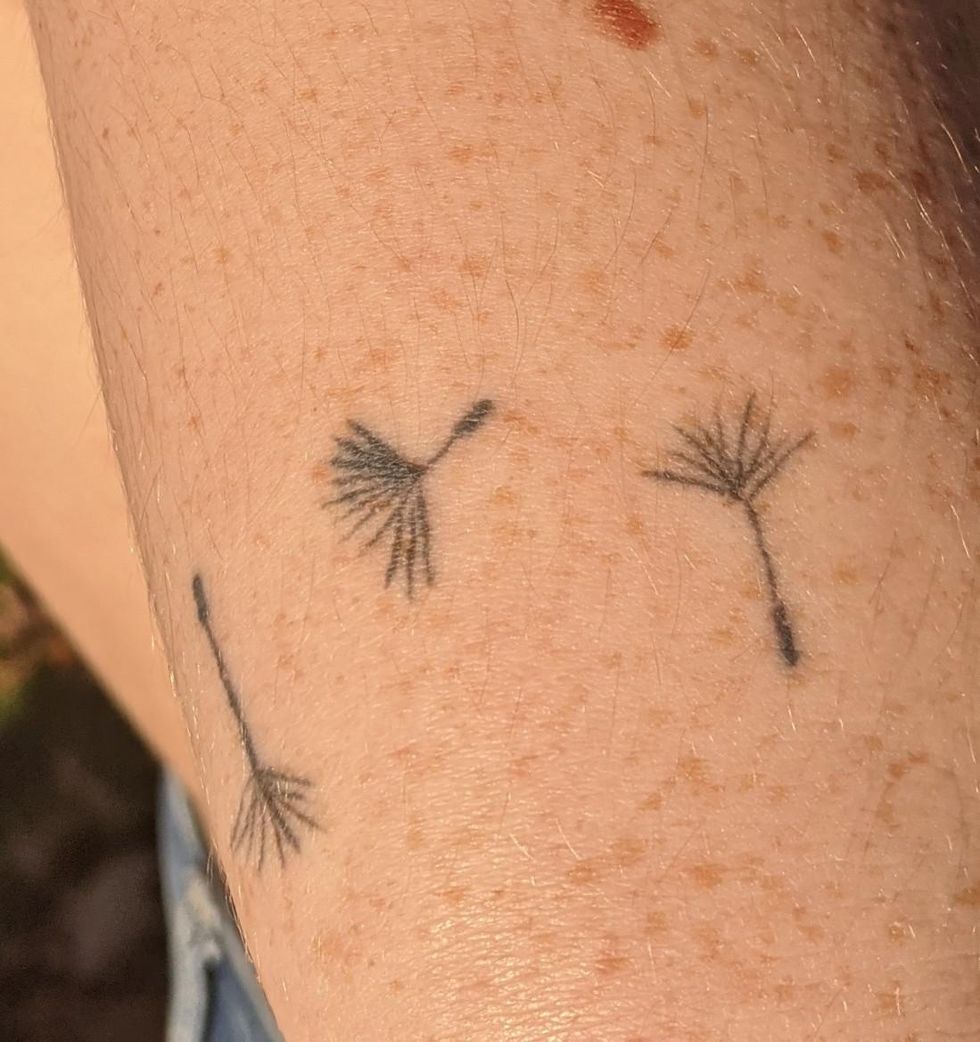 Haven Horton-Kunce
Did you know that dandelions have the record for the farthest traveling seeds? Seeds from the mother plant can travel up to 100 kilometers and still create a beautiful field of dandelions around them. The three dandelion wisps tattooed behind my right elbow represent myself and my two older brothers. Even though we live far away from each other and are creating our own beautiful lives, we are forever connected by our mother plant.
4. Leaf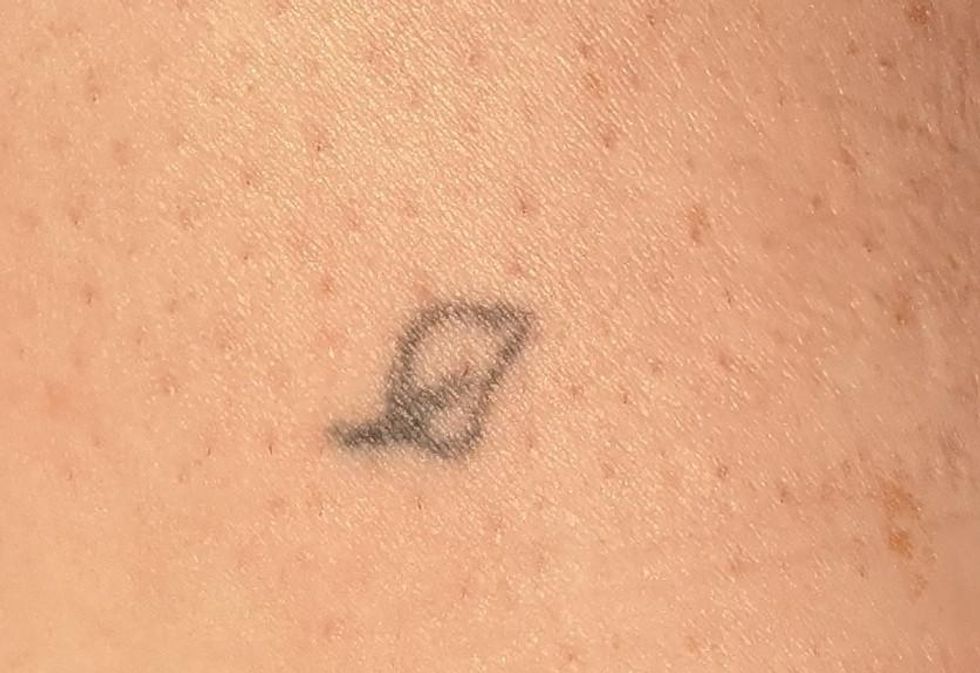 Haven Horton-Kunce
This is the second of my two stick 'n' poke tattoos. I was sitting with an old work friend one evening and, out of boredom, we decided to tattoo ourselves. I chose to do a little leaf partly because autumn is my favorite season but mainly because the design was cute and simple.
5. Orion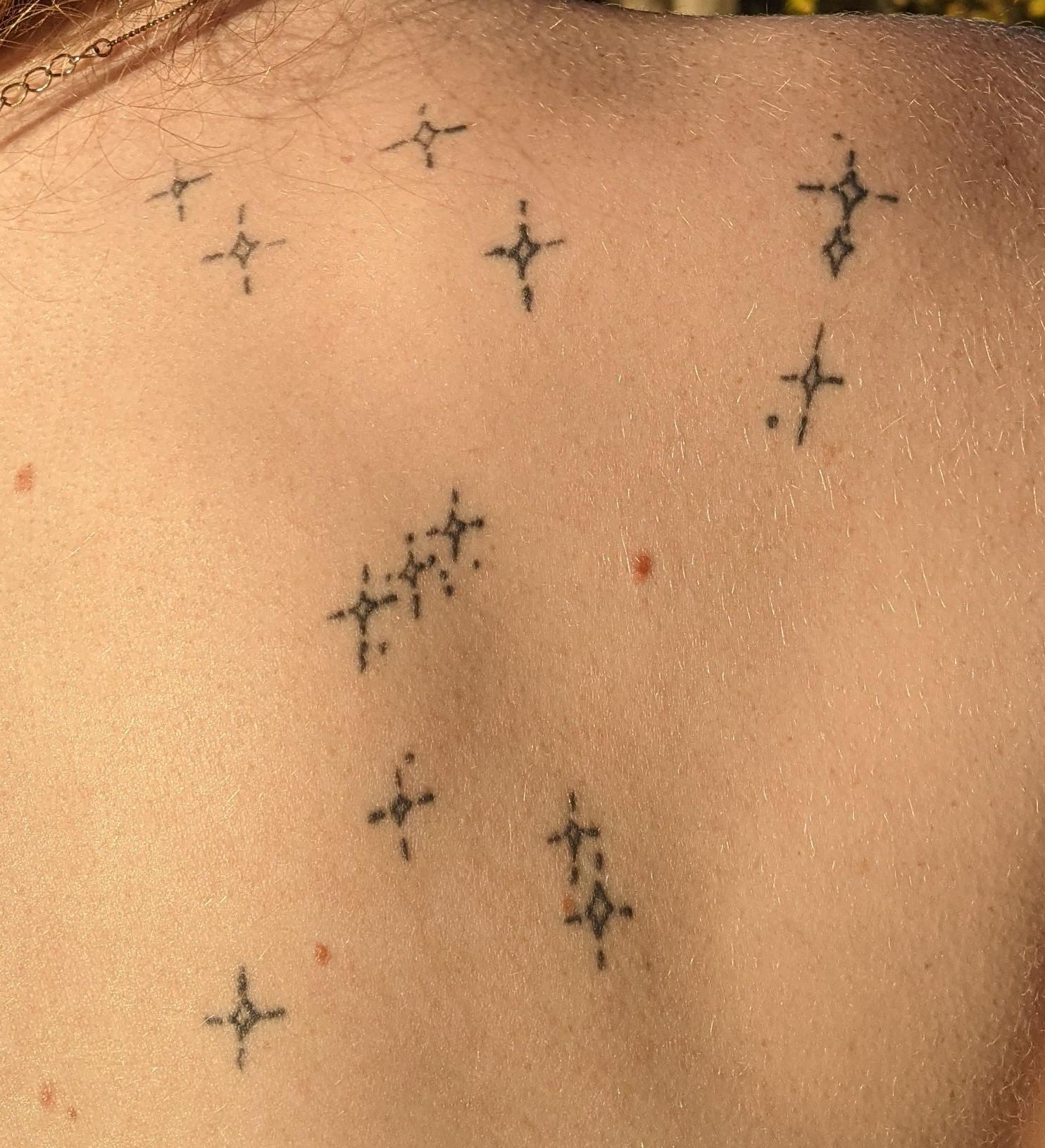 Haven Horton-Kunce
I grew up in a small town right outside of Cleveland. Prior to leaving for college, I wanted a reminder of home. No matter where I have lived, I could always look up to the fall sky and see Orion. Orion has become one of my favorite constellations because of this. Additionally, my family loved the MIB movies where Orion's Belt is referenced throughout the movie.
6. The Kiss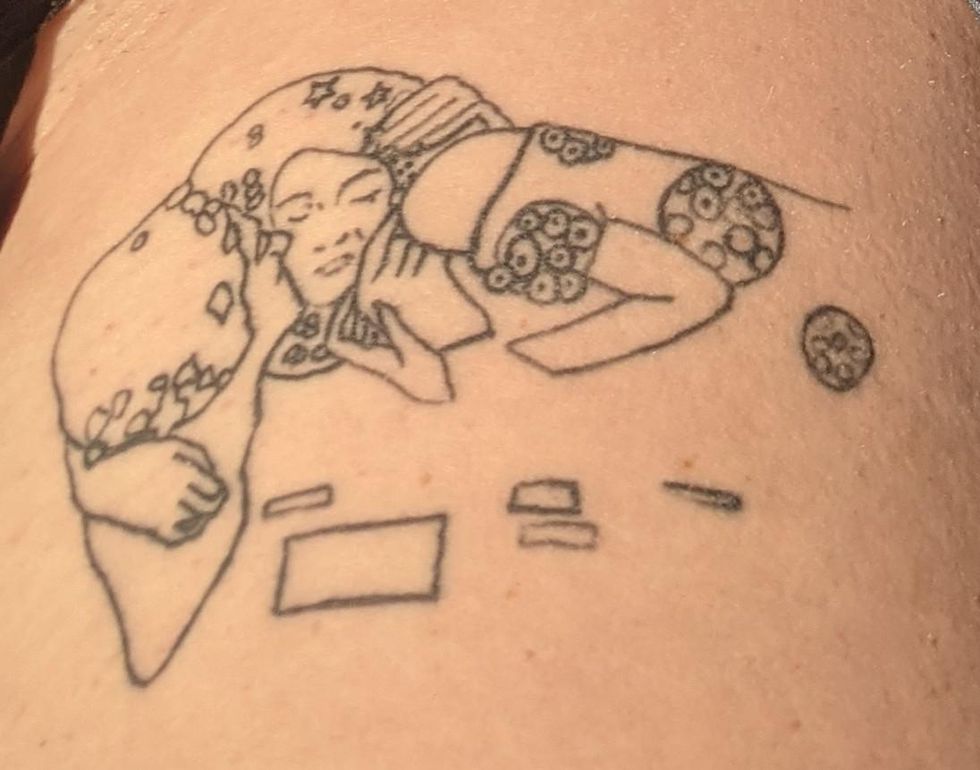 Haven Horton-Kunce
For as long as I can remember the painting "The Kiss" by Gustav Klimt hung in my parents' bedroom - I wound always admiring the piece. The way the couple is holding one another and the warmth radiating off of it symbolized the type of love my parents had - the kind of love I strive to find.
7. Flower Child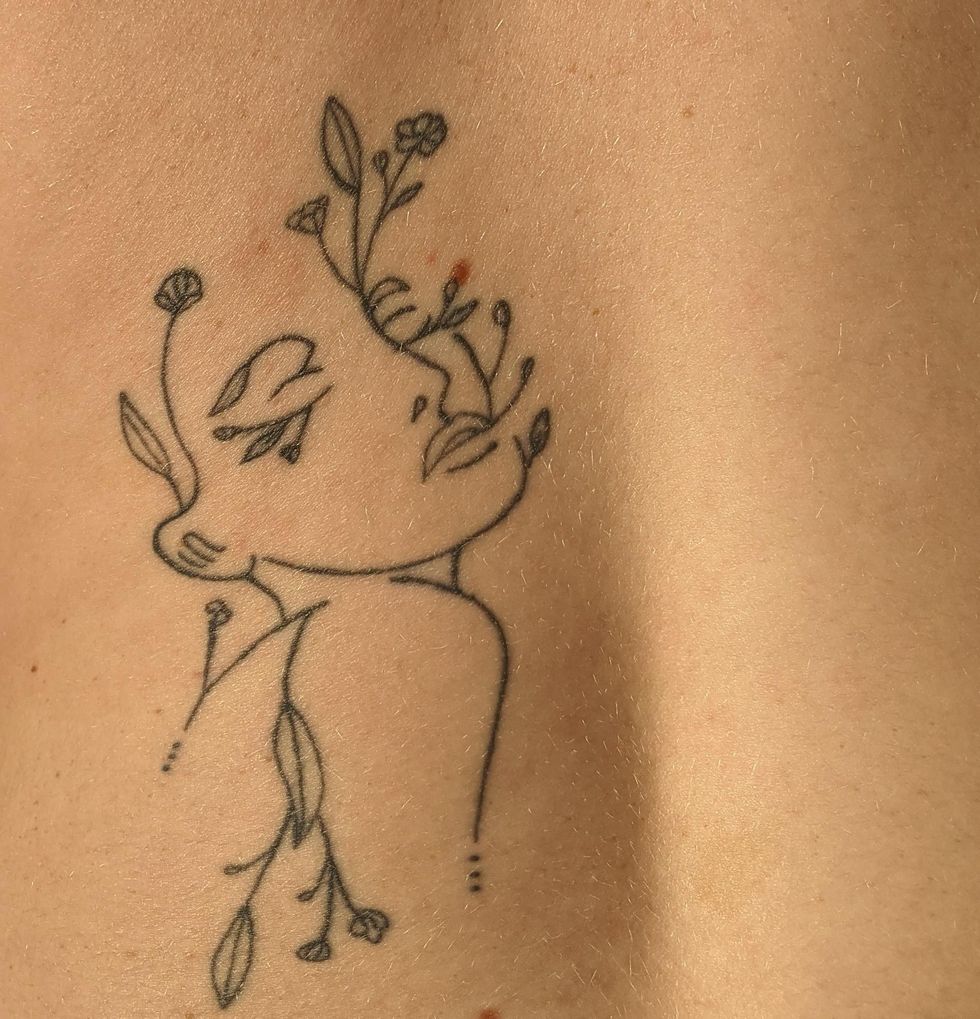 Haven Horton-Kunce
I started bullet journaling my freshman year of high school. My entire adult life is tucked away into my books. Writing has always been an outlet for me, especially during the craziness of 2020. The girl illustrated here is a Pinterest image that I doodled onto the cover of my 2020 journal. In my head, she is a fully grown version of my female seedling tattoo, the girl I hope to grow into one day.
8. Cupid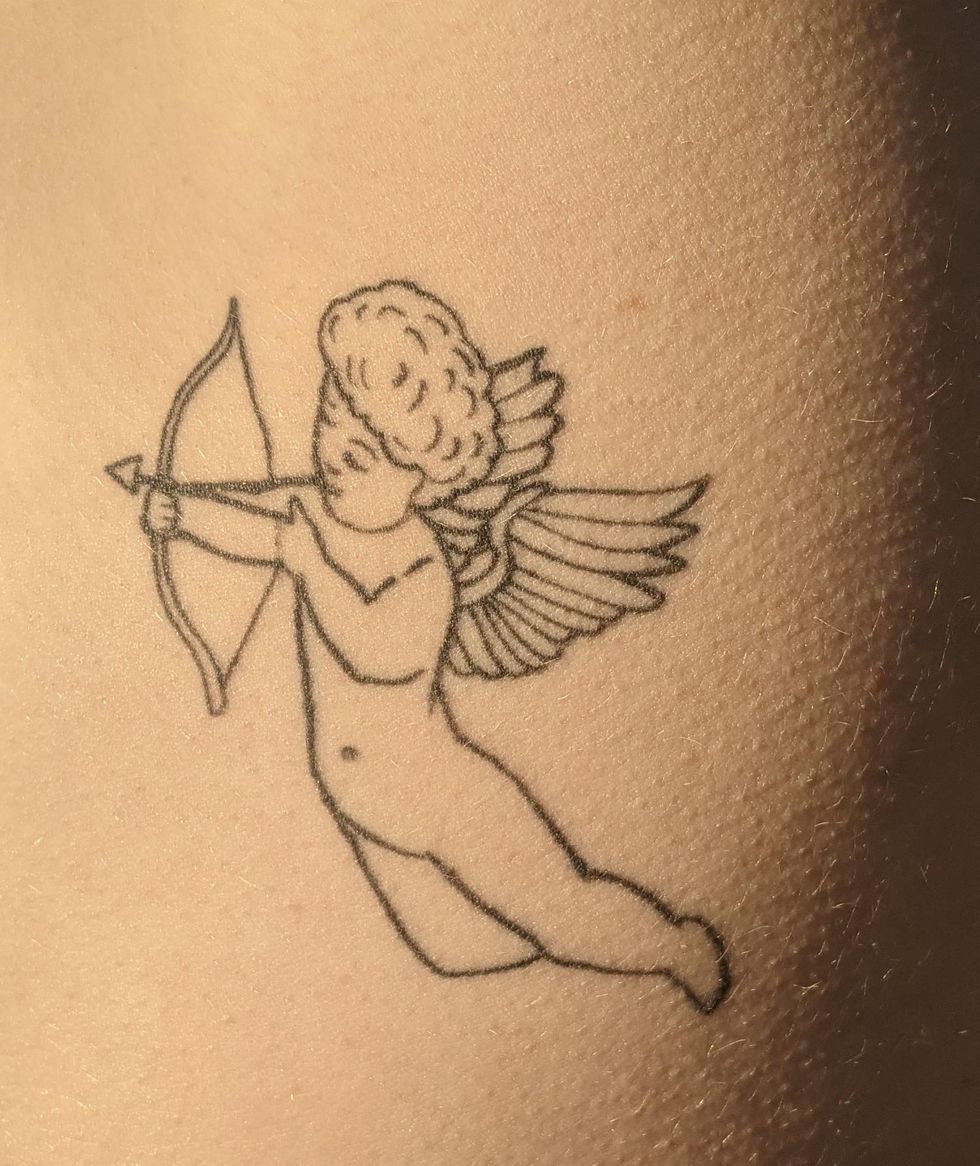 Haven Horton-Kunce
I am originally from Cleveland, Ohio and the Cleveland Museum of Art has always been one of my favorite spots. Not only is the museum absolutely breathtaking, but it also grants the opportunity to experience and learn about art for free. The cupid represents my favorite painting: Cupid & Psyche by Jaques-Louis David. The French neoclassical piece illustrates the conflict of idealized love and physical reality.
9. Script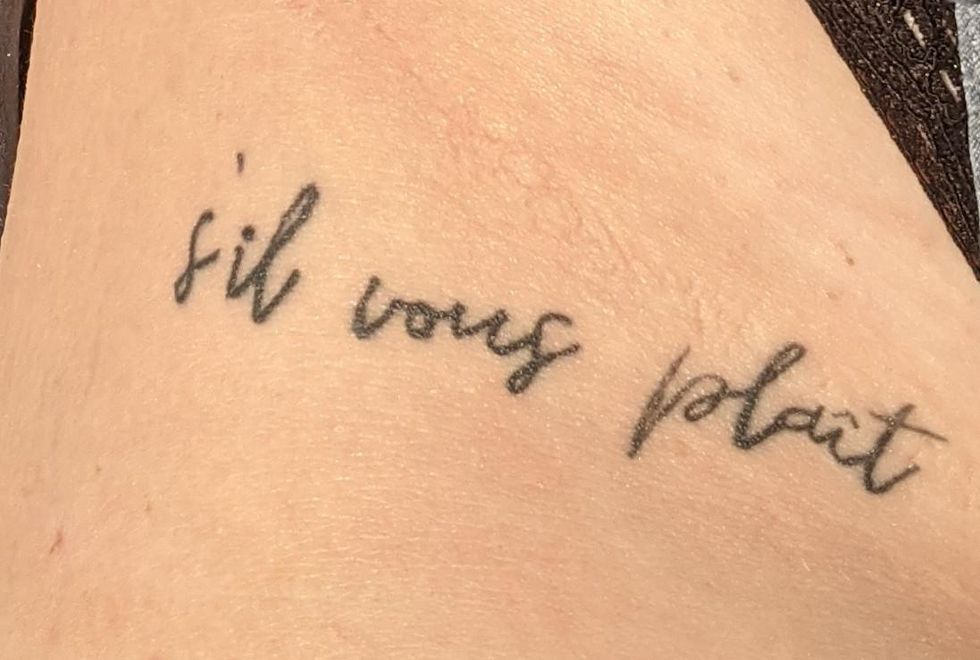 Haven Horton-Kunce
I have always thought of tattoos as something that can be meaningful and as act as a way to map out memories visually. As I grow older I also recognize that some tattoos are just sexy. I got the phrase "s'il vous plaît" on my right hip because I wanted a tattoo that made me feel hot. My script tattoo emphasizes the "bad bitch energy" I attempt to harness in my daily life.
Check out my other articles if you want to get to know more about the way I see the world!