I have been standing on my head, turning out cartwheels, and kicking my feet into the air every since I was young. My mother basically had to put me into gymnastics so I could flail my body around somewhere other than our house. I'd use my bed as a trampoline, the couch arms as supports for back flipping and pretty much every wall to help my legs defy gravity. As I got older my doctor told me I had to quit gymnastics due to many torn ligaments. I was devastated, I felt lost. But overall, I didn't want to stop turning upside down.
Thankfully, yoga helped solve this issue. I was able to rehab my torn body and in no time perform inversions again. I still like to put my self upside down everyday, it's fun, it's freeing but I've also learned that it is good for you!
An article written for Steth News gives us eight reasons to flip the body upside down: it helps eliminate toxins, improve focus, relieve stress, boosts sex drive, improves indigestion, improves skin, builds strength, and decreases the chance of ischemic stroke (a stroke caused by lack of blood flow to the brain). All of these benefits happen because by putting one's head below the heart it reverses the blood direction, switching the way everything normally runs. It's good to invert for a little bit each day. It's like how runners sometimes run backwards as a cross-training tool — the body likes to switch things up — it gives a nice reset to the whole system.
As a yoga teacher myself, when I tell my students how good it is for the head to be upside down, they usually reply with,"But I can't do a headstand/handstand." Well good news, you don't need to! I am going to list some more attainable poses that switch up the blood flow and let your head drop and explaining how to do them!

1. Down Dog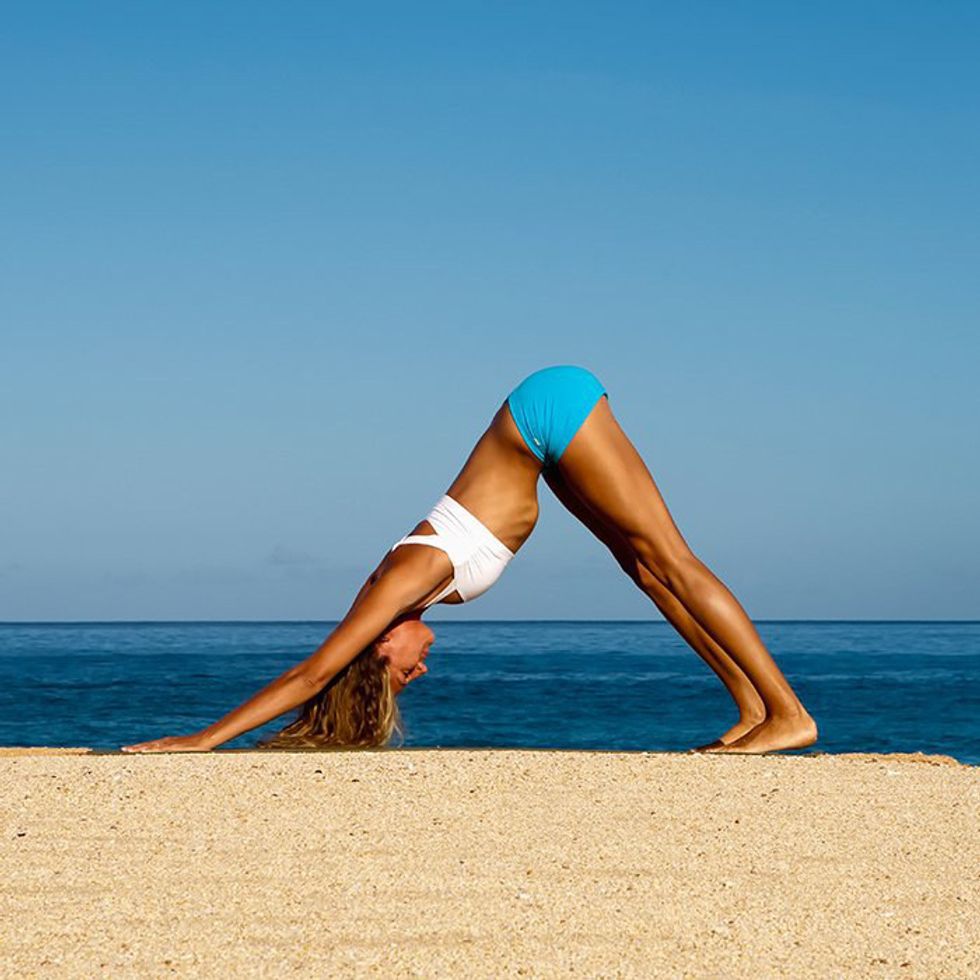 Ahh, yes, probably the most popular yoga pose and for good reason. Down dog alleviates pressure in the back, stretches the hamstrings, activates the whole body and... easily allows you to go upside down! How to: Start in a high push up position, with the hand directly under the shoulders and your feet hip width. Lift the hips into the sky and let your head hang heavy as you gaze through your feet or thighs. Make sure to spread all ten fingers wide and allow space between the head and shoulders. Press back into your heels but no need to force them down on the mat, as it is bad to hyperextend the knees. Breathe here for as long as you'd like!
2. Forward Fold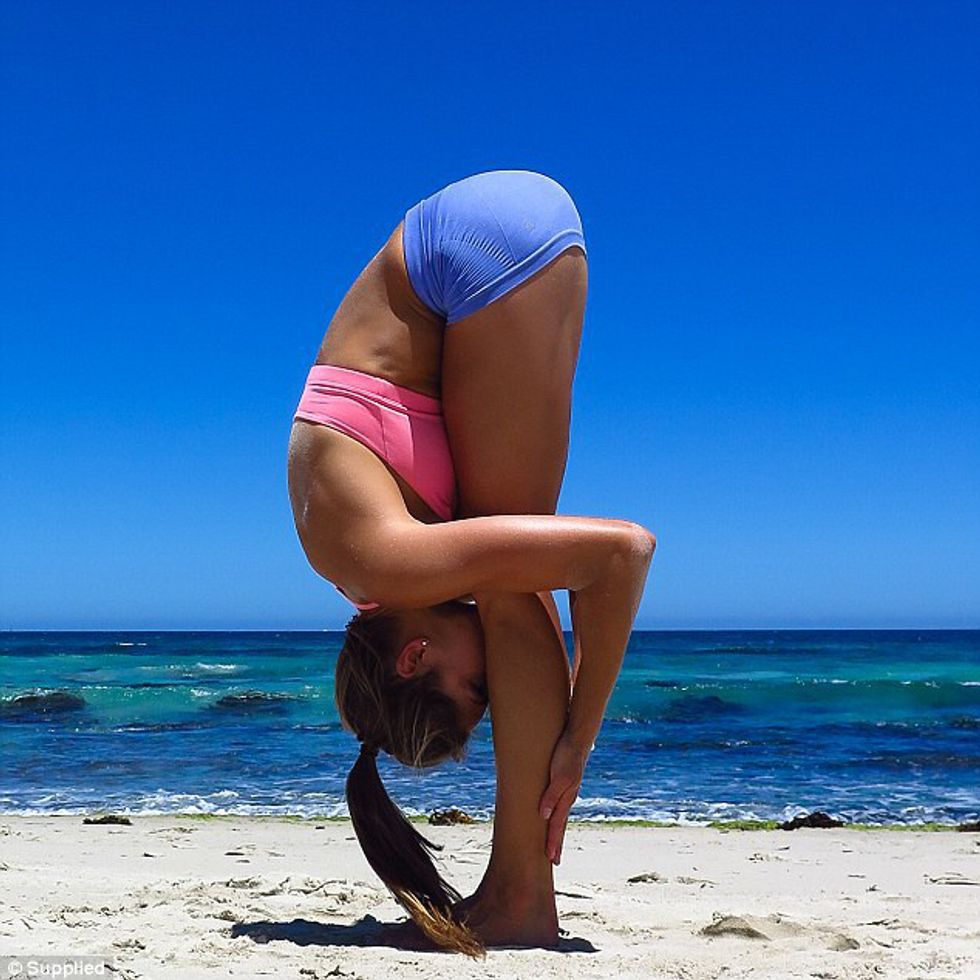 A standing forward fold is a nice way to let the head hang loose and see the world from a new perspective without having to balance on your hands. Again since the head is dropped here, you get all the amazing benefits that inversions bring from the reverse blood flow. It can be done so easily, you can try it almost anywhere! (Although be prepared for strange looks from people who stand right side up all day long, their less oxygenated brains may not be able to fully understand your need to invert). How to: Start standing tall, feet hip distance as you ground into all four corners of both feet. Make sure again to have a micro bend in the knees as you fold forward, allowing the hips to stay directly over the ankles. At this point let your head drop heavy and you can have your hands on the floor for a little support or as pictured, wrap them behind your legs. Allow your eyes to look between the lower legs as it strains the neck if you look at your toes in this pose. For an even deeper feeling close the eyes and try to let your upper body hang.
3. Bridge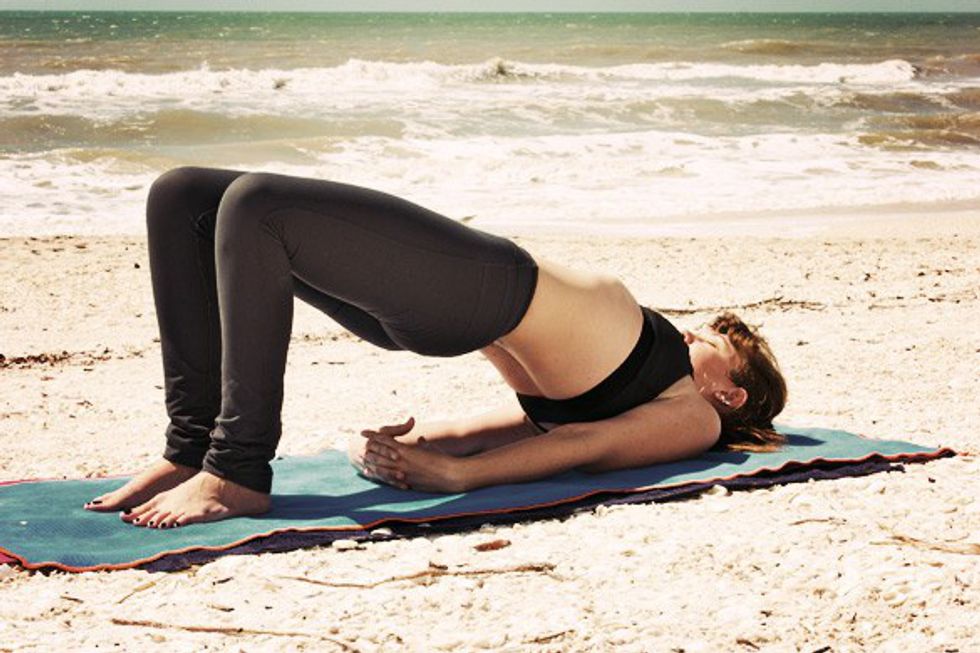 Bridge pose is a great pose that is usually offered towards the end of class. It opens up the heart chakra and helps alleviate lower back pain. A nice modification for this pose is to have a block under the lower back to support you. How to: Start by having knees and feet hip distance apart. Push into the two feet and lift the hips high while keeping the upper back and head grounded. You can leave the arms down by your side on the mat or like pictured, hold them together to allow the shoulder blades to grow closer and to lift the chest higher. Once hips are up make sure to not look side to side as it may irritate the neck.
I hope these poses help those who are wary of inversions and turning upside down. And for those you do perform headstands and handstands feel free to try these poses as well, it will only help you become stronger for the more complex inversions. If you are looking for a quick, natural way to clear the head, get the blood flowing, build strength and improve overall health than an inversion may need to be a part of your daily routine. Don't let your inner kid die, go on and let your head down!