Spring is in the air in the classic city. As temperatures rise and trees bloom, college baseball is starting to get interesting across the country-- especially if your team is 5-1 and sitting high & mighty atop the SEC East.
The record looks good... really good. At 21-3, we are tied for the second fewest losses of any team in the country. This can be deceiving though, as everyone knows most teams, particularly in the SEC, face competition of generally inferior caliber prior to conference play-- 5 of the top 10 teams in the country currently come from the SEC, if that tells you anything. With that being said, the Dawgs are 5-1 in the conference, those six games being played against two of the NCAA's perennial powerhouses in South Carolina and LSU. We've hit that mark in the SEC just one other time in the last sixteen years, which has raised questions considering the state of Georgia is consistently a breeding ground for some of the nation's top young talent. Coach Stricklin has done a much better job of keeping some of these bright young athletes in state as of late, and it's paying dividends for the Dawgs.
Sure, the records are promising, but baseball isn't played on paper. If you look beyond the numbers in bold print, you'll find a wealth of indication that this year's team is special, which is something the University of Georgia has desperately missed out of their Diamond Dawgs in recent history.
One big reason Georgia's been not only good but consistent is because of the leadership upperclassmen have exhibited throughout the season. Many of these guys made large contributions in previous seasons as underclassmen-- Tucker Maxwell, Cam Shepherd, & Aaron Schunk, to name a few-- and are now embracing their newfound leadership roles, as the aforementioned trio are hitting .333, .264, and .313 on the season, respectively. John Cable, a graduate transfer student, has come up big as well, with two grand slams on the season (and it isn't even halfway over!). Big-time players have to do big-time things if you want to compete in the SEC, and our guys are doing just that.
As of now, UGA's team batting average total is only .008 higher than last year's. This is a good thing, but certainly not representative of just how much better of an offensive team we are in 2019-- our slugging percentage is the big indicator there. Last year, we slugged at a .425 clip, while this year we've jumped up to .458. Not only are we hitting more bombs, but with runners on base too, thus putting more runs on the board at a time. If we keep knocking in runs at this pace, we'll have nearly 61 more RBIs than last season. Our guys are coming up clutch, manifesting in not only important wins but exciting wins. It's been a while since Foley Field has seen as electric a crowd as last weekend's LSU series. People are excited about this team, and for good reason.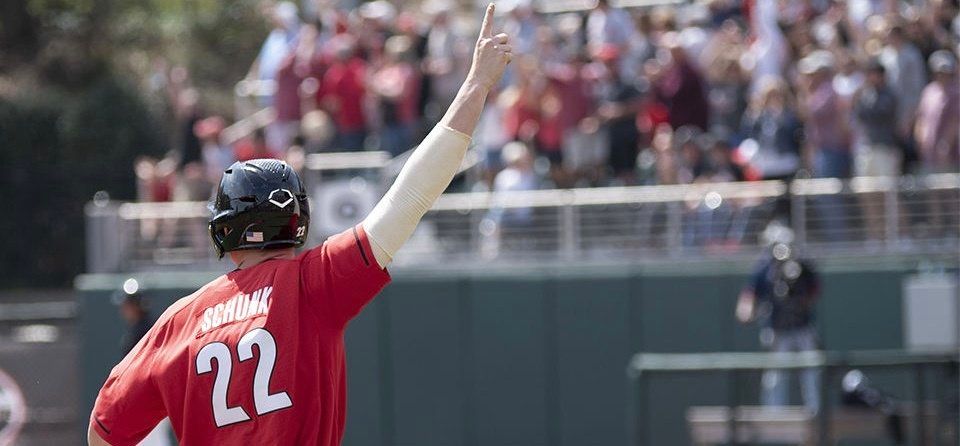 Junior Aaron Schunk rounds third following a teammate's home runPhoto by Kathryn Skeean
While this year's offense is certainly fun to watch, everyone knows defense wins championships (or in our case, defense and pitching). Our fielding percentage is .003 higher than last year's, but on the mound is where we've really taken strides this season. Our team ERA is a whopping 1.43 lower than it was last season, and we're on pace to walk 28 fewer batters than the 2018 squad-- these are HUGE steps in the development of a World Series caliber program. While these are important numbers across the board, a closer look at our weekend starters proves even more promising.
Thus far, our Friday, Saturday, and Sunday starters, Emerson Hancock, C.J. Smith, and Tony Locey, have an impressive average ERA of 1.61, as opposed to 4.63 from last season's weekend rotation. In addition, none of last year's conference starters posted a WHIP below 1-- this year, none of them are above 1. These are the types of improvements that will make a good team a great team... the type of improvements that could make a regional team a contender in Omaha.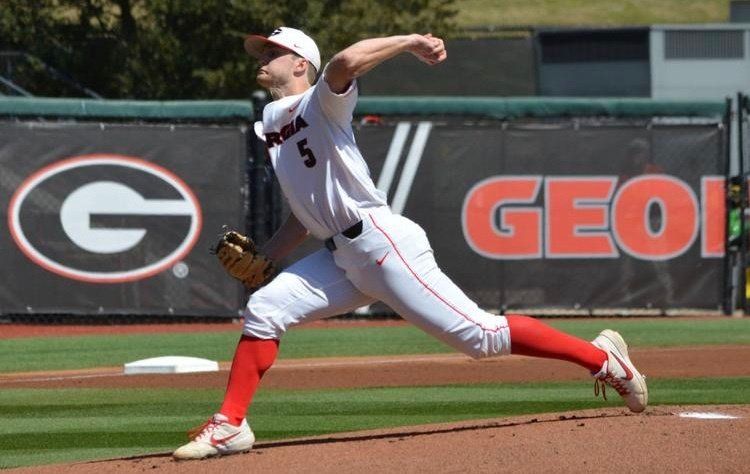 Lefty CJ Smith throws a pitch against LSUPhoto by Maya Giro
The Dawgs are producing with the bats when it matters most, and our arms have cleaned it up a lot between last year and now. But, aside from these two major areas of focus, there's one less frequently discussed aspect of the game where UGA's team has really shined this season, and its depth. It's one thing to have a really good starting nine-- a lot of teams have nine really good players. What separates those teams from their superiors is often a matter of depth, and this weekend ours won us a critical conference series.
Mason Meadows, our starting catcher, was pulled early in Sunday's rubber match against LSU after he fouled a ball off of his face, sustaining facial fractures. Austin Biggar stepped up to fill the role and delivered in a crucial moment later in the game. LSU put four on the board in the top of the eighth, bringing them within a run of the Dawgs. Going into the bottom of the eighth, LSU had the momentum, but this didn't hold up for long. Apparently, it only took Biggar a couple of ABs to get acclimated, because in his third at bat he launched a two-run opposite field bomb, giving the Dawgs some much-needed insurance late in the game. Nobody wants to see a player get hurt, but it really says something about a team when the next guy in line is ready to fill the role and does so with flying colors.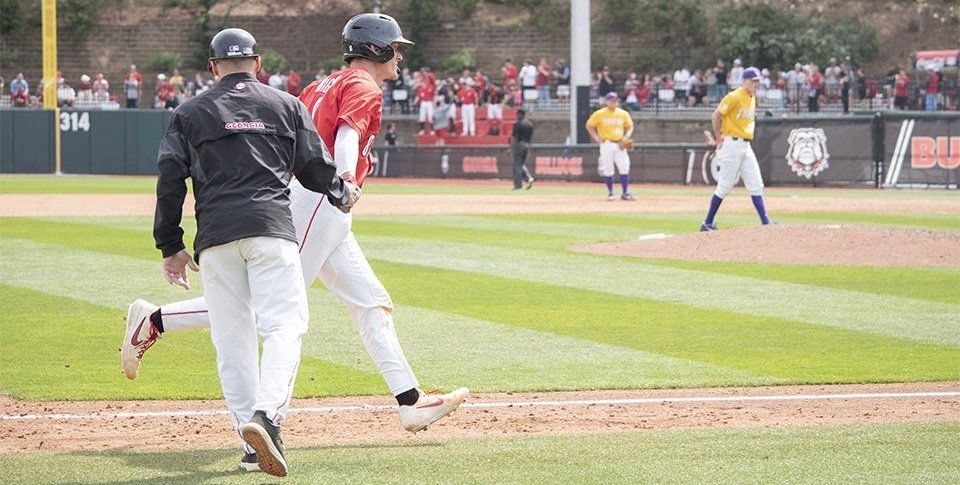 Austin Biggar getting some love from his third base coach after hitting a clutch home run in the ninthPhoto by Kathryn Skeean
Mason Meadows isn't the only big injury the Dawgs have seen this season--Tucker Bradley was supposed to start in left field, as he was an integral part of our success in 2018 and expected to be a major contributor and leader on this year's squad. Unfortunately, in only the second game of UGA's season against Dayton, he sustained a season-ending shoulder injury. It looked like bad news for the Dawgs, but true freshman Randon Jernigan took over Bradley's spot and has been doing so quite nicely. Hitting .259, he's holding his own at the plate, especially considering that he's new to the league. More impressive than that, though, is what he's done with the leather.
Sunday afternoon, the freshman made a SportsCenter top 10 play (came in at number 2, to be exact) to take the life out of a rallying LSU team. The momentum had gone back and forth all game, neither team seeming to lose any fervor. 9-6 In the top of the ninth wasn't all that comfortable of a lead considering the resilience LSU had exhibited, especially when the Tigers began the inning with a scorched single to right field. The next batter launched one to deep left, but not quite deep enough. Off the bat, it sounded like a no-doubter, but we had a guy there. The freshman Jernigan leapt up from the warning track, stretching out and robbing LSU of a two-run homer which would've brought them within a run, absolutely igniting the crowd of 3,042 who filled Foley Field that day. Knowing that if a starter goes down you've got another one who's going to come in and make plays like that is hugely reassuring to a coaching staff, team, school, and city.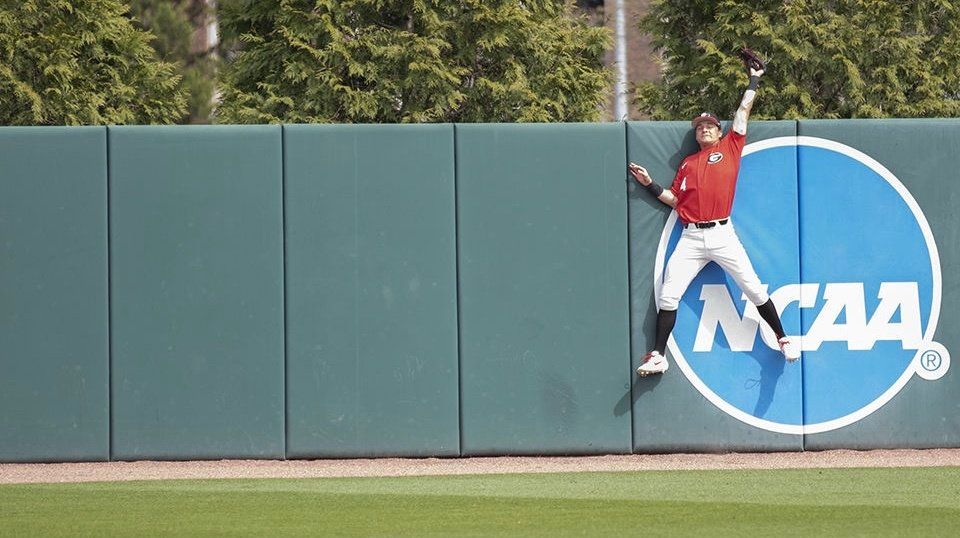 Freshman Randon Jernigan brings a would-be home run back into the parkPhoto by Kathryn Skeean
The Dawgs take on a struggling Kentucky team this weekend and look to continue their conference success by doing exactly the things they've been doing-- hitting for power when it counts, keeping runs against to a minimum, throwing strikes, and picking their teammates up when the unexpected occurs. If they keep this up, there's no reason the University of Georgia's 2019 baseball team can't make a run and be a blast to watch while doing so.