With 2015 in the back burner, there has been some phenomenal and unfortunate moments in sports. One of the issues I had with sports last year are the legends being harassed and labeled just because they have an awful set of games. Such as Kobe Bryant (NBA), Peyton Manning (NFL) and Tony Stewart (NASCAR). All legends and first ballot hall of famers in their sport but everyone wants to harp on those guys on how bad they've been lately. Some are understandable because of their age or injuries catching up to him. In the case of Stewart, a tragic event in Canandaigua which people haven't got over with and it happened in 2014. Those situations can be absurd especially if it's what people define an athlete today.
Peyton Manning of the Denver Broncos is the one athlete I get bothered on how much animosity he's been getting after his abysmal game against the Kansas City Chiefs Nov. 15. Those who remember what happened in Week 10, it's the same game he surpassed Brett Favre's record for career passing yards. Manning broke the record after a quick four-yard pass to Ronnie Hillman in the first quarter. Afterwards, many people have written him off after what transpired since his record breaking pass. Manning ended the day completing 5-for-20 passes for 35 yards and had four interceptions. Worse of all, he became one of only ten players to have earned both a perfect passer rating and a zero passer rating in their careers.
Although he passed Favre's record, he had his worst game of his career and was benched by coach Gary Kubiak. Manning hasn't started a game since due to injury. From there, I've seen people around social media how much ridicule he's been getting. From "he's done and washed up" to "don't make him starter in the playoffs." It's sad to see one of the best quarterbacks of my generation fall down. Plus, the HGH allegations doesn't help his reputation which Manning has denied of doing.
"It's completely fabricated. Complete trash, garbage," Manning told ESPN. "There are some more adjectives I'd like to be able to use, but it really makes me sick. It makes me sick that it brings Ashley (Peyton's wife) into it, her medical history, her medical privacy being violated. That makes me sick. I don't understand that."
This is the issue athletes have faced around the world for decades. Nobody is safe in the world of sports. People will find ways to expose great athletes like Manning who has to deal with this issue in addition on whether or not he'll be start for the Broncos again.
In 2011, Manning sat out the entire season in what turned out to be his final year being on the Indianapolis Colts roster which he played since his rookie season in 1998. Leading to a number one draft pick from Indianapolis who selected Andrew Luck while Manning has been with the Broncos since. Manning is sort of facing this situation again on whether or not it's best for the team on growing Brock Osweiler as their future guy or keep Manning to see if he still is a top quarterback.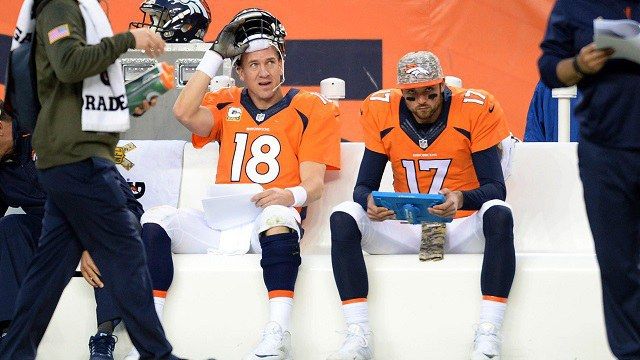 Don't give me wrong, Osweiler has done a nice job keeping the Broncos upbeat. They're in the playoffs after defeating the Cincinnati Bengals Dec. 28. But questions have lurked around the Broncos on whether or not Osweiler will lead the team to the playoffs or will a healthy Manning return and get them back to the Super Bowl for the second time in three years.
However, that's up to the Broncos staff on what's best for them after the current NFL season ends. No matter what, it's obscurity and controversy that gets people in the news these days and Manning is no exception. We're supposed to celebrate his career, not remember him for having one game with a 0.0 passer rating.
Manning returned to the field and replaced Osweiler Jan. 3 against the San Diego Chargers. Manning completed five of nine passes for 69 yards as the Broncos won 27-20 and are the No. 1 seed in the AFC.