Before the end of his presidency, Barack Obama signed the Emmett Till Civil Rights Crimes Re-authorization Act of 2016 into law, the bill that allows for the Department of Justice and the Federal Bureau of Investigation to reopen unsolved civil rights cases. Some may ask, who is Emmett Till...or perhaps, who was he? Well, let's provide some background. Emmett Till, at the time of his death, was a 14-year old African-American native of Chicago, Illinois whose life is known to have ended due to "flirting" with or "whistling" (as a fun prank) at a white woman behind the counter inside of a country store in Money, Mississippi. While in Mississippi, Till was visiting family members and although there were no witnesses present during the interaction between the woman behind the counter and Till, the woman claimed that Till did way much more to her. The woman's husband and the proprietor of the store was out of town on business, and upon his return, he discovered what "allegedly" happened between "the black boy" and his wife. I'm sure you all are wondering how did Emmett Till's death come about? Hmm. After finding out what had occurred, the woman's husband along with his brother-in-law, paid a visit to Till's great-uncle's (Mose Wright) home looking for him, and well, they forced Till in a car, despite numerous pleas from Till's great-uncle.

Both the white woman's husband, Rob Bryant, and his brother-in-law, J.W. Milam, drove Till to the Tallahatchie River, made him carry a 75-pound cotton-gin fan to the bank of the river, and take his clothes off. The two men then beat him nearly to death, gouged out his eye, shot him in the head, and then threw his body, tied to the cotton-gin fan with barbed wire, into the river. His corpse was discovered literally a few days after Bryant and Milam paid a visit to Till's great-uncle's home. His corpse was so badly mutilated that he was unrecognizable, and could only be identified by a ring Till was wearing at the time. While law enforcement preferred for Till's body to be buried immediately, Till's mother (Mamie Till-Bradley) requested his corpse to be sent back to Chicago where she had an open casket funeral. Why? She wanted everyone to see that her only son was brutally beaten and killed by white, racist murderers. Now here's what publicized Till's story to the media mainstream.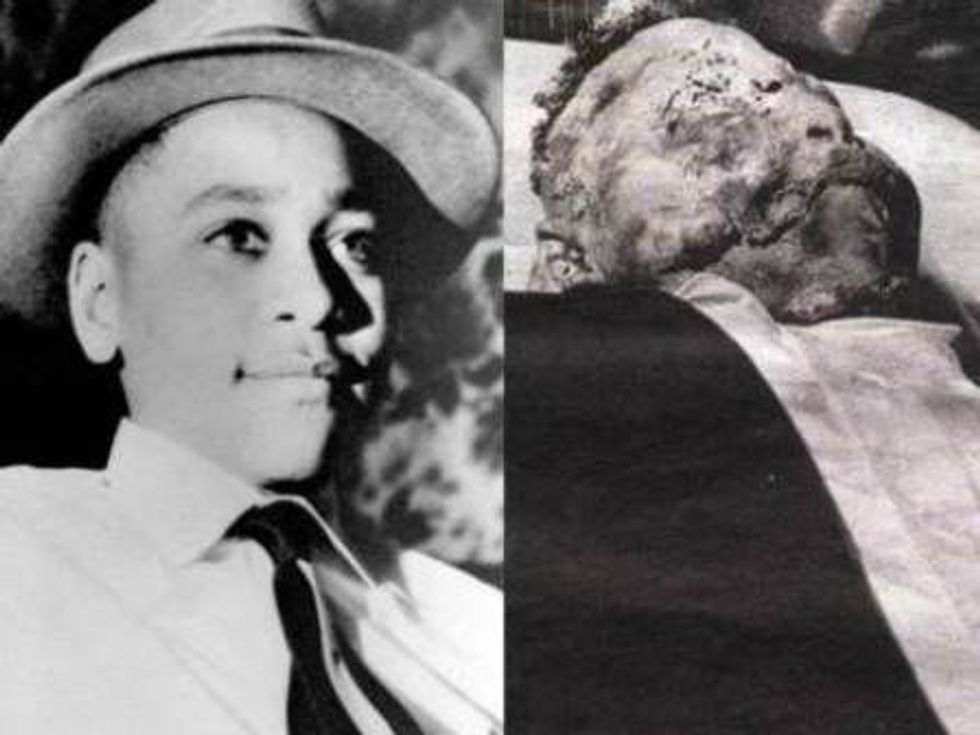 Jet magazine, as we all know it, is known for publishing weekly stories and entertainment for the African-American community. With that being said, it published a photo of Till's corpse...where it then became the story of the day, the week, the month, and so on. After Emmett Till's murderers went to stand trial on September 23, 1955 with an all-white jury who deliberated for less than an hour, the verdict was issued as "not guilty." I'm guessing you all are wondering why? They apparently believed the state had failed to prove the identity of Till's body. Oh, and here's no surprise...Bryant and Milam were not even indicted on kidnapping charges. Why not? I mean, we all want to know...even today.

Emmett Till's murder trial set the tone for the obvious brutality behind Jim Crow laws and the force of nature behind the Civil Rights Movement. Now, do we get the importance of Obama's initiative to sign the Emmett Till Bill? There are many civil rights cases, whether known or unknown to the public, that are currently unsolved. The Till Bill not only allows for the reopening of unsolved civil rights crimes before 1980, but also "the full accounting of all victims whose deaths or disappearances were the result of racially-motivated crimes" and for authorities to hold criminals accountable. Inclusive with this law is the DOJ and FBI keeping the families of the victims informed on the statuses of of the investigations.
This bill is also the expansion of a previous bill that was signed into law in the year of 2008, by an activist named Alvin Sykes who promised Till's mother to keep her son's name alive and to pursue his case after his two murderers were acquitted at trial by...lets not forget...and all-white jury. Since the bill was first introduced, the FBI has investigated more than 100 cold cases. Not only is this legislation important, but also must be recognized for the work it has already accomplished and the work to come in the near future. Stay informed. Wake up!
Thank you, Obama!