Ever wonder which of your favorite iconic Playstation figures would win in a battle to the death? We're here today to analyze both Crash Bandicoot and Spyro the Dragon and figure out which one is the true Playstation Icon!

Crash Bandicoot
Background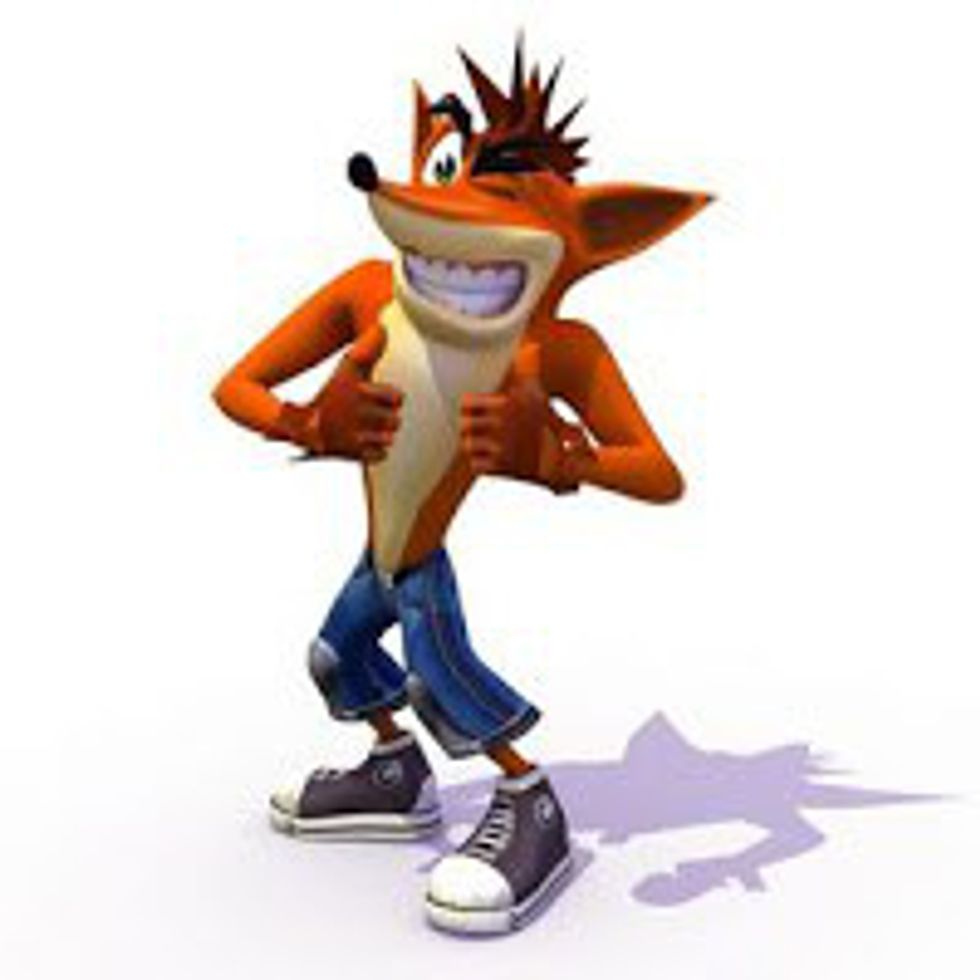 Crash is a failed experiment of Dr. Neo Cortex whom escapes from Cortex Castle upon his creation. He resides on N. Sanity Beach, waiting for the world to fall into peril so he can save it from Cortex once again. He lives on the island alongside his sister Coco, his brother Crunch and his guardian Aku Aku. Crash also has two pets, Polar, Baby T, and Pura. When he is not collecting power crystals, wumpa fruit, or gems, Crash can usually be found lounging about on N. Sanity Beach either relaxing or sleeping.
Powers and Abilities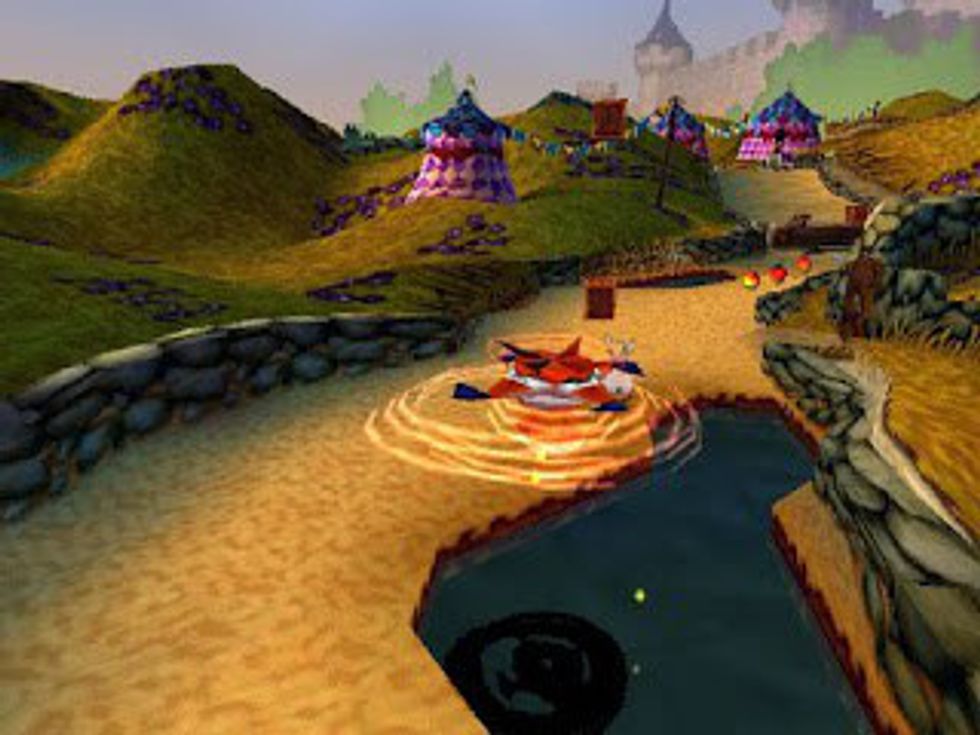 Crash Bandicoot's Tornado Spin
Crash's most prominent ability is the
Tornado Spin,
a move that when performed, Crash spins at a ludicrous speed, simulating a tornado's appearance. This move has killed every one of Crash's enemies in one hit (excluding bosses) and provides Crash from invulnerability from nearly any object (excluding explosive crates).
Crash's next ability is the Double Jump, a very basic move that provides Crash with extra agility and the ability to dodge certain attacks. This move allows Crash to be more fluid with his movement and become extra hard to hit.
Crash also has a Body Slam that he can use to squash enemies, as well as smash breakable objects beneath him. This move has been seen to be stronger than wood crates, but weaker than steel.
One of Crash's external weapons is his Fruit Bazooka or Wumpazooka. This allows Crash to take aim to any one of his enemies and shoot them with a Wumpa Fruit projectile. This often kills in one hit, but has been known to take many hits to defeat bosses.
Crash's Sneak Shoes allow Crash to become stealthy and not be heard whilst walking. This is useful to sneak up on an enemy and take them completely by surprise.
Crash Bandicoot's Crash Dash
The
Crash Dash
allows Crash to run at extreme speeds. How fast can Crash run you may ask? There's no real way to tell, however it can be noted that the fastest time that anyone has completed Crash Bandicoot 1 is 45 minutes. This tells us that at Crash's fastest, he has been clocked at 45 minutes running the span of an entire island. That's no easy feat. and can be comparable to the fastest human in the modern day.
Crash's Super Slide allows him to move faster than his Crash Dash,however, he cannot jump. A trade-off to this is that this move can kill enemies in one hit (excluding bosses), but Crash can only hold the slide for a limited time.
Crash's Rocket Jump allows him to jump high into the air. This move is powerful enough to break wooden crates, but not powerful enough to break through steel.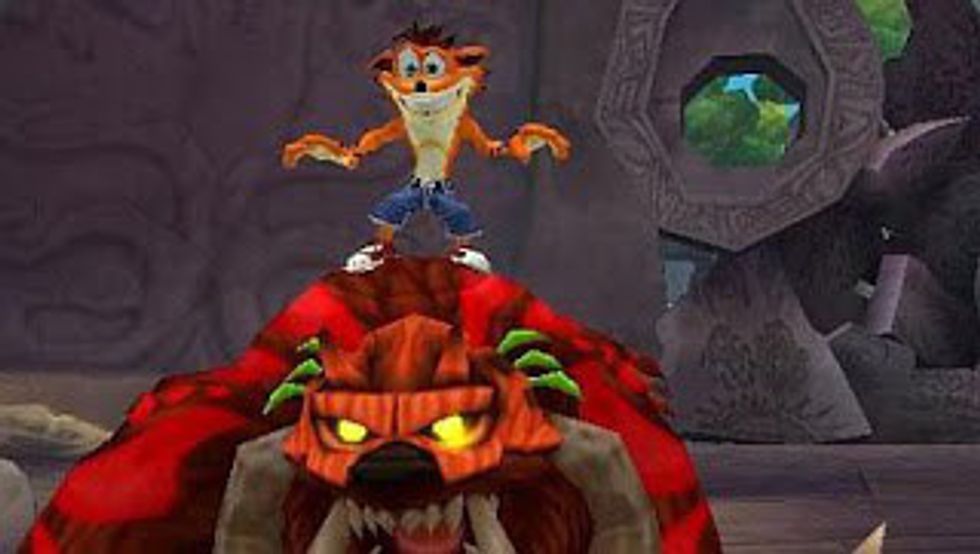 Crash Bandicoot's Jacking
Aku Aku
is Crash's protector and guardian. Crash's health depends on how many
Aku Aku
masks he collects. The amount of masks he collects is the amount of times Crash can be hit without dying. If Crash collects the maximum amount of 3 masks, Crash becomes invincible for a short time.

Jacking
is one of Crash's later abilities in which when Crash spends enough time fighting someone, he can use Aku Aku to take control of them.


Other abilities include:
Combat Specialist and Expert Combatant
Wall-Crawling
Mind Control Immunity




Weaknesses
-Crash's most prominent weakness is that he is not very smart. Nearly all of the things that he has accomplished have come by complete accident or by a chain of fortunate events. This could prove problematic to him in a fight, especially with an opponent who has a level head. However, in contrast to this, Crash does possess some level of intelligence in regards to machinery such as Go-Karts and weapons.
-One of Crash's other weaknesses is the fact that without an Aku Aku mask, he can die in one hit.

-Crash's main form assault is strictly on the ground. He has no air coverage whatsoever.



Spyro the Dragon
Background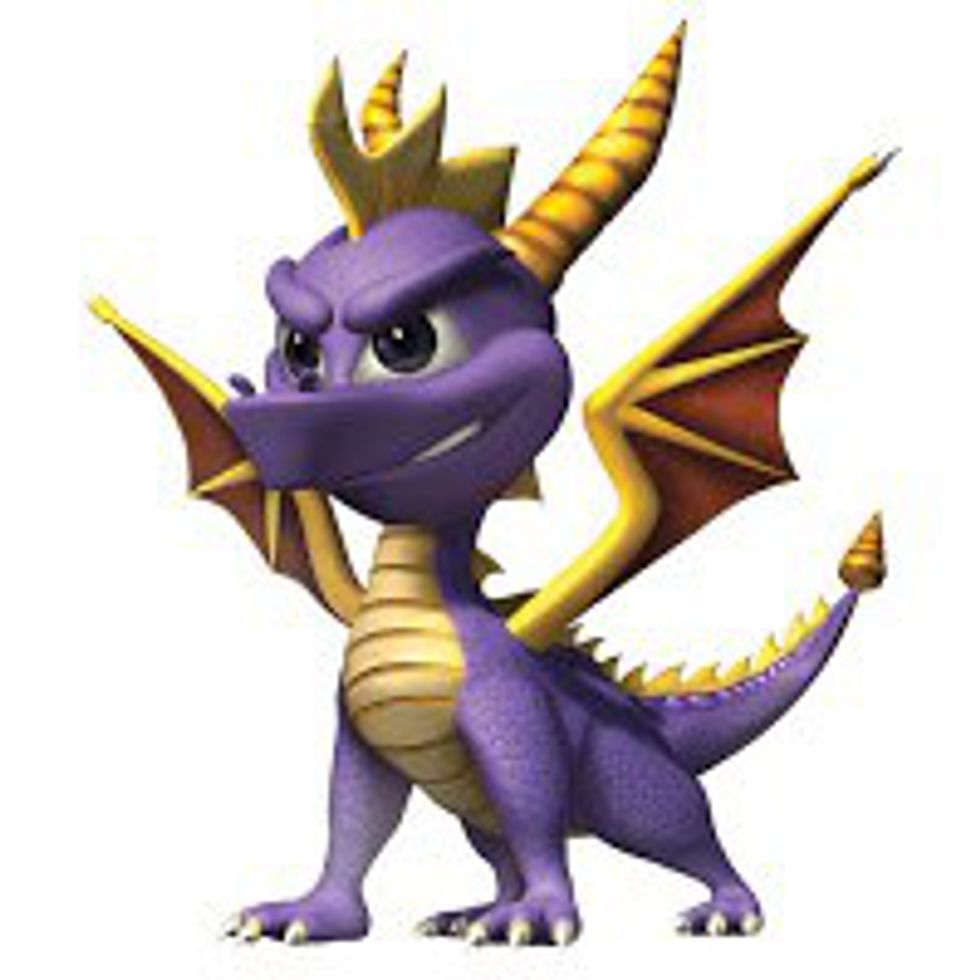 Spyro the Dragon
Spyro the Dragon resides in the Dragon Realms, protecting it from various threats such as Gnasty Gnorc and Ripto. With his trusty sidekick, Sparx the Dragonfly, Spryo travels and protects the Dragon Realms from danger and becomes the most powerful dragon to dwell inside it.
Powers and Abilities
Spyro's Flame Breath, Bubble Breath, Electric Breath, Ice Breath, Water Breath, and Whirlwind Breath are all forms of breath that Spyro can breath at any time, but can only be held in short bursts.
Spyro's Charge/Super-Charge allows him to charge at extreme speeds and end with a blow from his head to his enemy.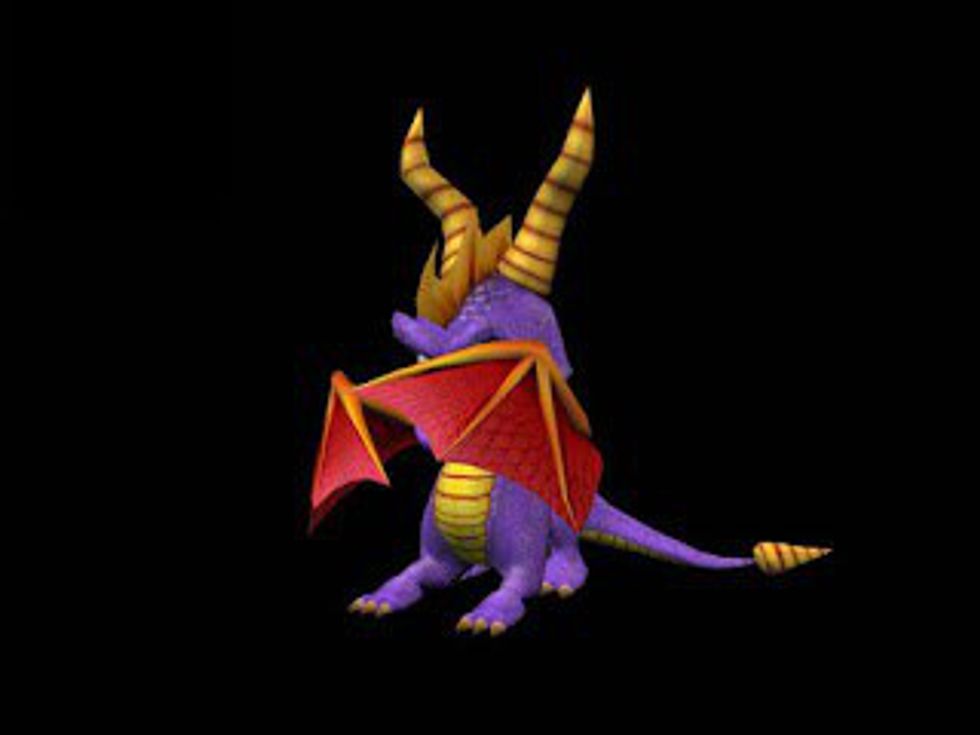 Spyro the Dragon's Wing Shield
Spyro's
Wing Shield
can repel enemy projectiles, however, it cannot be used whilst flying and it cannot deflect physical enemy attacks.
Spyro's Head Bash allows him to strike his enemy with his skull, inflicting damage.
Spyro's sidekick Sparx allows him to take up to 2 hits before being killed.
Glide
Hover
Climb
Dive
Weaknesses
-Like Crash, Spyro can be killed in one hit without his sidekick Sparx by his side.
-Spyro can only glide for a small amount of time, he doesn't have the ability to fully fly.
-Once Spyro is hit out of the air, it is very likely he won't recover.
Overview
Now that we have the stage set, let's review. Crash is very agile and can dodge many of the things that are thrown at him, whilst Spyro can do the same thing as long as he is in the air. Crash has a vast array of abilities and weapons, whilst Spyro has a vast array of attacks to choose from. They both have the same amount of health, however, Crash has one more level of protection from damage than Spyro, considering Aku Aku goes up to three levels plus an invincibility layer, and Sparx only goes up to 2.
Battle
In efforts of fairness, this battle will take place on neutral ground: The Battledome. The Battledome is a dome-shaped, level, roofed arena filled with the power-ups and abilities of both combatants in efforts to keep things fair. A probable start to the battle would be for Spyro to go in and attack first due to his headstrong and cocky nature. He would probably start with a Charge to which Crash would Double Jump over. Crash would then realize there was a threat and begin to retaliate. Crash would follow Spyro, and due to the nature of the Charge, Spyro wouldn't be able to stop and would have to run into something in order to regain control of his footing. Spyro would end up hitting a wall in order regain his footing, but because of Crash's Crash Dash, he would be able to keep pace with Spyro and strike him with a Tornado Spin. Spyro would attempt to deflect with his Wing Shield, but it cannot block enemy physical attacks. Sparx comes in and takes the blow for Spyro, sending Spyro down one armor level.

Becoming a bit more angry and more focused, Spyro lets out a Flame Breath in efforts to burn his enemy. Crash is too close to Spyro and cannot get away in time, so he is hit by the attack. Aku Aku is there to defend Crash, merely taking him down an armor level.

Spyro begins to retreat, in attempts to measure his opponent. He sprays a stream of his Water Breath and immediately sprays some of his Ice Breath on top of it, creating an icey structure in which Spyro can gain leverage. Crash attempts to follow him up the structure, but begins to slip and slide on the ice and cannot keep his footing. Crash falls off of the icey structure, but takes no fall damage. Spyro then jumps off of the ice structure and begins to Glide. He finds an angle to which he can strike, then begins to Dive toward Crash. Crash, thinking quickly about his favorite weapon, pulls out the Wumpazooka and thanks to his knowledge and experience with the weapon, blasts Spyro out of the air. Spyro has no protection against this attack and is knocked out of the air before he is able to connect his attack to Crash. Sparx is there once again to take the blow, however, this is the last time he can do so.

Crash, being foolhardy and careless, begins to run toward the stunned Spyro for the final blow. Spyro capitalizes on Crash's naivety and connects with a Head Bash when Crash is within range. Aku Aku once again is able to take the blow for Crash, but this is also the last time he is able to do so.

With Aku Aku unable to defend Crash, he relies on one more power that his masked protector possesses. Crash attempts to Jack Spyro by using Aku Aku on him. However, Crash's dark magic cannot affect Spyro and Sparx's pixie magic, so the attempt fails. With this small moment of opportunity, Spyro goes in for a Super-Charge and once again, misses due to Crash's evasive nature. This time, Crash uses a Rocket Jump to dodge the attack and soars high into the air. Once Crash reaches his climax, he turns the jump into a Body Slam, attempting to come down on Spyro. However, the Super-Charge doesn't allow Spyro to stop, therefore the Body Slam misses it's target. Spyro is then able to turn himself around, whilst still in the middle of his Super-Charge and starts heading towards Crash once more. Crash, knowing he has to do something, begins to run toward Spyro and executes a Super Slide. He executes this move long enough to connect with Spyro's Super-Charge. Both combatants go flying in separate directions, but are still alive due to the reverse impact of both moves.

Crash and Spyro both get up and attempt to shake off their pain, when Crash begins to use his Sneak Shoes to sneak up on Spyro. Spyro is still attempting to recuperate from the blow and doesn't hear Crash behind him. Spyro is attempting to catch his breath when Crash is able to sneak up behind him and hit him with a devastating Tornado Spin. This sends Spyro's HP to 0 and kills him, effectively ending the match and crowning Crash Bandicoot the winner of this Battle.


Recap
So what happened here? Spyro is a dragon, how in the world did he lose to a Bandcioot? Well this wasn't the easiest decision to make. Putting my love for Crash aside, I had to admit that Spyro had a real shot at winning this thing. With the insane amount of abilities that Spyro has along with the dragon powers that he possesses, he had a real shot at defeating Crash. However, Crash had just a few more gadgets and abilities at his disposal that assisted him in dodging the mainly offensive Spyro and let him play a little offense of his own. Spyro, because of his cocky nature, felt that the best defense was a good offense, which is a terrible mistake when you are dealing with someone as quick and agile as Crash Bandicoot.
Let me know what you guys think and what kind of Vs. Battles you would like to see! Thanks for reading!