One of the most divisive issues among feminists today is that of sex work. Prominent feminists such as Gloria Steinem (who, although she has recently fallen from grace among many young women, is still an incredibly important and influential feminist icon), Anne Hathaway, Kate Winslet, Maryl Streep, and Lena Dunham are opposed to sex work of any kind, and spoke out against Amnesty International's recent proposal to decriminalize sex work.
Their point of view is that the legalization of prostitution will only make it easier for women to be victimized and harder for women who are forced into the industry to find help. These celebrity activists are supported by the Coalition Against Trafficking in Women (CATW), which agrees that legalizing sex work would not help the women who need it the most.
This side of the argument believes that when a woman "chooses" a path of prostitution, there is actually very little free choice involved. Instead, this choice is made out of economic necessity or coercion, leading to what Gloria Steinem has called "commercial rape." The principle behind this phrase is that sex, when sold, is not an act of consent but an act of compliance. In accordance with this, the CATW states on their website that "a culture in which women can be bought for use is one in which rape flourishes." This contends that women who work in the sex industry are not exercising bodily autonomy or freedom of choice, but are instead being further objectified and marginalized by their work. The organization also argues that the decriminalization of prostitution would benefit pimps and clients, but not the women themselves, who are often forced into the profession and treated poorly by their higher-ups.
Aside from the complex issues of consent and exploitation involved in sex work, much opposition to its decriminalization comes from those who are concerned about the moral problems attached to the industry. There are those who believe that, above all else, prostitution is not and will never be morally justifiable, and should be illegal for that reason.
Now, let's look at the other side. In regards to the moral questions so frequently raised, Catherine La Croix, founder of the Seattle chapter of an organization called Call Off Your Old Tired Ethics (COYOTE), and a former sex worker herself, asks: "Why is it illegal to charge for what can be freely dispensed? Sex work is no more moral or immoral than the chocolate or distilling industries." Of course, this doesn't take into consideration the many moral violations that can and do occur internally in the sex industry -- injustices committed by pimps, clients, etc., -- but it does raise a good counterpoint. If a woman freely decides to work as a prostitute, who's to tell her she isn't morally allowed to use her body, the rights to which she exclusively possesses, to create a career for herself?
Those in support of sex work decriminalization also argue that it would hugely increase the safety of the women involved. Giving sex workers labor rights and legal protection could have a dramatic positive effect, allowing them to prosecute for mistreatment and abuse in a way that is not currently possible. Criminalizing the work these women do creates ideal conditions for them to be exploited, coerced, and trafficked, with no opportunity for any kind of help or support from law enforcement. It also creates a stigma around the work that leads to more secrecy and shame, creating a negative public perception of women who, aside from their chosen profession, are really no different from anyone else. This stigma only aids in making sex workers afraid and ashamed of seeking help when they end up in undesirable situations.
In an attempt to counteract this stigma, the Turn Off the Blue Light campaign, an Ireland-based sex worker rights association, has created ads that enforce a woman's right to choose a sex profession and still be afforded the dignity she deserves: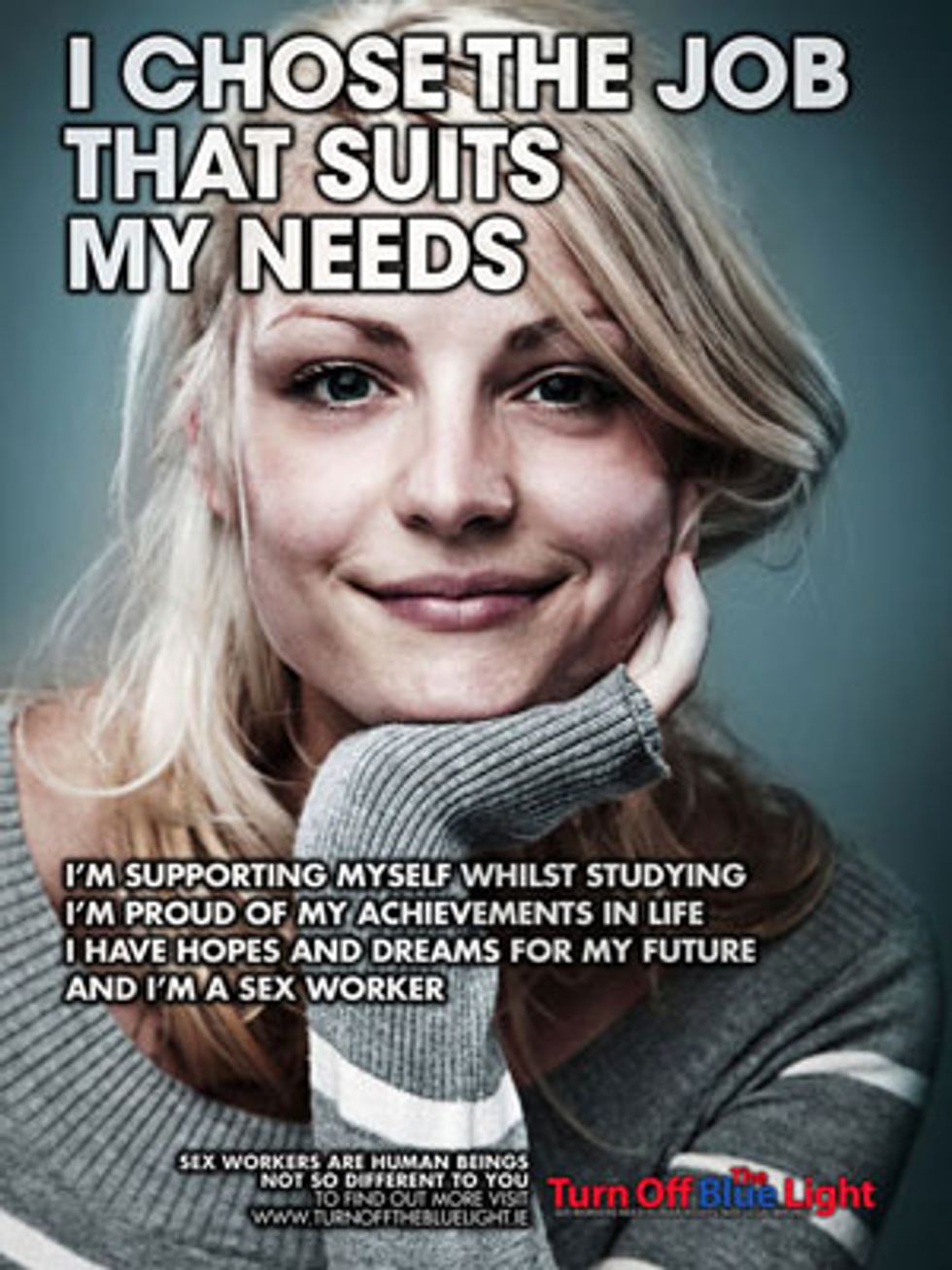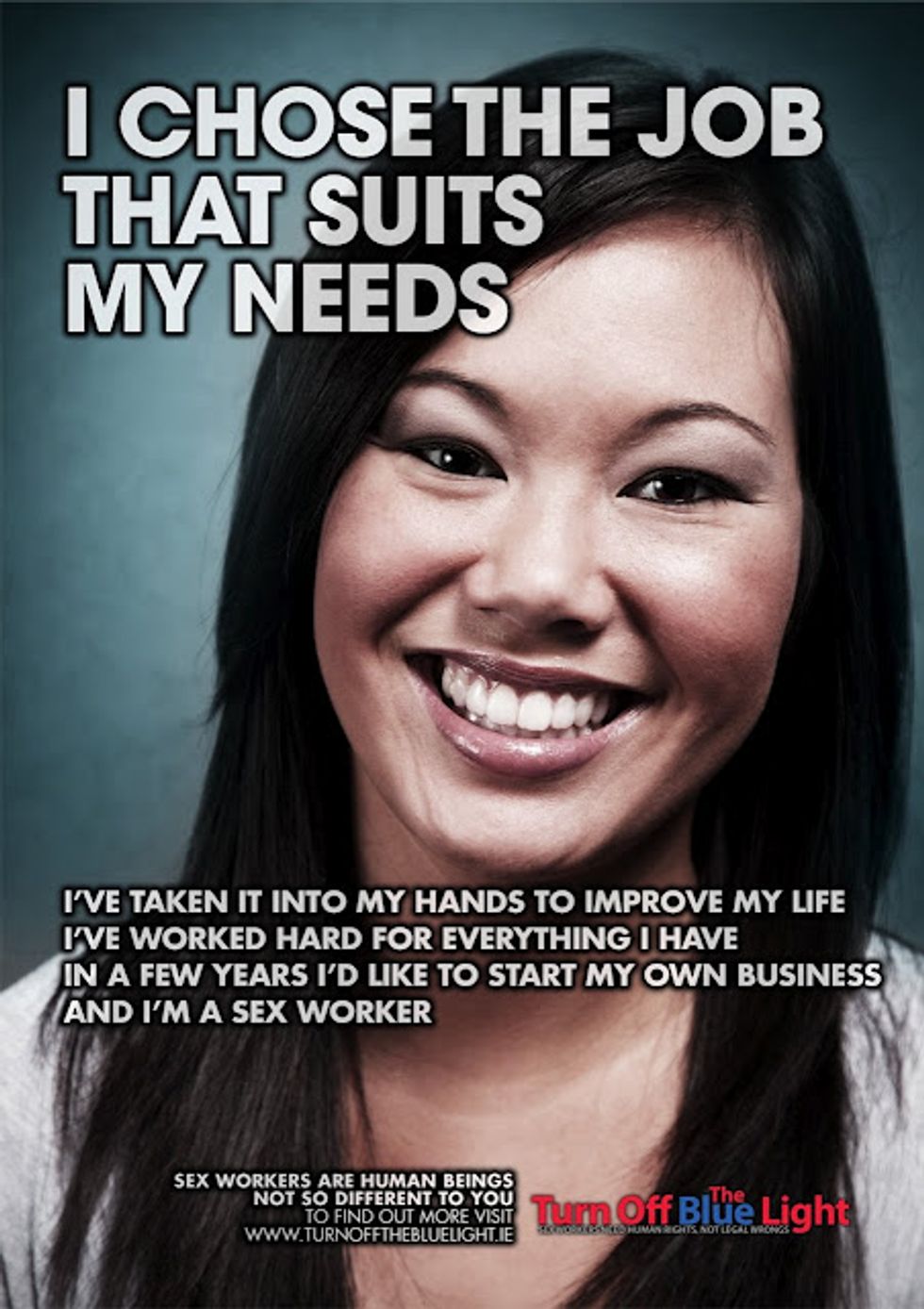 Of course, as the ads clearly state, these are women who chose their professions; for many women working in the industry, sex work is not something they would freely choose, and that's another issue in and of itself. Those who do choose it, however, should not be punished by law for their choice.
And in regards to all the high-profile opponents of decriminalizing this industry, as well-meaning and well-educated as they are, they largely do not have the support of the women they're trying so hard to help. In the words of a 30-year-old New York City sex worker, "If Kate Winslet and Lena Dunham are trading sex in a criminalized environment, then they should speak out [but] the role of an advocate and an ally is to step back and let these people speak." It is not the place of these big shot feminists to decide what is or isn't an appropriate way to address an issue with which they have no involvement. Instead, it would be much more beneficial for them to use their huge social platforms to give a voice to the women who are actually affected: the sex workers themselves.
In all, this is an incredibly complex and multifaceted issue, and I don't know if there's any right answer. However, I am inclined to agree with what Elizabeth Wurtzel says in her book "Bitch: In Praise of Difficult Women":
"Pornography, prostitution and stripping exploit women, but women should be free to enter these professions just the same. [. . .] We should still support all efforts of any women wishing to escape life as sex workers without exacting a toll in shame (which, after all, is just more exploitation)."
So, yes, there are some dark and exploitative implications inherent in sex work, but that should not mean that we can't simultaneously provide sympathy and aid to those who wish to escape it and support and legal protection to those who do not.