For those who have never heard of it, not saying you've been living under a rock but you kind of have if you don't know what it is, the main point of the story Jurassic Park, is that a billionaire creates an amusement park based around dinosaurs brought back to life by biotechnology. He then invites paleontologists to come and preview the park, and then all hell breaks lose. However, before it became the film we all know and love today for its fantastic visuals, great story, and amazing score, it was actually a book that was released in 1990 by the author Michael Crichton,best known for his novel the Andromeda Strain.
There are definite split sides on people who prefer the book to the movie and vice versa. I am one of the fans that prefers the film after finishing the original version of Jurassic Park a few days ago. Although it what was still a pretty entertaining book, this is what I think the main differences are between the two that makes the movie much more entertaining than the novel.
Showing vs. Telling
This can probably be the argument for most people who prefer films to their book adaptations but this is one that I think it stands for the most. If I hadn't seen the film beforehand I would probably have no clue what any of the dinosaurs in the book actually looked like. Also it's sometimes really hard to feel tension in a book when its laced with to much extra information, I don't need an explanation on the exact coding for the computer and why it's not working.
On a positive note though, in both the film and the book the velociraptor kitchen scene gave me chills.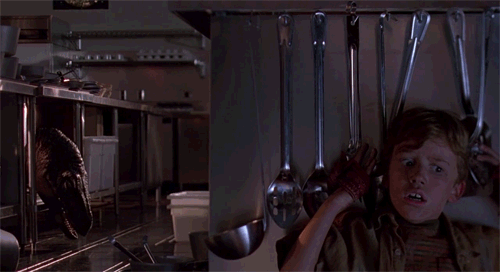 The Characters
These random supply ship guys-
A main, and sometimes forgotten, plot point of the book is that a baby velociraptor escapes on one of the supply ships and somehow, goes unnoticed by the crew sailors for 12 hours until 10 minutes before the ship docks on the mainland. I can definitely see why this didn't make it into the film because nothing happens after they find the raptor and return it back. It just boggled my mind how these supply ship guys never noticed there was a dinosaur below deck killing all the animals on the ship. It's not like they're silent killers.
Tim and Lex (The Kids)-
Sometimes I hear reviewers talk about how child characters are usually the worst parts in a movie, but I think in Jurassic Park,the film, the kids are arguments against that saying. They show reactions that I think anyone would have to nearly being eaten by a dinosaur and they actually acted like real kids.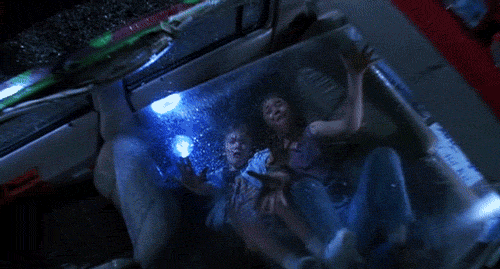 Whereas the book (sighs), if they had acted like the characters did in the book I could definitely back that saying. Not saying I've ever been in a amusement park where the attractions tried to eat me, but I think I would spend the whole time freaking out as compared to these kids. I know there probably isn't enough time to lose it when you've been attacked by a T-Rex but I feel like you could do more than what these kids did which was usually, throw up then shiver. For example the girl, Lex, she's about 8 and after every attack scary scene she talks about how hungry she is. I'm not sure if that was supposed to be a repeating joke but it got annoying kind of quickly.
Ian Malcolm-
For movie Ian we had a guy who was a comic relief, posed very awkwardly with his shirt open for being injured,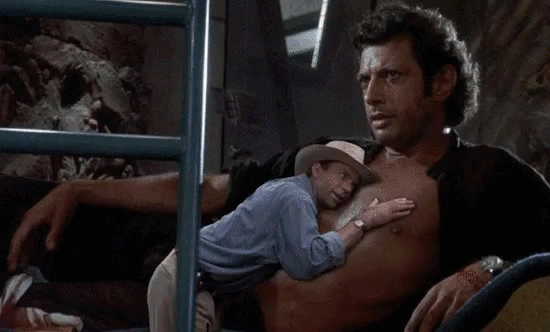 and gave us the main message of the film that "life will always find a way". Now for book Ian, I was so ready for him to either disappear from the plot or just go into a coma as he went into these very annoying and long talks about why "Jurassic Park" was wrong. He was so pompous and cocky about how smart he was. I usually try not to skim through books but it seemed that it was always whenever he talked I just had to get to the last sentence to see what he was talking about in the first place. Which leads to my main reason for why I prefer the film to the book.

To..much...technobabble
Did you like your biotechnology class in high school? Because if you did, this is the book for you. This kind of leads back into the showing vs. telling point, but a lot of the book is technobabble about why something is important. There was only so much that I could take before realizing that a lot of it wasn't necessary. Maybe it's because I'm not much of a science person but I'm totally fine with one sentence answers vs. paragraphs of answers.
Overall thoughts
With all that's been said I still did enjoy the book and it's actually made me appreciate the film more. Not to mention there's also a couple special scenes that I think could've been great in the movie. If you are also a fan of the film like me, I definitely think that the book is worth checking out.