American politics is often accused of being increasingly partisan, to the point where even basic bills and concepts see fierce opposition. It is rare, especially when it comes to candidates, for members of one party to support those of another for political office. Especially when that office is seen as the crowning jewel of the political system, the presidency.
Yet for all that she seems to be hated by the Republicans, for all that they've spent the past four years incessantly investigating Bengazi and her private email server, it seems that Secretary Clinton might just have managed to do something many would have thought was impossible. She's managed to get bipartisan support for her candidacy. Conservatives, from former Reagan aide Doug Elmets to former California Gubernatorial candidate Meg Whitman, have pledged their support to the Democratic candidate despite being life long Republicans. The list includes big-name former George W. Bush administration officials Richard Armitage, Henry Paulson, and Brent Scowcroft, and even one member of Congress, Richard Hanna (R-NY).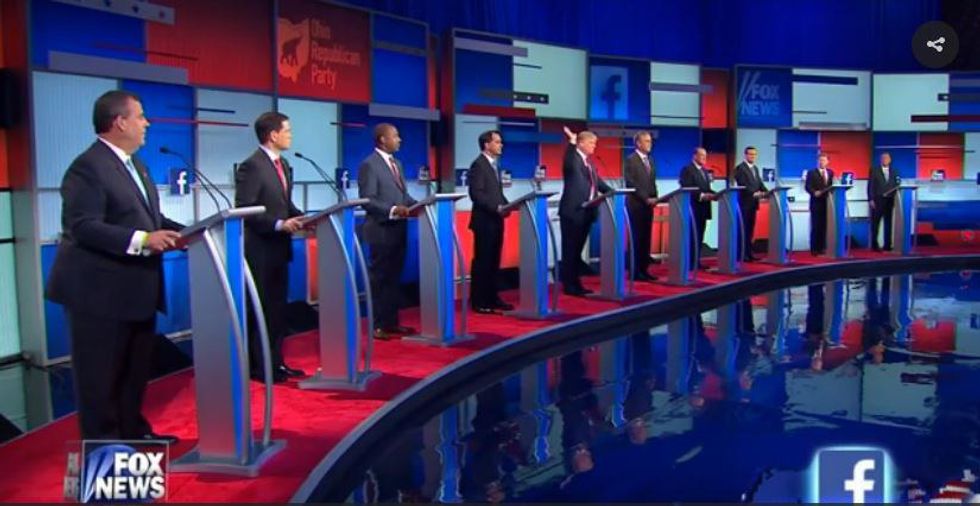 A year ago, having prominent Republicans refusing to support the party's nominee was still ludicrous. When Donald Trump refused to raise his hand in the first debate, refusing to pledge to support the eventual nominee, he was the subject of ridicule. Yet Jeb Bush, who was the presumptive favorite to win the nomination, as well as Ted Cruz, and as of yet, John Kasich, have all gone back on the promises they made to support the eventual nominee. While none of them are likely to support Clinton, the fact that they aren't willing to support Trump helps to open the door for Republicans to defect to Clinton or Gary Johnson, the Libertarian Party's nominee.
In July of 2016, a group called Republicans for Hillary spoke at the Democratic National Convention. Not something anyone thought they would ever see. With the partisan climate so bad that Senate Republicans refuse to confirm Obama's Supreme Court nominee, one would think no Republican would be willing to cross the aisle and vote for the Democratic nominee for president. Yet Clinton is gaining support among the GOP, seemingly making her the candidate of unity, if only because of how terrible Trump is, especially on national security measures. Considering Trump has started calling for Russia to hack Clinton and find the missing emails, one finds it hard to blame them for defecting in the face of a man who doesn't seem to understand that is practically treason. Recent news revealed that Trump had repeatedly asked a foreign policy expert in a briefing why we couldn't use nuclear weapons if we had them.
[rebelmouse-proxy-image https://media.rbl.ms/image?u=%2Ffiles%2F2016%2F08%2F07%2F636061599734369256-225808119_636061575757450351860317316_trump%2520horcrux.jpg&ho=https%3A%2F%2Faz616578.vo.msecnd.net&s=625&h=8377960d3b3e3c16f5d44ff06981aeb344d0a2f4f6079e670ae3fc8d539c1509&size=980x&c=2423733671 crop_info="%7B%22image%22%3A%20%22https%3A//media.rbl.ms/image%3Fu%3D%252Ffiles%252F2016%252F08%252F07%252F636061599734369256-225808119_636061575757450351860317316_trump%252520horcrux.jpg%26ho%3Dhttps%253A%252F%252Faz616578.vo.msecnd.net%26s%3D625%26h%3D8377960d3b3e3c16f5d44ff06981aeb344d0a2f4f6079e670ae3fc8d539c1509%26size%3D980x%26c%3D2423733671%22%7D" expand=1 original_size="1x1"]
Republicans are known for being hawkish on national security, and it is likely that if (when) more information highlighting Donald Trump's lack of qualification in this area comes to light that we will see others defect to Clinton's side. Of the top four candidates for president, she has the most national security experience and she isn't known for having leftist views. Where her conservatism on national security gets her in trouble with the left, it makes her more attractive to GOP moderates.
With three months left until the election, Clinton is seeking to build the strongest base she can. By highlighting her national security appeal and the support from members of the GOP for her campaign, she seeks to draw moderate Republicans and Republican-leaning independents into her camp, growing her lead and increasing the likelihood of capturing Ohio and Pennsylvania, key battleground states. She sees an opportunity in Trump's inexperience and she's taking it.
Yet as Clinton tries to appeal to the right, she needs to be careful. For all that she might unify the moderates of the country with her security appeals, she very well might alienate the left. The future of the Democratic party depends on its ability to appeal to young progressives, the millennials who flocked to Sanders and who are hesitant to join any party, having been disillusioned by the two-party system. If Clinton isn't careful, she could lose them while trying to capture fleeing Republicans. Unification is all well and good, but the Secretary needs to weight the cost, for this election and for the future.