If the headline didn't give it away, I'm stoked about this Cilantro Avocado Yogurt Dressing from Bolthouse Farms!
Here's why:
If you've been to Pollo Tropical before, it's highly likely that you asked for cilantro garlic sauce to fulfill your order. And, if you haven't, then I can sincerely tell you that you're missing out. Their cilantro garlic sauce is a creamy dressing that should be poured generously over your TropiChop Bowl or salad and used as a dipping sauce for your fried yuca.
Unfortunately, this yummy sauce isn't the most favorable when it comes to healthy eating. But don't fret, I'm here to introduce you to my new holy grail: Bolthouse Farms' Cilantro Avocado Yogurt Dressing.
This yogurt-based dressing is a healthier alternative to Pollo Tropical's cilantro garlic sauce as it has no artificial flavors and no artificial preservatives. If you aren't sold yet, let's talk about the substantial difference in calories and fat between these two sauces. The yogurt dressing has 40 calories per serving and 3.5g of Total Fat. On the other hand, Pollo Tropical's infamous Cilantro Garlic sauce has 160 calories per serving with a hefty 17g of Total Fat. I AM SHOOK.
What I enjoy most about this cilantro avocado dressing is that it works well with a variety of dishes. I enjoy it drizzled on top of my sautéed chicken or steak, as a savory dressing on homemade salads, and even as a dipping sauce for carrots or broccoli.
I have yet to entertain my taste buds with the other 12 yogurt dressings that Bolthouse Farms offers, but the mango chipotle and honey mustard yogurt dressings will surely be in my next grocery haul!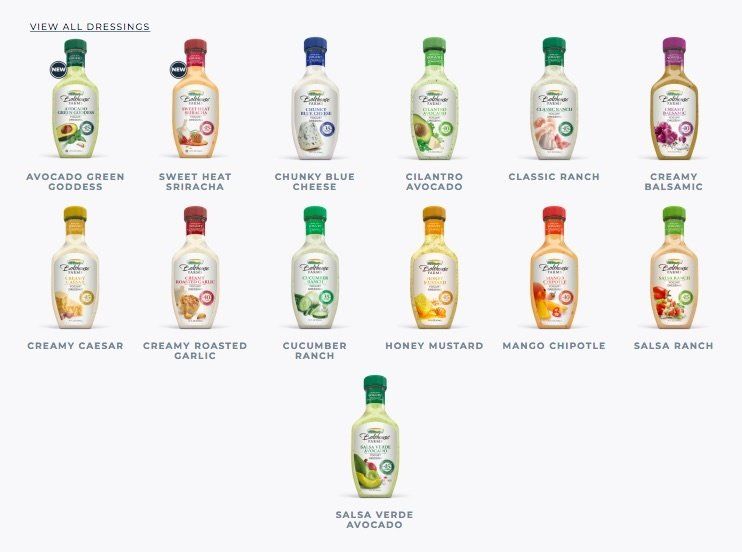 Here are all the creamy yogurt dressings that Bolthouse Farms offers. Which dressings are you eager to try?https://www.bolthouse.com/products/dressings/creamy/
On a serious note:
As a fitness junkie and health coach, I'm all about healthy alternatives - if you couldn't tell by my enthusiasm for this yogurt dressing. I believe in living a healthy lifestyle and, in order to do so, I aim to create healthy habits. By building small disciplines to replace unhealthy habits, I've been able to achieve sustainable results for my health and physique. Trust me, with this strategy, it's possible for anyone to make a positive change in their health. I encourage you to start small - practice eliminating one of your poor habits by replacing it with a new choice that will contribute to a better you. For example, instead of stocking up on loads of unhealthy snacks, start purchasing some fruits & veggies. Preparation is key for staying on track; so, if you have healthy options readily available when those cravings kick in, you will be prepared and empowered to stay in line with your goals. If this sounds too simple, well, that's because it is really this simple. Don't make things harder for yourself than they actually are - eliminate those distractions and excuses that keep prohibiting you from achieving your goals.
Where to buy these yummy Bolthouse Farms dressings within a 5-mile radius from UCF:
Walmart
Publix
BJs Wholesale Club
SuperTarget
Circle K
Kangaroo Express