As a vegetarian, I learned that omega-3, a vitamin that I once thought was only available in seafood, was still something essential to include in my meals. And one of the best and easiest sources of omega-3, I learned, is chia seeds.
Whether if they're in my oatmeal, or on top of nut butter on some toast in the morning, I do my best to get my daily dosage of them because of their wondrous ability to reduce inflammation and the fact that they're loaded with a bunch of healthy antioxidants.
Little did I know until recently, chia seeds can produce the same benefits when applied onto your skin as oil, thus prompting me to do some more research on the matter and leading me to purchase Cocokind's Chia Facial Oil.
What it is: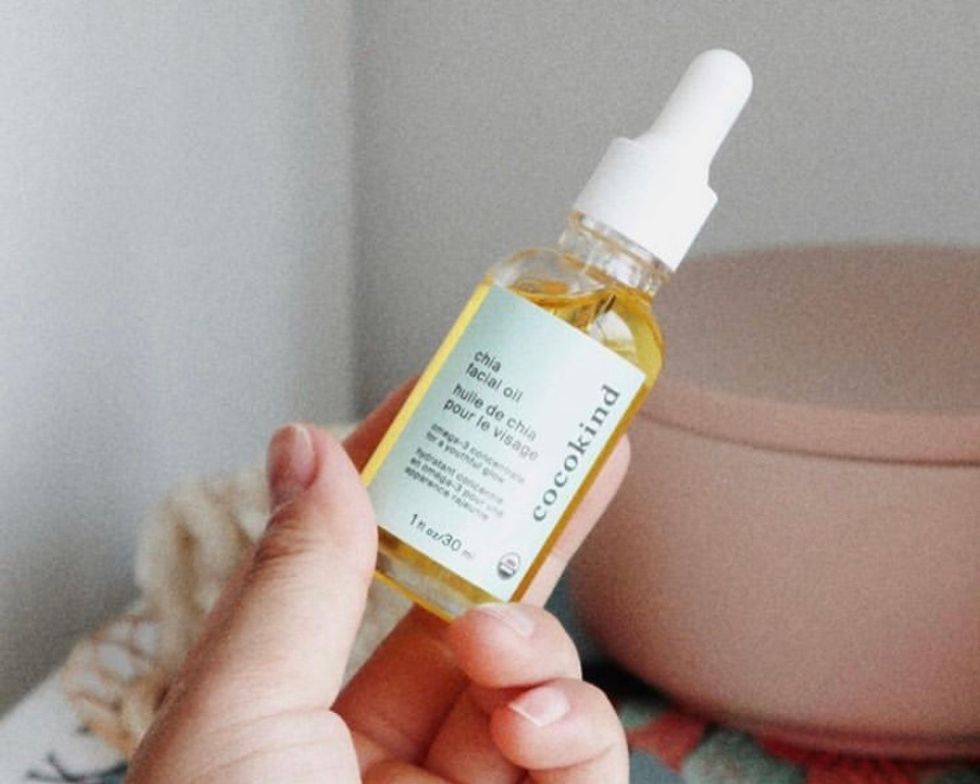 @naancymaac
With extremely simple and clean ingredients, only containing chia seed oil mixed with chamomile flowers, the oil is this pale, translucent yellow color that gives off a faint, slightly salty, but fresh scent. When applied to the skin, it has this loose, but a rich and velvety texture that makes it moisturizing, as well as hydrating.
How I use it:
After washing my face, I go straight to applying the oil before anything else.
Using the dropper, I apply two to three drops of this oil on my hand, massaging it in my palms, then patting it onto my cheeks, neck, and beneath my eyes. I do this twice a day: once in the morning and once at night.
I then proceed to apply whatever serums, moisturizer, and eye cream I plan to use, as well as makeup if I am wearing any that day.
How it worked for me:
Having combination skin, I have always been a bit wary of applying oils to my face. Often times, the natural skincare oils that I've experimented with in the past leave my face super greasy and shiny- and not in a flattering way.
Cocokind's Chia Facial Oil is extremely lightweight and has given me the summer glow of my dreams!
Its simple formula, which causes it to be so lightweight, allows it to be the perfect base for whatever moisturizer or makeup foundation you choose to apply after. Whether your summer skincare routine consists of 3 products or has 10 steps, this facial oil is a deserving addition, and you won't regret spending the $16 to add it in!
Get Cocokind's Chia Facial Oil from Ulta for $16.