Charlottesville is an incredible place. It has been named the best place to live by multiple publications, and it has also been named the happiest city in the country once. I am lucky enough to call it my home.
This little bright spot in central Virginia has many features that pull people from all over the world. The obvious things that attract people to Charlottesville are, of course, its historical landmarks. Monticello, the home of Thomas Jefferson, remains a source of historical importance for historians and tourists alike. Jefferson's pride and joy, his University of Virginia at the Academical Village, is also a major draw for potential students, scholars, and researchers. The music scene has also been acclaimed as impressive for a small-scale town, attracting artists such as U2 and Paul McCartney in the last ten years. However, there are some parts of Charlottesville, lesser known to the general public, that truly make it a special place.
The Restaurants
Charlottesville has thousands of restaurants, most of which are very delicious, but there are a few hidden gems that are a MUST if you find yourself in 'The 'Ville.' Stroll the Downtown Mall and the Corner for some classic eateries. One of those can't-miss places is The Local, a rustic eatery in Belmont with a wide wine and beer list, as well as a menu constructed daily based on what is fresh. Another recommendation: Feast! on West Main Street. Feast! takes local sourcing to a new level, acquiring all their cheeses, meats, breads, and produce from exclusively local vendors. Plus, the paninis are a perfect construction of flavors that give you a healthy boost in the middle of your day.
Feast!'s artisan indoor offers fresh deli meats, cheeses, olive oils, and breads.
The Outdoors
People travel to Virginia with images of the Blue Ridge and Skyline Drive in their minds. Although most visitors only try out Humpback Rock, a hike that leads to a classic Skyline view, those with more time in Charlottesville should try out Crabtree Falls. It is a slightly more difficult hike with a more unique view: a cascading waterfall with foliage surrounding its structure. Be careful with this hike, though; at least one person every year dies from a mistake on this trail.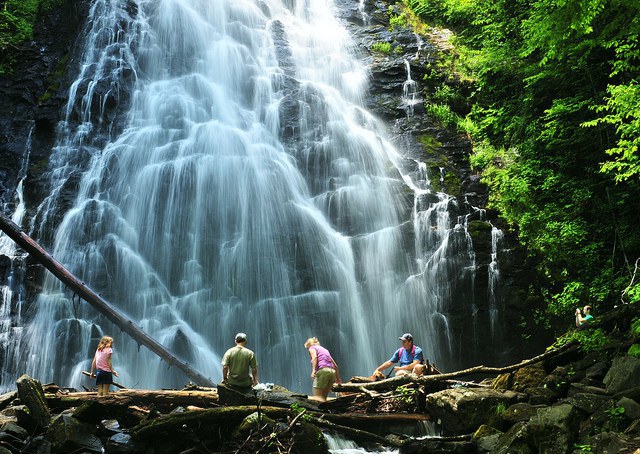 The Quirky Boutique Shops
There is an abundance of consumerism and quirky shops in Charlottesville, selling a wide range of things from pens to pants. For all your paper needs, highly suggest Rock Paper Scissors, a small paper supply store with unique stationary, cool local crafts, and other desk decorative objects. This store could suck you in for hours to look at different color tape. Another fun, quirky shop is Roxie Daisy, a home and kitchen store with fun little additions such as handmade cards and body lotion. The workers in here are also some of the nicest I have encountered. Finally, make it to Finch, a clothing boutique on the Corner with stylish jewelry and uniquely Virginia t-shirts and posters. Plus, it is right next to the heart of the University, at the Rotunda.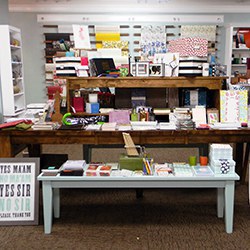 The interior of Rock Paper Scissors on the Downtown Mall.
The Culture
Charlottesville has this culture, central to its heritage, that makes it a very special place. The town loves the Virginia basketball team, and rallies behind all UVA sports. From the deeply alternative music scene, to Fridays After Five swing concerts, Charlottesville offers a variety of things to do on a warm night. Foxfield, the annual horse race in April and September, can be a fun family event or a crazy day of betting with friends. The opportunities are endless, and Mr. Jefferson's hidden gem awaits!