Since we have about two weeks left of summer, I want to tell everyone about this new game I've encountered. Everyone knows about scavenger hunts, which is where people hide certain objects and the team that collects the most objects and finish with the fastest time wins the ultimate prize. But Campus Pursuit is the college edition. What with being college students, the creators understand that we may not have any funding for food or for fun activities. So, they created this fun free app which you can download on any smartphone device.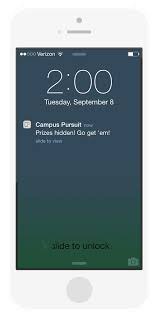 When you download the app, all you have to do is open the app and it will lead you to the Prizes of the Day page. There are Campus Pursuit ambassadors all around campus and they are dressed like you or me. You may see them hide prizes all around campus and may think they are crazy to hid behind bushes and stairwells but, they are doing it for a game. These student ambassadors are responsible for hiding prizes around campus and promoting the app to students. I recall this one time, I was trying to win a ticket to get an NFL jersey and the person hiding the ticket was having lunch at the nearby table in the Caesar Rodney dining hall. She helped me out and pointed me in the right direction. The app also is very helpful, it will buzz when new prizes are hidden and are available to find.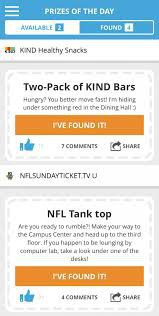 Campus Pursuit have many different prizes ranging from food products to gift cards to articles of clothing. Campus Pursuit was developed in 2013 by two students from Binghamton University. Scott Wisotsky and Shachar Avraham developed a better way of advertising on college campuses at a low cost. In 2014, the company expanded their business from local brand to national brands. Coming this September, Campus Pursuit will be engaged with about 50 campuses throughout the United States.
The app is not limited to one a person. The app is limited based on your ability to get to the destination as fast as you can. As you can see (don't mind my face I just got out of a really hard exam and it was raining) from below, we got two prizes before having lunch. If you have any questions about becoming a student ambassador, just let me know and I will email you back with deets. Happy Findings!