In the heart of South Jersey, there's a portion of Burlington County that is typically referred to as the "Rivertowns". Between its small towns, walks on the Delaware River and Rancocas Creek, and this thing called "Boost", this section of Burlington County is very unique to the rest of the state. It's a lifestyle with lots of different components you cannot get anywhere else.
1. Route 130
This road is nearly unavoidable. It's a major route that connects our towns! It's lined up on both sides by jug handles, traffic lights, fast food places, diners, WaWas, and bus stops. You know it's a good day when you hit green lights while driving down this long road.
2. "Boost"
"Boost" is a very special delicacy close to those who know about it. Some drink it every day in the morning like it's a cup of coffee. Its base is a sweet syrup that many compare to a cola flavor. The syrup can then be mixed with water and ice to create "Boost". Knowing about "Boost" is what typically sets you apart from other Burlington County residents.
3. Cheesesteaks
Many people across the country know that Philly has good cheesesteaks. However, if you want a GREAT cheesesteak, you go to your local deli, hoagie place, or pizzeria in Burlington County. My personal favorite is from Gaetano's in Willingboro.
4. The Riverline
Another popular means of transportation is the Riverline. It makes travel SO much more convenient. Want to get into Philly without worrying about traffic? Take the Riverline to Camden and walk onto a second train to Philly. Want to get to Trenton and connect to a train that takes you to New York? Take the Riverline.
The ticket prices are super cheap and the train comes around very often. Tons of different people take the Riverline from people that work in Philadelphia, Rutgers Camden students, families, and even kids just getting around.
5. Trips to Philly
Because of the Riverline, it's extremely easy to get into Philly. Philly trips are a regular thing. I was explaining to my roommate, "It's like New York City, but smaller and cheaper." It's super rich in history, and many local schools take field trips to its museums and sites.
6. Fishing
Especially in the summer, kids in my area love to go fishing. Sitting on the docks in the summer is absolute bliss. You don't need to take a trip anywhere or even drive more than five minutes to find somewhere to fish.
7. Boats
Being near the water, lots of families have boats. Many people have their boating license and take their families out on the water just to relax and spend time together. Specifically near me, many people take their boat out to Hawk Island where the Delaware River and Rancocas Creek meet. I've even taken a boat out to Dave and Buster's in Philly a few times.
8. Marinas
In Burlington County, the Rancocas Creek is lined up with different marinas with plenty of things to do. Many of them actually have restaurants and diners on the water. My family normally goes to eat breakfast at a marina on Sundays during the summer.
9. Hanging out
Most of the towns that line up along the river are smaller. For example, my hometown is so small, we don't have a high school. My 8th-grade class was only about 30 kids. However, this means we all hang out together. You can always see a group of kids riding bikes, going to their local deli, or just sitting along the Delaware River.
10. The views
What's that land across the river? It's Pennsylvania. I always joke with people that I could swim to Philadelphia if I wanted to, which I actually could. However, the green land and big houses on the other side are always awesome to look at. Not to mention the sunsets. Those are my favorite.
I've been living on the river for almost two decades, and the views do not get any less beautiful. When the weather is nice, you can always find me walking along the Delaware.
I honestly don't know how some kids grow up without living on the water. This setting has been a HUGE part of my childhood. It would've looked a lot different without the Delaware River.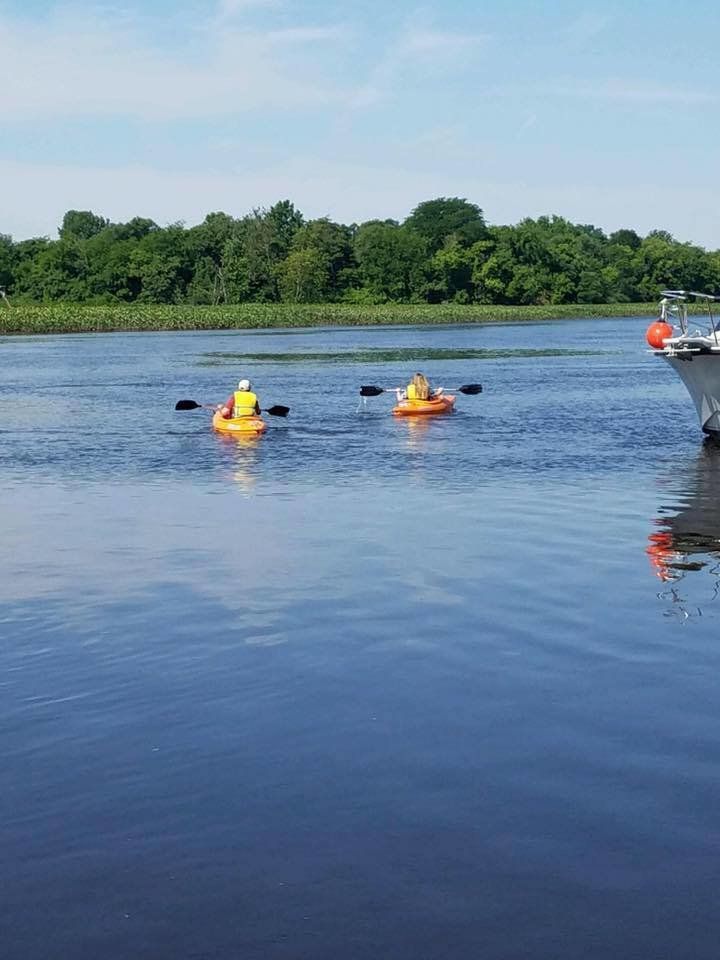 Cover Image Credit: Christa Ouellette