Every Broadway enthusiast's dream is to go to the Broadway Cares/Equity Fights Aids Broadway Flea Market. Each September, this major event comes to the city; this year it was on Sunday 25th on 44th and 45th Streets. Now you may ask; what is this event? It is where tons of different organizations and Broadway show companies come together to sell various items and donate all the profit to BCEFA. This year, the organization raised 782,081 dollars. Items at the flea market vary from show props, to playbills, to posters, to costume pieces, to dance shoes, and even, to random stuffed animals! This year I spent a grand total of 357 dollars. I got a plethora of items, including the first draft of an 'An American in Paris' script! They also have a meet and greet with various Broadway stars!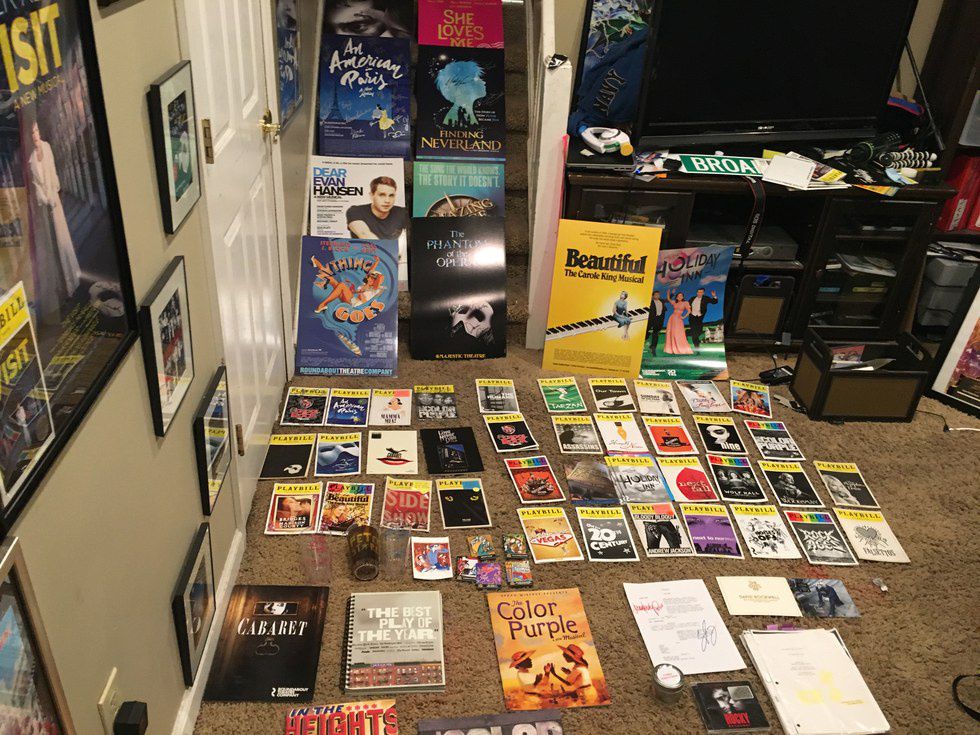 As for the main point of this article, I am here to give you 5 great tips for when you want to go to the flea market! Now I know I am very late with this, but this has to do with any flea market.


TIP 1: TIMING
With these types of thing, as the day dwindles down, items will be sold for less. For example, I bought a full signed Color Purple playbill at 20 dollars at the end of the flea. The playbill, at the start of the day, was a total of 100-200 dollars. I recommend you go at the beginning to get all the good stuff before it is taken, as I did with my opening night Falsettos playbill. However, later in the day, you should come back and scope out what is left, and start to make deals. This is a good idea because, at the end, the sellers want everything to go.

TIP 2: PLANNING
When you go to any flea you usually have a general idea of what you are looking for, and you might get a bit more. For me, I was looking for opening night, gay pride, special cast, and certain shows. I picked up anything that also came along the way. It is a good idea to know basic items you are dying for so you can spread your time around in the beginning looking for those items, especially if they are unique/rare. Also, plan to bring a backpack of some sort, because you need some way to walk around with empty hands to go through the numerous boxes of goodies.

TIP 3: BARGAINING
Bargaining is a great idea to be able to buy more stuff with the money you save. The 'An American in Paris' script was 20 dollars originally and I got it down to 18, and with those extra two dollars, I was able to get four more playbills. The same goes for the Finding Neverland poster which was 40; I got it down to 20. It is a good way to get things for a lower cost than asked for. At the end of the day, you want to bargain so you are not spending all the money you brought, which brings us into the next tip...

TIP 4: MONEY
It is always good to have more money than you need in case you see something amazing that you would kill to have. Also, it is a good to plan how much you're willing to pay on certain things. This year, I said I would not pay over 10-20 dollars on one or two playbills or even 5 on a bad one I don't really need in my collection. Shopping this way, you can have more money in the end.

TIP 5: STRATEGY
There is only so much you could say with this one, but if you see more than 20 of one item, 99% of the time the item will still be there at the end of the day, selling for much less. For example, the 'Dear Evan Hansen' posters; they had tons and at the start and they were selling for a lot, but at the end, they were only 20 dollars. Same with post signed playbills; there were so many to begin with, no doubt they would be there at the end, so always keep your eyes open for how many there are and always revisit tables. Also, along the lines of keeping your eyes open, always look at what other people are looking at to see if you would want it as well.

In the end, all the money you spend at the Broadway Flea Market is going to a good cause; so there is no bad lose for you. Have fun as this, as it only comes once a year and it is such a blast! See you in the next one!
If you enjoyed this article than share it also follow my account to always know when I post a new article!
Like the Facebook Page Also! https://www.facebook.com/DavidHeguyArticles/

Yours Truly,

David Heguy