As a Scottish person living in the United States, I often get comments about my accent. American people, I've found, just eat accents up. Everyone in laughs at that storyline in Love Actually where the nerdy English dude goes to Wisconsin and is doted upon by girls completely out of his league with only his accent carrying him, but that is really not that far off the mark. American people love accents. Particularly accents from Britain.
Now, as soon as people figure out that I sound different than they do, they'll ask if I can do an "American accent", just for kicks. I'll pull up my bootstraps, recite "squirrel", "Harry Potter", "Planet Earth", and "banana", they'll chuckle in amusement, and then they'll ask me to do a "British Accent". They are confused when I tell them that I already have a British accent. "But you're Scottish?". "Yes", I'll tell them. "Scotland is a country in Britain".
For some reason, the American schooling system uses England, Britain, and the UK interchangeably throughout the entire course of the average American student's educational lifetime, and nobody in this nation seems to know that these things are all different. So, I'm here as your geography guru to tell you about the basic difference between England, Great Britain, and the United Kingdom. Get comfy, kids. Here we go.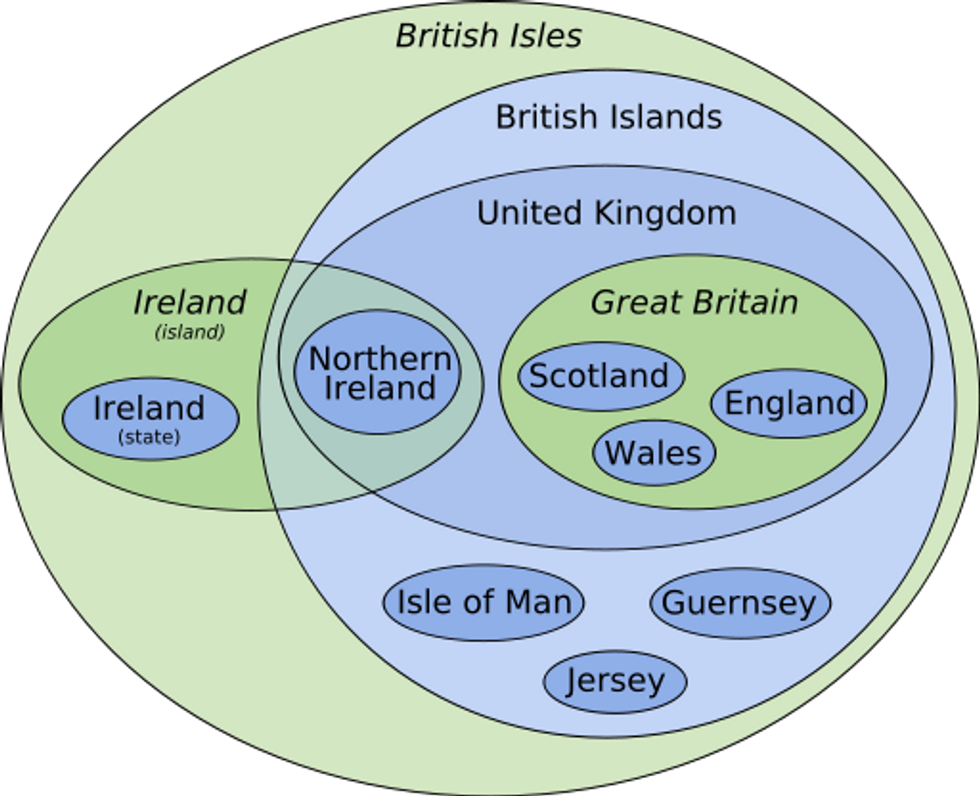 I guess I'll start out by telling you that my British passport says on the front of it "The United Kingdom of Great Britain & Northern Ireland". So, we've got this all-apples-are-fruits-but-not-all-fruits-are-apples situation going on in which GB is the apples & the UK is the fruits. Thanks to this handy dandy chart above us, we can see that Great Britain is the Island that contains the three (almost) autonomous countries that are Scotland, England, and Wales. These three nations make up GB. All of these places have their own government, but ultimately answer to the UK Parliament (sort of like how states get to sort themselves out, but still have to adhere to federal laws; this whole palaver is why Scotland has been trying to get their own independence. They don't want to have to answer to the UK, very simply speaking).
Now, notice I said "UK Parliament" and not "Great Britain". That's because the island that is Great Britain is a part of a whole nation called The United Kingdom. When you add Great Britain (Scotland, England, and Wales), PLUS Northern Ireland, you get The UK. So, that means that Northern Ireland is in the UK, but it's not in Great Britain. Still with me?
Regular old Republic of Ireland is its own thing. It hangs out and doesn't need to worry about the Queen. The history of why Ireland is not part of the UK is actually quite violent and messy, and if you are alarmed to find out about the fact that a brutal religious & political civil war happened from the 60s until (officially) 1998 on an island that you probably consider very civil and jolly all the time, I'd recommend giving that whole situation a google.
Anyhow. Back to the geography of it.
Basically, it breaks down to this:
Great Britain = Scotland, England, and Wales
United Kingdom = Great Britain and Northern Ireland
England is in Great Britain is in the United Kingdom.

So, you can understand now why saying "British accent" doesn't mean what you think it means. British accents include every accent from Scotland, every accent from England, and from Wales. Lemme tell you, there are a bunch of accents in each of these countries. A whole bunch. Nearly every single major city has its own unique accent. British people use people's accents as a way to gauge where they're from without having to ask. Kind of like how here we can tell that someone is from the south because of how they say "America", Times that by six million and make it way more specific, and that's Britain. We have a lot of accents.
So, the next time you think about mentioning how much you love "British accents", remember that there are over 64 million people in the UK, and not all of them sound like Emma Watson. Some of them sound like Peter Capaldi. Some of them sound like Liam Neeson. Some of them sound like Jon Snow, and some of them sound like Ygritte. Those folks all sound pretty different, don't ya reckon?
Hopefully you have learned something new. Spread the word, y'all.