Dear Best Friend,
It's your wedding day, how is that possible? We were just talking about how this day would come about. The ring and love you'll share with him and the special day that is yours forever. I am in tears just thinking about seeing you walk down the aisle. Wow. You are going to be a beautiful bride. His mouth is going to drop and his eyes will tear up. Goodness...yes it will happen. I hope you read this and smile because you know I'll always have your back. No matter how old we get or how far away from this day we get, I will always love you to the moon and stars and back. Forever my best friend. You have seen me through some of the craziness times and you still loved me. I hope this guy that stole your heart from day one, will see you through everything. You deserve the world!
There is no other guy, I'd rather share you with than the one waiting for you at the alter. He is perfect for you and cherishes you. I have loved seeing your love for each other grow and bloom into this lovely day. Your commitment to one another is such an amazing thing and you should cherish it forever. When you are sitting in your rockers in your eighties, I hope you think back on all the love he has for you and smile. I hope the days are fun, adventurous, and Jesus filled. With him by your side and Jesus at the center of the marriage, the possibilities are endless.
I am so excited I will be standing at the alter seeing his reaction and yours as you make your way down to him. Those reactions are ones you will remember forever. The day arrived so quickly, but it means more than anything. He is a reminder of why all the other guys didn't work out for you. He is the perfectly imperfect match for you and it is so sweet. Your happiness reaches the stars and it shines for all to see.
I am thankful everyday for our friendship and how we have remained friends through everything. Our friendship has been rocky, but I would not have it any other way. We fight, cheer, and smile for each other - the ultimate best friends. As you walk down the aisle today, I know you will be holding back happy tears because your heart as been overjoyed ever since he asked you out on a date.
You make me laugh my head off and smile all the time, you are truly a blessing in my life. I love you. I am your biggest fan next to your guy. We both love you to the ends of the earth and are super thankful for you.
I know the dating world wasn't always kind to you, but it was leading you to your forever. I am so glad I got to see that happen and see the love grow from the beginning. We are here at the biggest day of your life and I am just gushing over you.
As I stand beside you while you are getting ready, I hope you know I love you. Keep being you! In the future, I hope you look back at this letter and think of me. How happy you make me simply because we are best friends. I wish you all the love and happiness in the universe.
Today starts your forever with him.
Love,

Your Bridesmaid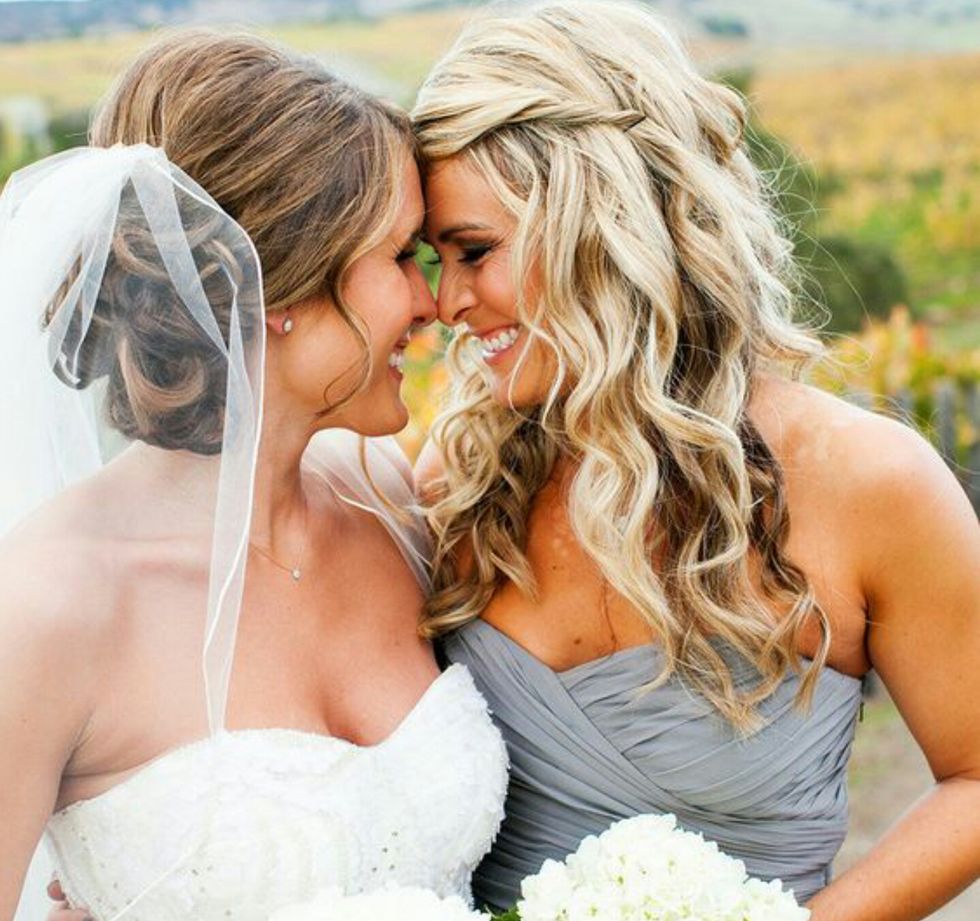 "But from the beginning of creation, 'God made them male and female.' 'Therefore a man shall leave his father and mother and hold fast to his wife, and the two shall become one flesh.' So they are no longer two but one flesh. What therefore God has joined together, let not man separate."
Mark 10:6-9