Fashion and writing are a lot alike. Both are derived from a single spark of inspiration. Like a statement accessory, an author's work can speak boldly, can start a conversation. Like two characters' twisted love affair, separates come together as a clashing yet cohesive outfit. There's magic to the process — in both fashion and writing, everything is meticulously handcrafted stitch-by-stitch, word-by-word. Chapters in a book work like each piece of a designer's collection, placed in a strategic order to create a flowing, breathing narrative. And the audience only sees the final result, never the chaotic journey taken to get there.
For 21-year-old Elora-Ashley, this is where she thrives — in the wonderfully turbulent making of it all. As a freelance stylist and makeup artist, she worked behind the scenes at New York Fashion Week September 8 through the 15. Most 21-year-olds I know spend their days trying to figure out a way to convince future employers that binge-watching shows is indeed a valuable skill found on a resume. Most aren't as lucky to be thrown into New York Fashion Week where moments of improvisation, as Elora-Ashley puts it, lead to creative genius worth a thousand and one polaroids.
Elora-Ashley worked with 17 different designers (and yes, one of them was Alexander Wang), collaborated with two teams and attended 12 shows. I was fortunate enough to have her share with me not only her experiences, but also some incredible photographs from her time at New York Fashion Week.
Sam Brodsky: "What was your role during New York Fashion Week this year?"
Elora-Ashley: "I worked as a hired stylist, public relations and social media coordinator, lead dresser and makeup artist."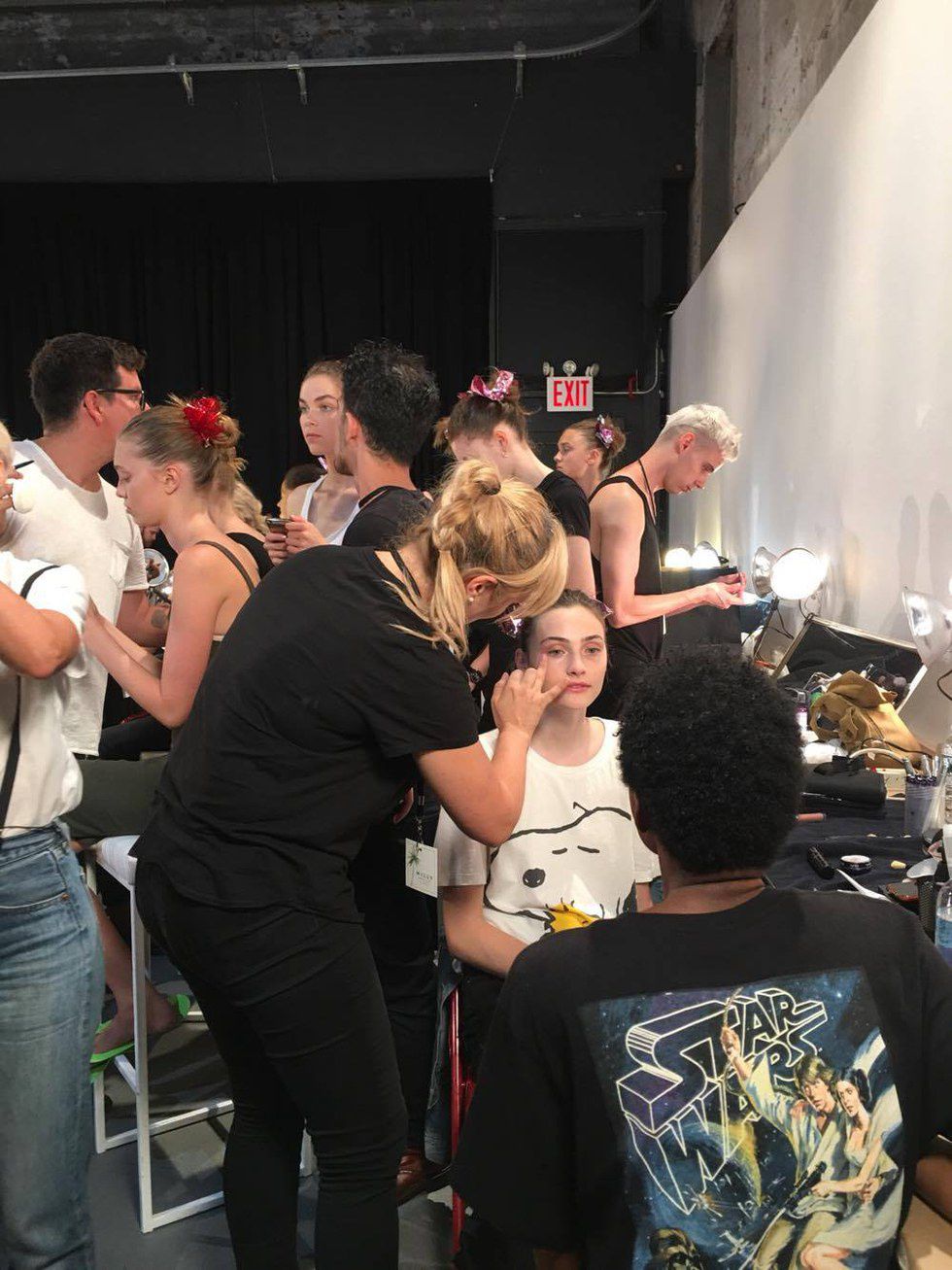 Sam Brodsky: "Had you worked behind the scenes at NYFW or any other fashion show before?"
Elora-Ashley: "Yes. This was my third NYFW season. I worked the SS16 [SS = Spring/Summer] and the AW16 [AW = Autumn/Winter]. However, this was my first NYFW where I had various jobs. For the past nine months I worked exclusively for Burberry as a core member of their Makeup Artistry NYC team, working all of their shows, events and launches."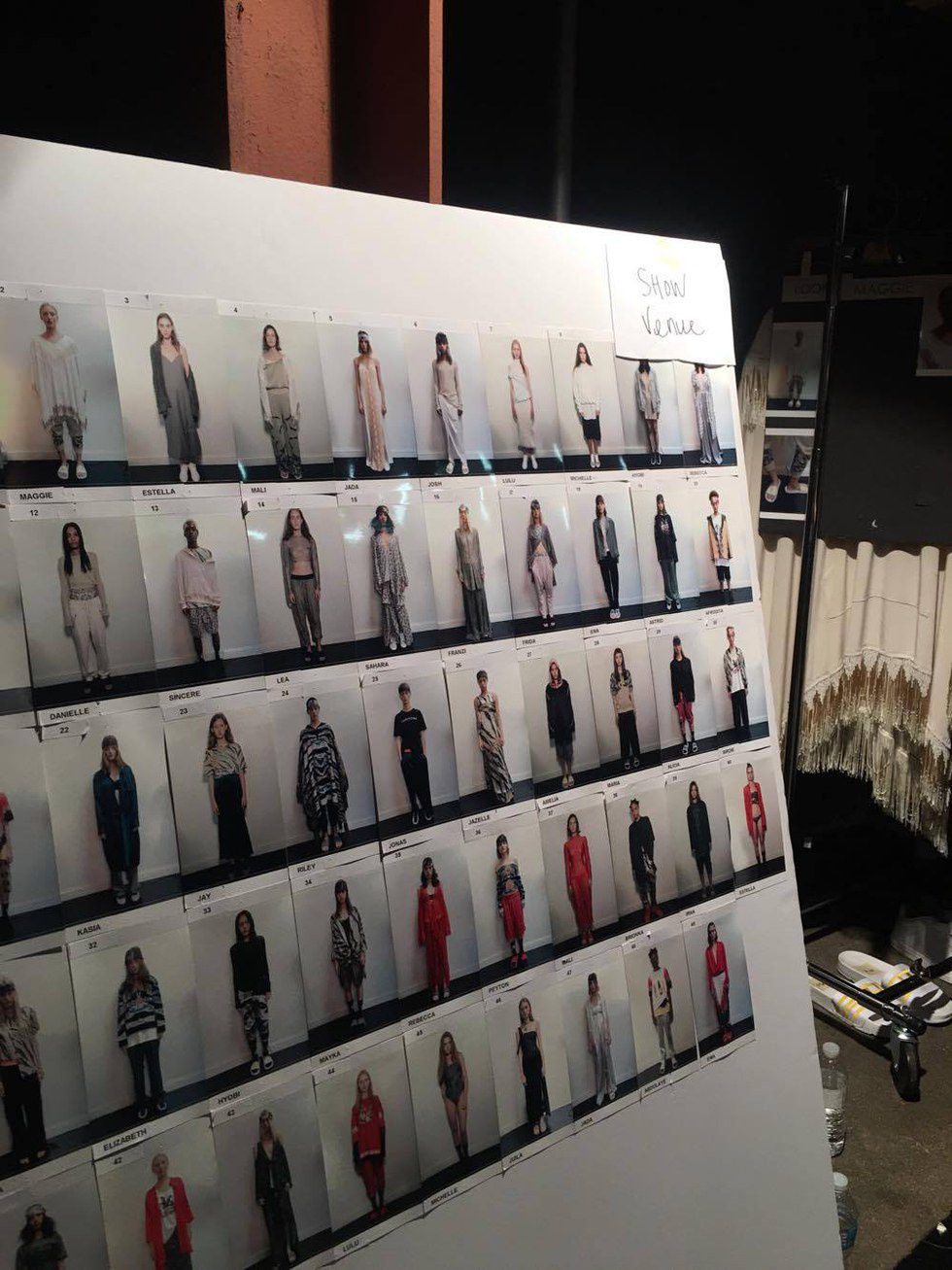 Sam Brodsky: "What was the typical day like?"
Elora-Ashley: "Every day was chaotic, always chaotic. That's the best part. Since I had various positions this season, every day had a different beat. A typical day for anyone working NYFW is always arriving before call time where you leave your ego at the door. You have to be willing to do anything and everything you are told, and you don't leave until all tasks are completed. That's what NYFW is—listening and taking direction. If a designer tells you to go run six blocks to get the talent a slice of margarita pizza, even if you are hired as a dresser, you run as fast as your feet can go. Unless there is a day you have some 'power,' and in that case, you have to be the most confident leader. A typical day is always a beast but one you have to face full throttle with a smile."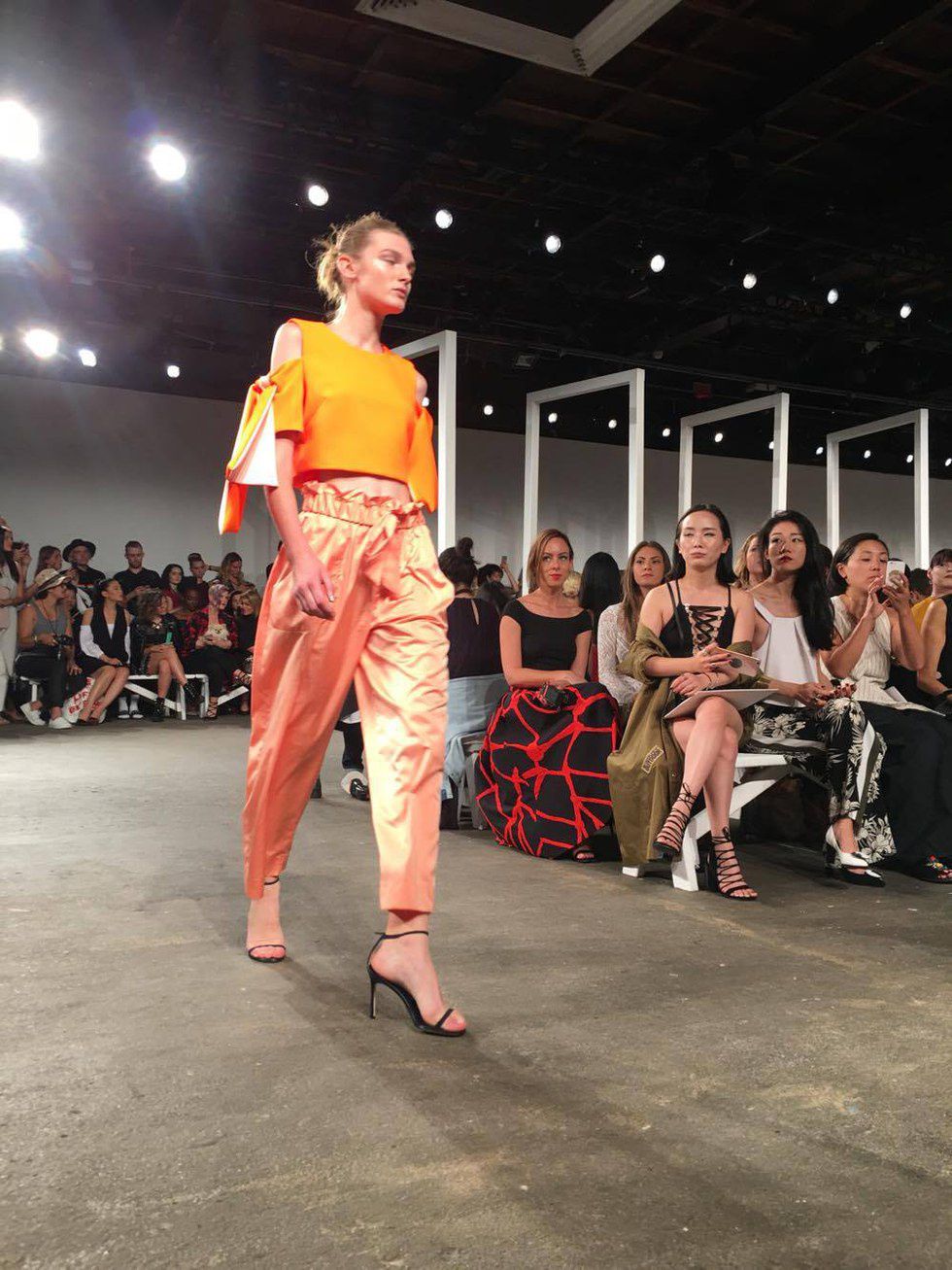 Sam Brodsky: "Describe the energy of NYFW. What does it feel like to be a part of something like that?"
Elora-Ashley: "Everyone in New York City is involved whether or they like it or not. You can feel it in the streets, and you see it everywhere you go. It impacts everyone just for that one week. When you are actually involved, it's the most madness you'll ever experience, but when the show is over, you'll feel the most at peace you've ever felt."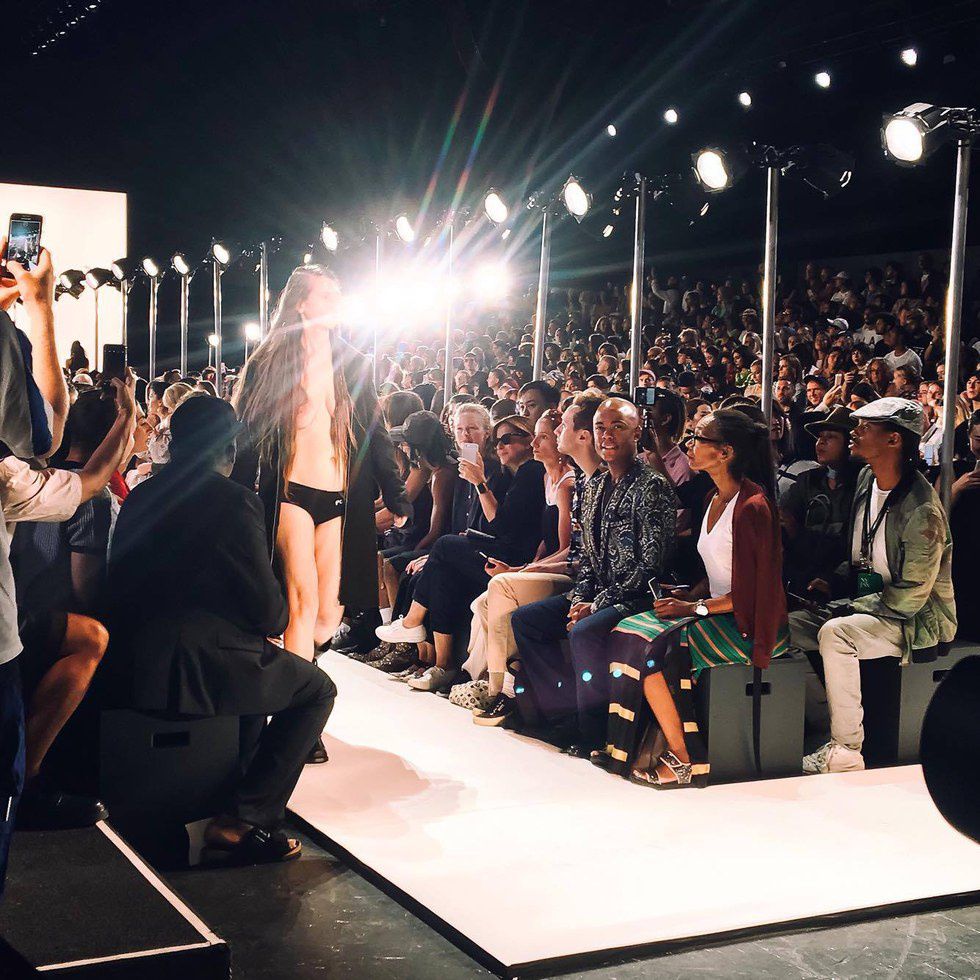 Sam Brodsky: "What was the most exciting part?"
Elora-Ashley: "Hands down, seeing it all come together in that one moment. Once the finale happens, it's an indescribable rush of being proud, overwhelmingly excited and immediately relieved. When all of the models are walking the runway together for the final time in the collection you were just putting on their bodies, it's instant gratification. You don't feel complete or satisfied until that very moment. Then you feel so big because you were a part of something so big."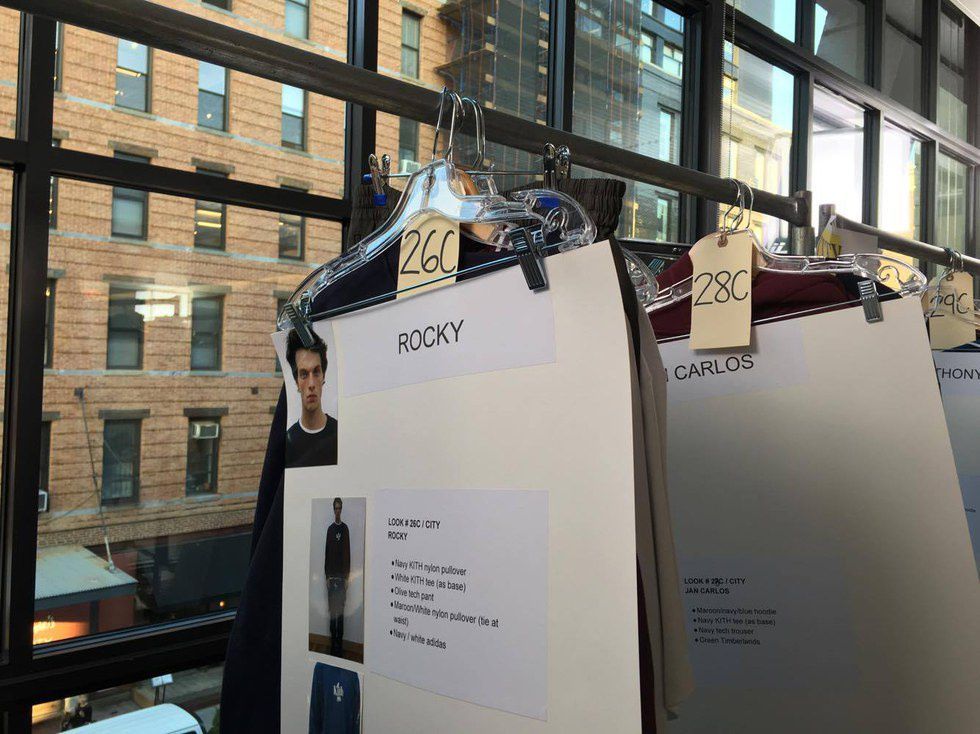 Sam Brodsky: "Who was the best designer you saw, and who was the best designer you worked with?"
Elora-Ashley: "Coolest designer I saw? Kanye West—not sorry. For best designer I worked with, I have three: Ronnie Fieg KITH, Jeremy Scott and Anna Sui."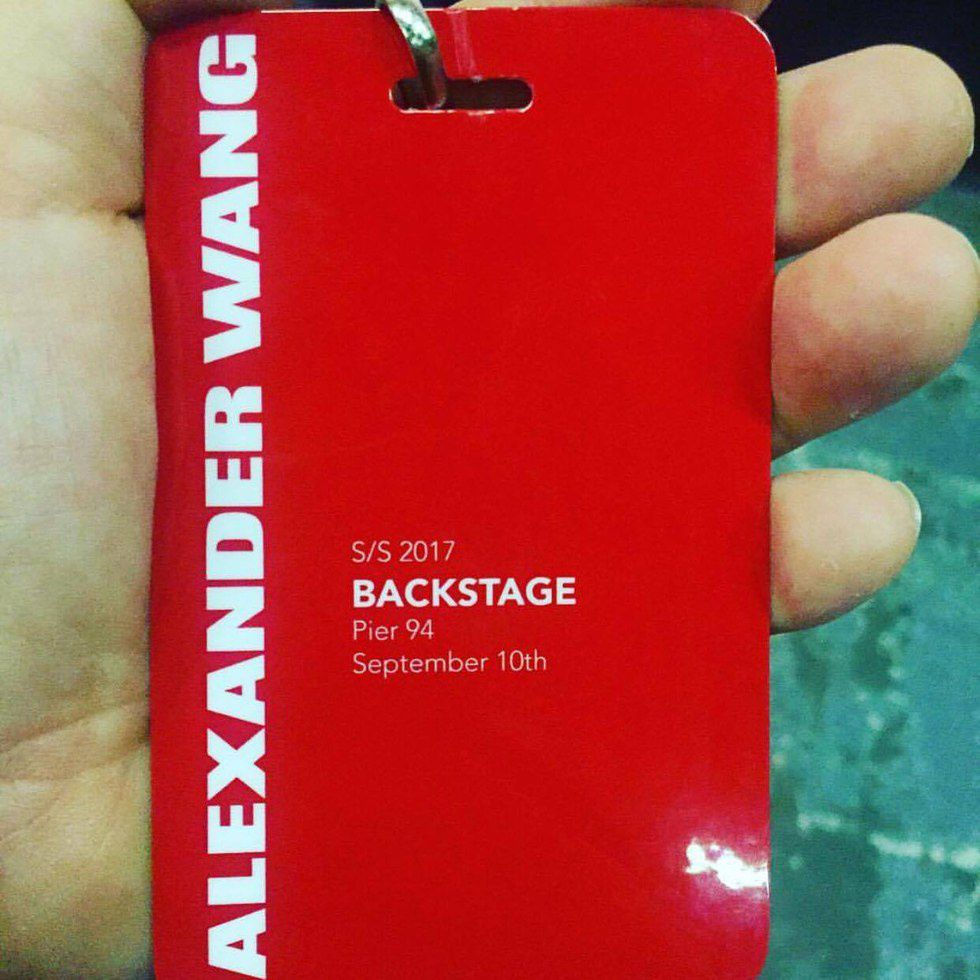 Sam Brodsky: "What was your favorite collection or piece from the shows?"
Elora-Ashley: "I shouldn't be partial but Baja East. I was head dresser for the show and was enamored by every piece. It was a beautiful collection where they intertwined my two favorite decades: the 1920s and 1960s, and it was done so tastefully. It was classy and classic—high fashion that could actually be seen on the streets."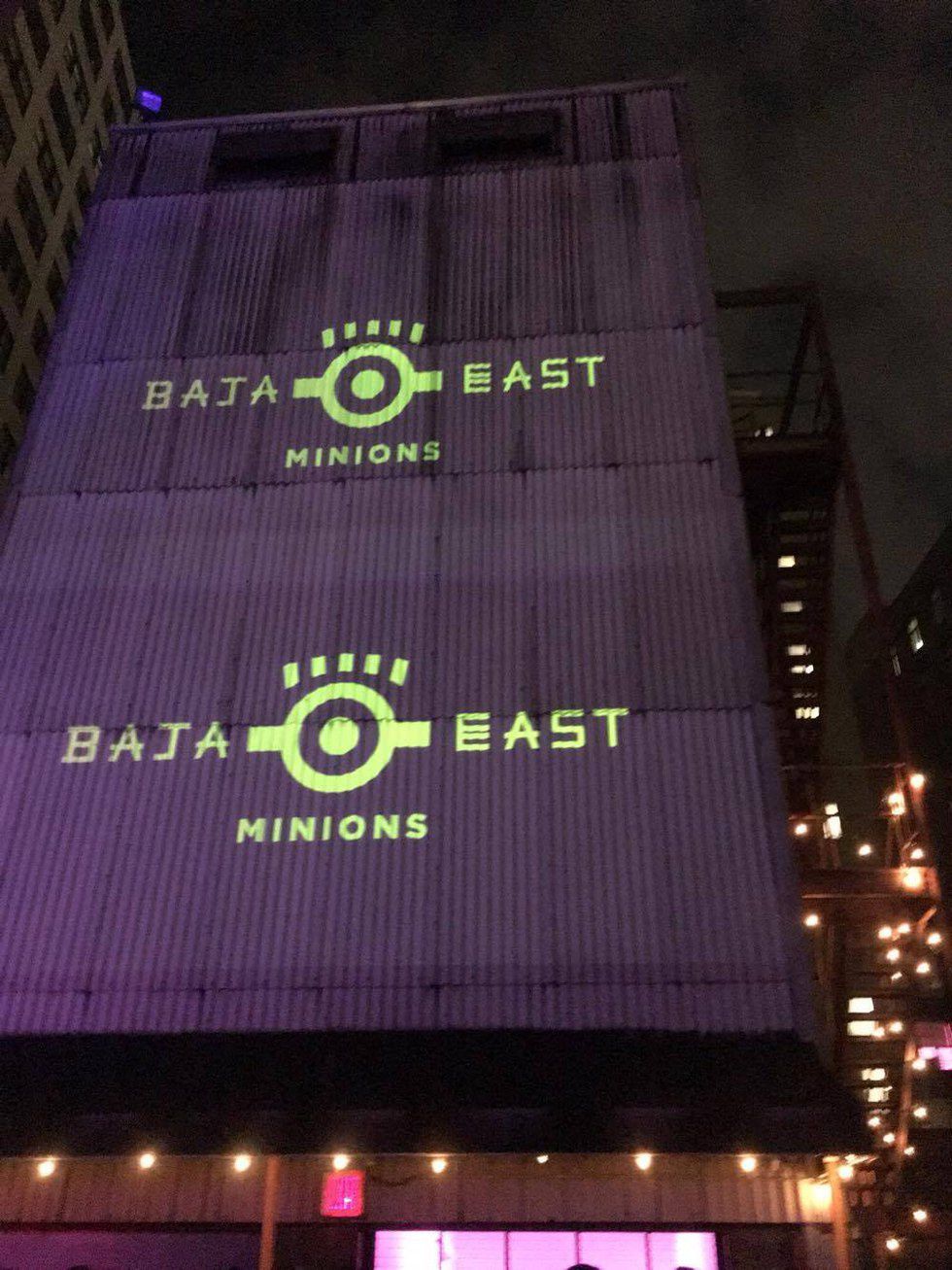 Sam Brodsky: "I have to ask…did you get any free clothes?"
Elora-Ashley: "Yes, but it's not like 'The Devil Wears Prada' where you get to pick out what you want from a massive storage unit with Stanley Tucci. You get what you are given, which is usually a pair of socks or an accessory if you're lucky."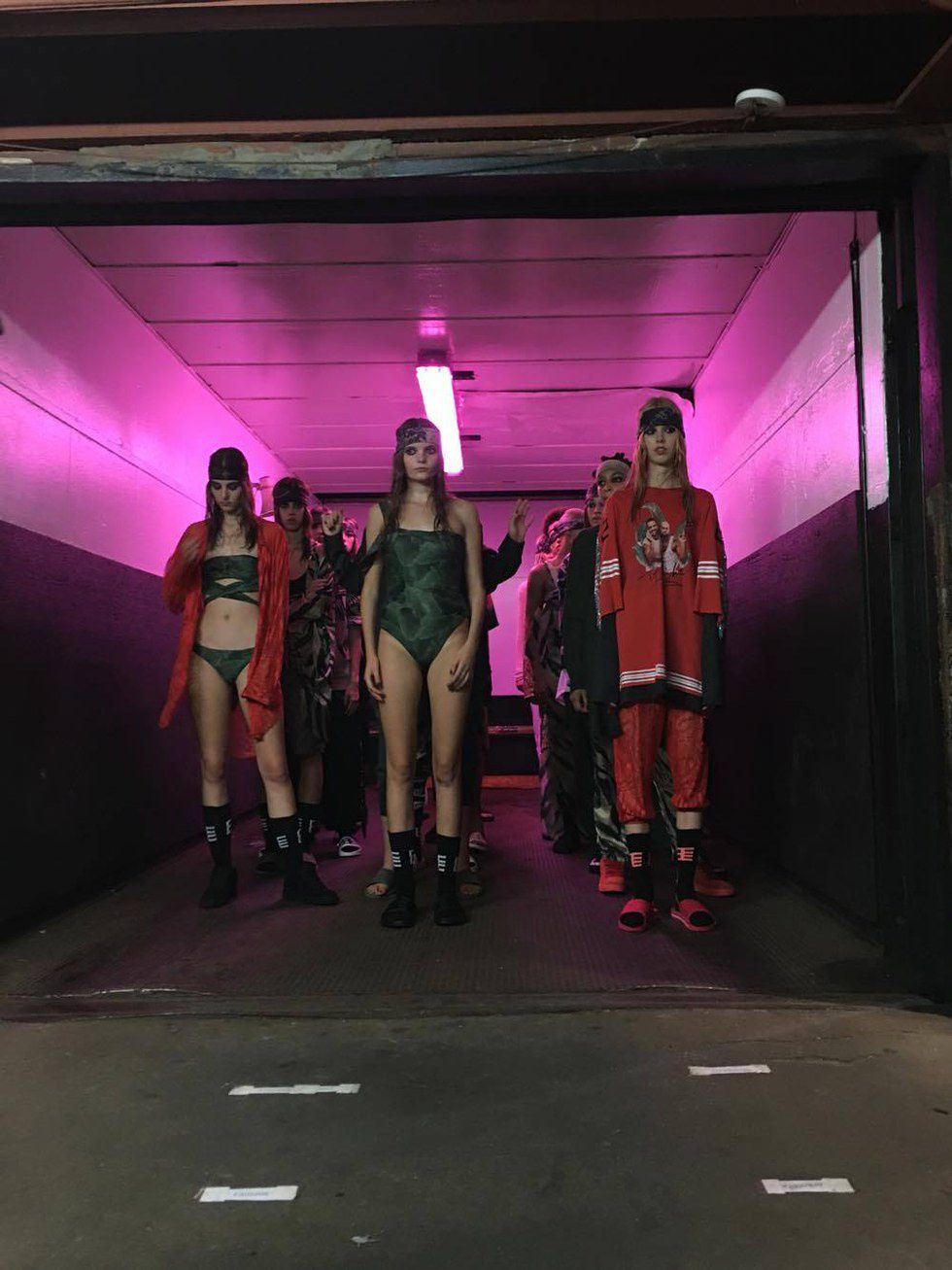 Sam Brodsky: "What was the most challenging part of the whole week?"
Elora-Ashley: "Enjoying it and making it to the after parties. I'm serious—by the time the show is over and you're fully done with your responsibilities, you're so physically, mentally and emotionally drained. All you want are warm sheets, your significant other, carbs and 'Stranger Things.' I guess my answer is that being able to balance work and play was hard—being able to sincerely enjoy it without letting the exhaustion get the best of you."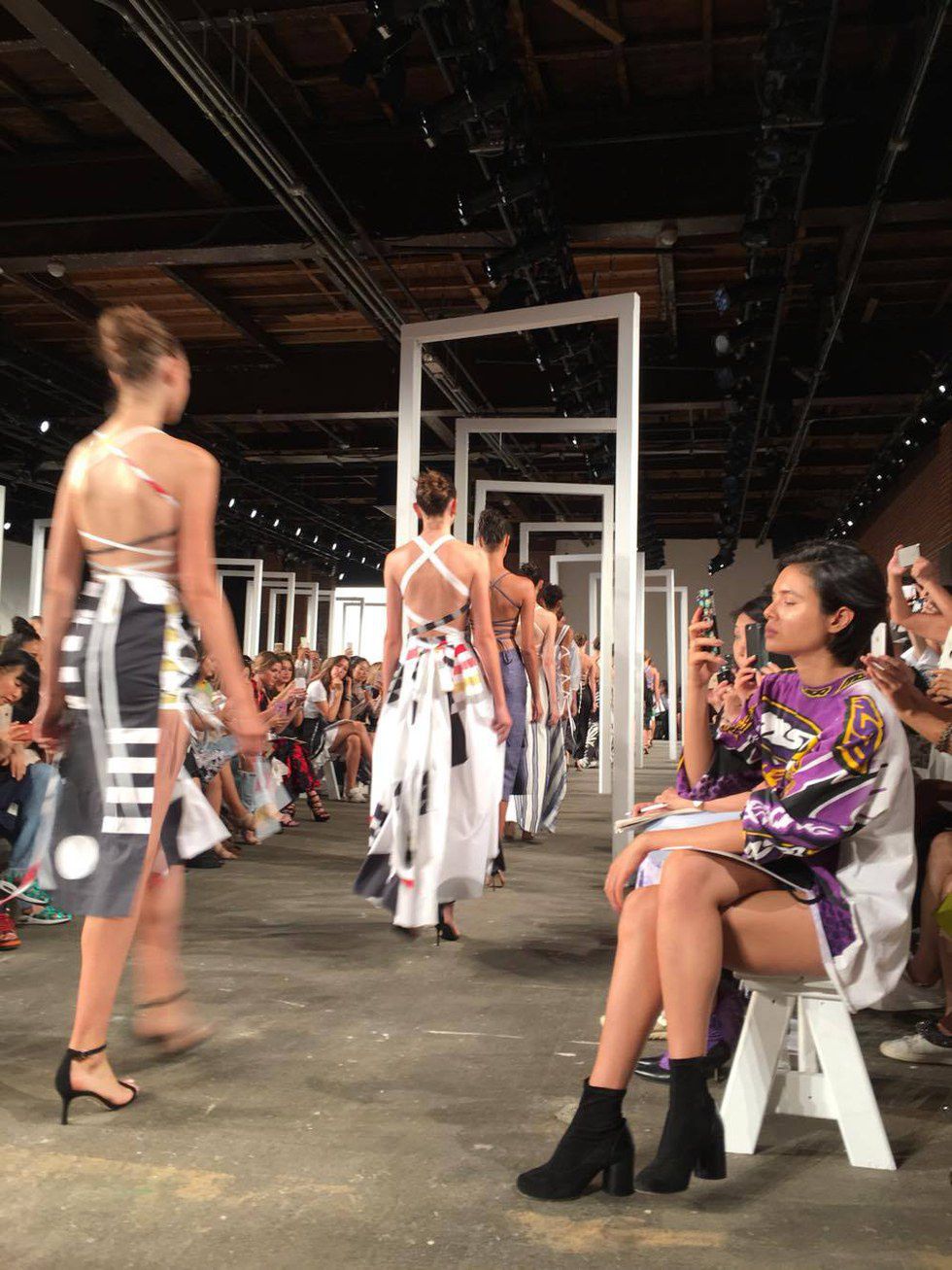 Sam Brodsky: "Most importantly, did you meet Kendall Jenner?"
Elora-Ashley: "Yes, I've now worked and seen four shows that Kendall has walked for: Givenchy SS16, Alexander Wang SS17, YEEZUS Season 4 and Coach SS17. Kendall is really a lovely gal; she's very sweet and very humble."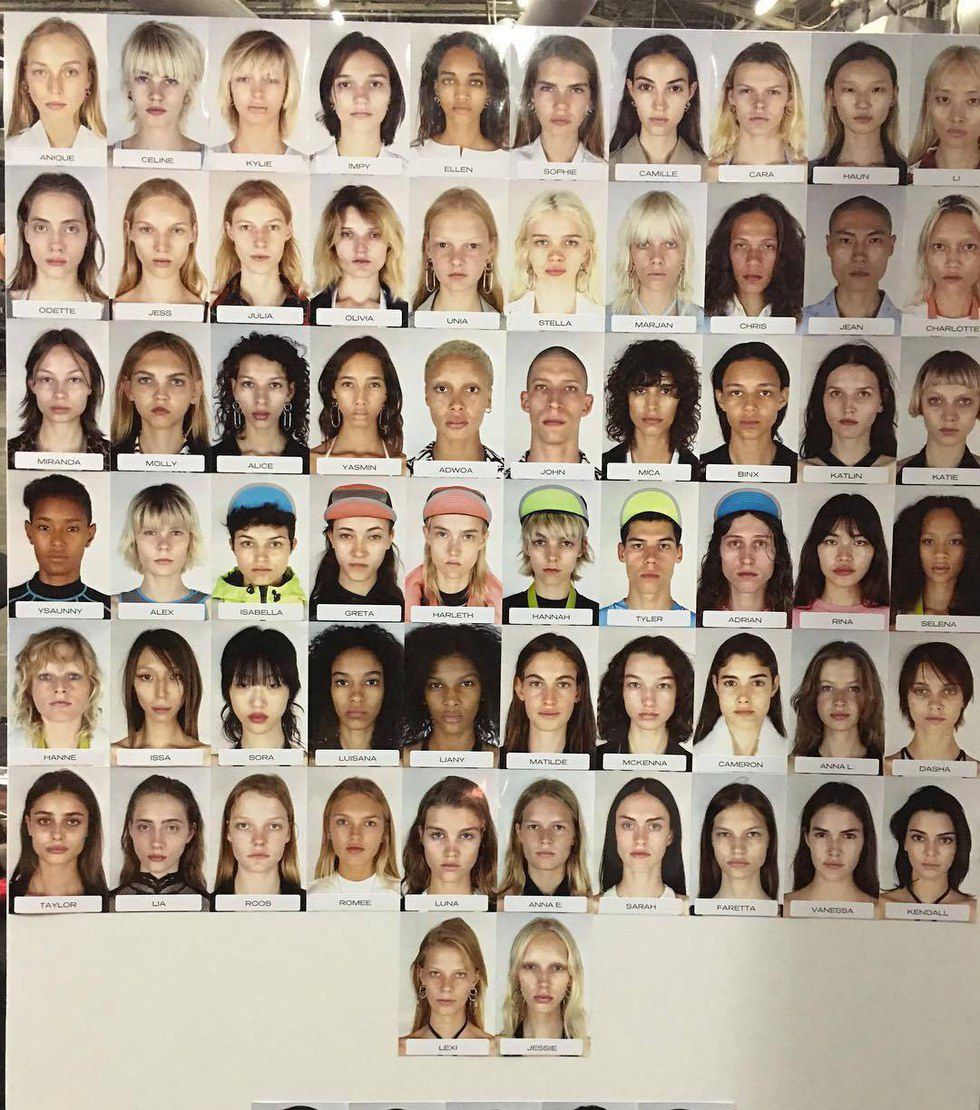 Sam Brodsky: "Any advice for those who wish to work behind the scenes at fashion shows like this?"
Elora-Ashley: "Make yourself and your work stand out. Capture people's attention without being outlandish or transparent. Be so good that designers not only want you but need you. Be stoic when meeting the talent, guest artists and performers. If a designer sees that you can handle that, it'll not only have them trust you, but it will also speak volumes of how professional you are. Oh, and do NOT wear heels—wear comfortable gear when backstage. Have a small token piece that people will remember you by. Mine was a cigarette bracelet, an empty pack of Marlboro Lights tied with a rubber band on my left wrist. That was my identifier, and Victor Cruz and ASAP Ferg remembered me because of it. Ultimately, the best piece of advice for anyone who wants to work NYFW is this: Handle it like a serious game of improvisation, really."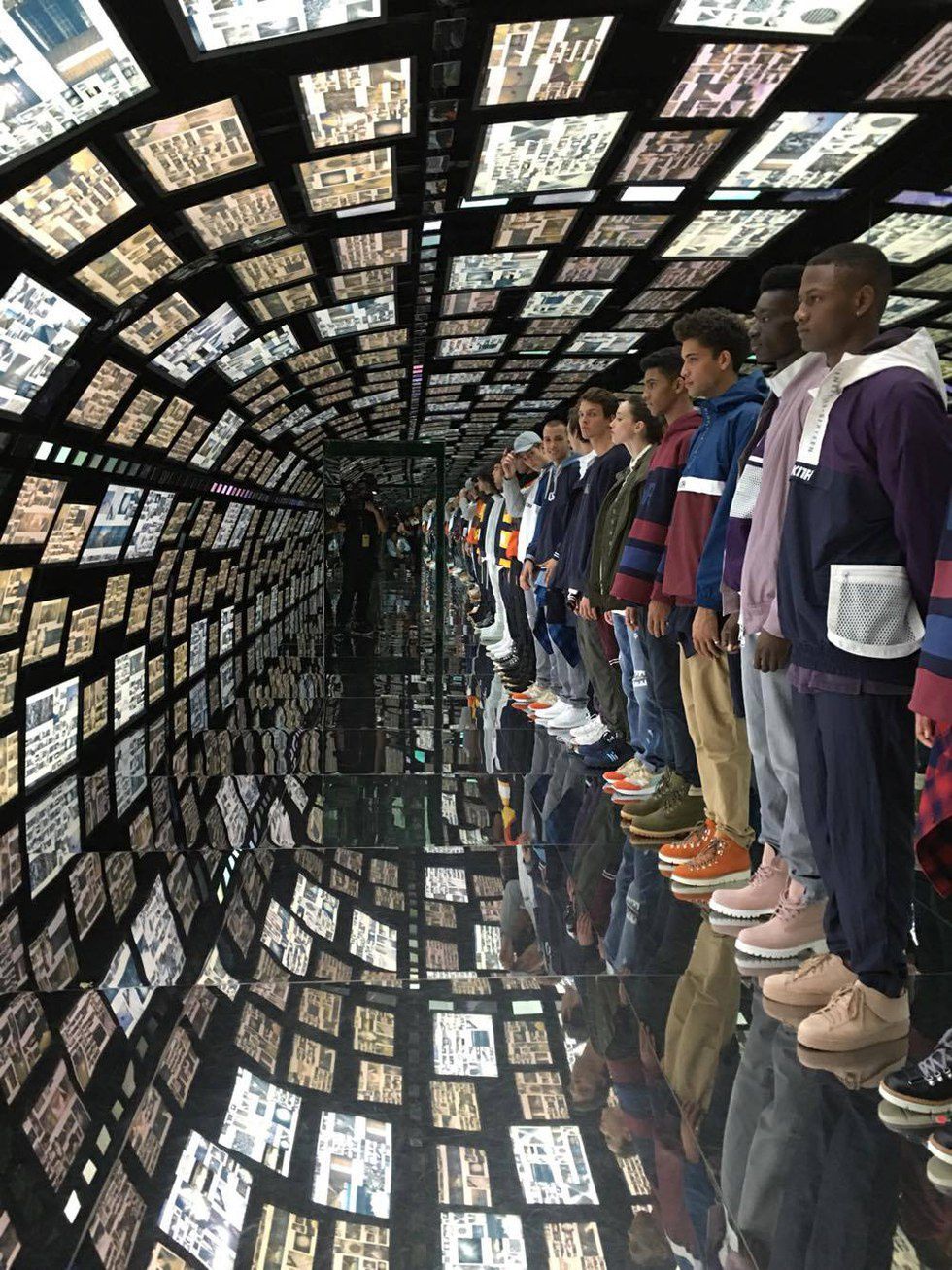 Sam Brodsky: "Is all the work behind the scenes worth it when you see the final result?"
Elora-Ashley: "Always. You can compare it to a long-term assignment for school. It's all of the researching, preparation, rough drafts and late nights. Once that's all over and you're holding the definitive version of it in your hands, you've never been more proud of a final product because your physical and mental labor was invested in it. There is just nothing like it."