Prior to this semester, I had never heard of Acrobatics and Tumbling. Now, I'm a fan. I learned earlier this semester that Baylor has the #1 Acro team in the country. I'd even heard people claim that Baylor is an Acro school. So, being the Baylor super-fan that I am, I felt that it was necessary to find out what the heck this sport is all about.
On Saturday, February 24, the Baylor Acrobatics & Tumbling team faced up against the Oregon Ducks. The Baylor Bears entered the matchup as the number one team in the country and three-time reigning champions. The opposing Ducks boast the number two rank and are three-time reigning runner-ups. Needless to say, this is a fresh and bitter rivalry; however, that's not why I was in attendance.
I got word that the team was giving out free tee-shirts to the first fans there; thus, I was there, and I regret nothing. This was my second Acro meet (... event? Match? Game? I don't know the correct terminology), and I remained in the same dazzled confusion that I experienced for the first meet.
The basic format of the meet is as follows: there are 6 categories and various heats per category. Each team has a shout routine per heat, and judges score them on a 10-point scale based on synchronization, difficulty, stability, and some other small things. The final category is worth 110 points and includes the whole team's participation.
As the Bears and Ducks began their flips and tricks, and the fans were surprisingly into it, doing stadium yells and chants as the teams awaited their scores. This one guy (I can only presume a parent of one of the players) took over the role of head cheerleader, leading and directing the crowd with a foam paw that had been equipped with lights. Even the actual Baylor cheerleaders followed this guy's lead. This man's energy and passion alone makes an Acro meet worth seeing.
Once the meet actually started, I was really speechless. I am 100 percent sure that any and every one of these girls could beat me to a pulp if they chose to do so. I'm confident that if there was ever a military regime from the University of Texas trying to take over the school, the Acro girls would obliterate any opposing forces. There were girls flying and flipping and spinning and shouting all at once, and it was terrifying.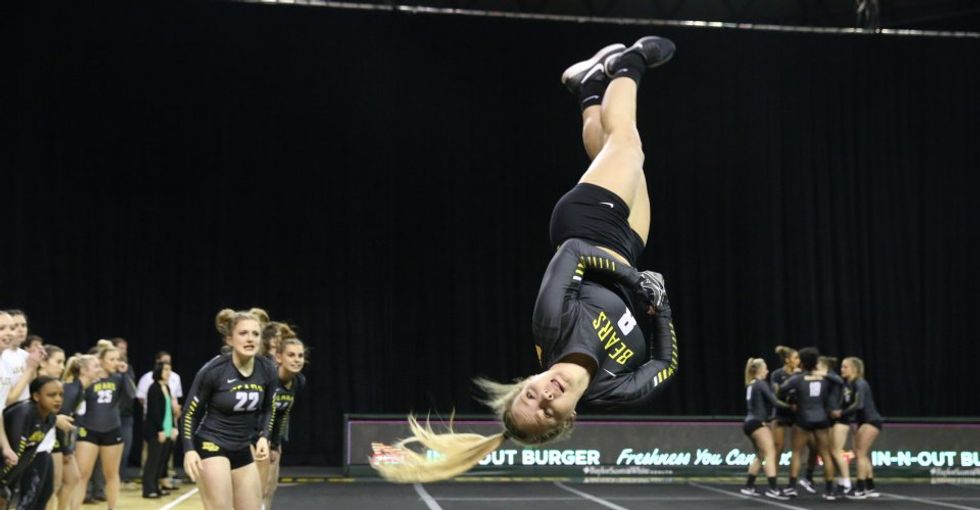 Every time a girl went up into the air, I held my breath. I was so worried about someone not making the proper catch or a girl rolling an ankle. Baylor proved to be the better team in this regard though, finishing the night without a single fall or stumble. Oregon, however, had two incidents. One girl atop a structure lost her balance and fell off the top, and another girl didn't get enough air on a backflip and landed on her knees. Neither hiccups resulted in injuries, but both contributed to Baylor's victory.
I really had no idea what was going on, but I was loving it. I even started playing the judge, making critiques about the opposing team's routines to people around me. My little section was making smart matter-of-fact comments despite having less than 2 hours of experience. I plan on continuing to attend the Acro meets this year. I go to nearly every other sporting event, so why not? The Baylor Acrobatics and Tumbling team provides an exciting experience filled with high flying suspense that I would recommend all Baylor sports fans come see!
The next chance to see your Bears at home is on March 12th at 7:30 at the Ferrell Center. #DoMore