My opinion of the Bay Area before visiting was informed by my childhood. As a 90s kid, I loved watching Full House and Hangin' with Mr.Cooper which were set in San Francisco and Oakland respectively. Both shows were clearly not real life, but gave me a first impression of the Bay. I was also intrigued by MC Hammer as a lad by trying to dance like him. Another case in point being a sports fan was that I knew who San Francisco 49er Jerry Rice was. As an elementary kid I was smitten by the Bay Area.

As I got older I learned that the Black Panther Party for Self-Defense (BPP) had started in Oakland. The more I learned about the BPP, the more I dug for knowledge on the Bay Area in reference to African-Americans. Such a thirst for knowledge led me to read Revolutionary Suicide by BPP co-founder Huey Newton, Black San Francisco: The Struggle for Racial Equality in the West, 1900-1954 by Albert S. Broussard and The Warmth of Other Suns by Isabel Wilkerson. What all three works hit on in some way is the African-American Migration which had African-Americans leaving the South for better socio-economic opportunities in the North and the West. Generally, the Bay Area received southern blacks from Texas, Louisiana, Arkansas, and Mississippi. In my nerdy findings I realized NBA Hall of Famer Bill Russell, Comedian Paul Mooney, and BPP co-founder Huey Newton were all born in Monroe, Louisiana and left with their families for Oakland, California.
My time in San Francisco was brief and blurry once I got there on a Friday. I first touched down in the Mission District and admired the many colorful and lively murals. One of the murals in the Mission was that of Emory Douglas of the BPP among others. In the neighborhood I also ate some sumptuous tacos at La Taqueria. The neighborhood also has a rich history in regards to Latinx communities that is currently dealing with the ills of gentrification.
Another spot I hit in SF was Mission Rock Resort in the Potrero Hill/Dogpatch area of the city. The restaurant is right on San Francisco Bay with a great view not far away from AT&T Park where the Giants play. I recommend getting the raw oysters here. At first, I was hesitant to eat them being my first time, but I realized they were quite delectable.
I also had the chance of going to Amoeba Music in the Haight-Ashbury area of SF. It is an independent music store with catalogues upon catalogues of music from different eras. I actually bought Arrested Development's 3 Year's, 5 Months, & 2 Days in the Life of... Wherever you went in the store you could find whatever piqued your interest.
I also visited the Fillmore District of SF. The Fillmore was known as the "Harlem of the West" in its heyday due to its rich African-American history and jazz history. Many African-Americans moved here after World War II. Currently, it is dealing with the ills of gentrification and losing its rich history like the Mission. The Starbucks there is one example of this. As a Brooklynite, a spiritual force must have led me to come across The Brooklyn Circus (black owned) where I bought a t-shirt that paid homage to the neighborhood.
Due to me being on New York time and being somewhat jetlagged, my one night in San Francisco was blurry. My group of friends and I ended up at the Kozy Kar Bar in Nob Hill on Polk Street that Friday night. Not only was the experience blurry because I was exhausted, it was blurry because my vision was impaired by the bright neon lights. The venue had a nostalgic flare for the 70's with the shag rugs and groovy tunes.
Perhaps a spiritual force led me come across an Oakland DJ named DJ Nina Soul in Johannesburg, South Africa the year prior to me coming to the Bay Area. She took me under her wing with her friends in the Motherland that were also from Oakland. I witnessed her cook up stylistic sounds in South Africa and was encouraged by this warm group of Oakland black queens to visit their hometown. I felt this was not a coincidence to be encouraged to visit Oakland while in Africa of all places. I took this as my ancestors luring me to this great city in the East Bay.
As soon as I got off the BART (Bay Area subway) I was at Fruitvale Station in Oakland that Saturday afternoon. My mind started racing as I thought of the murder of Oscar Grant. I had seen the movie "Fruitvale Station" and thought to the plight of us black men in the America; Oscar Grant, "Fruitvale Station" director Ryan Coogler, Michael B. Jordan who played Oscar in the film, and I were all born around the same relative time frame. Such a tragedy is a reality for us black men. At the station my brother from another awaited me at the station and pointed out a mural paying homage to the late brother Oscar.


[rebelmouse-proxy-image https://media.rbl.ms/image?u=%2Ffiles%2F2017%2F01%2F04%2F636191693813738046580492462_636189762441693084-770860482_Marcus%2520Books.jpg&ho=http%3A%2F%2Faz616578.vo.msecnd.net&s=782&h=71723dbb76b9634defadfc93d83d870a68f5747a4a750dcf8411a5ff5ed4dace&size=980x&c=3647858605 crop_info="%7B%22image%22%3A%20%22https%3A//media.rbl.ms/image%3Fu%3D%252Ffiles%252F2017%252F01%252F04%252F636191693813738046580492462_636189762441693084-770860482_Marcus%252520Books.jpg%26ho%3Dhttp%253A%252F%252Faz616578.vo.msecnd.net%26s%3D782%26h%3D71723dbb76b9634defadfc93d83d870a68f5747a4a750dcf8411a5ff5ed4dace%26size%3D980x%26c%3D3647858605%22%7D" expand=1 original_size="1x1"]
The first place my bro took me was Marcus Books. It is the oldest independent black bookstore in America. You can purchase books here by and about black people everywhere. I made some purchases and received fantastic customer service.
Another stop was at Red Bay Coffee near Impact Hub Oakland. I suggest that if you are a coffee drinker to patronize this black owned business.
I was so empowered on the Black Panther Party tour given by my bro. I visited 5624 Martin Luther King Jr, Way which was home to first BPP office. The location is now home to It's All Good Bakery. They have good sweet potato pie among other things that would suit one's sweet tooth. I saw actor Derek Luke in there buying some delicacies as well. On the corner of Market and 55th Streets is where a stoplight stands now which is a stop along the tour. On August 1, 1967, the stoplight was installed due to community action taken by the BPP. Prior to the installation it was a dangerous intersection. In fact, the BPP escorted children across this intersection and made the children safer. I also passed by BPP co-founder Huey Newton's Penthouse at 1200 Lakeshore Drive which has a great view of Lake Merritt and the address of his murder at 1456 Center Street. The last spot to mention along the tour was DeFremery Park where community programs such as free breakfast was served to Oakland children and fundraisers were held by the BPP.
The BPP tour led me to be pretty famished. My appetite led me to Miss Ollie's. The customer service here is pretty dope. My friends who brought me here highly suggested the spot. I chowed down on Miss Ollie's-Fried Chicken (4-piece) that comes with four pieces of fried chicken, potato salad, and field greens. I ate the meal so fast it did not even touch my teeth. Dessert consisted of the decadent Creole Doughnuts.
Sunday morning brunch led me to Brown Sugar Kitchen in West Oakland where my beloved Oakland friends brought me to. As we waited for a table to clear, they educated me on the gentrification of Oakland. With the soaring rents and prices of San Francisco, many people are coming across the Bay Bridge to Oakland for more affordability. West Oakland is one of their first spots and is closest to transportation for those that want to commute to San Francisco for work and live in Oakland. From West Oakland gentrification has spread to other parts of Oakland. To be frank I thought I would have seen more black and brown faces in Oakland, but I did not. This would explain the Portlandia type vibes I saw around the town to an extent. That may also explain all the Red Sox fans I saw, but anywho


[rebelmouse-proxy-image https://media.rbl.ms/image?u=%2Ffiles%2F2017%2F01%2F04%2F636191693149065615-478771461_63618981750976562812318099_Oakland%2520A%2527s.jpg&ho=http%3A%2F%2Faz616578.vo.msecnd.net&s=374&h=b8347e73daddddad03d061180cc19b58b28b9429b32f90253e269318ce12e4fb&size=980x&c=857541353 crop_info="%7B%22image%22%3A%20%22https%3A//media.rbl.ms/image%3Fu%3D%252Ffiles%252F2017%252F01%252F04%252F636191693149065615-478771461_63618981750976562812318099_Oakland%252520A%252527s.jpg%26ho%3Dhttp%253A%252F%252Faz616578.vo.msecnd.net%26s%3D374%26h%3Db8347e73daddddad03d061180cc19b58b28b9429b32f90253e269318ce12e4fb%26size%3D980x%26c%3D857541353%22%7D" expand=1 original_size="1x1"]
After brunch my friends I call family that I've known since 2013 (13 'Til Infinity) brought me to an A's game against the Boston Red Sox at Oakland Coliseum. As non-Bostonian grad students of color in Boston we experienced struggles together. Boston is notoriously racist. To our pleasure, Oakland prevailed over Boston. To say the least, we rejoiced.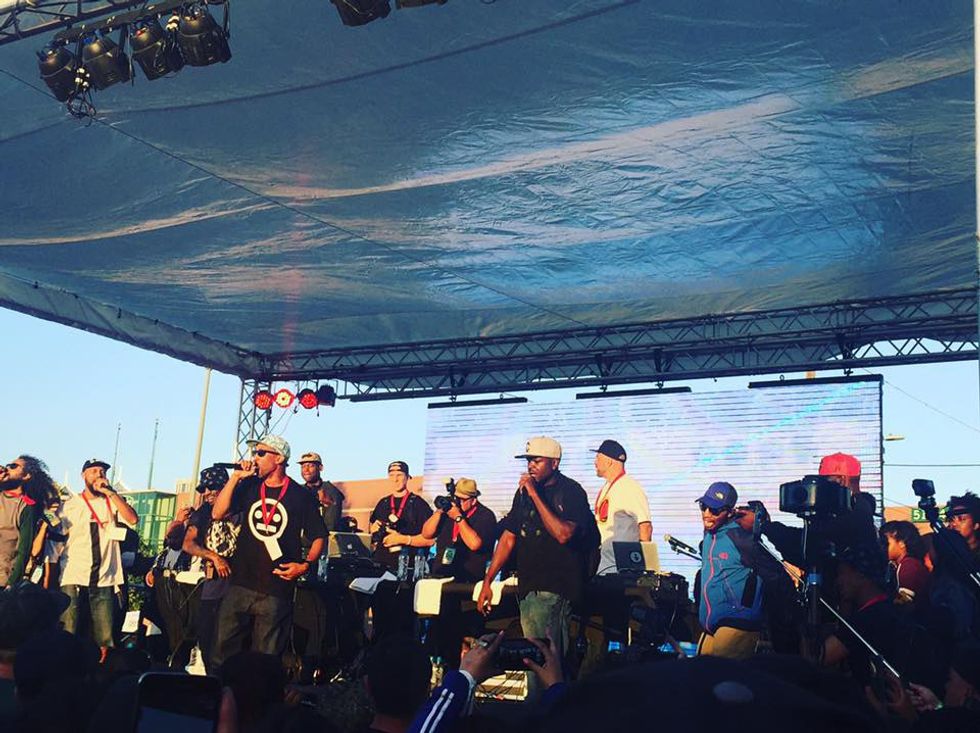 Hiero Day is a hip-hop festival many of us overlook on the East Coast. It occurs on Labor Day. It is a day full of hip-hop, art, food, unity, and positive vibes with a block party flare to celebrate Oakland. It is named and started after Oakland hip-hop group Hieroglyphics. When I attended I saw them perform as well as other Oakland hip-hop artists such as Too Short and Mistah F.A.B. I was also privileged to see Oakland hip-hop journalist/activist Davey D introduce acts. Other acts that I saw perform were Ras Kass, Murs, and Just Blaze. The African kindred spirit gods had me to run into one of the people from Oakland I met in Johannesburg. As we got reacquainted, Oakland's Marshawn Lynch passed behind us. At Hiero Day I was enthralled by seeing so many Latinx, Asians, and African-Americans together as one, as family. In places like Boston or New York, people of color seem more like friends, not family in my opinion. The vibe was something I had never experienced and realized the Bay Area lived up to its hype as an open and loving place. I know no place is utopia, but the Bay is kinda close.

The Bay Area is a fantastic place to visit. There are plenty of great places to eat, scenic views, and lots of history to learn. There is no doubt that I will try and visit the Bay Area more often!