When I was young, my parents made me participate in a variety of sports to figure out which one suited me best.
We started out with soccer. However, with each practice and each game, we realized that I'd rather frolick around in the grass and pick at my nails. So that ruled out soccer.
Next came swimming. I wasn't horrible… decent at best. But I didn't have any real friends, which made practices unbearable. Granted, we were underwater 50% of the time which made talking a little difficult. Nonetheless, in the eyes of a six-year-old, no friends = no fun. So that evidently ruled out swimming as well.
After that, my parents let me try out the game of basketball and it was a match made in heaven. It was as if the game was meant for me. Okay. I exaggerate. I was not this enthusiastic about the sport at the time, but it was definitely something that I thoroughly enjoyed in comparison to the other two sports I had initially tried. So I stuck with basketball ever since the 2nd grade, joining my school team and playing alongside my classmates.
Eventually, my school team wasn't enough for me and I felt the urge to branch out and "explore" the basketball community. As a result, my mom and I began looking around (AKA my mom looked while I twiddled my thumbs) at different club teams that I could potentially play for. I tried out and played for several different teams, but none of them seemed to stick.
In the 5th grade, my mom was informed of another club team - Bay Area Rush. This was a match made in heaven (no exaggeration here). Rush soon became my second family and continued to fill that role until I graduated from high school.
Throughout the eight years that I played for the team, I made some wonderful connections with some of the best people I've ever met; and although I've had my fair share of days where I would complain nonstop about having to go to practice, my teammates are what motivated me. The founder of the team, as well as my team's coach, Coach Tan, became my second father and a source of inspiration to me.
With these wonderful friendships came extraordinary memories, and my love for the game intensified. Soon, basketball became my sole focus besides school, and I even found myself giving up some of my other hobbies to make time for the sport.
As I neared my senior year in high school, I knew that my basketball career was coming to an end. Even though I wanted to continue, I realized that my capabilities as a basketball player would not allow me to pursue the sport in college.
As the clock winded down during my last game, I looked at one of my teammates, Melissa, who was also going into her freshman year of college like me, and cried. Okay, technically, she cried first. I only cried because she started crying.
But just like that, with the last buzzer of the game, it all ended.
A few weeks ago, my dad texted me, telling me that he was going to give away the basketball hoop we've had in our backyard since I was born. When I asked him why, he explained that no one at the house used it anymore, so he was going to give it away to one of the younger girls on the Rush team.
It sounds a little dramatic, but after reading his text, I sat in silence for a few minutes. It really was over.
I no longer have the opportunity to go to practice with my teammates and joke around with them while my coach laughs at us from the side. And yes, even though I complained every now and then, it didn't mean that I no longer cared for the game. I no longer get to feel the adrenaline course through me as I stand on the court, ready for the ball to be tipped in my direction. I no longer get to hear the screams and cheers coming from the bench and from the sidelines as one of my other teammates, Shannon, makes her fifth 3-pointer of the game. I no longer get to travel with my team to San Francisco or Reno or Las Vegas or any other city in between and share a house with them for a few days as we prepare for our upcoming tournament.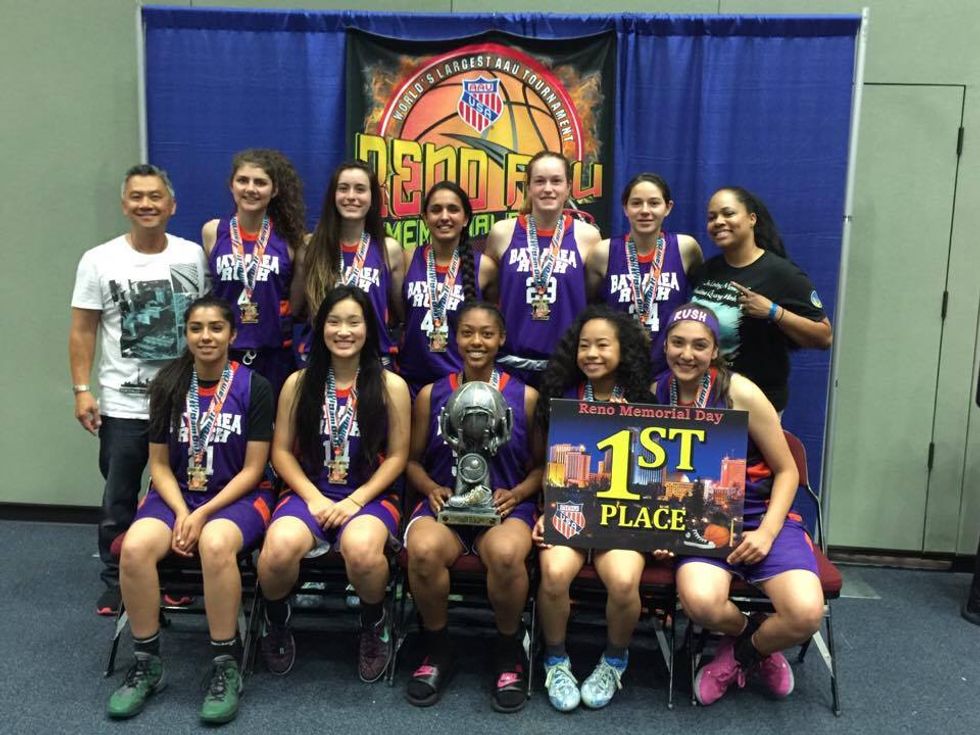 So I guess I'm writing to my younger self right now. I guess I'm just trying to say that we really have to cherish the things we have in life before it's over.
But even though it's over, it's not gone.
My mom actually called me the other day and asked me what I wanted to do with one of the pairs of basketball shoes I left at home. I told her to keep them for me.
Not only are the shoes a gift from my coach's late son, Thaddeus, but they're also a little reminder of all the memories I've made within the past several years.
So even though the fact that I don't play basketball anymore was made a little more real when my dad gave away my basketball hoop, I can rest easy knowing that the girl who it was given to can make better use out of it and experience the same love for basketball as I do.