Yes, its that time of year again. Finally.
Spring training began last week and it finally feels like the world is back in order. The cold winter months are tapering off, and every baseball fan in the United States can finally see the end of the only season that doesn't include baseball. Those long summer days, and three hours sitting in uncomfortable plastic chairs in the blistering sun are almost back. What a day to be alive.
But baseball does have a spirit about it that is overwhelmingly joyful. Maybe its because I cheer for the best baseball team of the past decade, or because the sport is truly America's past time. All I can say is that there is no other sport worth the sweat and time commitment.
Spring training is truly a great time for baseball. For several weeks, players can forget about October and how the series ended for them. The Royals get a subtle head nod, but then the games continue. Nobody has lost and nobody has made enemies, yet. Rookies and veterans look forward to the same season and carry that same sense of optimism for the next hundred games. The stats of the games mean very little and the players can genuinely enjoy the game they fell in love with years ago.
One of the most important aspect of spring training is building team dynamics. After some pretty dramatic trades at the end of last season (yes, I'm looking at you, Jason Heyward), teams need to redesign their flow. The lax attitude of spring training allows for athletes to not only find their fielding position, but their social position too. Baseball is a team sport that can't be won without a cohesive plan, so players have to find that group mentality, which can be difficult in professional sports. The weeks leading up to regular season play lets the guys guinuely bond because let's face it, you can't win if you hate all your teammates. Plus their dugout antics make that game that much more enjoyable.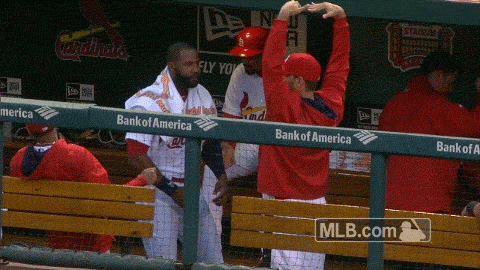 So here's to spring training and to baseball for making life worth living.