There are some things that you aren't proud to admit to anyone, not even your closest friends, simply because you're scared of the reaction.
Sometimes, you think that keeping this in will help but, in reality, it hurts.
Since elementary school, I always questioned why I behaved differently than my peers. That's when I realized: I have Asperger's syndrome.
Asperger's syndrome is another name for high-functioning autism because it falls on what we call "The Autism Spectrum."
Here's an example.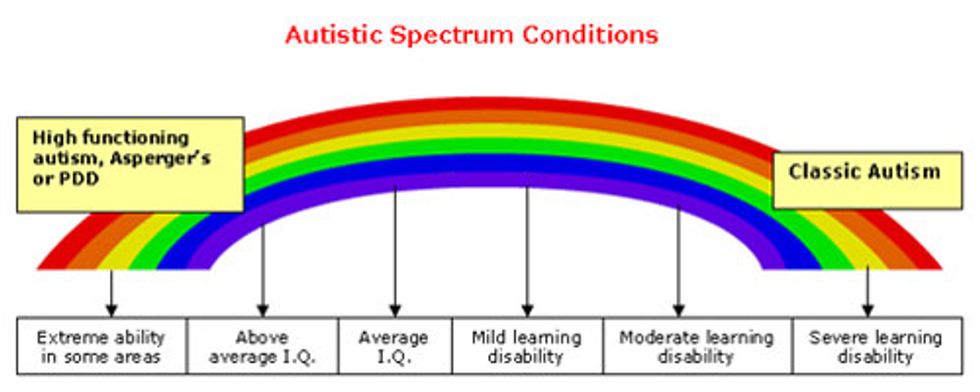 This form of autism is a developmental disorder that affects the ability to socialize and communicate with others. However, unlike mild and severe autism diagnoses, Asperger's syndrome does not affect learning. In fact, most people with this condition are very intelligent. On the social side, people who are diagnosed with Asperger's syndrome are often socially awkward, very anxious, or emotionally unavailable to peers. They also prefer social isolation or take interest in specific things.
At the age of three, I was diagnosed with Asperger's.
But my parents never explained this condition to me until I grew up. But it didn't take long for me to understand that the behaviors I often demonstrated weren't exactly like anyone else's.
I wasn't exactly big on socializing with others or speaking and performing in front of a large crowd. It gave me anxiety, and at times, it made me very frustrated. Even a simple conversation makes me uncomfortable. I can't look people in the eye long enough. It makes me feel awkward.
Sometimes, I enjoyed being inside my own bubble and doing things that I enjoyed the most. In school, I had my own set of friends, but I often relied on them just to talk about my passions and what I enjoy about a specific thing.
I love music. I love writing. I love food. I love movies.
These are interests I can talk about the most. According to Autism Speaks, a particular behavior for people with Asperger's is an obsession with specific, often unusual topics. Similarly, I have the tendency to talk about myself rather than talking about others.
Aside from this social barrier, I felt like I accomplished a lot of things. In high school, I founded the school newspaper and I was the editor-in-chief. I took on multiple extracurricular activities that interested me the most. Most of my friends said I was always the "creative one" and by senior year, I broke out of my shell. I remember telling them that I have Asperger's and they were surprised.
After four years of high school, I managed to graduate with a 3.8-ish GPA.
I also received a four-year scholarship to Happy Valley's own Penn State. As big of a campus Penn State is, there are moments where I still prefer to be on my own. There are other moments where I'd rather be with my friends.
Upon realizing that I was a part of the Autism spectrum, I felt embarrassed. It was something I didn't want to discuss with my friends, or anyone that knew other things about me. But, now, when I tell others about my story, I know that this condition does not define who I am. It's a part of me that I can't erase, but it's also something that I shouldn't be ashamed about.