It's an overcast and cool day in Chandler, Arizona as hundreds of reggae-lovers come together at Rawhide Western Town and Event Center to relax, dance and sing along to popular songs performed by Rebelution, Stick Figure, Atmosphere, Trevor Hall, Collie Buddz and many others. Some people are sitting on blankets scattered throughout the grass, while others are swaying back-and-forth to the beat of the music and closing their eyes in satisfaction. From the speakers comes a calming melody that ties in a beachy tune -complete with guitar riffs, soothing vocals and drum beats that fill the wide open space. The sky turns from a milky grey to different shades of pink and orange as Eric Rachmany, Rebelution's lead vocalist and guitarist, sings the lyrics to the band's most popular song, "Feeling Alright."
This is day one of Arizona Roots Music and Arts Festival, a festival that's the first of its kind at Rawhide Town and Events Center. Hosted by the team behind the annual California Roots Music and Arts Festival in Monterey, CA, the focus at Arizona Roots is on all things reggae and Rastafari culture.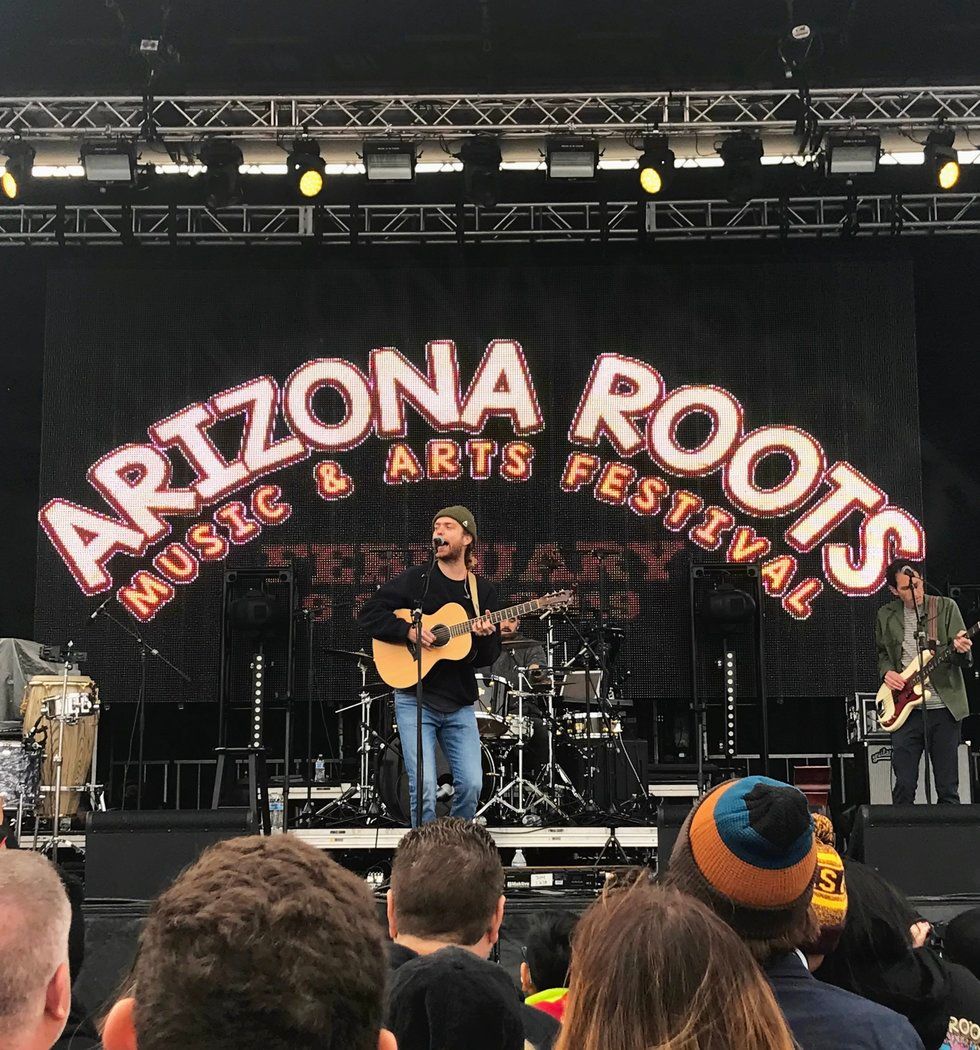 Trevor Hall performing at the Arizona Roots Stage on Feb. 9, 2019.Photo by Amanda Marvin
"I love the vibe, and there are so many cool people here,'' says David, a 20-year-old reggae fanatic from Chandler, Arizona.

Two women dressed in black Rebelution hoodies holding Deep Eddy Vodka cocktails wait at the Arizona Roots Stage for Rebelution, the headlining reggae rock music band from Isla Vista, CA. "We flew in for a mini-vacation and came to see Rebelution live for the second time now,'' one woman states.
Within the first few steps upon entry to Rawhide Western Town and Event Center, tents and vendors line the edges of the dirt walkway. To the left is a tent stocked with beanies, tie-dye T-shirts and a sign that reads "One Love." To the right, a Deep Eddy Vodka trailer protrudes a line of smiling people as they wait for their cocktails.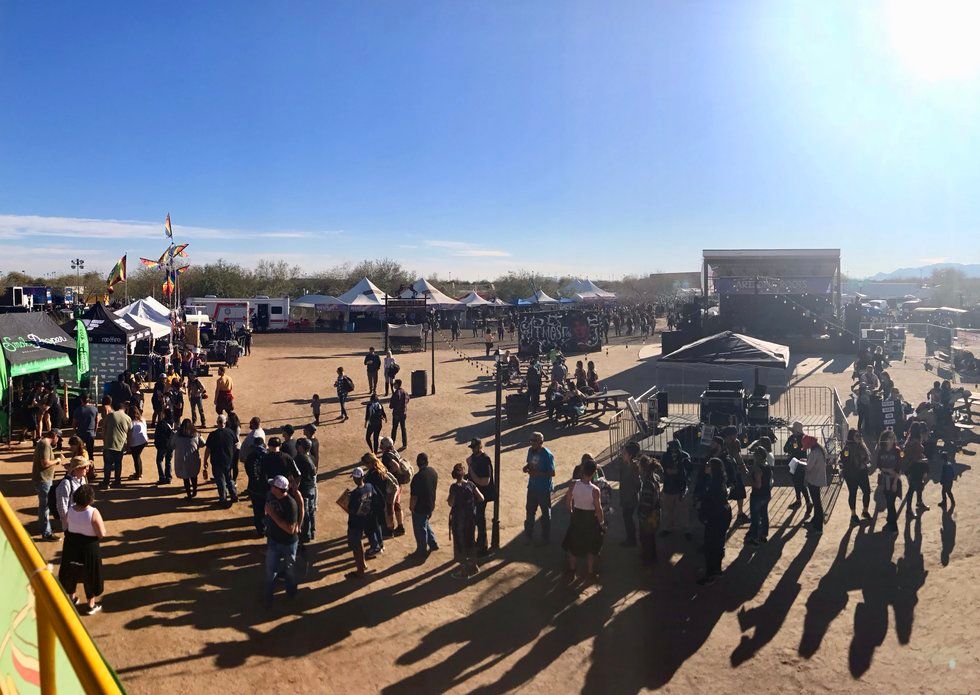 People wait in line at first-ever Arizona Roots Music and Arts FestivalPhoto by Amanda Marvin
Vendors serving berry lemonade, loaded tater tots and other tasty foods face the main stage as a number of picnic tables provide a place to eat and relax while enjoying the cool breeze and sunshine of day two at Arizona Roots.

A refurbished, playground-like double-decker bus painted in red, yellow and green faces the second stage. The Rawhide Stage, located just past the Deep Eddy Vodka trailer, is the platform for performances by up-and-coming performers.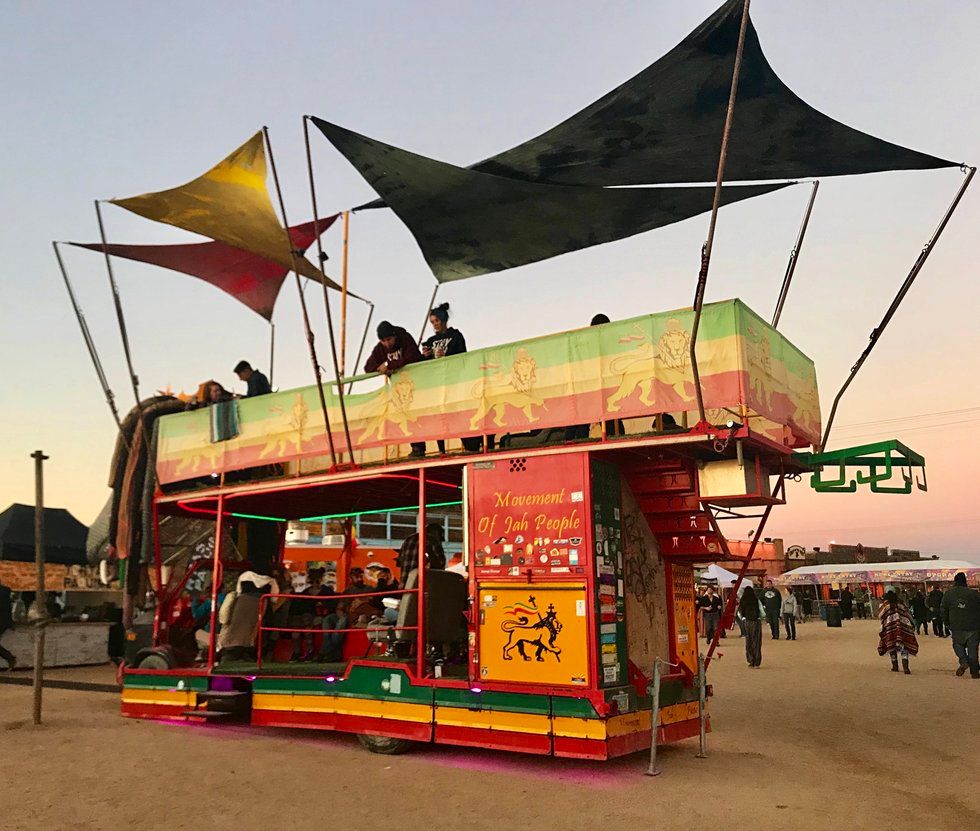 Photo by Amanda Marvin
One of the performing bands, Mellow Psychedelic Culture, is a local band from Mesa, Arizona. Combining tones from traditional roots reggae styles, rock and psychedelic music, MPC isn't afraid to experiment to establish their own unique sound.

"The psychedelic vibe we bring to [our music] really sets us apart," says 17-year-old Jacob Jensen, the bass player for MPC.
The band has played at many venues including Yucca Tap Room in Tempe, Arizona, Club Red in Mesa, Arizona and Pot of Gold Music Festival in 2017.
Mellow Psychedelic Culture's next performance will be at Days on The Green Festival in Phoenix, Arizona. Tickets can be found on daysonthegreen.com.
Thanks to the unity of Relentless Beats and California Roots Music and Arts Festival, the state of Arizona has gained yet another successful music festival. Arizona Roots Music and Arts Festival may be here to stay, so to tune in to event information, dates and more visit facebook.com/azrootsfest/ and arizonarootsfestival.com.