Having completed half of their college education, students strenuously begin trying to fill the blank spots on their resume. They begin applying for every possible internship. I am one of these people.
Having applied for a myriad of programs, one can only hope that the cloud of internships will precipitate with some kind of answer, even an automated response. However, receiving an answer from a program that you are interested in, especially in the summer, is like waiting for an answer from someone way out of your league. It's worse than ghosting, or to cease communication with a person without a formal "goodbye" by ignoring someone until they get the hint and stop texting or calling. The chances of getting an answer, even a negative one, are miniscule.
So what do we do: apply for every possible position everywhere.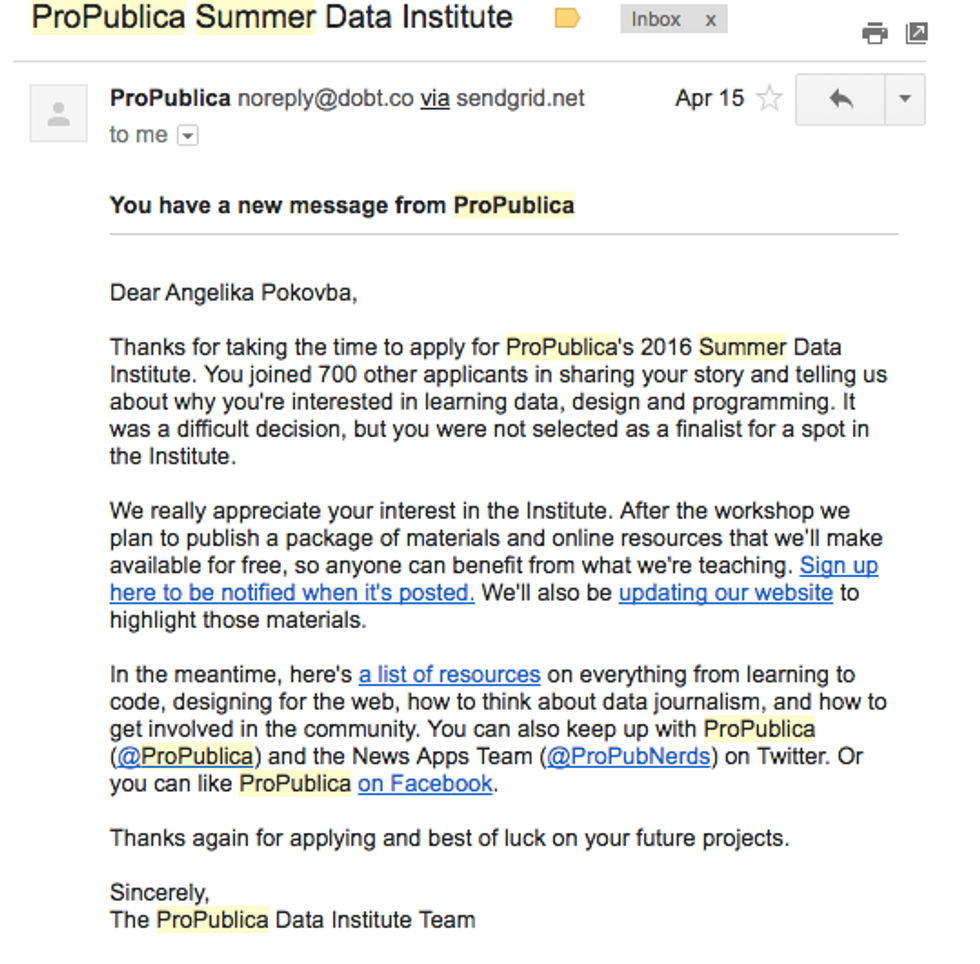 ---
An email like this one, while not what I would have wanted to receive, at least justifies my attempt and shows that what I send out does get looked over. Thank You ProPublica.
"It makes me feel like there's no point in trying," said CCNY student Simona Maksimyan. Maksimyan applied to over 15 programs, received a negative answer from only three and was ghosted by the rest. "For people who want a job after college, it makes them less hopeful that they'll be able to get one."
Maksimyan is on a pre-med career path with a more-than-acceptable GPA. However, the internship scene for those heading into the health field is just like the line at Trader Joe's: it's confusing, congested and hopeless. Instead of receiving experience in her field of interest, Maksimyan will be teaching swim lessons all summer.
I was incredibly lucky to hear back from my spring internships within minutes after I emailed, but this has not been the case for all my summer internship applications. I even followed @internqueen on Instagram for some advice. I am not as bummed out after having the best spring internship ever, but I pity the people who really need that experience.
Understandably, of course, not everyone will receive the position they would like. Competition is a major key here. However, some sort of response would at least justify the attempt. I understand that it must be difficult to reply to everyone, but I have the right to complain. At my current internship, we prioritize answering every single email that we receive. Last week, there was a day when we received over 3,000 emails; another intern and I answered them within 24 hours.
So here's an idea: instead of dismissing college students, what if you could hire some interns to answer emails?