Main Theses
The impressive history of the emergence and development of Amazon is an excellent role model. In our article, we talk about the development of the brand, its values, modern insights, and ways to create a competitive platform like Amazon.

Amazon's Phenomenal Growth: The Major Reasons
There are about 215 million users per month, 4 million deliveries per day, and a platform where people can find everything they want. What are we talking about? This is a story about Amazon, one of the world's largest and most successful marketplaces.
How did it happen that a small platform for the sale of books conquered the whole world? Let's look at this global giant's success story in detail to inspire modern businesses on how to make a website like Amazon.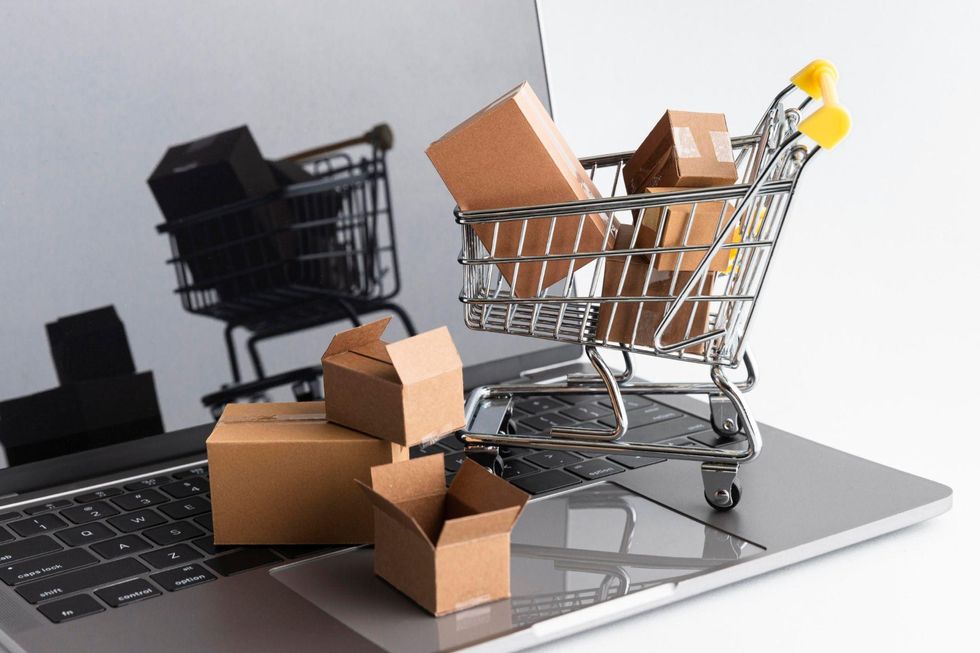 Amazon's Story
Amazon's company story started in the early 90s of the 20th century. Jeff Bezos, a successful employee from Wall Street, studied Internet business development. He saw companies emerging out of nowhere, gaining thousands of customers, and becoming in demand in the market. He even imagined how an online store would appear, where users would be able to buy absolutely anything they wanted. And this idea drew him more and more.
When Jeff Bezos started implementing his idea, it turned out that circumstances were against him. He didn't have enough money to buy and place various products on the site, and there were also no potential investors who would believe in his idea. However, Bezos was persistent and did not want to back down. He was the first to think about selling books because they are easy to deliver, diverse, and some people could find rare items that weren't available in regular stores.
Amazon was registered in November 1994 and appeared online the following year.
A short time later, Amazon appeared on the main page of back then popular Yahoo! search engine, which helped a company increase sales several times in just two months and attracted a million-dollar investment that helped improve the site.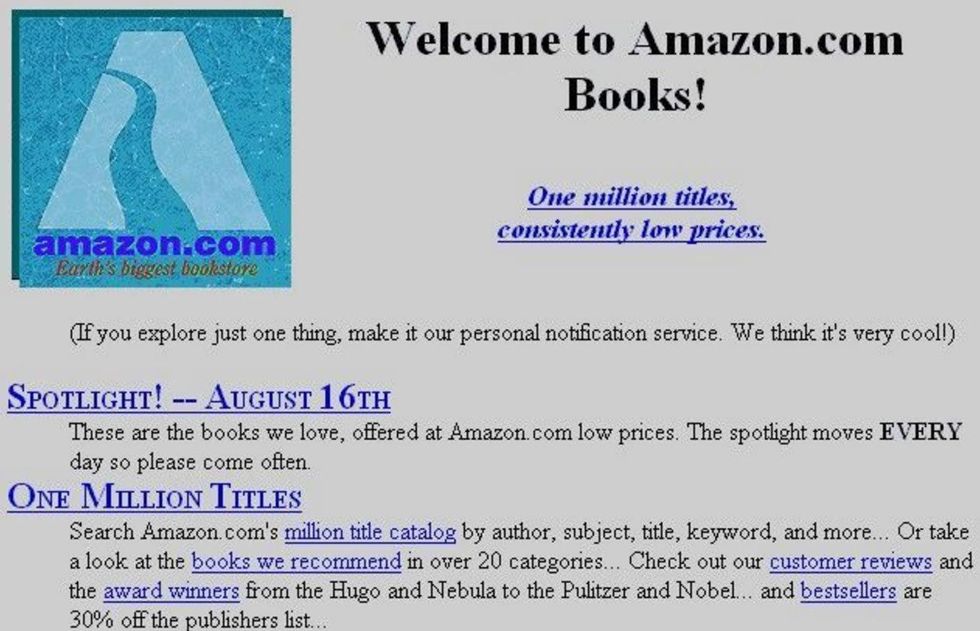 Popularity of Amazon
The founder of Amazon could not even imagine such a resounding success. Many experts and business analysts are still trying to unravel the Amazon phenomenon. However, the secret of success and such high popularity is quite simple - it is a combination of such vital components as:
● fast and free delivery
● ability to find everything you need in one place
● best prices
● possibility of returning goods and funds
● availability of unique goods and services
● large number of truthful reviews and recommendations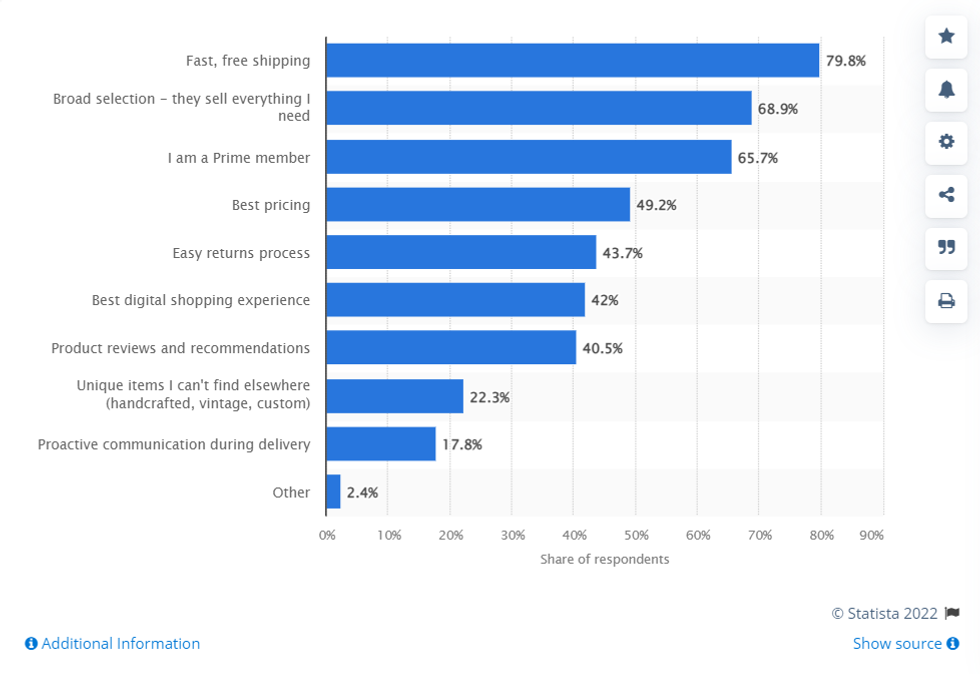 Source: Statista 2022
By 2022, Amazon could offer its visitors over 353 million products, including electrical, health, and beauty products.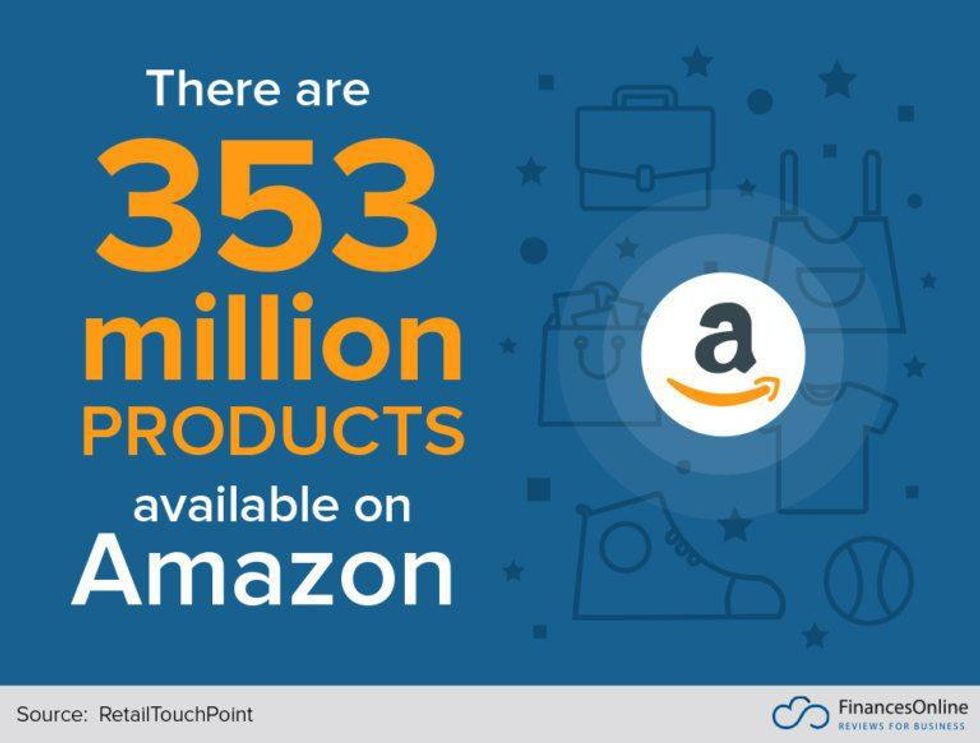 There is no doubt that Amazon's market size will continue to grow, as more and more countries follow the platform. Currently, the retailer supplies products to more than 100 countries outside the United States, but the most considerable traffic falls on the United States, and North America in particular - about 63%.
Amazon's Business Model
At the moment, Amazon uses a diversified business model, which means
charging for
● premium subscriptions
● advertising
● revenue from sales in the online store and offline stores
● paid services for third-party sellers on the platform
However, Amazon did not come to a mixed business model immediately but had already achieved the particular popularity of its brand.
This business model has increased the brand's global value to almost $700 billion by 2022, net sales during the third quarter of 2021 amounted to $101 billion. With a cumulative annual growth rate of 11.6 percent, this figure is expected to exceed $284 billion by 2026.
The availability of goods has changed since the formation of the Amazon. The primary trend in 2022 is the interaction simplicity between the marketplace and the users, but at the same time with double quality and security.
The example of Amazon shows that the marketplace can achieve great success in the market. It will be possible if businesses provide their consumers with high-quality, unique products and a customer-oriented service at the same time.
At the moment, users will be attracted more by a platform with a simplified ordering system, while at the same time, it can provide a high degree of security. If businesses are not ready to change due to the needs of their users, these marketplace products will be less in demand on the market. In 2022, the task for global marketplaces is to create the best conditions for optimizing systems such as payment and delivery.
How To Build an Amazon-like Website
Many business people realized that Amazon-like websites are:
● popular marketplace model
● influential source of income
● great help for creating the brand
Currently, Amazon has more than a dozen competitors in the market, such as Walmart, Etsy, Aliexpress, and others. In 2022, when online business is at the peak of its popularity, and some people even begin to forget to make offline purchases and go to a regular supermarket, the niche of websites is like an Amazon tidbit.
Discovery Phase
Before creating a website like Amazon, it is necessary to consider the market and various competitors in detail. It may well turn out that the idea is not in demand in the market, has a small request, and is already powered by an influential brand that companies will find difficult to surpass.
Therefore, before starting a business as an Amazon-like company, it is necessary to go through the Discovery Phase. This is a bridge between the idea and the best solution for implementing the product.
The Discovery phase includes an in-depth analysis of the concept, the study of product features and requirements, possible problems to create a product, and a variety of helpful solutions to tech issues.
As a result, companies will receive a clear vision of the product and documents with specifications of software requirements, tech stack and product functionality, description of the platform architecture, wireframes, and user navigation inside the website application.
● MVP Development
What about Jeff Bezos at the beginning of his journey? He had an exciting idea, a small amount of money, and concrete business plans. At that time, creating a website was a novelty that attracted visitors.
However, in today's world, spoiled by many resources, it is much more difficult for start-up companies to stand out in the market and create a worthwhile product. Sometimes the risk does not justify the means. Companies can not invest huge sums in a custom product without an excellent idea but create an MVP.
An MVP (Minimally Viable Product) is an early version of a product with only basic features but still offers sufficient value to customers.
What is attractive about a minimally viable product? An MVP will test the usefulness of a website like Amazon and allow the product to be released earlier to the market without inflated costs. With MVP's help, companies will be able to receive feedback from the first users and will also have the opportunity to provide an excellent product to investors.
Product Launch
Before launching the product, test its performance and determine the degree of load on your server and whether it can withstand the influx of visitors. Many companies do not think that the platform may be vulnerable to high demand.
After launching the product, the company has every chance to conquer the market and attract a loyal audience. Also, a good strategy would be to survey the audience - about what other functionality users would like to see on the platform.
Conclusion
The history of Amazon is impressive. However, there is an era of the Internet and online sales, and it does not mean that no one can repeat the history of Amazon. On the contrary, modern business has many chances to conquer the market faster and become the main competitor of Amazon after the launch.
All that companies need is a complex approach to the development process. When some bright marketplace idea comes to mind, it is necessary to study every detail, including the uniqueness, market needs, marketplace functionality, and financial opportunities to start. Only then engaging in battle with the world's giants will be worth it.
Related Articles Around the Web