Target is a magically place, as some may say. Others may call it a trap to spend all your money. I tend to agree to both, but Target is my happy place and I'd go every day if I could. As I was drawing a blank on what to write about this week, I realized "why don't I write about Target?" So, here I am, and I'm going to tell you a few reasons why I love it.
1. Target calls their shoppers "guests."
This may not seem like a big deal, but it actually makes me feel more invited and welcome to shop at Target. It makes the shopping experience more personal and inviting. It gives you a warm, fuzzy feeling as soon as you walk in the door.
2. Their mascot is a dog.
WHO DOESN'T LOVE CUTE DOGS? CRAZY PEOPLE. I love dogs, so naturally the cute little white dog with the red ring about his eye, named BULLSEYE, why would you not fall in love with the little stinker?? JUST LOOK AT HIM: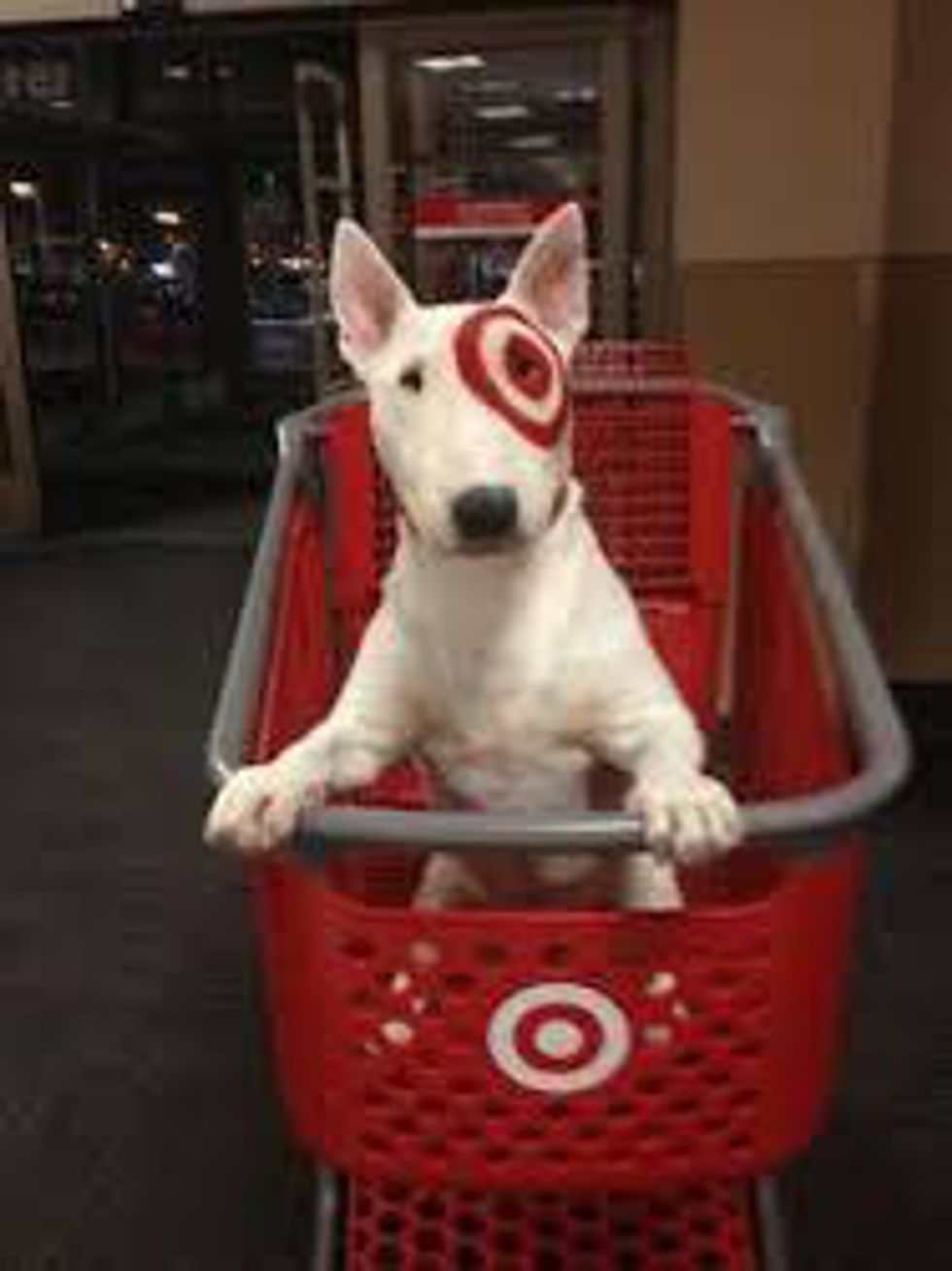 3. Cute products all the way down to the nitty gritty.
Target has adorable clothes for grown-ups and babies galore, but have you ever seen the rest of Target? There's cute everywhere. Cute house decor, cute shoes, cute tech gear, cute bedding, just cute everything. It actually hurts my heart just thinking about it.

4. There's a Pizza Hut and a Starbucks inside most Targets.
Although I'm not a huge fan of Pizza Hut except for their delicious bread sticks, I do love me some Starbucks. Nothing says shopping like a strawberry acai refresher in summer or a pumpkin spicelatte in the fall. Everyone has their favorite seasonal beverage from Starbucks that accompanies their shopping trip.

5. They're all about deals.
Target not only always has something adorable on clearance or sale, but they have an app called Cartwheel that's designed to help you save even more money at Target. They also have a section for items $1-$7, and if that's not saving, I don't know what is.

6. It's clean and professional.
Target is a stickler for store cleanliness, it's always clean. I've never had an issue with going into the bathroom at a Target either, because it's clean. Having a clean store is having a happy store, which makes shoppers happy.

7. Targets are everywhere.
There's always a Target near by, so never fear. Targets are popping up more frequently every where. There's three alone in Berks County, and they're all within reasonable distance.

8. There's everything inside.
Target can be a one-stop shop if you want it to. With Targets containing a pharmacy, a grocery section, and personal care needs, it has everything you'd ever need. Need a new pair of shoes, milk, and shampoo? Target has your back.

9. You never go to Target for just one thing.
Target is a trap, you never go for just ONE thing. You sit in the car, mentally prepared to only buy one item, until you're inside and side tracked by six different cute things on sale and an unnecessary item you definitely don't need, but you don't know if it'll be in stores for long.

If I haven't convinced you yet, you should just go for yourself. I love Target, and I highly suggest it to anyone.