Everyone knows that Leslie Knope and Ann Perkins are friendship goals. The real deal. BFFLs. The two women may have the most genuine, loving friendship in the history of TV. One of the aspects of their girl-power-power-duo that makes them so lovable is Leslie's exceptionally special terms of endearment for Ann. She is compliment queen and always knows how to turn Ann's day around. Perhaps we should all follow Leslie's example and use some of these entertaining and charming compliments.
1. You beautiful, naïve, sophisticated newborn baby.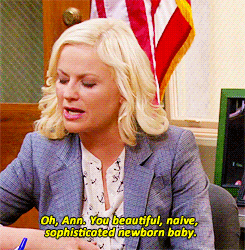 This compliment is perfect for any friend who has just learned how to do something simple, like laundry at age 22, but you love them so much you still feel like they deserve some recognition.
2. You poetic, noble land-mermaid.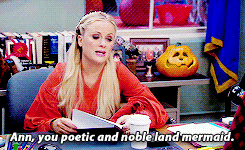 You should definitely say this anytime your BFF gives some awesome advice or is dressed up as Ariel for Halloween.
3. You cunning, pliable, chestnut-haired sunfish.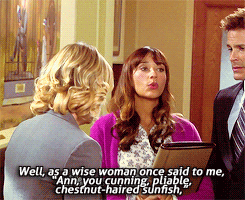 Use this when your pal comes up with a crafty plan, successfully does the splits or has been acting especially marine animal-esque as of late. Or if their hair is brown... That may be the easiest application of this one.
4. You are an opalescent tree shark.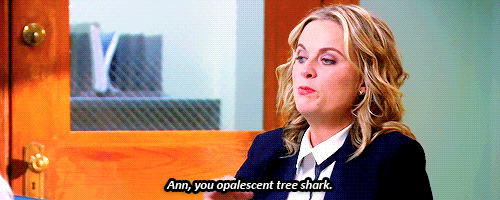 Perhaps the most mystical of all creatures, being called an opalescent tree shark is perhaps the mecca of all compliments. Save this one for someone special. Perhaps the Ben Wyatt in your life.
5. You beautiful tropical fish.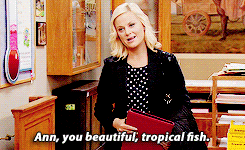 I'm starting to think Leslie has an affinity for aquatic life? Not sure when this one is relevant but I don't think anyone will really complain about being called beautiful. And hopefully, the complimentee will be too confused about the second part to ask questions.
6. You are so brilliant and kind and stupid hot.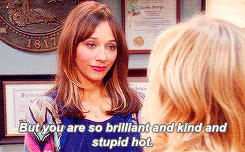 Say this when your bestie is looking fine but you don't want to just emphasize society's beauty standards and want them to know you value them for more than just being "stupid hot."
7. You beautiful, rule-breaking moth.


Use this go-to compliment whenever you want to express your approval of your friends' bad-ass tendencies in a delicate manner.
8. You are a beautiful, talented, brilliant, powerful musk ox.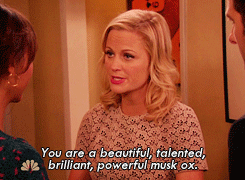 This compliment really just checks all the boxes: specific, unique, loving and incredibly Leslie-like.
9. You have ALL the strengths.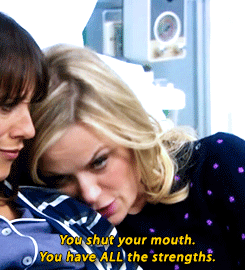 This compliment is perfect for when you want to tell someone how talented and brilliant and wonderful someone is but you just can't find the words to say it. This says it all.