If you were lucky, you may have had one, two, or maybe three teachers in high school that truly made a difference in your life. I was lucky enough to have two very special teachers during my high school career that gave me more than I ever thought possible from a teacher. From my freshman year to my senior year, they were not just my teachers. They were sources of guidance, support, and comfort as well. It is no coincidence to me that the two teachers that left the most significant imprint on me were my music teachers. To Mrs. Silveira- my band, jazz, and theory I teacher; and to Mrs. Caiazza- my musical director, my choir and AP theory teacher, and my advisor, here are six things you gave me besides the lessons you taught me during class.
1. Guidance, when I had no idea what I was doing.
[rebelmouse-proxy-image https://media.rbl.ms/image?u=%2Ffiles%2F2016%2F06%2F26%2F636025182866845792-281068080_635953327723200082722504211_giphy.gif&ho=https%3A%2F%2Faz616578.vo.msecnd.net&s=696&h=d2660f033dc17e06d25bd6c792014a52bf2a93de53d2ee27070c915df3bc456f&size=980x&c=3011747443 crop_info="%7B%22image%22%3A%20%22https%3A//media.rbl.ms/image%3Fu%3D%252Ffiles%252F2016%252F06%252F26%252F636025182866845792-281068080_635953327723200082722504211_giphy.gif%26ho%3Dhttps%253A%252F%252Faz616578.vo.msecnd.net%26s%3D696%26h%3Dd2660f033dc17e06d25bd6c792014a52bf2a93de53d2ee27070c915df3bc456f%26size%3D980x%26c%3D3011747443%22%7D" expand=1]In high school, you don't have everything totally figured out, and sometimes you need a little guidance from someone who's been there, and done that. From trying to make my schedule, trying to figure out how to talk to another teacher, and trying to figure out how to act in difficult situations, you were ready and willing to point me in the right direction when I didn't know where to turn. A guidance counselor? No need. I had you.
2. Endless help/support.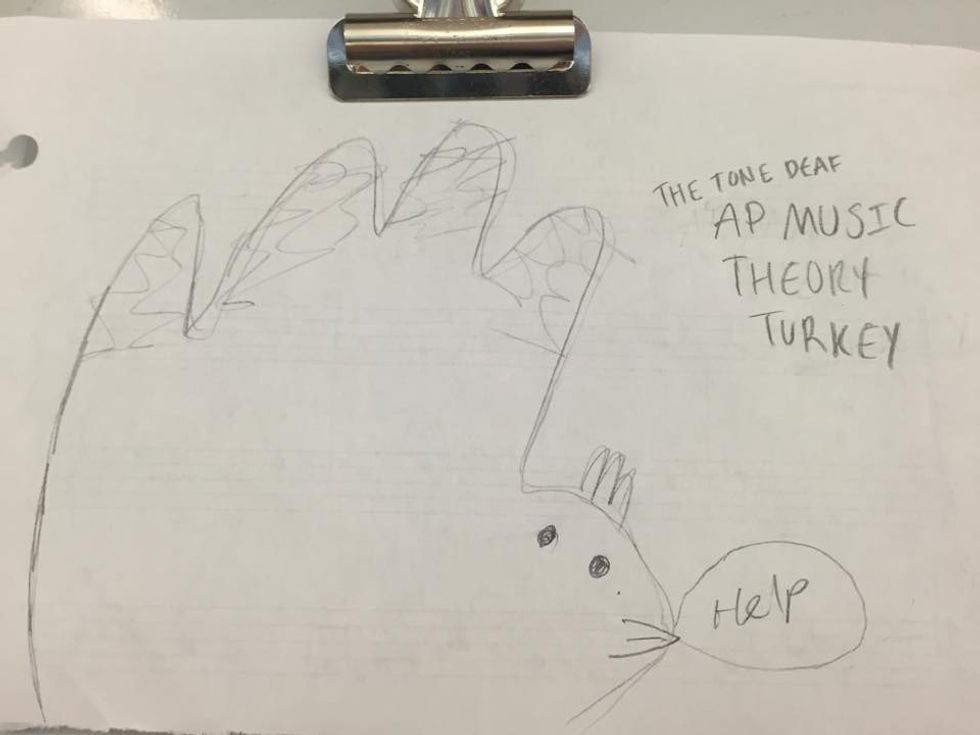 All I needed to do was ask for help and you'd be there to do your best in giving me the help I needed. You always supported me in whatever I wanted to do or try next, even when my senior year schedule was made and you found out you'd see me multiple times a day, every day. I think I only left the music hallway that year for P.E. and English. Other than that, I was just walking back and forth from 130A to the band room next door, all year. You never got tired of me (or maybe you just expertly hid that you were tired of me) and consistently encouraged me to do what I loved. When I needed some moral support for any reason, you were always ready with encouraging words.
3. Inspiration.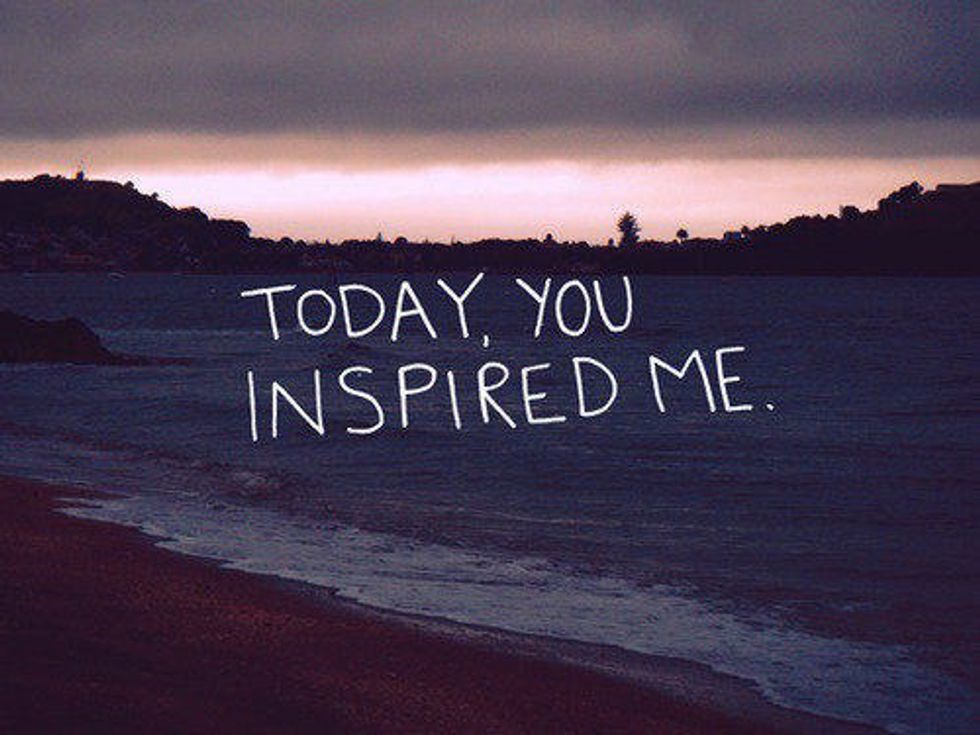 Your musical talent and knowledge inspired me to work harder and go further in my own musical journey. Your dedication and passion continue to inspire me to always put in 110 percent, 100 percent of the time.
4. Opportunity.

From giving us the opportunity to travel and play in places such as Canada and NYC, giving me an excuse to learn a new instrument, to performing in several ensembles at the school and state level, being your student came with opportunities. My personal favourite was being a peer mentor my senior year with two other classmates for the first ever adaptive music class at the high school. Being a part of that class not only strengthened my decision that I wanted to go into music therapy, but it was an opportunity that I'm not sure I could've gotten at any other school.
5. Confidence.
[rebelmouse-proxy-image https://media.rbl.ms/image?u=%2Ffiles%2F2016%2F06%2F26%2F6360252451496411961905737269_tumblr_inline_mooo3mkMtt1qz4rgp.gif&ho=https%3A%2F%2Faz616578.vo.msecnd.net&s=485&h=74ea2087f32d5f02f085b78f22ea62244bcabe51c29f1673e6ac3c9db4cd8d82&size=980x&c=2425500581 crop_info="%7B%22image%22%3A%20%22https%3A//media.rbl.ms/image%3Fu%3D%252Ffiles%252F2016%252F06%252F26%252F6360252451496411961905737269_tumblr_inline_mooo3mkMtt1qz4rgp.gif%26ho%3Dhttps%253A%252F%252Faz616578.vo.msecnd.net%26s%3D485%26h%3D74ea2087f32d5f02f085b78f22ea62244bcabe51c29f1673e6ac3c9db4cd8d82%26size%3D980x%26c%3D2425500581%22%7D" expand=1]
Over the course of my four years at North Kingstown High School, my confidence in my abilities grew immensely. I resented you then when you made me solo in jazz, but now I know I can. In fact, I solo pretty frequently in my college jazz ensemble. When I was given exactly 2 lines in "On the Town" my senior year, I was actually really grateful. Two lines doesn't seem like much, but I'm definitely more comfortable in the ensemble of musicals, and those lines showed me that you believed I could act for at least one minute, so I believed I could, too. When I received awards in jazz, symphonic band, and choir, I was given the confidence I needed to assure myself that I was capable of a career in music.
6. Motherly love.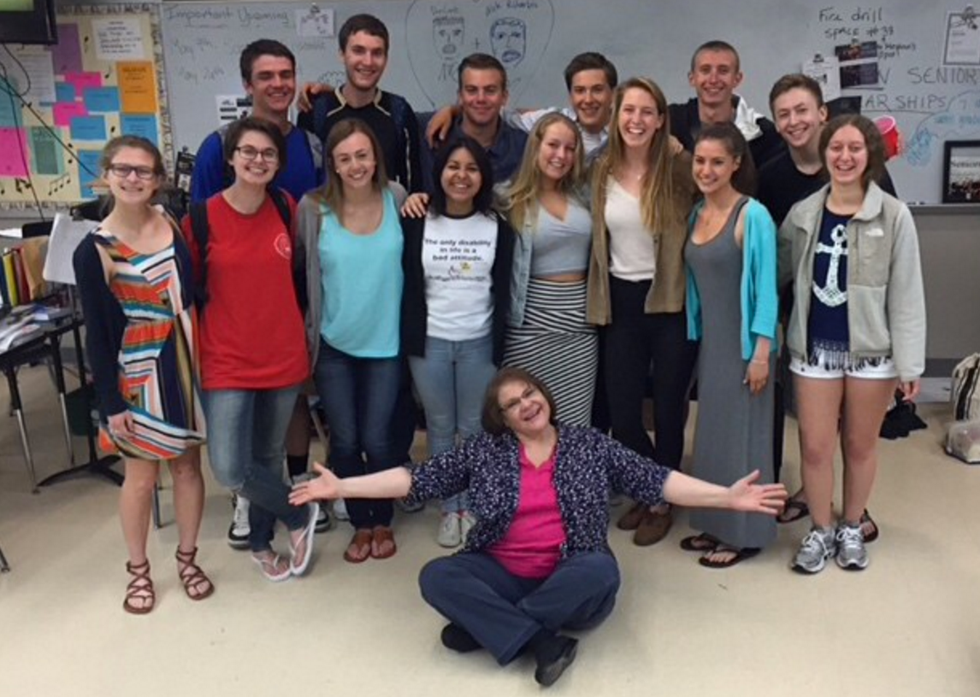 I know that some people think that you need to be very cautious when using the term "love" to describe a teacher/student relationship, but there is no other word to use in this case. You were there for me when I needed to vent about my terrible day, you were there for me when I wanted to share good news with you, and you were there for me when I had bad news. Honestly, I can't even remember the number of times I cried in your office, but you were always right there next to me with tissues, telling me everything was going to be okay. When I was in the hospital and hadn't been able to contact you yet, you asked my closest friends about me because you wanted to know if I was okay. When I finally came back to school, you made me feel as normal as possible. When I thought I could make it through a full day so soon, you let me try, but when I couldn't do it you were there while I cried because I was so frustrated.
To all the teachers who give their students more than just material to learn, thank you. Whether you know it or not, you leave a mark on your students in the best way.