Now, you may think I'm writing this article because Masters week and come to a close and I'm having withdrawals. That may or may not be true, but that's besides the point. My main objective for this article is to share my immense love for pro golfer, Rickie Fowler. I know, I know, I'm a sophomore in college. What am I doing watching The Masters, checking stats, or following the major tournaments of possibly one of the "most boring sports on the planet"? You see, golf is a pretty amazing sport. It requires athletic skill, passion, and determination. But you wanna know the other great thing about it? THE PLAYERS. Golfers have got to have an absurd amount of commitment, drive, and mental focus to do what they do professionally. I definitely have my favorites, but there's one golfer who has taken the cake for me year after year. And that golfer is Rickie Fowler. It may be his looks or his unique outfit choices (c'mon, I'm a fashion minor), but it's also his personality and charisma on the course that makes him a fan favorite. If you don't believe me, here are some examples as to why he's my favorite guy to watch on TV...
1. The Looks.

Ok, ok. You got me. He is a pretty good looking guy. And my oh my has he aged well through the years. Even I wouldn't mind being stuck with a 7:30am tee time if it was with him... and that's saying a lot.
2. The Skill.

[rebelmouse-proxy-image https://media.rbl.ms/image?u=%2Ffiles%2F2017%2F04%2F13%2F636277083347850513351250790_07-20-14-fowler-bunker.gif%3Fw%3D980&ho=https%3A%2F%2Faz616578.vo.msecnd.net&s=203&h=6e1d5cdc08cb57e480d9af0d528c11f3bbbf75c8f58142089c099639dda31bc0&size=980x&c=2021959313 crop_info="%7B%22image%22%3A%20%22https%3A//media.rbl.ms/image%3Fu%3D%252Ffiles%252F2017%252F04%252F13%252F636277083347850513351250790_07-20-14-fowler-bunker.gif%253Fw%253D980%26ho%3Dhttps%253A%252F%252Faz616578.vo.msecnd.net%26s%3D203%26h%3D6e1d5cdc08cb57e480d9af0d528c11f3bbbf75c8f58142089c099639dda31bc0%26size%3D980x%26c%3D2021959313%22%7D" expand=1]

Does anyone remember this shot from the 2014 British Open? The wide stance, half in the bunker, half out. Not the mention that ledge right above him. Well played Rickie, well played.
3. The Sportsmanship.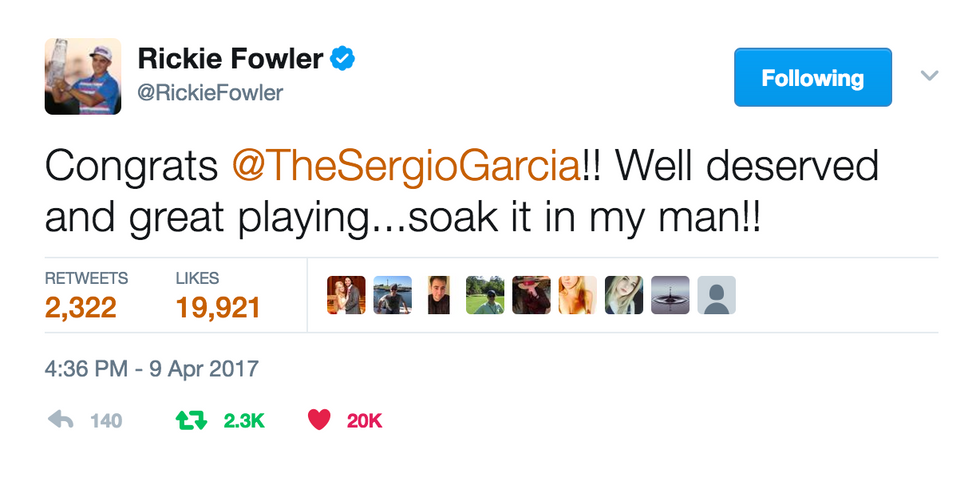 So Rickie had a tough time at the Masters this year. He made a comeback on the second day, where he finished tied for 1st. However, the final day didn't turn out the way he anticipated. Despite the disappointing round, Rickie still congratulated the under-dog, Sergio Garcia, for winning his first major and Masters Tournament. Now that's something to look up to.
4. The Clothing.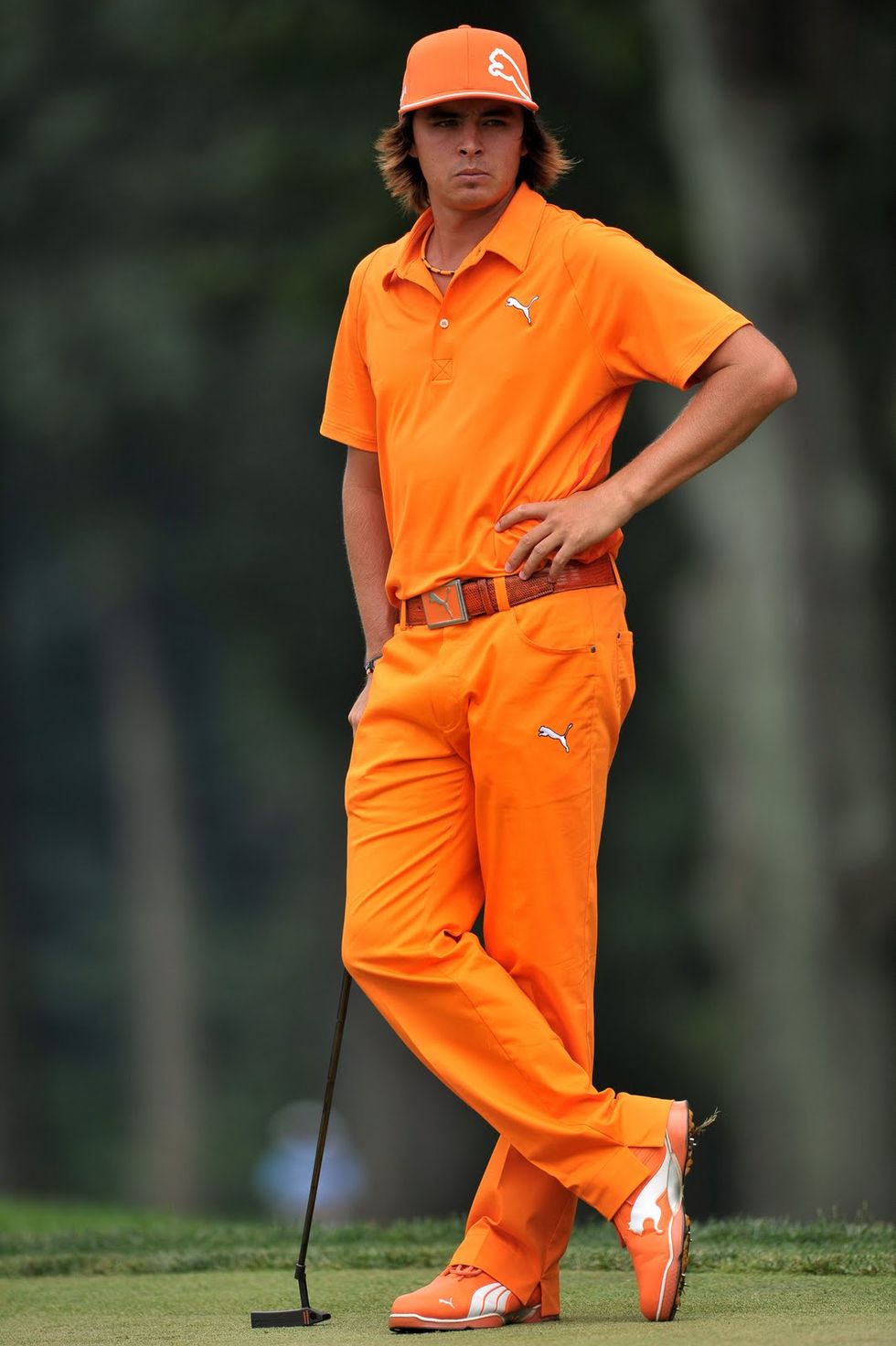 Being sponsored by Puma can definitely have it's perks. Rickie Fowler definitely makes sure he never goes unnoticed with his clothing choices during major golf tournaments. I always appreciate the creativity and self expression.
5. The Friend Group.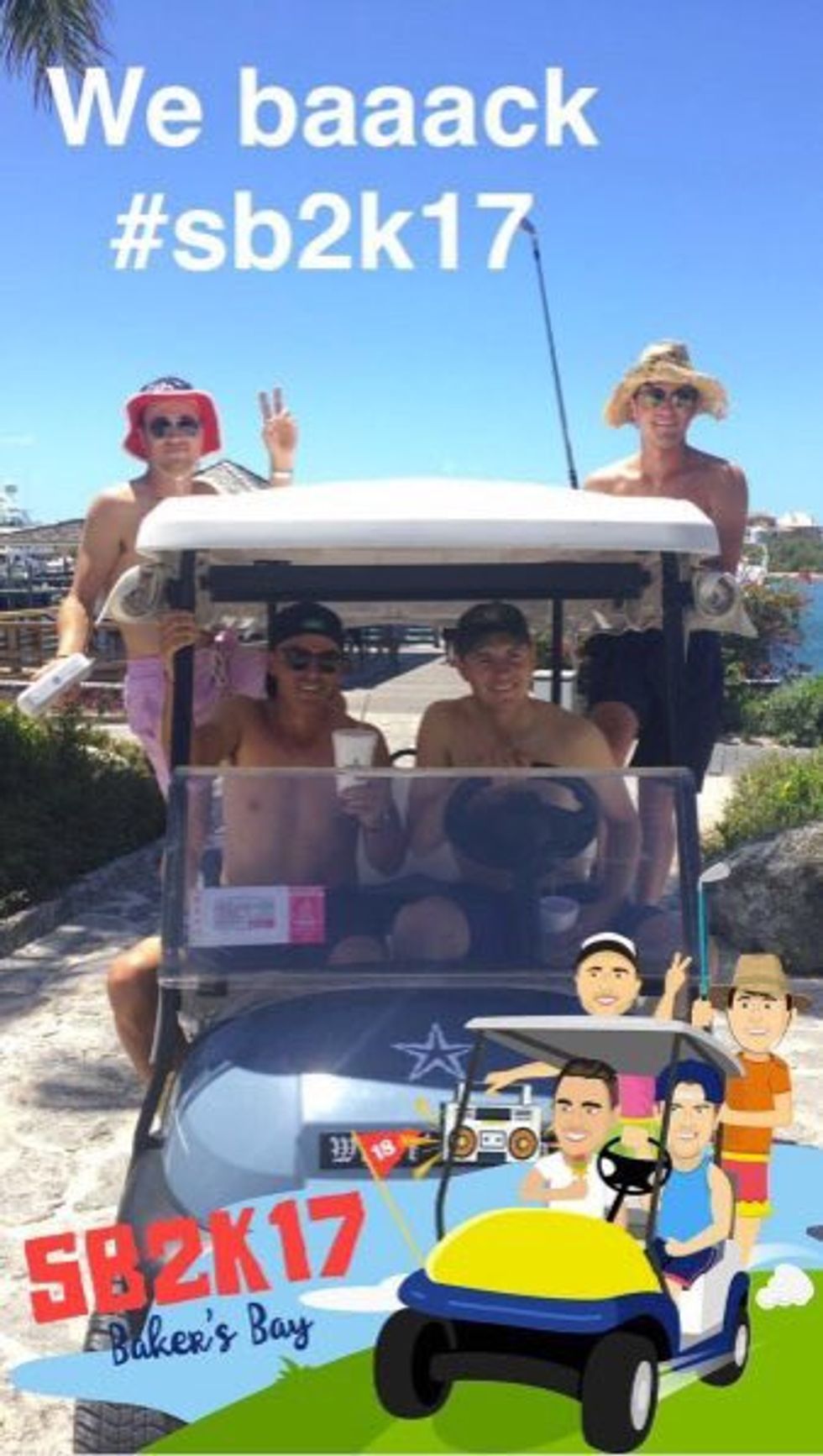 Not only are his competitors the people he plays golf with, but also the people he vacations with! Rickie seems to have a great friend group. Rickie Fowler, Jordan Spieth, Justin Thomas, and Smylie Kaufman are currently in The Bahamas, treating themselves to a relaxing, post Masters, annual "Bro-cation". What are they doing there you ask? Golfing barefoot in swim trunks, of course.
All-in-all, if this doesn't make you love Rickie Fowler more or want to watch the next major tournament, I don't know what will. Keep on grinding Rickie Fowler, we all love watching you!