Throughout my life, I have owned numerous animals: cats, dogs, horses, goats, iguanas, chameleons, and even sugar gliders. However, owning a pig is one of the most rewarding experiences for a pet owner. Currently, I have one micro-mini pig named Lola. Here are a few reasons why they are the best gift you could ever wish for.
1. Pigs are playful!
Pigs can be very outgoing. Many times, my pig would bound after my dog, initiating playtime. Pigs can be full of energy and spend their time running around the yard to play. Some even enjoy playing with toys! Lola enjoys playing with her pink piggy squeaky toy, and rolling around a soccer ball in her pen. While they can be full of energy at times, pigs are also very adventurous animals. They love roaming new land and sticking their noses wherever they can. Pigs of all ages are playful and curious; these are pets that will always provide entertainment to not only themselves, but to you as well.
2. They bring lots of personality!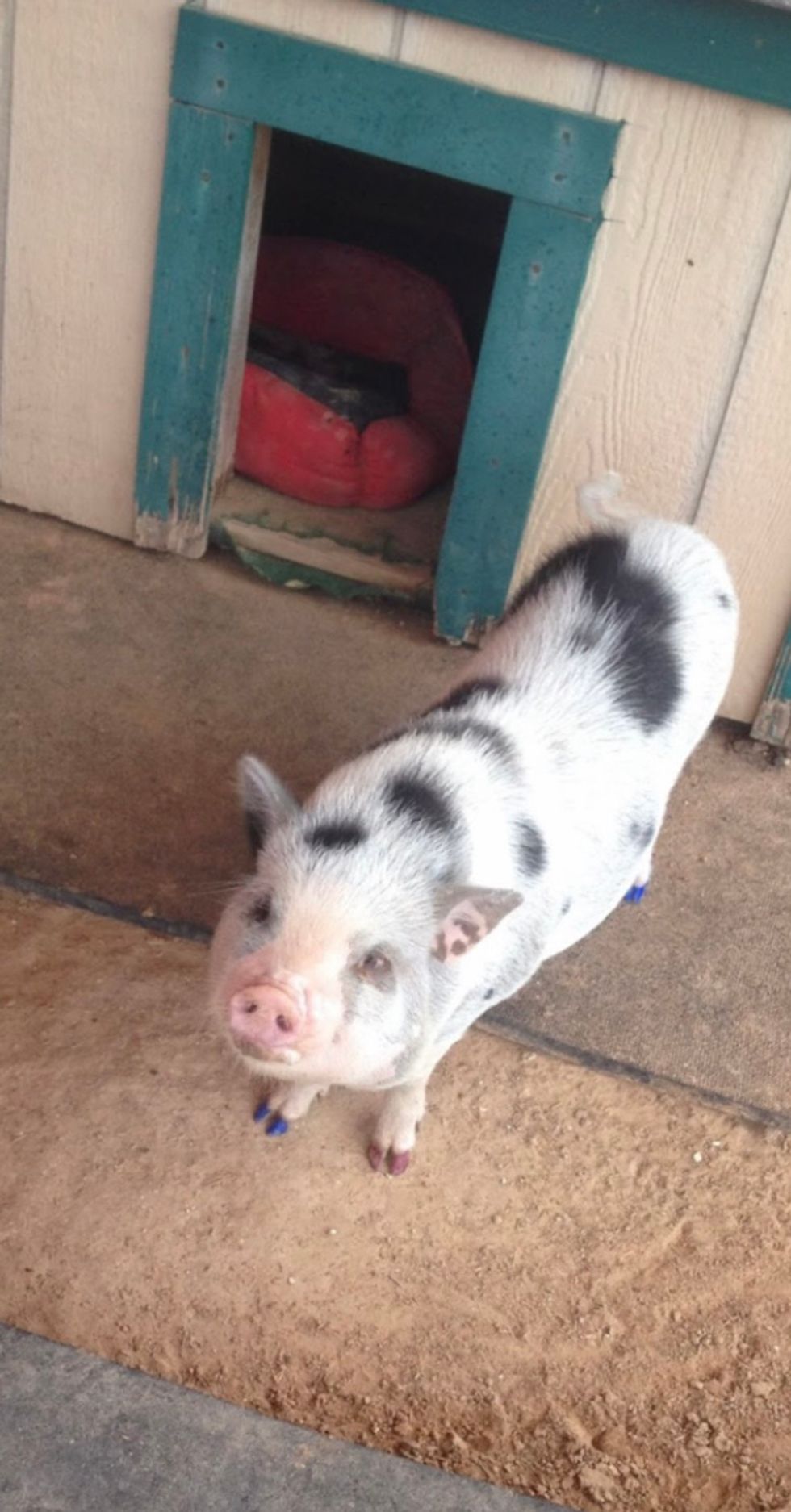 This Little Piggy went to get His Nails done!
Pigs are outgoing and happy animals. Like many animals, they can take on their own unique personality. Pigs can be sassy, confident, or even a little clingy! Raising one from a young age does not ensure you know everything about them, as they grow older, their bright personalities will begin to show! These friendly creatures love to spend time with you. In fact, they wag their tails a lot when their owners are around. Tail wagging means your pig is happy. While tail-wagging is an adorable trait, certain piggies are very talkative! Pigs can bark, squeal, grunt, and pant all as a way of showing their contentment, curiosity, and also to tell you they trust you and love you.
Fun Fact: Pigs will wag their tails to the sound of music. If you start and stop music, you can watch as your pig hilariously follows in tune with their tail!
3. Pigs are smarter than dogs.
One reason why I love my dear Lola so much is that her brain outweighs her body. Pigs are always learning and retaining new information. Research shows that pig's brains are highly cognitively complex, and "share many traits with animals whom we consider intelligent" ("Thinking Pigs"). Pigs can easily be trained. They learn quickly due to their ability of complex problem-solving skills. Pigs easily remember the sound of particular people's voices, as well as recognizing familiar faces as compared to strangers. In my experience, my pigs have shied away from newcomers and run to the "safety" of my family members. My current pig, Lola tends to prefer certain people over others.
4. They are low-maintenance.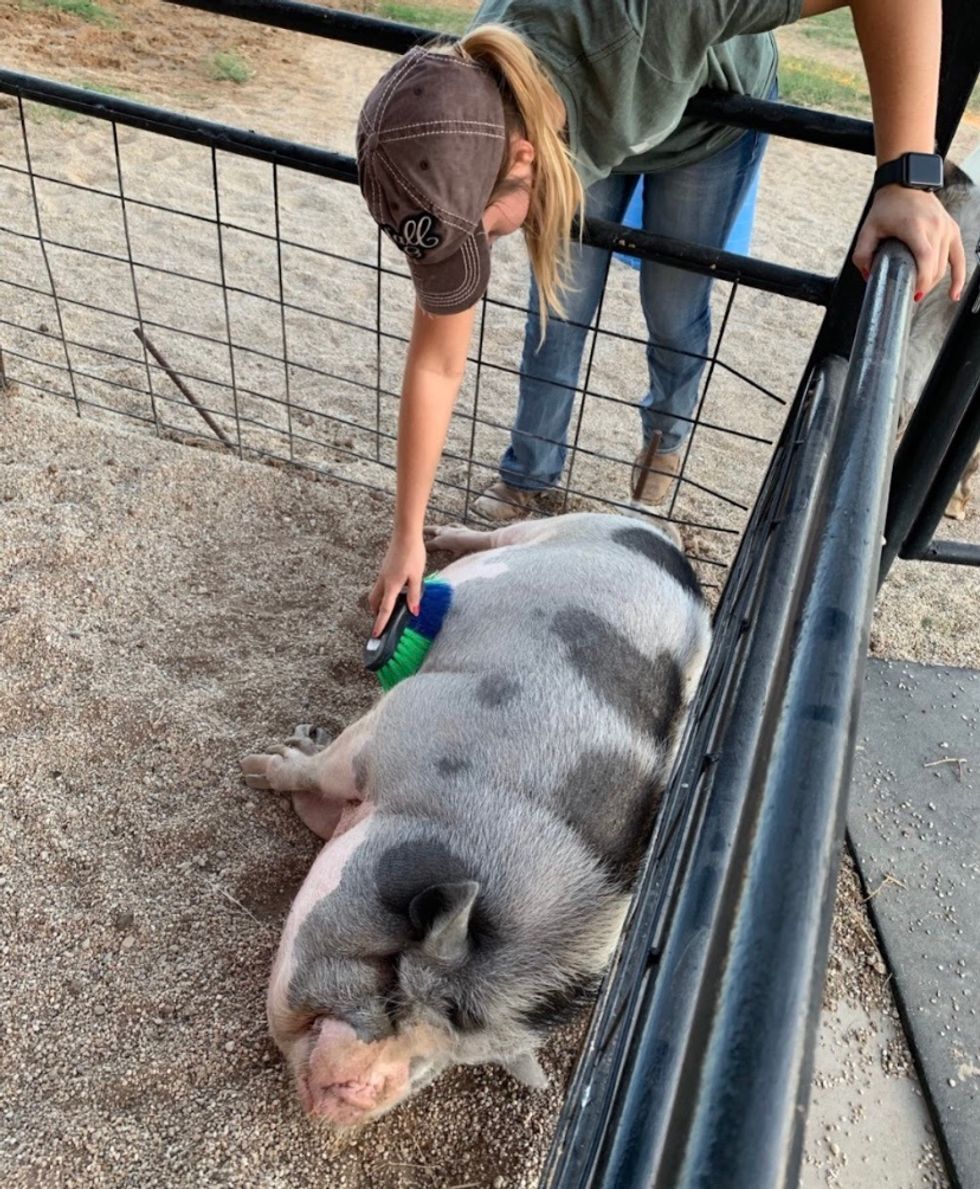 Brie L.
Pigs can pretty much survive on their own. They know how to search for food, and make their own use of their time. However, if you are wanting to keep one as a loyal and friendly pet, then the amount of work to take care of them is very minimal. Pigs need food, water, and some space to wander around. Food is cheap and lasts a while per bag and any area (outside or inside) can work for them!
The most important thing for your pig is to provide them with enough water! When a pig becomes worn out from a day well spent in the sun, it may want to take a dip in the pool! While I do not recommend leaving a pig in a human-sized pool, they always appreciate laying in a shallow kiddie pool. While this is not normally seen by other animals, pigs must have a way of cooling off. Pigs can not sweat, this means they have no way of cooling themselves off and lowering their body temperatures like other animals. That is why it is crucial to provide pigs with several water bowls or a larger area for them to cool off. They can get dangerously overheated due to their inability to perspire, especially in the summer.
5. They are unapologetically adorable.
Lola always blows bubbles in her water. Whether that is intentional or not, it is definitely the cutest thing to see! Pigs are one of the sweetest pets and they love to spend time by your side!

Next time you are searching for a new pet, consider buying yourself a mini pig! They stay small and have the best traits any pet-lover is looking for!