Liz Lemon was a hero to everyone during her reign as "30 Rock"'s queen. While we no longer have new episodes to look forward to, we can remember Liz by binge watching "30 Rock." So, let us reminisce on the amazing thing that Liz Lemon is with these GIFs that describe all of us...
1. When someone takes your food...

2. Trying to act suave...

3. When someone ticks you off...

4. How you feel when you show up to an event that is only serving light appetizers...

5. How you feel about that one friend who never seems to understand but you still love them...

6. When you successfully talk to someone you were crushing on...

7. How you feel when you do something that takes even just a little physical effort...

8. When you don't need any fruit...

9. How you look on every. Single. ID...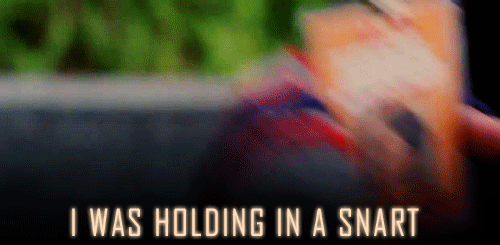 10. Trying to figure out what happened in your half-awake state...

11. When you don't die when talking to someone you have a crush on...

12. When you get emotional...

13. And then the food doesn't help you...

14. When you discover anything that you like...

15. Your "crazy summer adventures" IRL...


16. When things just don't work out...

17. When you realize you really can't drop out of school...

18. And your reaction to that...

19. How your days often end up...

20. When you made a really great joke...

21. When no one laughs at that really great joke...

22. Those moments when your creativity soars...

23. When you try to be sophisticated...

24. When you're the only one who wears a costume to a costume party...

25. Looking back on pictures of yourself in middle school...

26. When you attempt to make a fashion statement...

27. And when no one approves of it...

28. And finally how your "crazy nights out" actually go...