1. St Patrick's Day is Celebrated In Many Different Places

Celebrations can be found in Ireland, United States, Canada, Australia, Japan, Russia, and Singapore.



2. Why Is St Patrick's Day Celebrated On March 17th?

St Patrick's Day is celebrated on March 17th because he died on this day in 461 AD at the age of 79. St Patrick is buried at Down Cathedral. St Patrick's Day has been celebrated since the 9th or 10th century.



3. St. Patrick Wasn't Irish
St Patrick didn't have Irish heritage nor was he born in Ireland. His parents, Calpurnius and Conchessa, were Roman. And It is believed he was born in either the area that would be modern day Britain or Wales or Scotland, but there is quite a lot of debate on this topic.


4. Patrick Wasn't St Patrick's Birth Name
Patrick's real name is Maewyn Succat. He changed his name after becoming a priest. The modern name Patrick comes from the Latin name "Patricius" which means nobleman or father figure.



5. St. Patrick Was A Slave
At 16, St Patrick was kidnapped by Irish raiders who attacked his family's estate. They took him to Ireland where they sold him as a slave. He spent many years herding sheep and learning about the Irish people. It wasn't until he was 22 years old that he was able to escape. He had a dream in which God told him to flee Ireland and where he could find a ship to leave. The trip to the coast was estimated to be a 200 mile walk. Once he got to the coast, be boarded a ship that took him to Great Britain.



6. St. Patrick Returns to Ireland?
While In Great Britain, Patrick had a dream about an angel wanting him to come back and teach the Irish about Jesus. After that he went to a monastery in England where he spent the next 12 to 15 years getting closer to god and studying to become a priest. He later returned to Ireland as a Christian missionary in 433 AD to convert the Irish to Christian and to Minister the already Christians living there. His mission was so successful that St Patrick reportedly baptized 12,000 people all in one day near Killala. The Christian Church of Ireland was even founded by St Patrick. In the United States, there are over 450 churches named after St. Patrick.



7. St Patrick Did NOT Get Rid Of All The Snakes In Ireland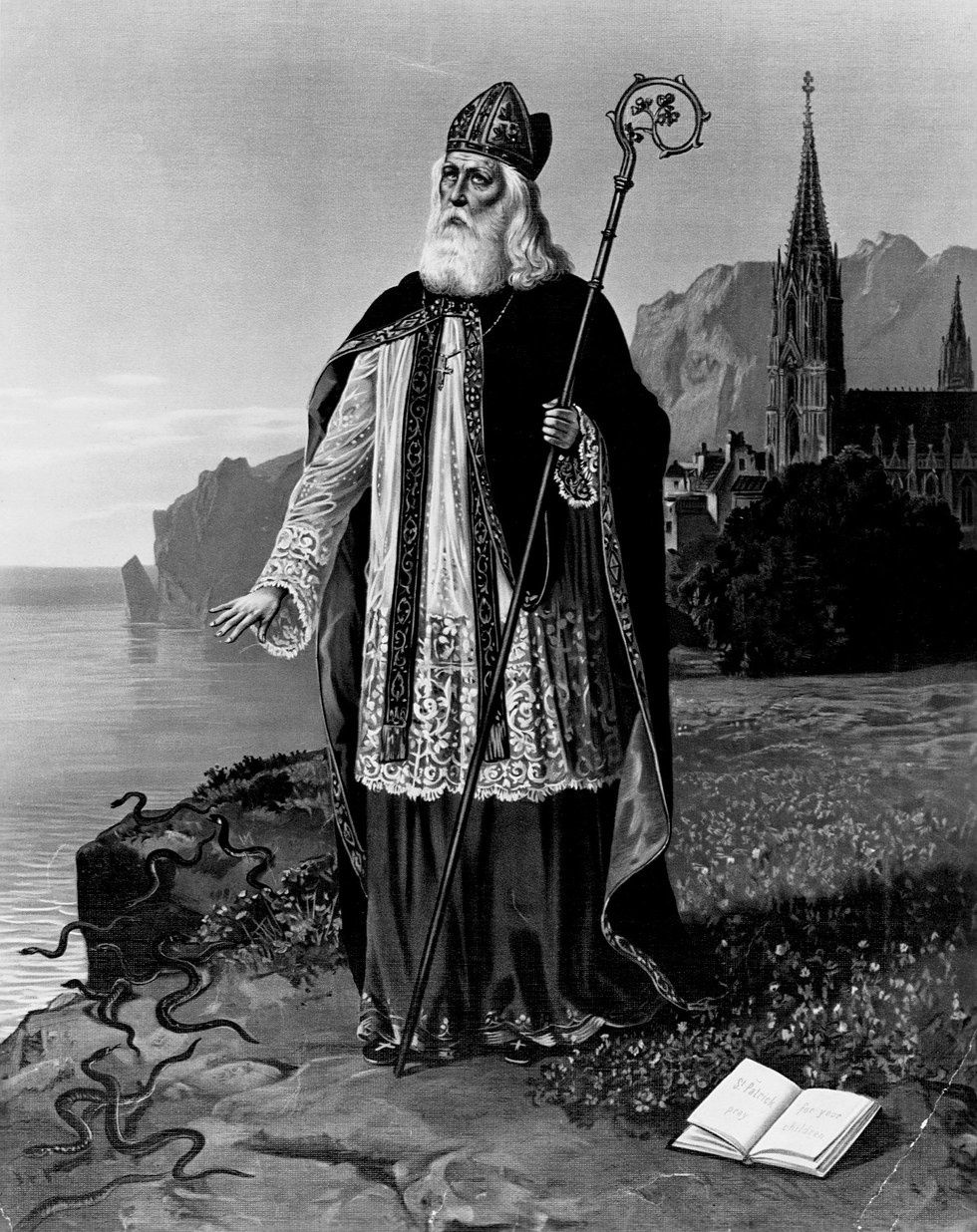 According to fossil records, there is no proof that Ireland ever had snakes. Through the Ice Age, Ireland was too cold for reptiles and in modern times, the surrounding seas keep away any possible snakes trying to invade the area. Snakes were likely a metaphor for converting the pagans/druids into being Christians. St. Patrick spent most of his adult life converting Irish Pagans/druids into Christians.



8. St Patrick's Day Used To Be A Dry Holiday In Ireland
Between 1903 to 1970, by Irish law, all the pubs were shut down for the day because of religious reasons. The law was later overturned when St Patrick's Day was reclassified as a national holiday.



9. St Patrick's Day In Dublin Ireland
In Dublin, they have a multi day celebration with parades, concerts, theater productions and fire works. Around one million people attend this celebration each year.



10. Irish In America
About 34 to 36 million American's have Irish ancestry. Of those millions, only around 144,588 people were born in Ireland. Irish is the second most reported ancestry in the United States. The first one is German.



11. St Patrick's Day Parades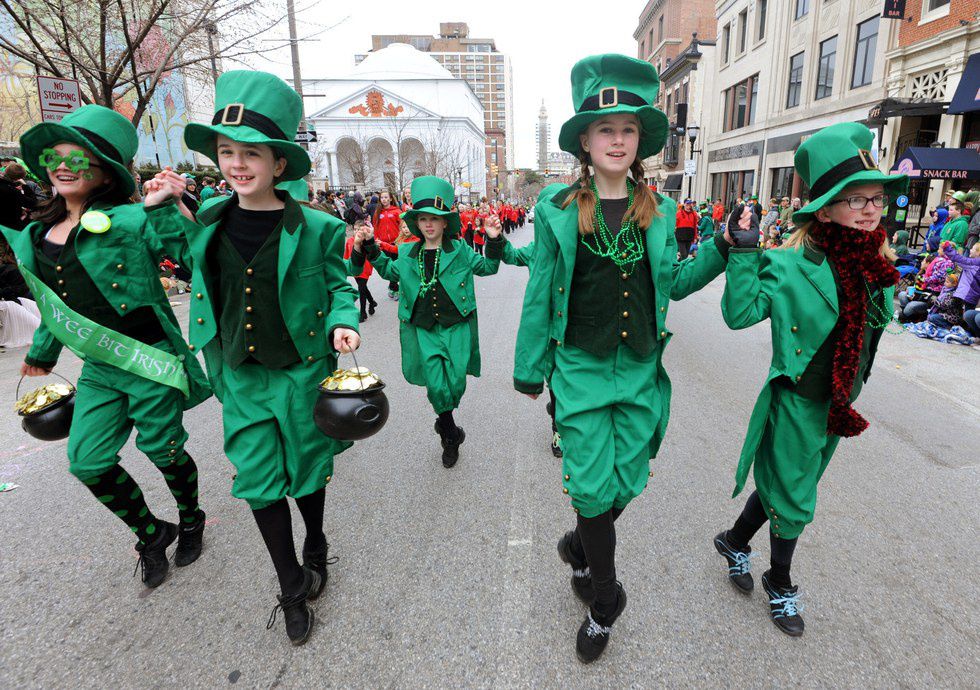 The first St Patrick's Day parade was in Boston in 1737. Another early St Patrick's Day parade was in 1762 New York. Irish Soldiers serving the English Military marched down the street to Irish Music. Along with the music, the parade helped the soldiers reconnect with their Irish roots. In 1846, several Irish aid societies in New York decided to unite their parades to form one official St Patrick's Day parade in New York. In 1948, President Truman became the first president to attend a St Patrick's Day Parade when he attended the New York St Patrick's parade. Today, its the largest St Patrick's day Parade in the United States. There is between 150,000 and 250,000 participants in the parade and nearly 3 million people watching every year.
Other big parades in the United States are in Boston, Chicago, Philadelphia, and Savannah. These parades normally have between 10,000 to 20,000 participants in the parade.The biggest St Patrick's Day parade in Maryland is in Baltimore. The parade is held the Sunday before St Patrick's day and has been a tradition since 1856. It starts at the Washington Monument and goes to the Market Place in the Inner Harbor. There is also a Shamrock 5K that is held before the parade begins.
While It St patrick's day parades have been a tradition in the United Sates for a long time, it wasn't until 1931 that Dublin had its first St Patrick's Day parade. From 1999 to 2007, the Irish village of Dripsey hosted the shortest St Patrick's parade in the world. The route ran 26 yards between two pubs. Today, Hot Spring Arkansas claims to have the shortest St Patrick's parade at only 98 feet.


Boston St Patrick's Parade 2016
New York St Patrick's Parade 2016
Baltimore St Patrick's day Parade 2009
St Patrick's day in Baltimore 2015
Dublin St Patrick's Day Parade 2016



12. Green River?
Chicago dyes their river green for St Patrick's Day every year since 1962. Originally, city pollution control workers used to use dyes to trace illegal sewage discharges but they soon realized that it might be a fun and unique way to celebrate the holiday if they made the whole river green. The way they get their river green is with 40 tons of a vegetable dye.
Dyeing the Chicago River green 2016


13. Shamrocks
The Shamrock was called "seamroy" by the Celts. To them, the plant symbolized the rebirth of spring. St Patrick used shamrocks as a way to teach about god. Shamrocks have 3 leaves which he used to represent the Christian holy Trinity; the father, the son, and the holy spirit. Since then, shamrocks have become a iconic symbol for St Patrick's day. Another interesting tradition is that every year, the Irish leader hands over a crystal bowl full of shamrocks to the USA President.



14. Leprechauns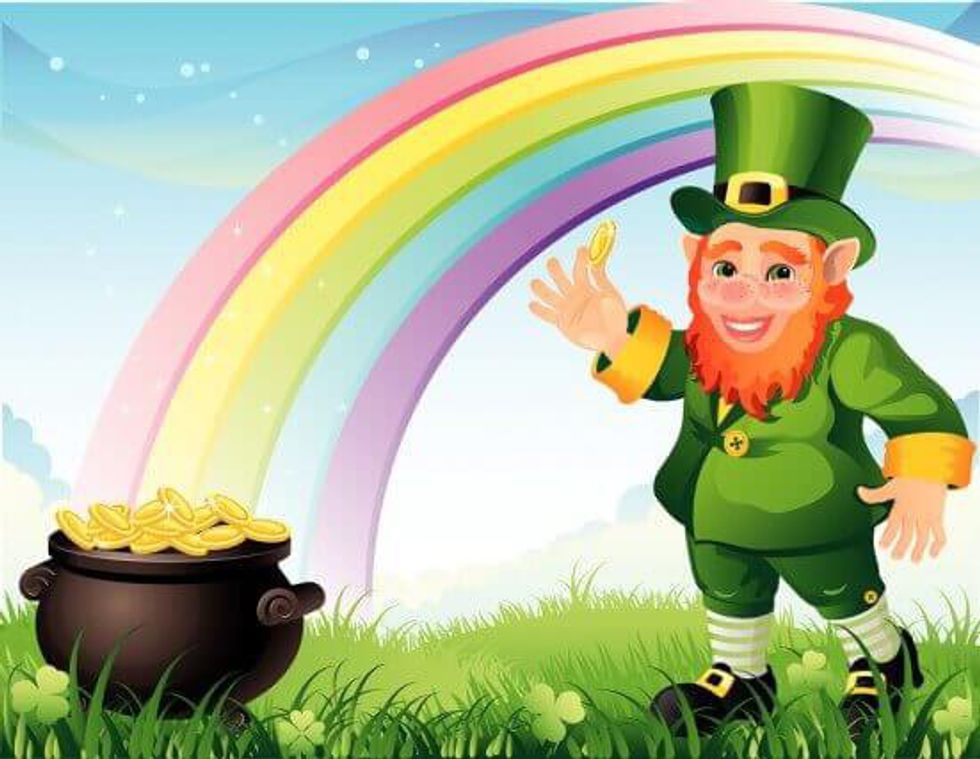 The Irish name for leprechauns is "lobaircin" which means "small bodied fellow". Leprechauns earn their gold by making and fixing shoes. Its hard work so you can't really blame them for being territorial about their pots of gold. Leprechauns don't actually have any direct relationship to St Patrick. The reason they became so popular as a symbol of this holiday is thanks to a 1959 Disney Movie called "Darby O'Gill And The Little People" which had an Americanized version of leprechauns.



15. Wearing Green
In the United States, if you don't wear green on St Patrick's Day you might get pinched. Its such a common tradition over here that around 83% people wear green for this day either as celebration or to avoid getting pinched.
Bart forgot to wear green - Simpson's Clip



16. Wearing Orange?
Some people choose to wear orange for St Patrick's Day to show unity with the protestants in Ireland.
Catholic vs Protestants St Patrick's day - Simpsons clip
17. Green Wasn't Traditionally A St Patrick's Color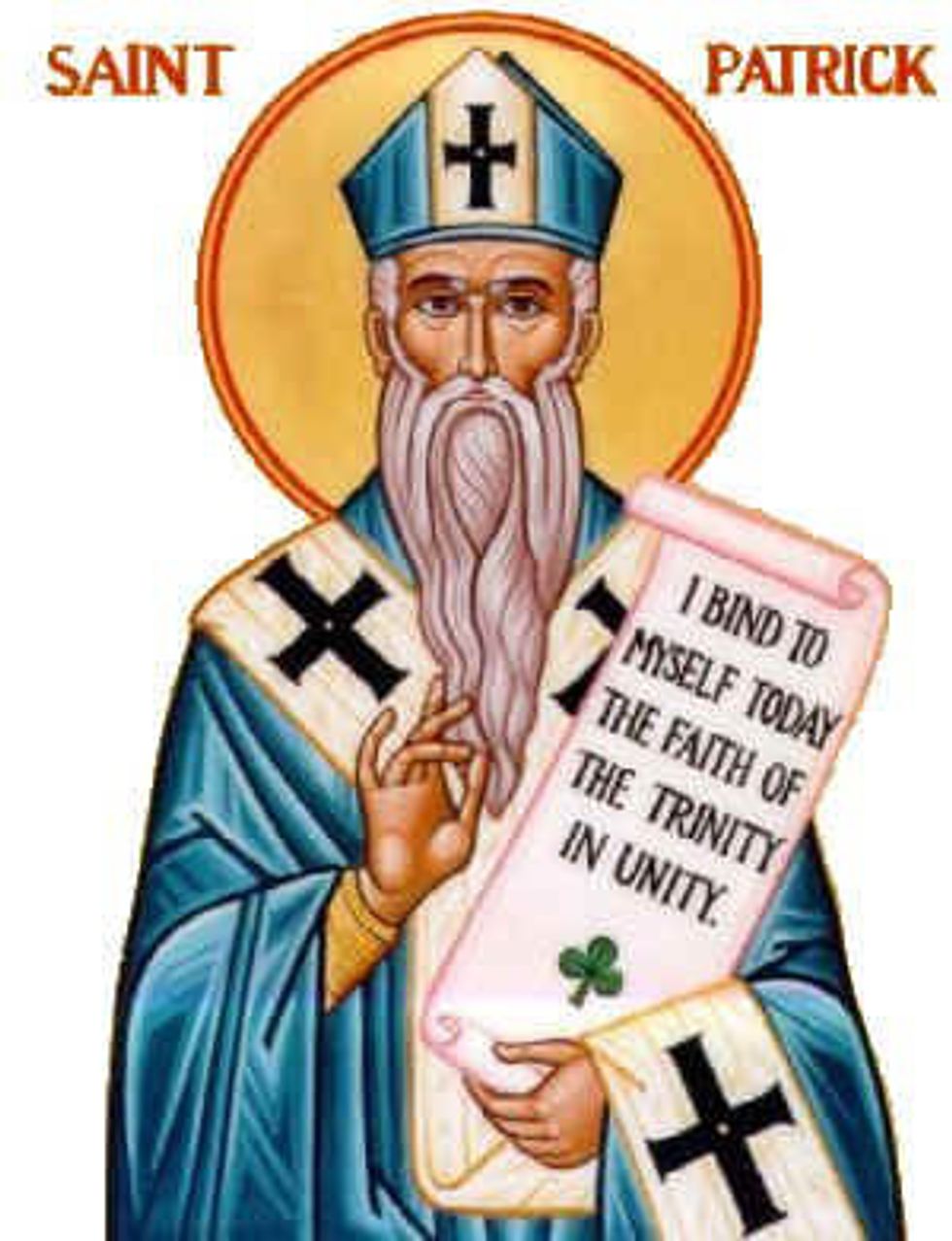 The knights in the Order of St Patrick wore blue. Green as a St Patrick's Day color likely comes from the 18th century when the supporters of the Irish Independence wore green to represent their cause. Another reason might just because of Ireland's iconic green countryside.


18. Feast Day Of St Patrick
Feast Day Of St Patrick is an alternative name for St Patrick's Day because this holiday takes place during Lent. But during this day people are excused from their dietary restrictions to feast. Corned beef, pork, cabbage, potatoes, Irish Stew, Shepherd's pie, Irish Soda Bread, and Irish potato cakes have become some commonly eaten food on St Patrick's day along with green dyed food, and shamrock shaped sweets. In the United States 34% of the population eats a special "Irish" dinner for St Patrick's day.



19. The Shamrock Shake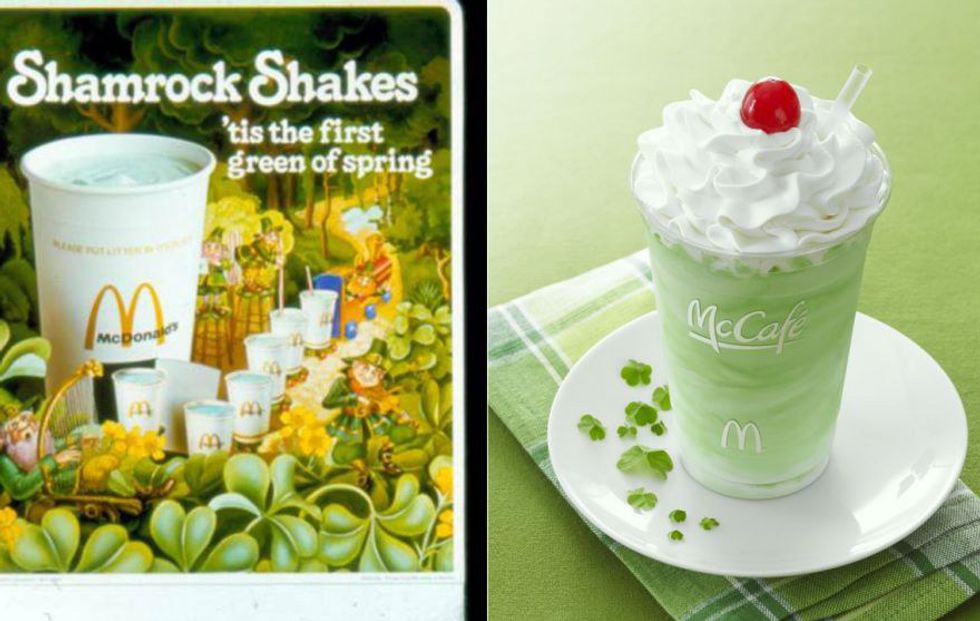 The shamrock shake, originally introduced in 1970 by McDonald's, was invented by Rodger Merchandising in Chicago. Originally the shake was lemon lime flavor with vanilla ice cream or lemon lime sherbet with vanilla syrup. However, it was changed to just a vanilla shake dyed green in 1973 and has been that way since. In 1980 you could buy a Shamrock Sundae at McDonald's which was green ice cream with mint green syrup. It was discontinued after one year due to poor sales. This year there is a chocolate version of the shamrock shake, a shamrock mocha, and a shamrock hot chocolate that have been released to enjoy along side the original Shamrock Shake that many of us have come to love. Shamrock Shakes are available in all American McDonald's and some Canadian McDonald's from February to March as well as Ireland.



20. St Patrick's Day At Other Restaurants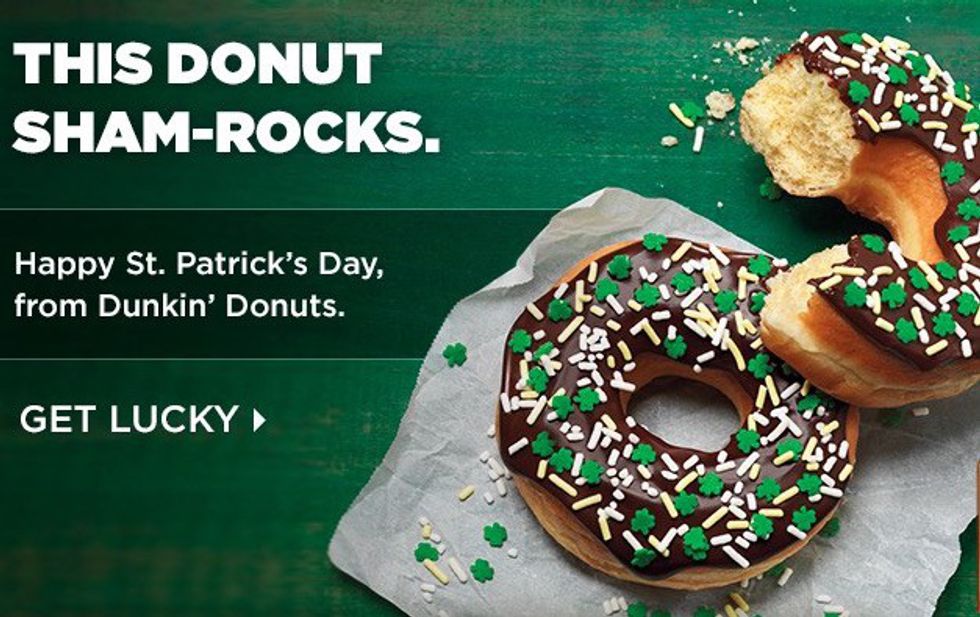 Panera Bread - Irish Soda bread (March 15th to March 18th)
Dunkin Donuts - Shamrock Sprinkles Donut
Burger King - Oreo Mint Shake
Arby's - Mint Chocolate swirl shake
21. Alcohol
Around 13 million pints of Guinness is consumed on St Patrick's Day worldwide.A popular Irish toast on St Patrick's day is "may the roof above us us never fall in, and may we friends beneath it never fall out.



22. Boston
On March 17 1776, orders given by General George Washington proclaimed that anyone who wishes to pass through the continental army lines have to give the password "Boston". The reply to that should be "St Patrick".



23. Unstoppable Racer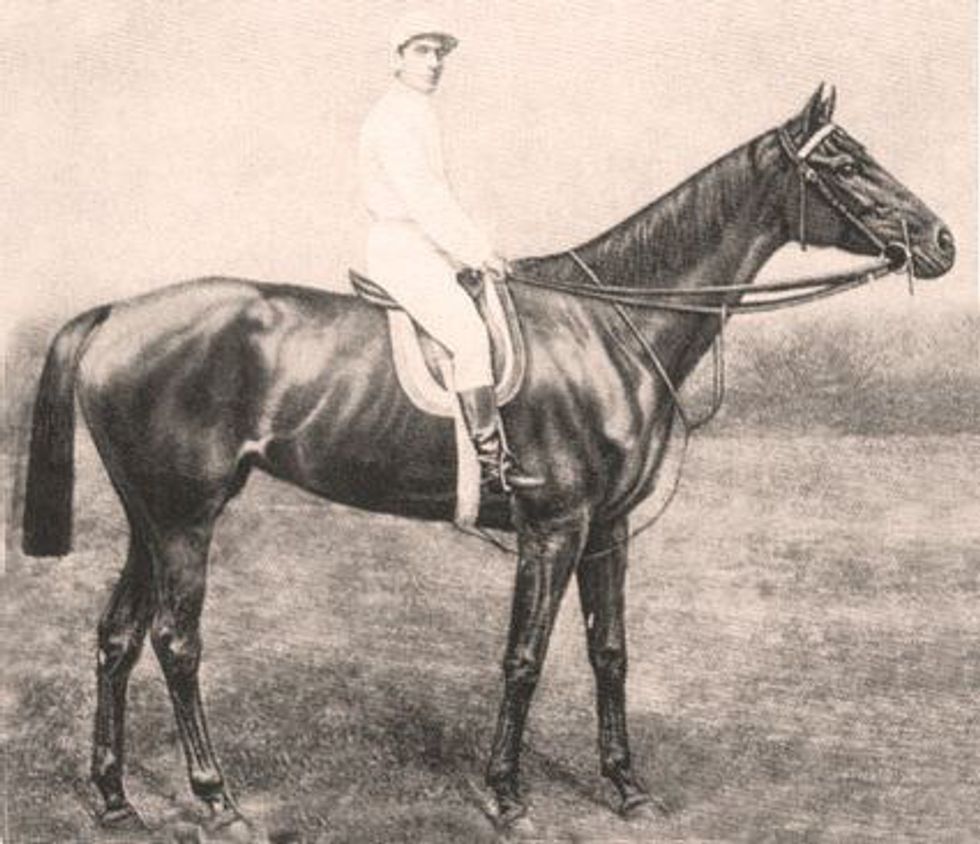 In 1874 a horse named Kincsem was born. So whats the big deal about this horse? She never lost a race! Kincsem won 54 races in total before retiring from racing at age 7. Strangely enough, Kincsem also died on a St Patrick's day. She passed away on March 17th 1887 at the age of 13 from a Colic attack shortly after giving birth to her last foal. She had 5 foals and 3 of which went on to become champion racers.



24. Birth Of A Killer
In 1942, serial killer John Wayne Gacy was born in Chicago Illinois. During childhood, he was beaten and yelled at and belittled by his father often. His father would even go so far to sometimes beat him until he was unconscious. He didn't have many friends, was bullied at school, couldn't play sports because of health conditions and suffered from seizures and black outs which put him in the hospital. It is estimated that between ages 14 to 18 he spent almost a year in total time in the hospital. John was also molested by a family friend who would take him out for rides in his truck and touch him inappropriately.
As a young adult, John left home to go to Las Vegas where he found work in the ambulance service before being transferred to work as a mortuary attendant. As attendant, John observed morticians embalming the bodies. During one of the moments, Gacy climbed into the coffin of a dead teenage boy and embraced and caressed the body. In shock at what he did, he returned home to Chicago the next day. Once back home he enrolled in the Northwestern business college despite never having graduated for high school. John Gacy graduated in 1963.
He later go though two unsuccessful marriages, and jail twice for sexually assaulting, torturing and killing 33 boys. After his second marriage, Gacy got involved in politics and volunteer work. in late 1975 joined a clown club called the Jolly Jokers. This group would regularly go to fundraising events to preform as well as went to hospitals to entertain the children. John had two clown characters; Pogo and Patches. He performed as his clown character at local parties, democrat party functions, charity events and children's hospitals.
While Gacy sexually assaulted minors in the past and served jail time for it, it was in the 1970's that he began to murder his young victims and at much higher rates. On December 22nd of 1978, John Gacy confessed to his crimes. John Wayne Gacy was executed on May 9th or 1994. Hid death was recorded at 12:58 am on May 10th.



25. Other Famous March 17th Birthdays
In 1951, Scott Gorham was born in California. At 13 he began his music career by learning bass guitar and joining several local bands; The Jesters, Mudd, and The Ilford Subway. In 1968, after a close friend and band member died in a motorcycle crash, Scott switched to guitar. In 1973, Scott Gorham moved to England with friend and bandmate Bob Siebenberg. He was unable to find work so he played in pubs before starting his own band Fast Buck. In 1974, music acquaintance Ruan O'Lochlainn convinced Scott to attend auditions held by Phil Lynott, Thin Lizzy's primary song writer and one of the band founders. Upon joining Thin Lizzy, Scott took on the role of guitarist and songwriter. He played for Thin Lizzy until they broke up in 1983. After Thin Lizzy's break up Scott Gorham joined phenomena II where he met Leif Johansen and together they formed 21 Guns fallowed by 3 making albums. Scott also played with Asia, The Rollins Band and Supertramp. In 1996 Scott Gorham reformed Thin Lizzy with old band mates and went on various tours. In 2012, Scott co-founded a Thin Lizzy spin off band called Black Star Riders. They currently have 3 albums with the newest one being released in February of 2017.


March 17th 1964, Rob Lowe was born in Virginia. Rob is known for his acting roles in The Outsiders, St Elmo's Fire, The West Wing, Brothers & Sisters, and Parks and Recreation along with many other movie and tv projects. Rob is currently the voice of Simba on The Lion Guard and plays the part of Dr Ethan Willis on Code Black. As for movies, Rob Lowe played Rick in How Ro Be A Latin Lover which will come out on April 28th on this year. Rob also has a part in Super Troopers 2 which is currently still being filmed.


In 1979 Nicole "Coco" Austin was born in California. At 18, Coco began swimsuit, lingerie, and body modeling for calendars, catalogs, and videos. In 2001, she began working events and parties at the Playboy Mansion. Coco has also appeared in low budget R rated films, Southwest Babes, Desert Rose, and the Dirty Monks. In 2002 she married rapper Ice-T. On June 24th, was was on Celebrity Family Feud with her husband. They played against Las Vegas's Peepshow. From June 2011 to February 2014 Coco and Ice-T stared in the reality tv show Ice Loves Coco. On November 28 2015, Coco gave birth to their first kid. They named her Chanel Nicole Marrow. Coco also started the clothing line known as Licious.



26. Famous St Patrick's Day Weddings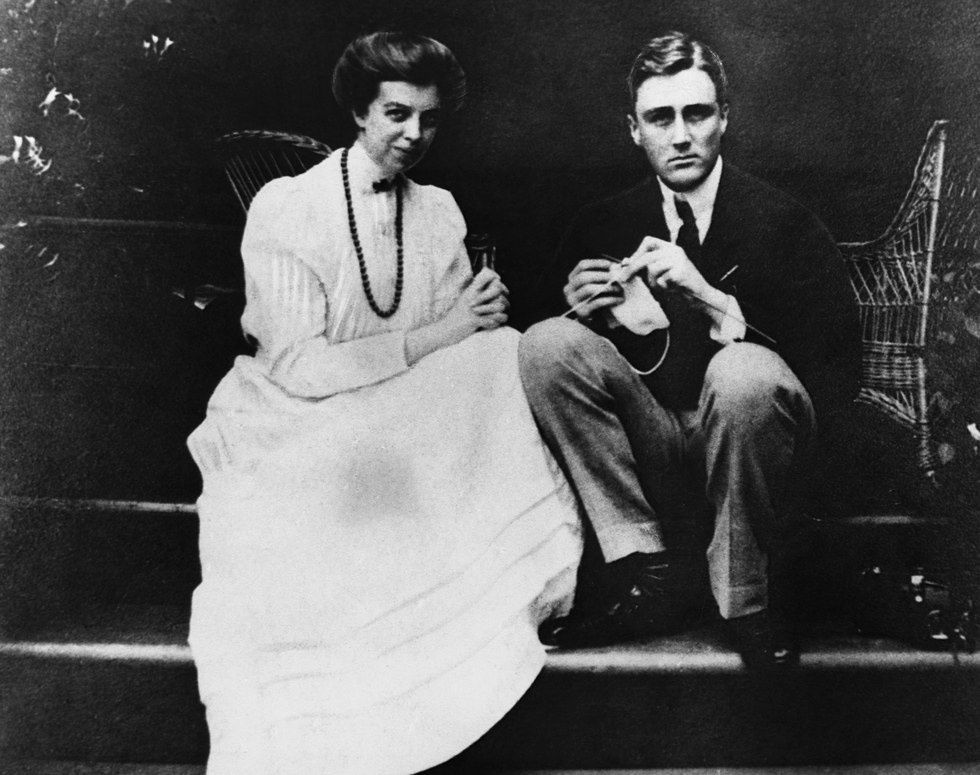 1905 - Eleanor Roosevelt (20) marries Franklin D Roosevelt (23) in New York. Despite the last name matching, they were not closely related. Franklin was her dad's 5th cousin. Another interesting fact about this wedding is that her uncle, Theodore Roosevelt, aka the 26th president, gave her away at the wedding. Eleanor's father was a heavy drinker who was confined in a sanitarium. He died in 1894 from a seizure after jumping out a window during a delirium tremens fit. So since her dad was dead, Eleanor's uncle took his place. When ask about the marriage by the press, Theodore Roosevelt said "It is a good thing to keep the name in the family.". It was honestly not the best marriage for either of them for many reasons but, it was a lasting one.
There were problems basically from the start. Eleanor's mother in law, sara, was controlling of the house and the raising of Eleanor's children. Sara even told her grandchildren that "your mother only bore you, I am more your mother than your mother is."
In 1918, despite birthing 6 of his kids, Eleanor found out that Franklin was cheating on her with her social secretary Lucy Mercer for 4 years. He was planning on leaving his wife for Lucy but his mother promised to disinherit her son if he did so so he stayed married to Eleanor and promised not to see Lucy any more. And in turn, Eleanor stayed by his side but it was hard to be a wife with what she knew. They formed a political partnership style of relationship and continued to stay with him even though his polio.They cared for each other but the love was gone. In fact, they both cheated on each other. In 1941 or maybe earlier, Franklin began seeing Lucy again. This was arranged by Franklin'd daughter Anna. But Lucy wasn't the only side girlfriend. According to his son Eliot, Franklin had a 20 year affair with his secretary Marguerite Missy LeHand. And its also quite possible that he had a relationship with Princess Martha of Sweden who lived in the White house during the second world war. Aides at the time referred to her as "the president's girl friend". As for Eleanor, in 1933 she wore a sapphire ring given to her by Lorena Hickok, a possible lesbian lover, to Franklin D Roosevelt's presidential inauguration. While its debatable if the relationship was sexual, there are many letters that back up the claim that it was. There might also have been a few guys that Eleanor had a romantic attraction to but most of them are believed to just be close friendships.
Despite all this hidden drama, the United State's 32nd president along with first lady Eleanor accomplished many good things over his four terms as president. Eleanor was a big supporter of African American rights. Franklin created 140 national wildlife refuges, 29 national forests, and 29 national parks to help preserve the environment. Franklin also established the Fair Employment Practice to fight against racial, and religious discrimination in the workforce. And it was Franklin who repealed prohibition, brought Us through the great depression as well as the second World War. FDR passed during his fourth term. It is now law that all presidents can now only serve two terms.


In 1961, actor and musician Christopher Lee (38) married former model, painter and actress Birgit Gitte Krøncke (25 or 26). They had a daughter together; Christina Erika Carandini Lee and were together until Christopher's death in 2015.


1966, The Who's drummer Keith Moon (19) marries model Kim Kerrigan (18) at Brent Registry Office. Kim and Keith started dating in January of 1965 and by the end of the year, Kim found out she was pregnant with Keith's child. Kim gave birth to their daughter Amanda on July 12th of 1966. Keith kept his marriage and child a secret from the press until 1968. Keith loved her but was occasionally violent with her due to jealousy. If people talked to Kim while they were out together he would get very angry at her, and they would leave to fight at home. In 1973 Kim left her husband due to his uncontrollable destructive habits of alcohol, drugs, and destructive partying life style that he is now well known for as well as reckless money spending. Kim was convinced that nobody could control him and when she left, she took Amanda with her. Kim sued Keith for divorce in 1975.


More recently, on St Patrick's day in 2001, former NFL Football Quarterback Payton Manning married Ashley Thompson in Tennessee. On March 31st 2011, Ashley gave birth to twins; Marshal Williams and Mosley Thompson.