Summer is ending, and that means one thing: Halloween costume planning time! Fall is fast approaching, so here's a list of costumes for you and your best friend(s)!
1. Franzia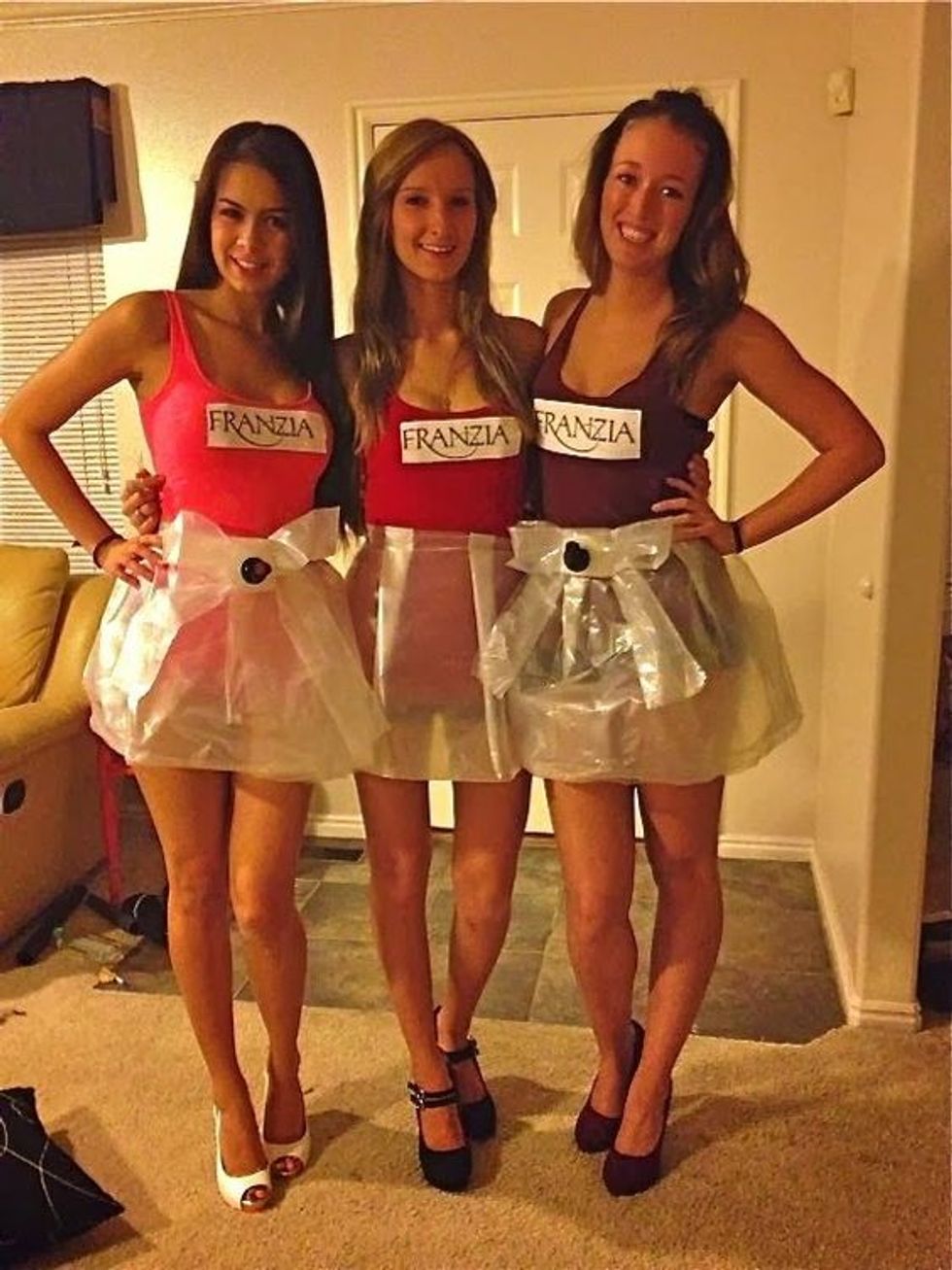 Who wouldn't want to be a box of wine? This costume has no limit on how many people can be involved, which is nice. And you have an excuse if you get messy.
All you'll need are colored dresses, skirts, the label, and the bags from boxes of Franzia. Now you and your friends can wine all night!
2. Andy and Ollie from "Bob's Burgers"
This one is very near and dear to my heart. If you like Bob's Burgers, Andy and Ollie are actual couple goals. If you and your best friend are basically the same people, this is the costume for you. One of you dresses in green, and the other in blue, and you repeat each other all night.
3. Party animals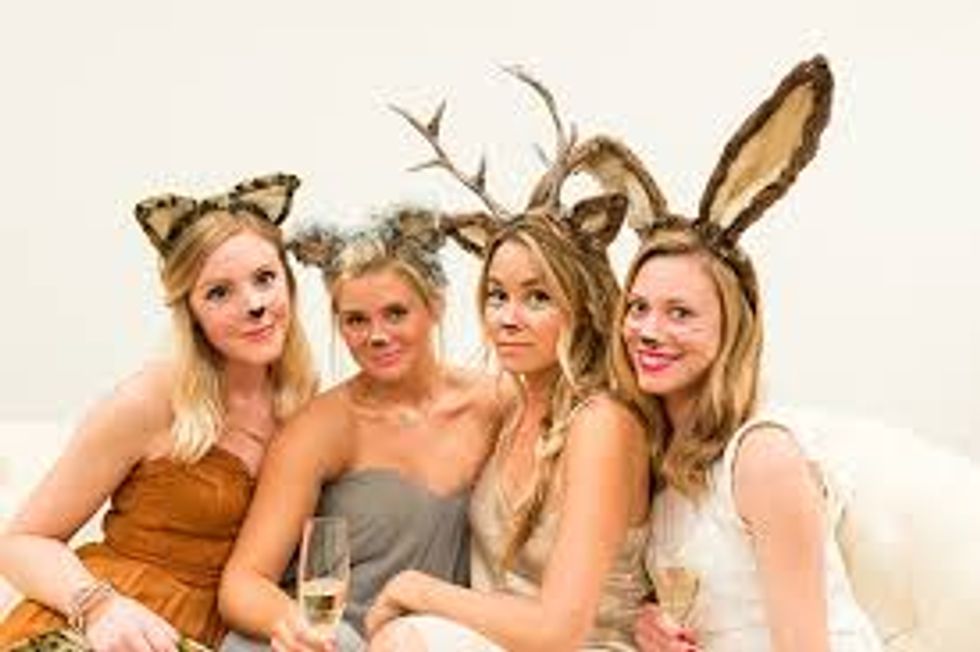 Because isn't this what you are anyway? Grab a dress and a party hat, then try your hand at whatever kind of animal makeup you want!
4. Catdog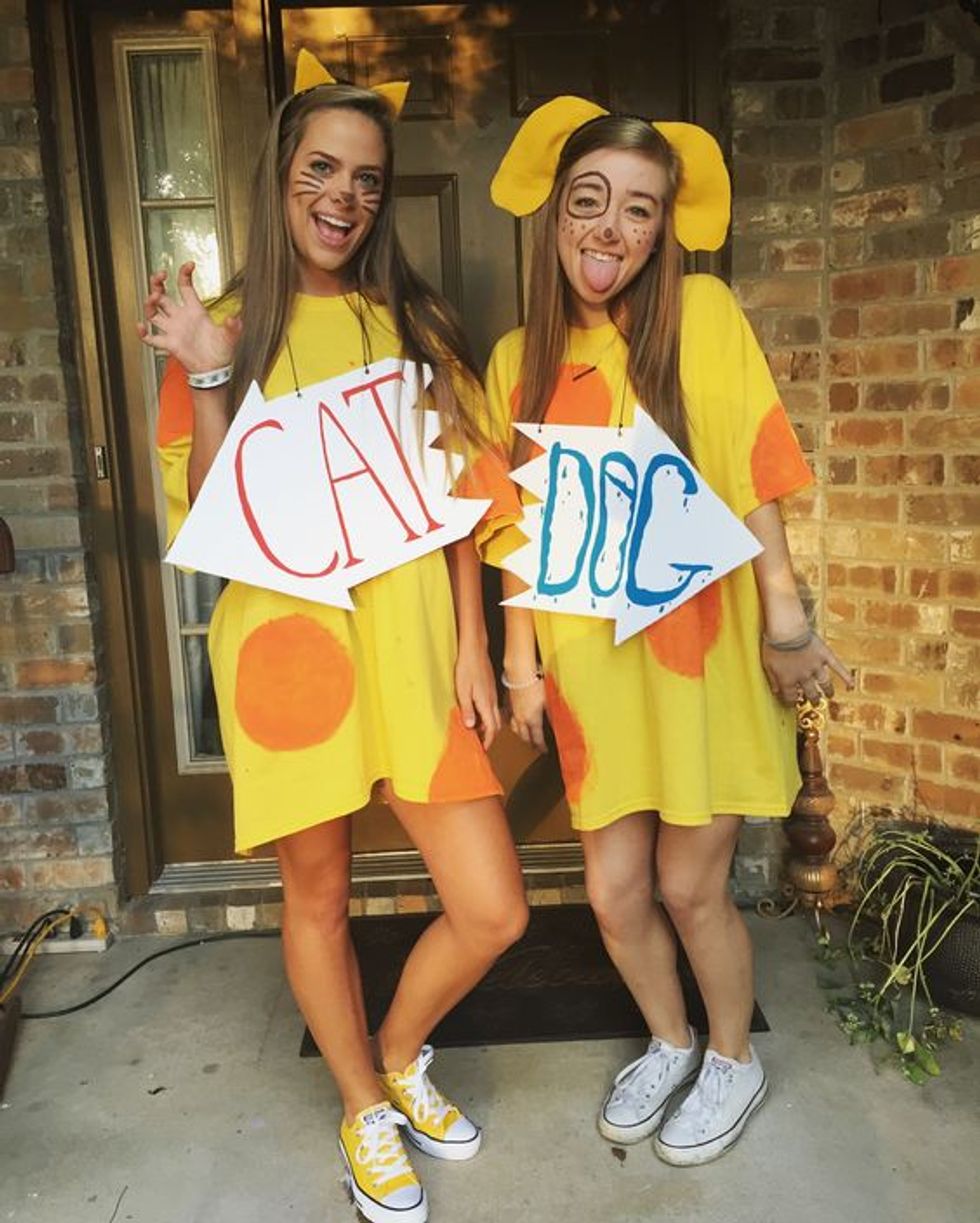 Here's a costume for best friends that are pretty much joined at the hip. Get two big yellow shirts, and glue brown spots onto them! Then, paint ears and your faces as your respective character. Bonus points for attaching yourselves together.
5. The 3 blind mice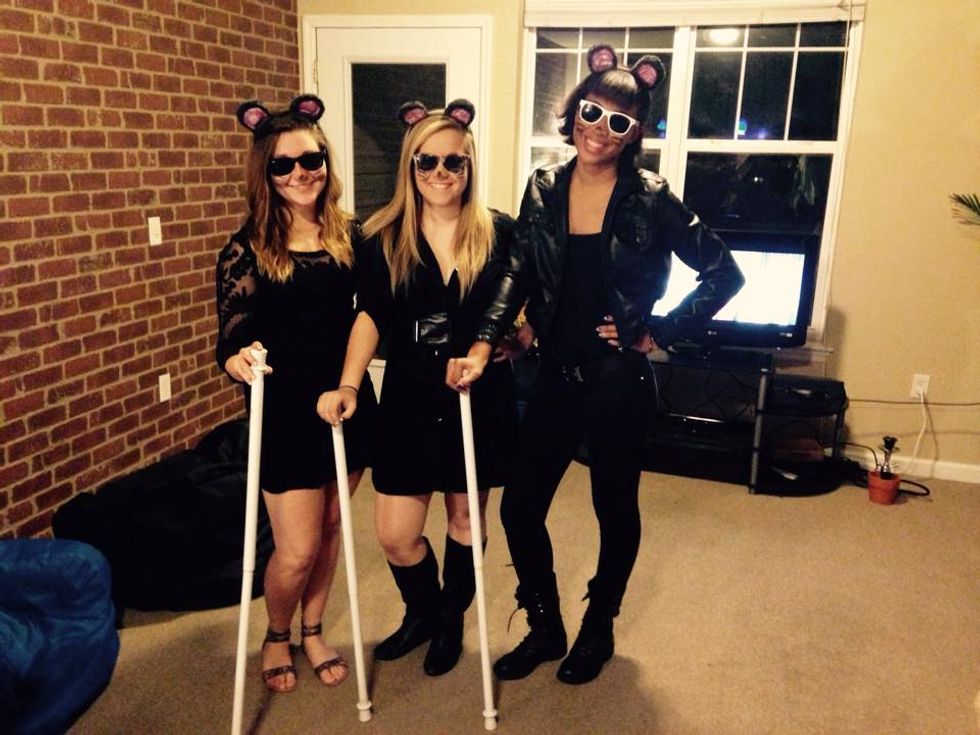 This costume is SHOCKINGLY easy. Use this when you can't decide who is included in your couples' costume. Wear all black with rounded ears, sunglasses, and walking sticks! Then, just paint whiskers, and you're good to go. For walking sticks, we used tension rods from Walmart!
6. Fruits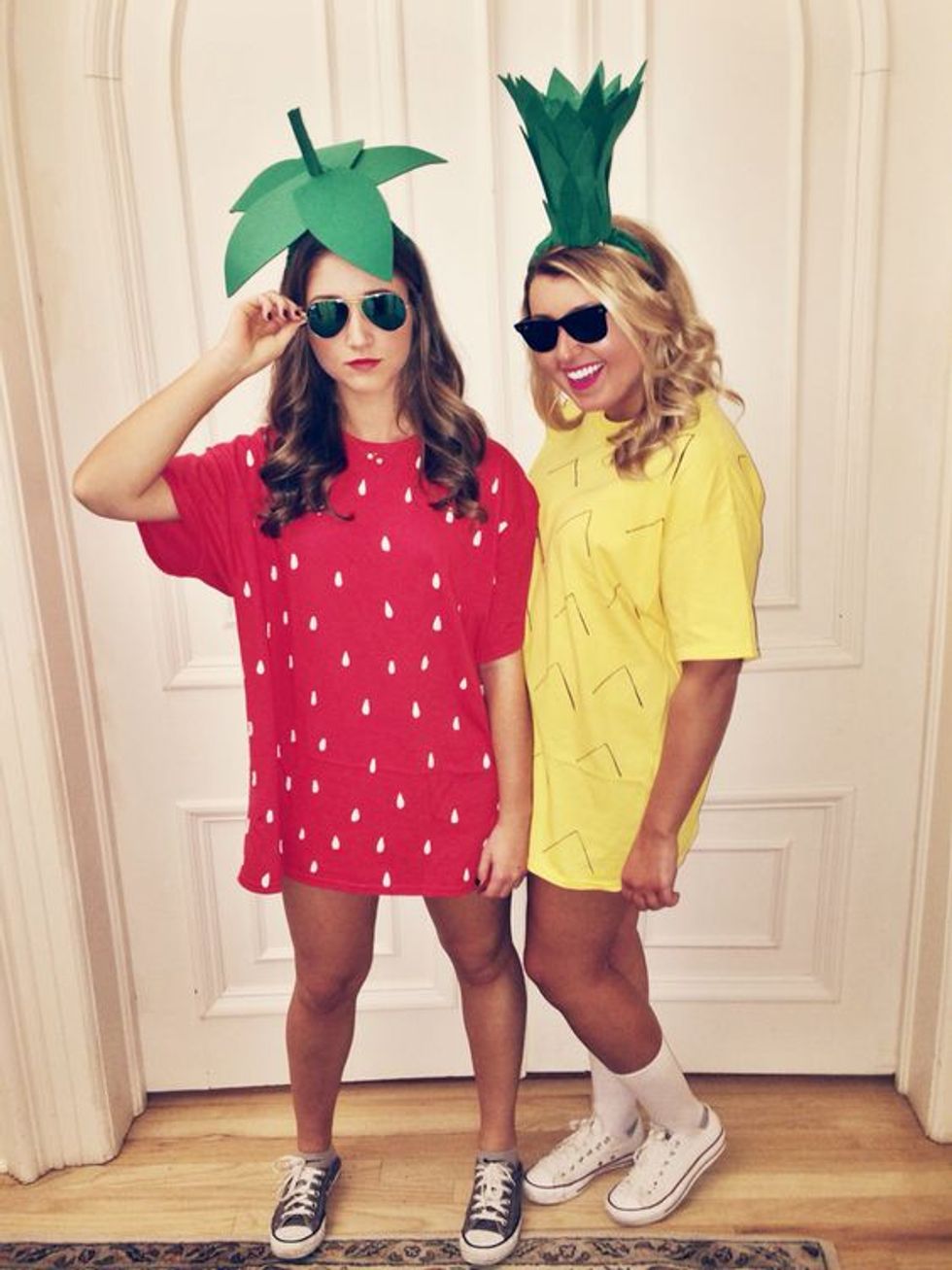 This one is super cute and super trendy. My recommendation is to dress up as the pineapple and strawberry pictured here. Get a big shirt in the color of your fruit, then draw the texture on the shirt. Make the stem/leaves by gluing green construction paper or felt onto a headband! Halloween is pretty sweet.
7. Cat lady and cat
Who else is absolutely in love with their cat? I actually couldn't find a picture for this one, but it would be adorable. One girl can be in the stereotypical cat costume (i.e. ears and whatever you want), then the other in glasses and a pink bathrobe. Bonus points for slippers.
8. Angel and devil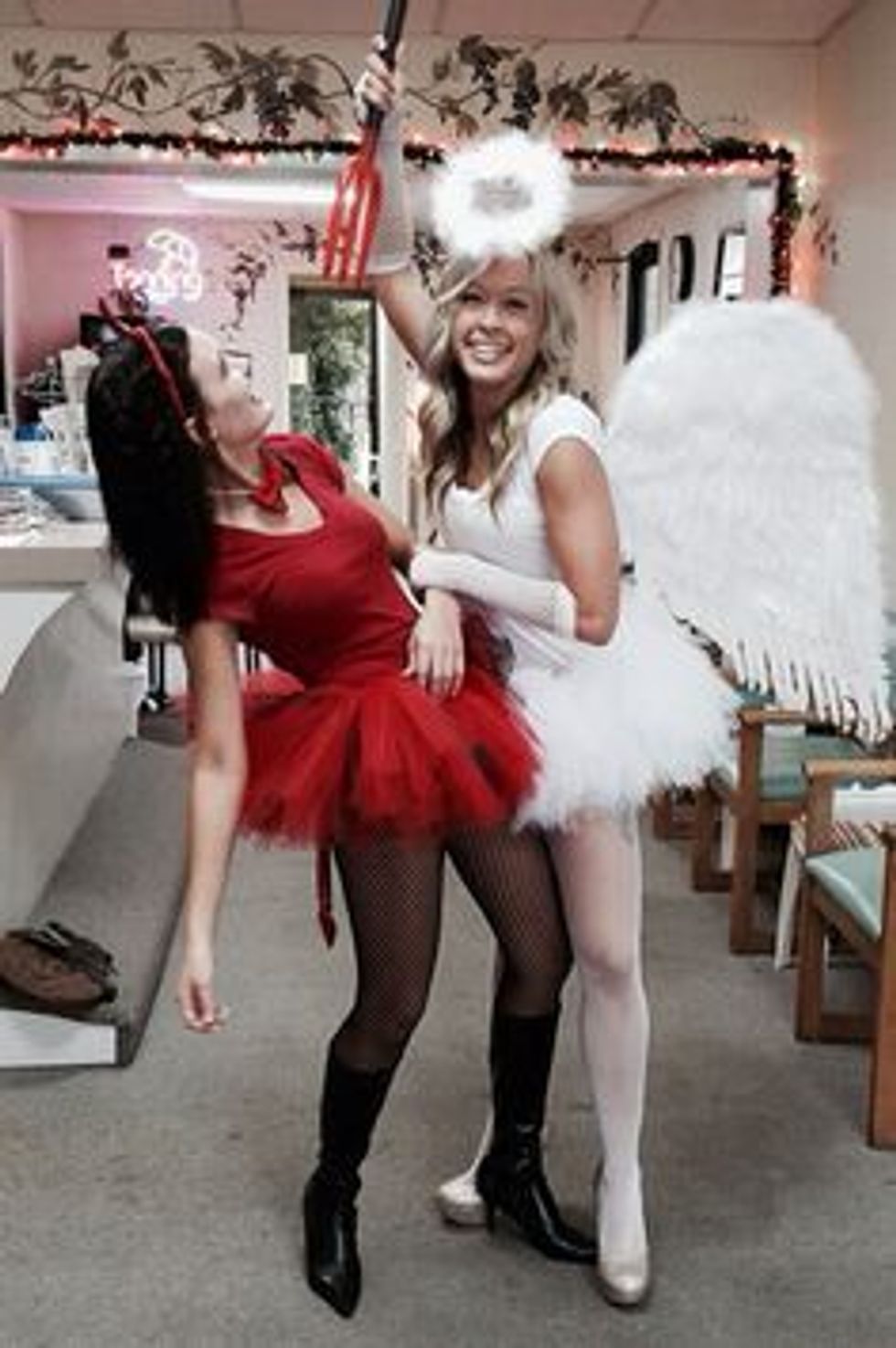 These aren't original at all, but this is still cute. You'll probably fight over the devil costume (and excuse to be the worst), but hopefully there's a clear angel and a clear devil. White dress for the angel, red dress for the devil. You can make a halo out of a headband, wire, and a feather boa. The horns and tail can easily be found at a Walmart or something, and honestly the, halo probably could too. If you need, you can always substitute a big shirt for the dresses!
9. Cruella De Vil and a dalmatian from "101 Dalmatians"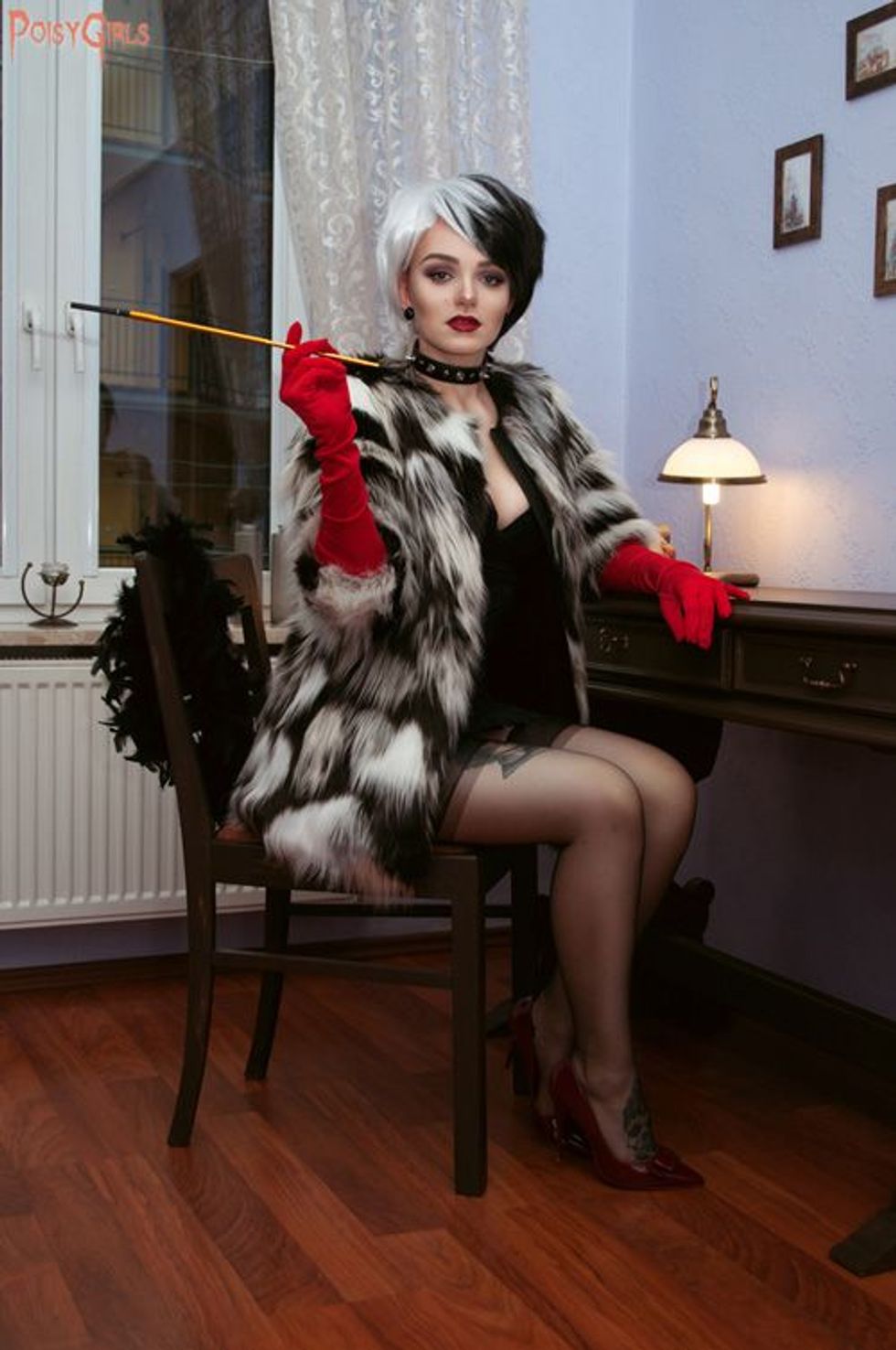 A friend of mine dressed as Cruella De Vil in high school, and it's easier than you might think. Make sure you have a fur vest, long gloves, and a long cigarette over a dress. Red shoes and a wig are the finishing touches! As for the dalmatian, get a big white shirt with black spots, spotted dog ears, and make a collar! A cute little spot over your eye can go further than you'd think.
10. The Powerpuff Girls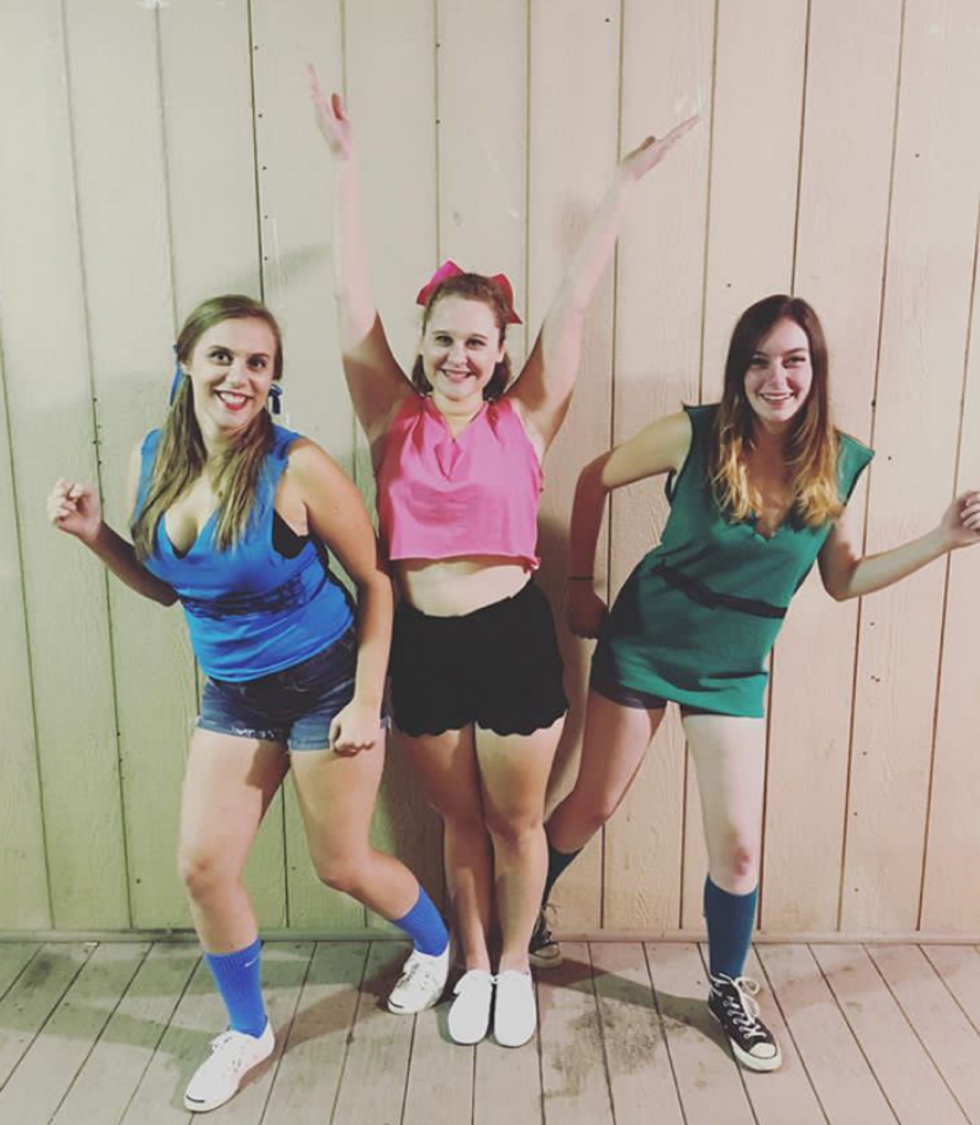 The OG girl-squad. And another costume for the three best friends anyone could ever have. The three color schemes are blue, pink, and green. Big shirts in those colors, and you can even make eyes out of felt if you really want to (sort of like a mask). A big black piece of fabric can serve as a belt for your costume! Enjoy being sugar, spice, and everything nice!
11. Lilo and Stitch from "Lilo & Stitch"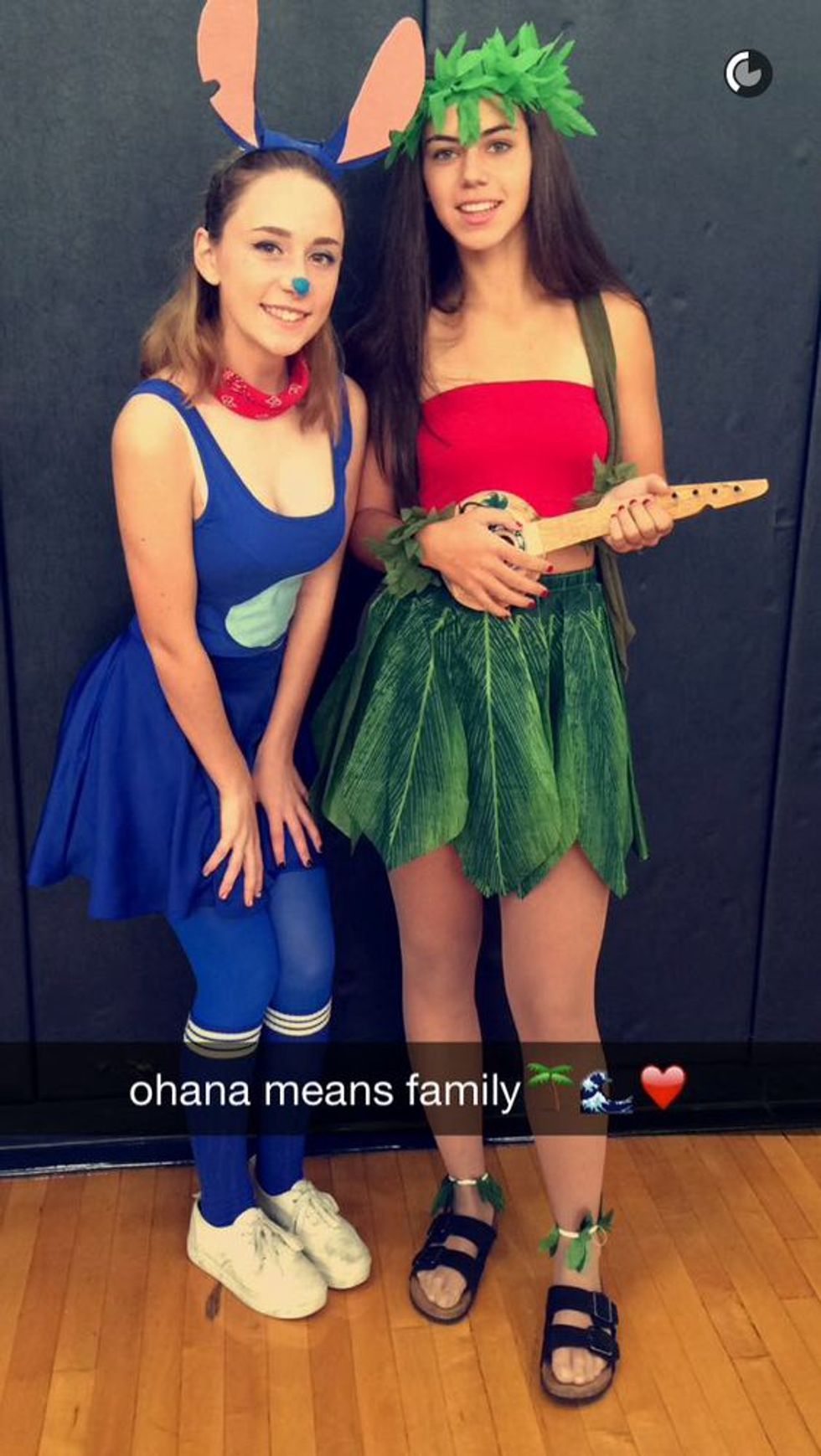 Everyone has seen this movie. Lil can wear an orange tube top, and a grass skirt with a leaf crown. The anklet is just a finishing touch, but a super cute one at that. For Stitch, make big ears to attach to a headband, and add a big blue shirt!
12. A hunter and a deer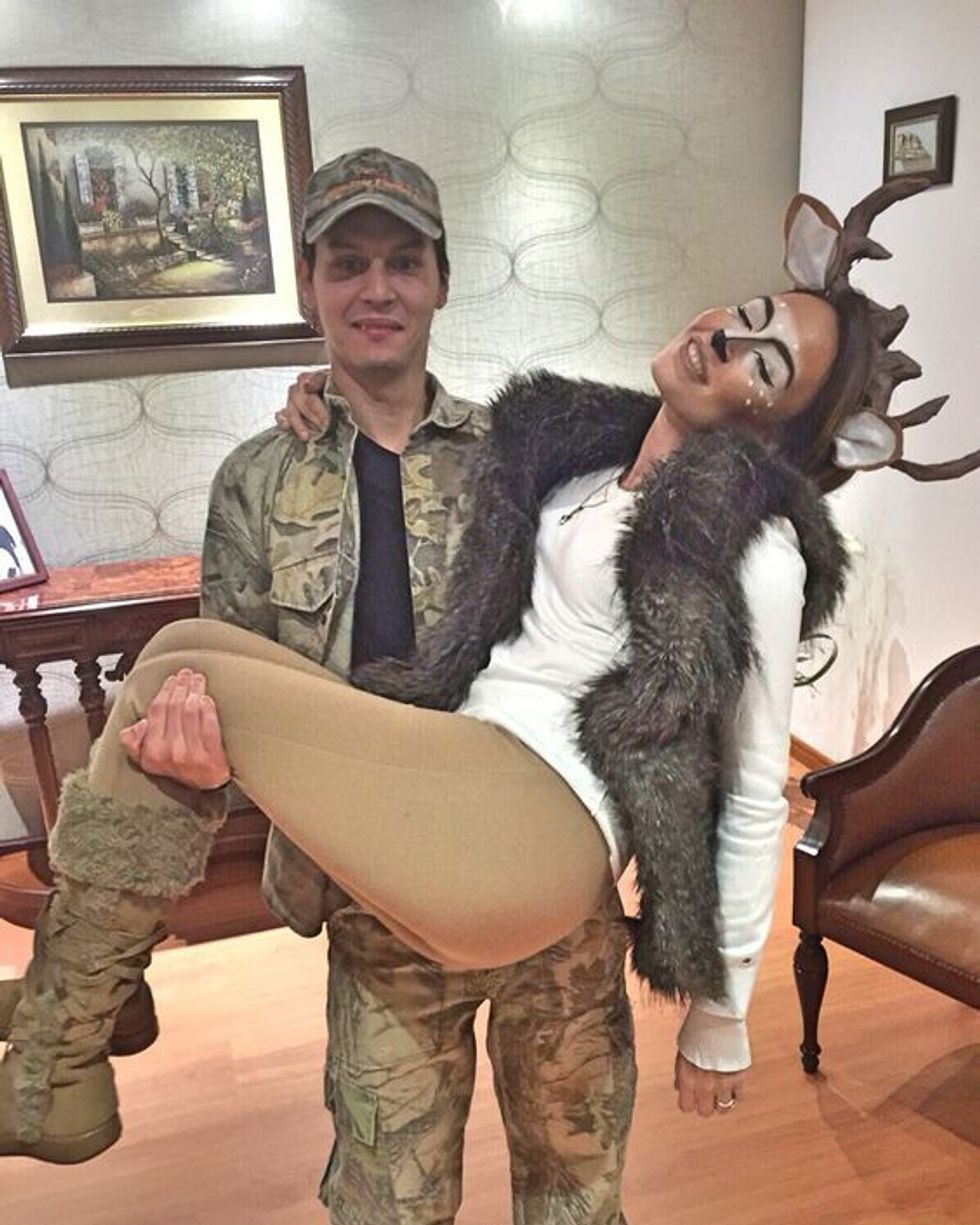 The hunter can dress in all camouflage. Depending on where you go to school, this should be pretty easy. The deer can dress in a brown shirt, and you can try your hand at that viral deer makeup. This is usually a couples' costume, but is more unexpected to do with your best friend!
13. Tom and Jerry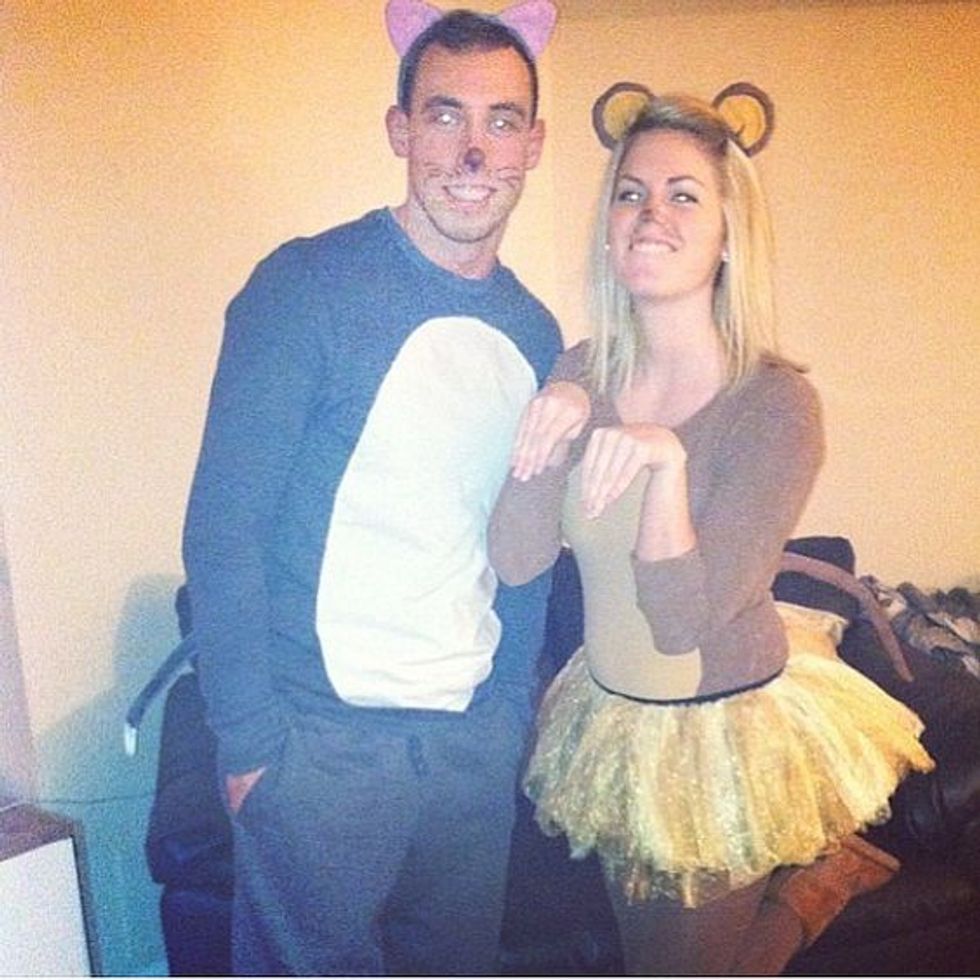 Tom in a gray shirt/dress, Jerry in a brown shirt/dress, and ears!
14. Thing 1 and Thing 2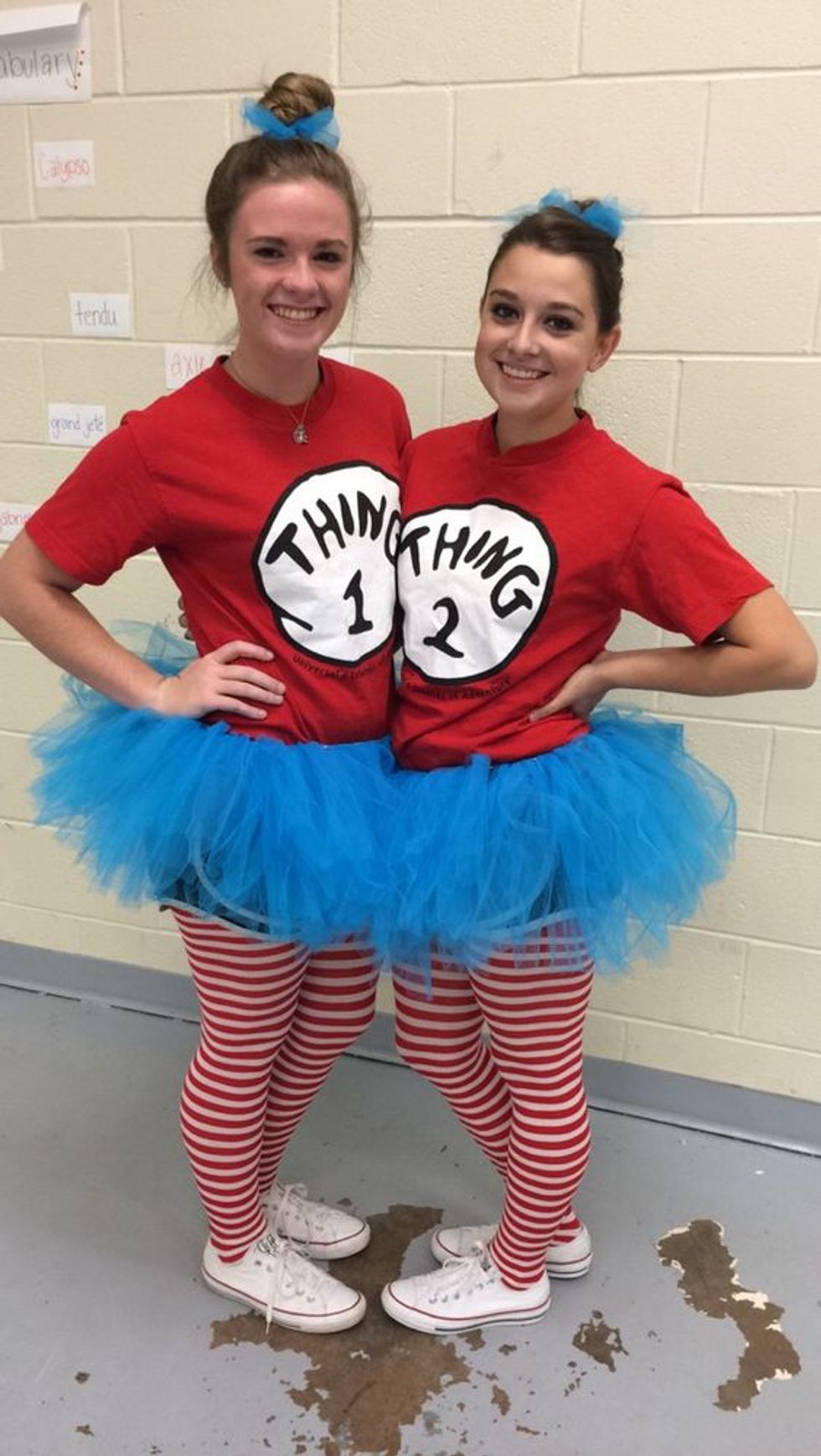 This one is also not particularly original, but still cute and easy. Pick up these "Thing One" and "Thing two" shirts they sell at the beach, add leggings, and a blue tutu, then you're done!
15. Starbucks drinks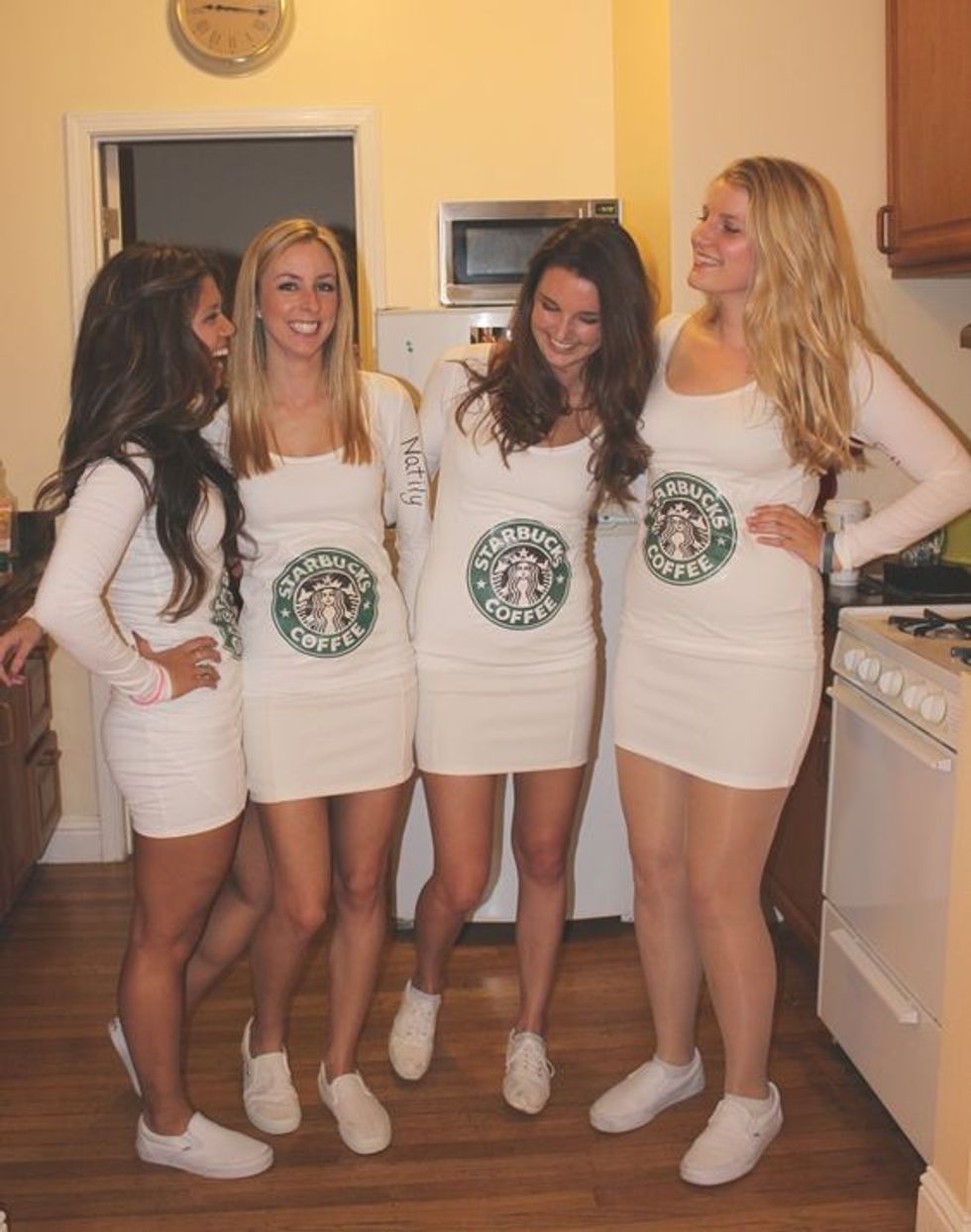 This is really cute for a big and little. White shirts with the starbucks logo are the base of the costumes, then write "venti" on the big's costume, and "Grande" on the Little's costume!
16. Alice and the Cheshire Cat from "Alice in Wonderland"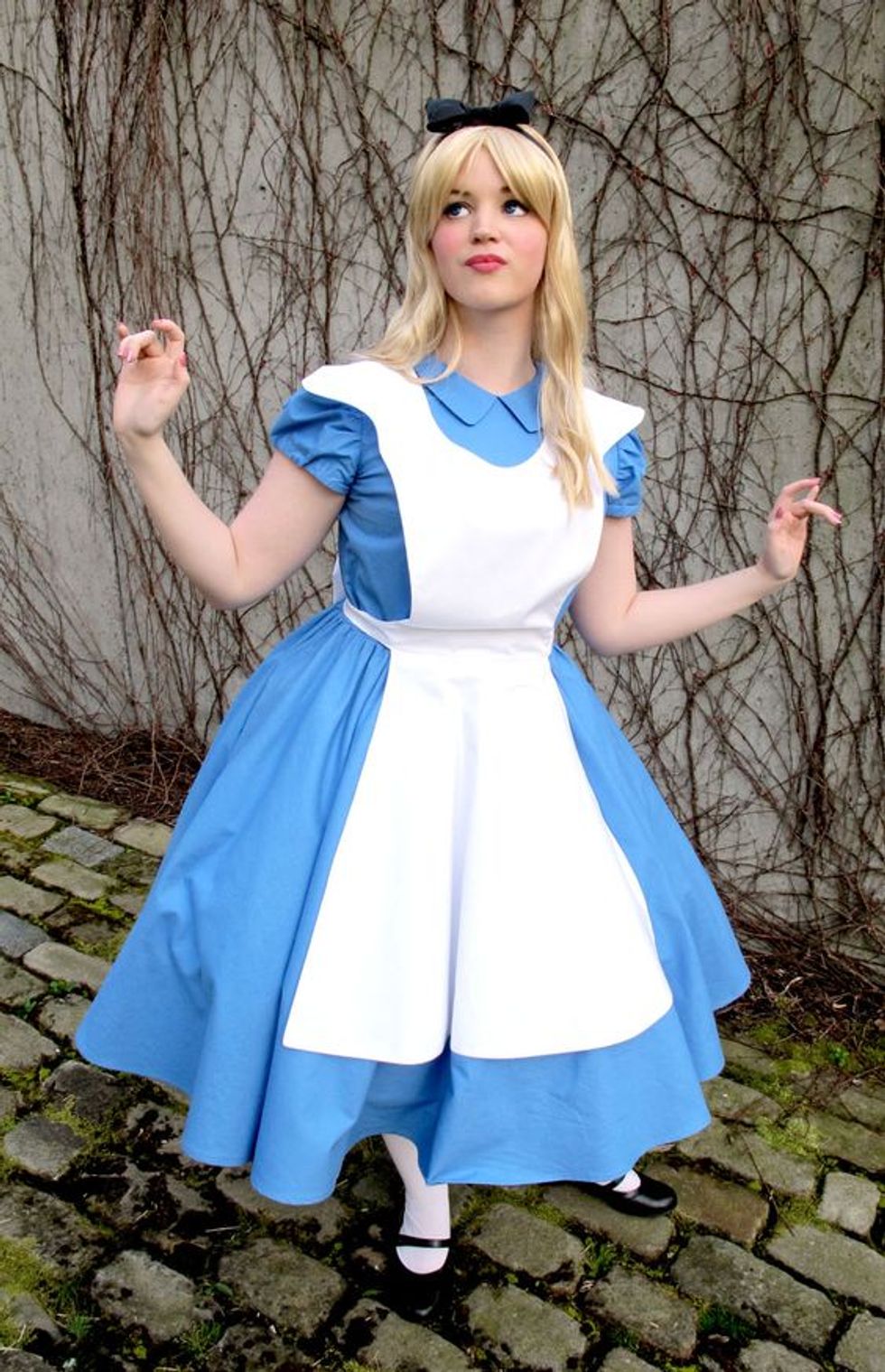 Alice in Wonderland is everyone's favorite! Alice can be done with a blue dress, white apron, and a bow. The Cheshire Cat can be done with a big pink or purple shirt, ears, a tail, and face paint! OR, add a tutu and leggings!
For good measure, here's a no-sew tutu tutorial! Any of these can be subbed for a shirt, a tutu, and leggings in the correct color.