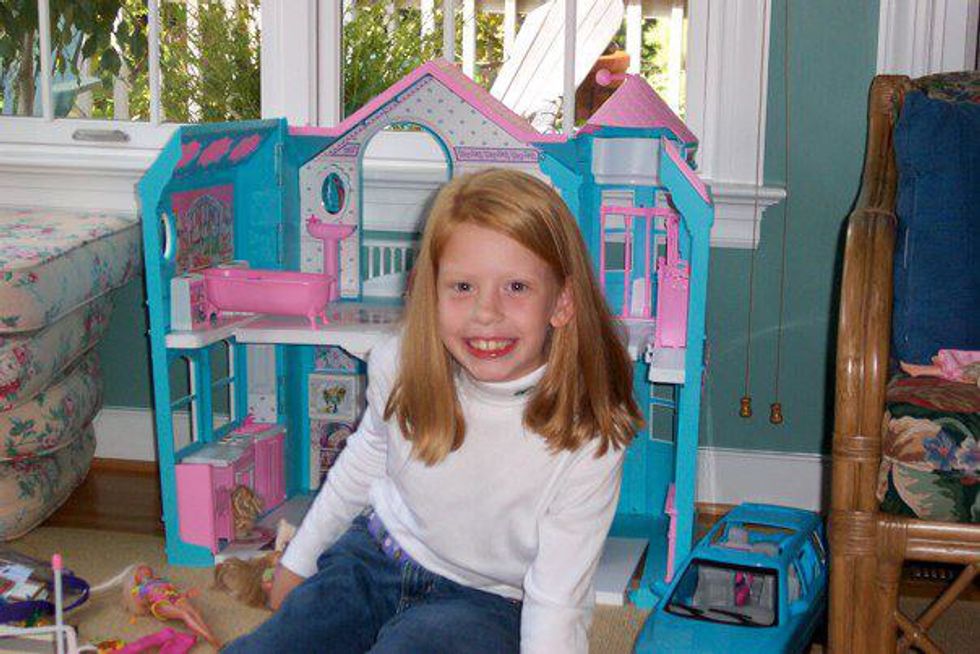 When I was little, I was so carefree. I had no worries in the world. I spent most of my time with my friends and neighbors. I didn't have papers to write or exams to study for. I played with my Barbies and played on my swing set in the backyard. I could walk down the street in my neighborhood and be at my best friend's house.
1. I never had to worry about time or deadlines.
2. My homework would maybe take thirty minutes a day.
3. My "playdates" consisted of playing with Barbies, Polly Pockets, or Groovy Girls.
4. I always had plenty of time for sleeping and relaxing.
5. My family was always in town. My grandparents would come into town almost every weekend, and if they didn't come see us, we went to them.
6. Money was not something I even thought of. I didn't have a debit card or allowance.
7. I miss elementary school! When I look back, I miss it! I miss the friends I made and the activities we got to do. We got recess twice a day and weren't allowed to have homework over the weekend as a school policy.
8. Birthday parties were almost every weekend! We went rollerskating, iceskating, bowling, and got to play laser tag. You could fill up on all the sugar on the table. There was cake, candy, and pizza! You couldn't have a birthday party without pizza!
9. I miss the recess games like four-square or hopscotch. I could spend hours playing four-square.
10. As a family, we would take bike rides around the neighborhood. I had training wheels for a long time, and once they came off, I had so much more freedom!
11. I think I can say this for all the other millennials when I say that I miss the old Disney Channel that included Hannah Montana, The Suite Life of Zack and Cody, That's So Raven, Lizzie McGuire, and many other shows. I spent many Saturday mornings also watching Spongebob Squarepants, Dora the Explorer, Clifford, Blues Clues, and all the other PBS shows.
12. My next-door neighbor growing up and I would sit at the end of each other's driveways in the summers waiting for the ice cream man. If we weren't outside, I would listen very carefully, and as soon as I heard the song, I would tell my mom and run outside.
13. Christmas as a kid was so much fun! It still is, but as a kid, I wanted a million toys or new games. My belief in Santa Claus was so strong, and I wrote him a letter every year. When I was about ten-years-old, I still believed in Santa, but it was soon ruined when I saw my grandmother placing presents under the tree. Definitely the worst Christmas ever.
14. Trips to Blockbuster were so much fun! My mom and dad would take me to Blockbuster on the weekends so I could pick out a movie for a "family movie night." For a long time, I usually chose Scooby-Doo.
15. I miss long road trips. My mom drove a big, green suburban which we took everywhere. It was the carpool car for my neighbors and me to get to school. We put at least 100,000 miles on that car. We would go down to Kiawah Island, SC during Easter and Thanksgiving where we would rent a house with family. The drive was about eight hours, and I would sit in the backseat with a white box TV where I would watch almost all of the Scooby-Doo VHS's. When my mom and dad would put those movies on me, I would be very content for hours. Especially when they stopped at McDonald's.