Growing up a Jets fan was tough and being a Jets fan now, is still tough. We don't win a lot, we've won one super bowl, and have I mentioned that we don't win a lot? But, with all that being said, I am proud to be a Jets fan and to part of a fanbase that truly appreciates winning and can crack a good joke about just how terrible the Jets are sometimes, okay, most of the time. Here are ten things you will definitely understand if you too are a Jets fan:
1.) THE INFAMOUS BUTT FUMBLE

I had the grand opportunity to be present at the game that this incredibly HORRIBLE, yet memorable event occurred, and lemme tell ya, it was just as wretched to watch in person as it probably was to watch on television. This happened in 2012 during a game against the NE Patriots, of course. If your friends are patriots fans (and I'm sure most of them are), they probably haven't let you live down the infamous Mark Sanchez butt fumble and it's been almost five years. I understand why it is still brought up, but c'mon people, find something ELSE to make fun of Jets fan about.
[rebelmouse-proxy-image https://media.rbl.ms/image?u=%2Ffiles%2F2017%2F02%2F02%2F636216592763448157520625426_sanchez211.gif&ho=https%3A%2F%2Faz616578.vo.msecnd.net&s=488&h=41fc585b0c0c4aad04f7df1a37cb66ba5272cbebf3844ca798ef812b7aeed92f&size=980x&c=3956725788 crop_info="%7B%22image%22%3A%20%22https%3A//media.rbl.ms/image%3Fu%3D%252Ffiles%252F2017%252F02%252F02%252F636216592763448157520625426_sanchez211.gif%26ho%3Dhttps%253A%252F%252Faz616578.vo.msecnd.net%26s%3D488%26h%3D41fc585b0c0c4aad04f7df1a37cb66ba5272cbebf3844ca798ef812b7aeed92f%26size%3D980x%26c%3D3956725788%22%7D" expand=1]
2.) We have a PERFECT Super Bowl Record
Sure, a 1 for 1 record isn't great, and when looking at other teams like the New England Patriots or the New York Giants or the Seattle Seahawks, or the Denver Brocos who have more than enough super bowl rings to go around, our little 1 for 1 record doesn't seem toooooo great. BUT this is a great reminder that the Jets were once good enough to win a Super Bowl so hopefully history repeats itself soon and we become great again
3.) Failure, Regret, and Shame
The Jets aren't known for being "good" at football. We've become almost the laughing stock of the NFL, especially for teams located in the North East, so whenever the Jets lose, which is more often than they win, Jets fans are filled with shame and regret for being a person who cheers for a team who never freaking wins, but at the end of the day, we love our team and can easily crack a joke about just how terrible the New York Jets are.
4.) Tailgating
If you're lucky enough to tailgate for a Jet Game at MetLife Stadium, you're lucky enough. The energy and the crowds is unbelievable. While you're tailgating you're surrounded by other people who also know what it's like to be a Jets fan and that energy is awesome. People are drinking as early as 10 AM, people are playing corn hole or throwing a football around, or playing my favorite tailgating game, BruBag (go google that right now, it will change your life) and everyone is happy and everything is okay.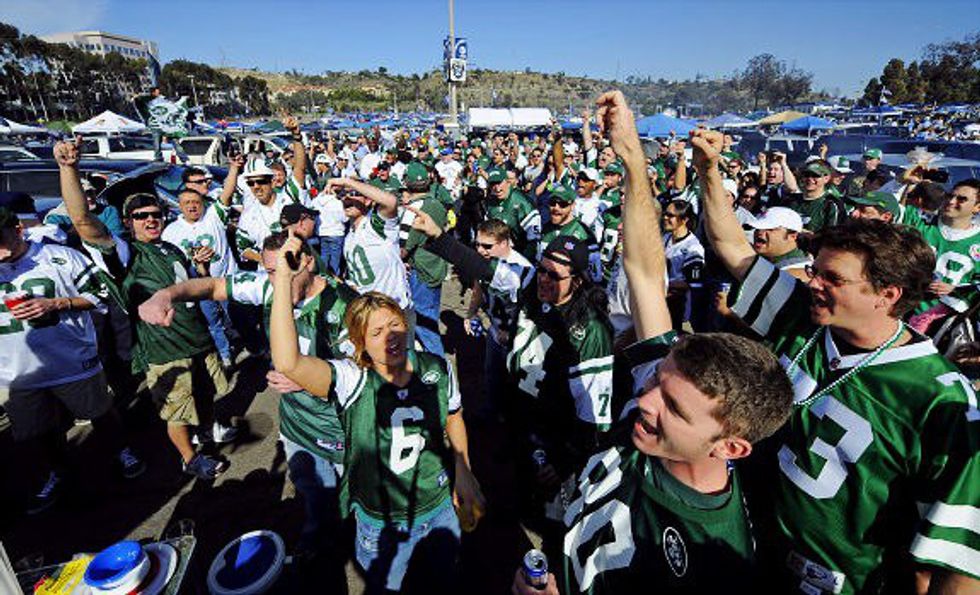 5.) Being the Butt of Every Patriots Fan's Joke
"Wow, you're a Jets fan, do you know what it's like to win a game?" if you're a Jets fan, some asshole Patriots fan has probably said something like this to you at least 15 times in your life. Yes, we know what it's like to win a game, but we know even better what it's like to lose, and it's humbling.
6.) The Loss of Fireman Ed
No, Fireman Ed didn't die, but he might as well have. For those of you who don't know, Fireman Ed is the guy who would attend every Jets home game and lead the cheers. He was the guy wearing the fireman hat and yelling "J-E-T-S JETS JETS JETS" all the time. He no longer attends games and there's now a new guy whose name doesn't matter. Fireman Ed, you are missed and I hope you're cheering wherever you are.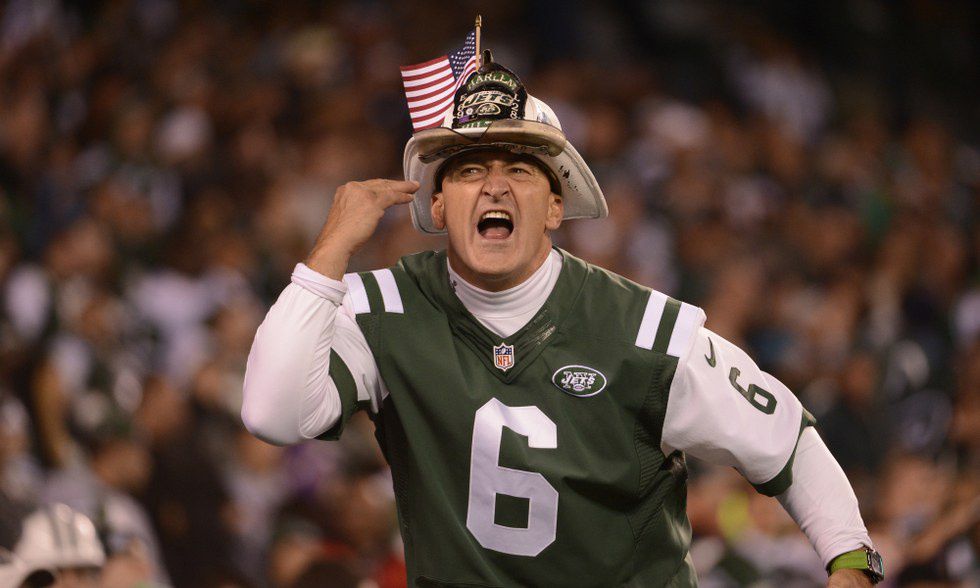 7.) Sharing a Stadium with the Giants
Yes, we get it, the Giants are better. Yes, we get it, we share a stadium that has a much better record than we do. Stop bringing it up, it hurts too much.
8.) HATING the Patriots
We don't hate you because you're good, you're good because we hate you. Basically, any North Eastern football team's biggest rivalry is the Patriots, and that's not because they are damn good, but because a lot of other teams don't necessarily agree with the way the Patriots run their team (I.E. DEFLATEGATE). We understand that the Patriots are great, but we don't need to hear about it every 5 seconds.
9.) Uh, who's our quarterback?
Yes, Ryan Fitzpatrick is our quarterback, but for just how long? Will he last as long Mark Sanchez, or will he be another Tim TeBow? We honestly don't know.
10.) The love we have for such a decent team
No matter the Ls we take or whether or not we crush the Patriots, we will always root and cheer for the New York Jets because now it's in our blood and it's who we are. We will never be accused of being a bandwagon-er and that is fine by us. We love our team and we love our fan base and we'll forever be chanting
J-E-T-S JETS JETS JETS!!!!!