On most any news homepage, the majority of headlines are either about death, tragedy, celebrity gossip, and political outrage. Negativity in the news surrounds us, whether it's online, in print, or on TV. Pretty much all we hear about these days is quite disheartening and even downright depressing. It's important to be informed and aware of current events both nationally and globally, even if it is heart-breaking. But really...would it hurt to add a little more positivity to the mix? So for today's article, I want to create a list of GOOD NEWS that is happening in our world, because--believe it or not--good things are still happening!
1. London Restaurant's Holiday Hospitality
A Muslim-owned restaurant in London, called Shish, is providing a free three-course Christmas dinner (on Christmas day) for the homeless and elderly. A sign posted on their window reads, "No one eats alone on a Christmas Day!" Read more here.
2. Celebrating a Campus Cop
Heritage High School in Brentwood, CA honored their campus cop, Officer Mitch, through a series of thoughtfully-planned events. Some ways they showed their appreciation were by creating a video of students expressing their gratitude for all he does, performing a flash mob to his favorite song by Mackelmore, and giving him tickets to a Miami Heat game, his favorite team. The video has over 5,000,000 views on YouTube. Check it out!
3. Santa's Helpers
This was from a couple years ago, but Officer Scot VanSolkema of Lowell, Michigan surprised those who thought they were being pulled for minor traffic violations with something much more remarkable than a ticket. Instead, VanSolkema would strike up small talk about Christmas shopping and find out what was at the top of their Christmas list. Within a matter of minutes (and much to the person's surprise!) the gift was delivered, all wrapped and pretty, to the officer who would then give it to the shocked recipient sitting in the driver's seat. Watch below to find out how they pulled off this festive feat!
4. Kindness in Action
A man named Joe has a simple mission: to help people with anything, anything at all. He goes out into town and asks strangers if he can help them in any way or do something kind for them. While some people are suspicious and skeptical of his offer, many are moved and encouraged by such generosity. Sometimes Joe will jump in wherever he sees a need: providing an umbrella for a woman and her baby on a rainy day, helping construction workers sweep up debris on the street, filling in as a goalie for a pick-up soccer game. Joe, we need more people like you in this world! Here's his mission in action:
5. The Bucket List Family Gives Back
The Bucket List family, Garrett and Jessica Gee & their two young children, Dorothy and Manilla, are currently traveling the world and posting their adventures on their YouTube channel. They are able to fund their travels through an app Garrett created in college (which he recently sold to Snapchat) and by selling many of their possessions. They recognize how fortunate they are and wanted to bless another family with a free trip to the Bahamas. They had people send in entries to either nominate themselves, a family member, or a friend. After selecting a family located in New York, they went to surprise the unsuspecting winners with the exciting news.
The Bucket List family is also building a school in Nepal to combat human trafficking. I definitely recommend checking out their channel-they're so much fun to keep up with as they travel the globe with and the quality of their videos is amazing!
6. Woman's Best Friend

Annabelle Weiss, 92, is a former Marine and has battled several different health issues that resulted from her time spent in service to our country. In 2013, through an organization called America's VetDogs, Annabelle received a service animal: a yellow Labrador named Joe. He is capable of opening drawers, fetching her phone, opening doors, supporting her as she stands up, amongst many other things. Ultimately, he accompanies her in each daily activity, which is quite the list as Annabelle's age has hardly slowed her down! About Joe, Annabelle stated: "He changed my life, he really did."
Check out their sweet friendship here!
7. Bush Goes Bald, For A Good Cause!
Three years ago, former President George H. W. Bush shaved his head in honor of his young friend Patrick, who was battling Leukemia. On November 21, Bush tweeted that Patrick "is doing and feeling much better these days." Bush also included a recent photo of the duo, both showcasing an impressive head of hair!
8. Strut Your Stuff
In Charlotte, North Carolina, the National Pediatric Cancer Foundation hosted a fashion show for kids diagnosed with cancer and other illnesses. The children were able to walk down the catwalk dressed as what they wanted to be one day, accompanied by an actual professional in that occupation. The organization hopes to expand this event to five different locations in 2017. What an amazing opportunity to give these beyond-deserving children.
Check out the story!
9. Beanies for Babies
Ed Mosely, an 86-year-old resident of Dogwood Forest Assisted Living in Acworth, Georgia, recently learned to knit, but not simply as a hobby to pass the time. He wanted to participate in the assisted home's challenge of knitting as many beanies as possible for premature babies in an Atlanta hospital's NICU. On his own, he knitted 55 cute, cozy and colorful caps and even taught some knitting classes for fellow residents. Total, the staff and residents of Dogwood Forest knitted over 300 caps that were recently delivered to the NICU. The hospital's clinical manager commented, "To have a gift left at the bedside, or a nurse put the hat on the little baby's head, makes it all seem less like a hospital. It's important for families to see their baby as a baby and not as a patient. This will help families get to that spot." Knit on, Ed!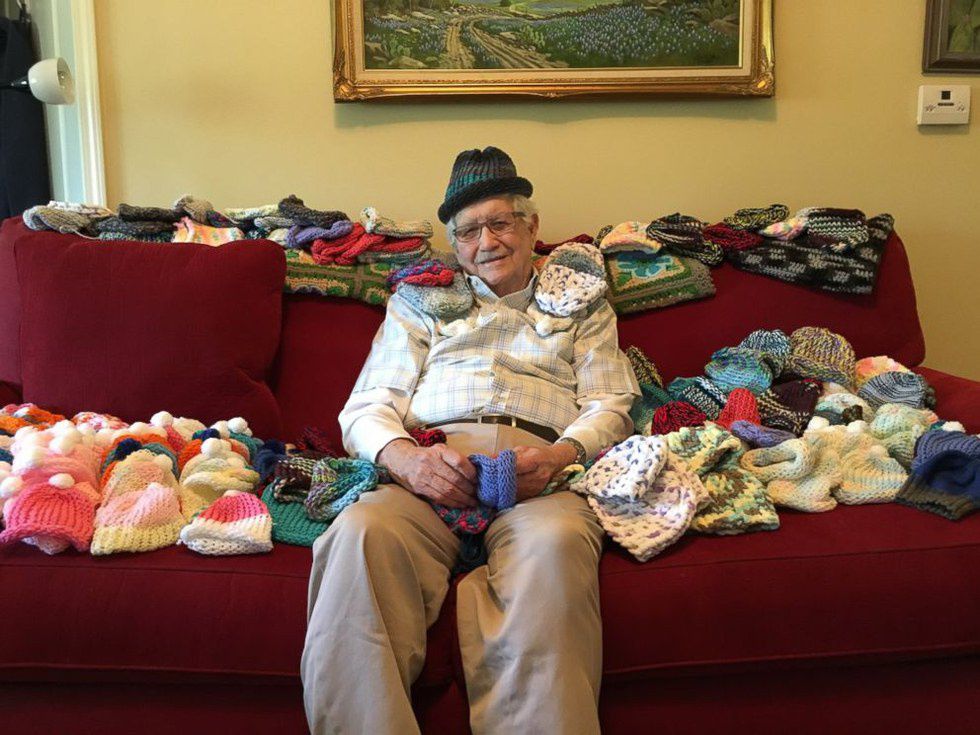 10. The Blessing Bag
Love What Matters, a media page on Facebook, reposted a picture posted by a man who explained something that he and his daughter had started doing together. They keep a Ziplock bag full of items like a toothbrush, toothpaste, gloves, and snacks stashed in their car: the "Blessing Bag." If they see someone in need while out and about, then they have just the thing to give to that person. "Random acts of kindness take very little to change the life of just one person." All it takes is one act to change a life!
I hope you feel more encouraged after reading these! If you want to read about more good news, check out MSN's "Good News" or Today's "Good News" heading on their homepage or goodnewsnetwork.org. Though everything around us can seem so hopeless there is still so much hope to be found--we just have to seek these things out more often than not. Take heart, friends!