College campuses feel like their own bubble amidst the greater world. What could be better than living in an academic hub of bright individuals and professors wanting to make a difference in the world? I actually love living on campus. Though there are some not so great aspects of living in a dorm, I've lived to tell the wildest reoccurrences I've observed on campus that slowly became normal.
1. You learn that college students never sleep.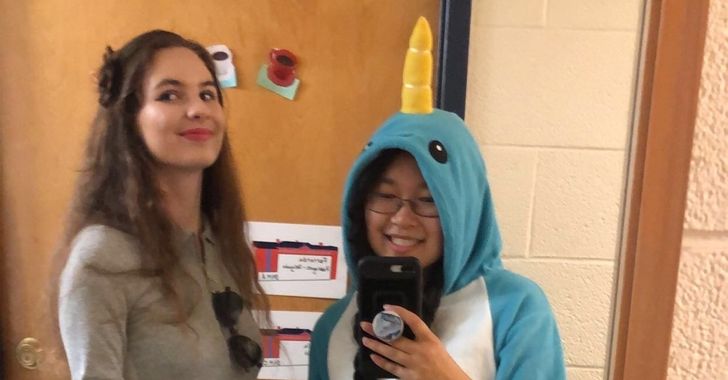 Dorm trick-or-treating
Sydney Wright
No, seriously. If you go down to the lounge at 3 a.m. thinking it will be empty, there's always a group of people, no matter the day of the week. At the beginning of the year, there were a few times I stayed up later than I intended. I desperately needed a shower, and at 2 a.m. I figured I'd be the only one in the bathroom. Wrong. There were at least three or four other people taking a shower.
2. Weird food choices are made in the dining hall.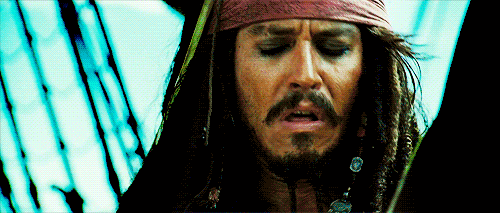 Giphy
When you eat in a dining hall every day, you need to get creative. College students are bold when it comes to food, and everyone is either too sleep deprived or hangry to judge what you've done. I have a friend who enjoys eating fruit loops with orange juice. You heard me right. I wish I could say that's the worst food combination I've seen, but sadly I also saw someone put shrimp on top of cheesecake.
3. If you live in a dorm, you've probably fought for a washer/drier.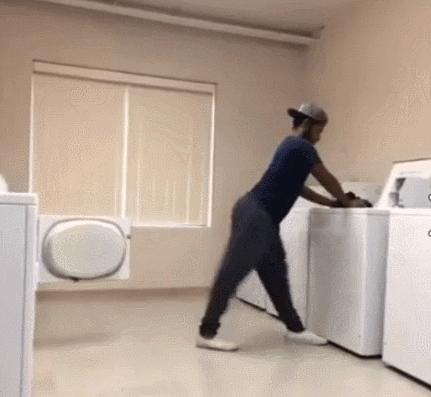 Giphy
Laundry day---perhaps the most stressful day of the week. Will any of the washers be empty? Will there be a drier available when my clothes are done washing or will I have to hold a sack of wet laundry for 57 minutes until someone finally takes their stuff out of the drier? There never seems to be a proportionate ratio of driers to washers, meaning you're always waiting.
4. Yes, those weird stains in the dorm stairwell are vomit.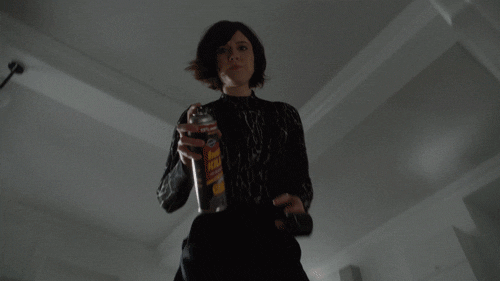 Woman spraying canister.
Giphy
It's just like in kindergarten when kids would randomly puke all the time. I guarantee you those off-color splotches on the stairs are not spilled coffee.
5. When you're in college, you walk A LOT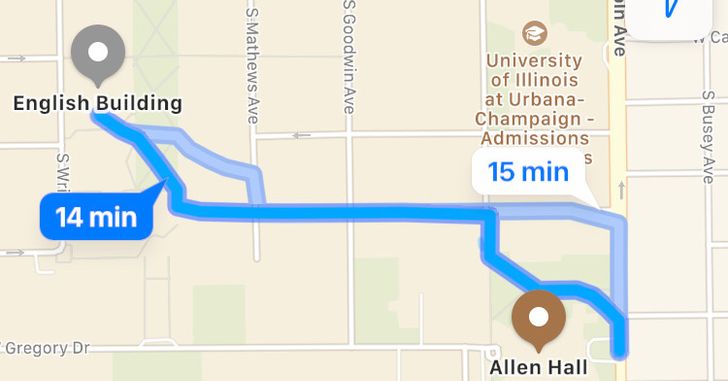 Map Screenshot
Sydney Wright
The distance between my first-year dorm and my closest class was a little over a mile. Between walking to and from classes, dining halls, and other activities spread out around campus, I wouldn't be surprised if I walked five or more miles on a daily basis. I should get a Fitbit.
6. When you come home, it's hard to shower without shower shoes.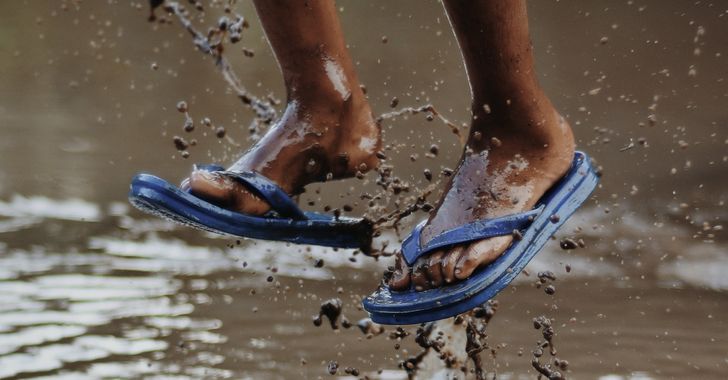 person wearing blue flip-flops Photo by
Roopak Ravi
on
Unsplash
Showering in college is like showering at a K.O.A. camp. You carry a mesh caddy with your shampoo and conditioner, and you wear rubber flip flops. Except this experience is not part of a fun summer vacation with your family. This is your life---dancing around hairy drains and curdled shampoo.
7. As you spend more time on campus, you forget that children and elderly people exist.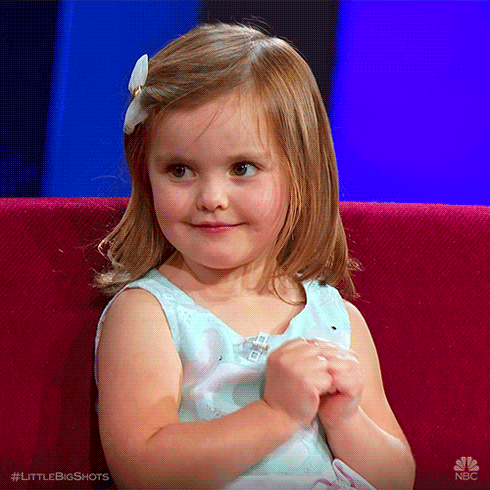 Giphy
For the most part, you only see people in your age group. The only older people you interact with are professors, so when you see an elderly couple walking through the quad on the weekend, it reminds you that there's a bigger world out there. Same thing when parents walk with their children on campus.
8. You develop a sense of identity with your dorm and school.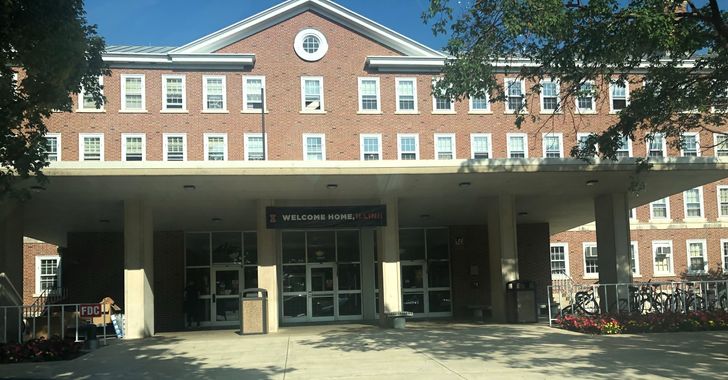 Sydney Wright
In high school, people didn't seem to care as much about school spirit. When you come to college, that mindset changes. It seems that everyone's closet is stacked with school apparel. Don't get me wrong, I love my university, but I'm amazed by all the people willing to wear orange on a daily basis.
It's actually really heartwarming to witness the intense school spirit around campus. I've walked down the street and heard some random guy scream "I-L-L". And sure enough another stranger responded, "I-N-I!".
Additionally, people become attached to the culture around their dorm. I lived in Allen Hall (a living learning community) my freshman year at the University of Illinois at Urbana-Champaign. Allen Hall is known for the creative life it provides residents. I'll never forget the welcome song our RA's sung during orientation. To the tune of Camila Cabello's "Havana", their song was "Urbana-ooh-na-na".
If you live on campus at your school, I'm sure you've had your share of weird dining hall meals and fights in the laundry room. Not to mention, you've probably stopped for the eclectic performers in the quad. Sometimes college is a gross place to live, but for the most part, it's an interesting world of its own.